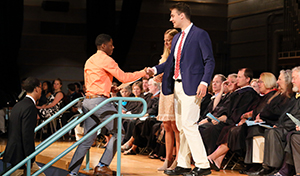 By Jessica Hutt (IV)
One of the most timeless and treasured traditions at Pingry is the annual Convocation ceremony, during which every member of the student body makes a formal commitment to the Honor Code. This event serves as the official opening to the upcoming school year, beginning with the procession of faculty and trustees attired in their collegiate gowns.
Senior Faculty Member Miller Bugliari '52 opened the ceremony by delivering his Invocation, in which he addressed the Class of 2018 and reminded them of their responsibility to act as role models to the rest of the student body. He was followed by Student Body President Michael Weber '18, who paid homage to Walt Whitman's "Song of the Open Road" by using the metaphorical "open road" as a model for the upcoming school year. Acknowledging that students may encounter challenges and obstacles along their "open road," Weber said that students would also experience joy and passion greater than they could even imagine. The only flaw in this metaphor, Weber conceded, is that the man described in Whitman's poem was alone, whereas Pingry students are surrounded by a number of people who will provide guidance along their journey to success. The next speaker was Honor Board Chair Ally Pyne '18, who suggested that students should "buy in" to the Honor Code and make an effort to avoid being the "weak link" in the upstanding behavior of the community.
Following Pyne's address, representatives from each advisory came to the stage to present to Pyne and Weber a copy of the Honor Code that had been signed within each advisory.  "The Honor Code is the most fundamental part of our value system at Pingry. This ceremony demonstrates student ownership of the Honor Code, and we hope that you will always remember this day and your promise to each other," Ally said.
Board of Trustees Chair Jeff Edwards '78, P '12, '14, '18 then delivered a speech in which he determined that the most success is found when individual talents are combined. He encouraged students to "develop your talents, but don't lose sight of helping the larger community."
After recognizing the twenty-five Magistri (faculty members who have served the school for at least twenty-five years), Headmaster Nat Conard P '09, '11 reflected upon the fact that the Honor Code unites the community by encouraging each student to ask himself, "Would this choice be consistent with the attitude and spirit of the Honor Code?" Martha Lewand (IV) especially admired "how Mr. Conard cleverly connected free throws and cookies to make a fair point."
Following Mr. Conard's thought-provoking remarks, all those in attendance joined together for a rousing rendition of "Old John Pingry," setting the tone for the new school year ahead. Isabelle Sheyfer (IV) summarized the day's events by saying, "Convocation is the time for us to come together as a community and celebrate the love of learning and the Honor Code that unites us."