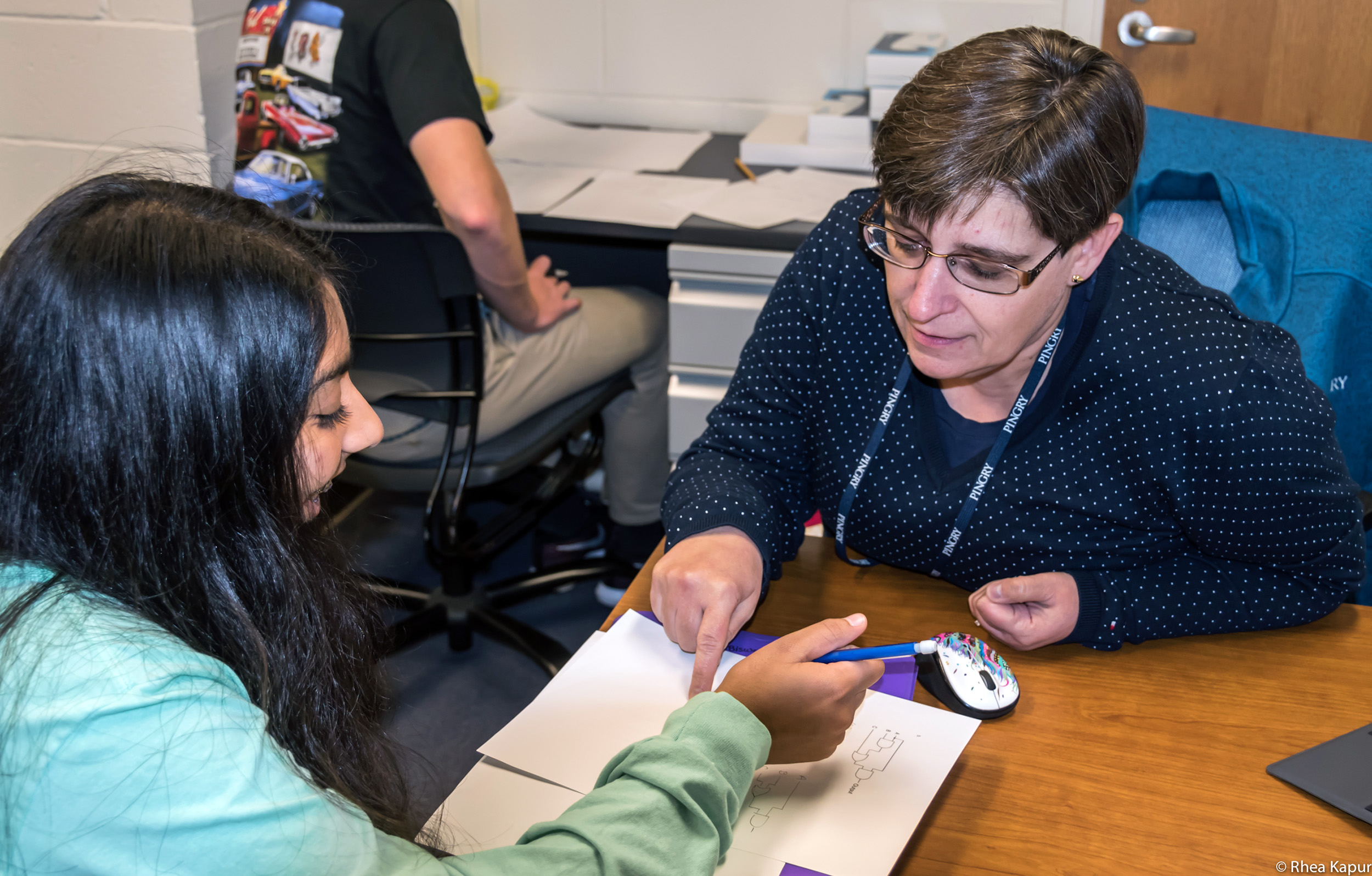 Dr. Jolly
Computer Science
Dr. Marie-Pierre Jolly joined the ranks of the Computer Science department in Pingry this year, teaching Survey of Computer Science, Intro to Computer Science, and Advanced Placement Computer Science. She has not yet decided on how to join the Pingry community (for example, as a coach or club advisor) but is interested in advising the research team and the Girl Code club.
Dr. Jolly, who is originally from France, received her Bachelor's degree in Computer Engineering from the University of Technology of Compiègne in northern France. She then moved to the United States and received a Master's and a PhD in Computer Science from Michigan State University.
After graduating, she started working in Princeton, New Jersey, at Siemens AG, a leading automation company. When asked what she worked on, Dr. Jolly said, "I was a research scientist working on image analysis for cardiac MRI [Magnetic Resonance Imaging]." She was at Siemens for twenty-two years before coming to teach at Pingry. When asked why she made the switch from Siemens to Pingry, she said, "I've done a lot of programming, and I wanted to instill all this knowledge into the new generation while helping students make the right choices with their programming ability."
Dr. Jolly nurtured her love of teaching long before her stint at Siemens, when she was a Teaching Assistant (TA) at Michigan State. As a mother, she says, "I really enjoyed tutoring my kids and their friends, and I tutored my kids in French and helped them with their math and computer science and physics and chemistry and you name it." She also says that her children, now in high school, really inspired her to become a teacher.
When asked how she likes Pingry so far, Dr. Jolly responded, "Oh, I love it. It's a great school with great kids."
In her free time, Dr. Jolly likes to cook and read, specifically fiction. When she has the time, she also enjoys arts and crafts.
Dr. Jolly grew up in Compiègne, which is about an hour north of Paris. "My dad was a university professor, and he's the one who kind of inspired me to be a computer scientist. He brought computers into the household really early, back in the eighties." She said that her upbringing taught her to be very organized, which she still is.
"Things were very scheduled when I grew up," she explained.
Dr. Jolly really appreciates the sense of community at Pingry, calling it her favorite aspect of the Pingry experience. "It's like a family here, it seems. I like that," she said. She believes the students are more conscientious and responsible because of the Honor Code, saying that students are "serious in trying to do well and trying to do good in life, not only in academics but in everything they do."
On a less serious note, she appreciates the quality of the food in the Pingry cafeteria. "The food is better than what you would expect from a school cafeteria…and I like all the choices," she said.