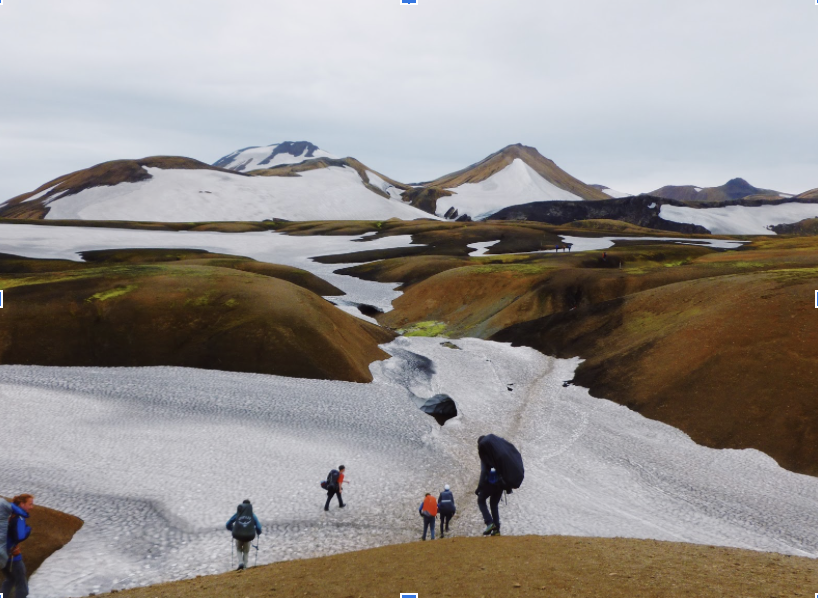 Maile Winterbottom (V)
In the midst of some last-minute scrambling to put my summer plans together last April, I quickly scrolled through possible programs and trips I could attend. I came across a two week trip to Iceland held by Overland Summers, a program that takes kids on trips led by college students. It was a backpacking trip, something I was interested in undertaking, and I was up for the challenge. So I clicked "register" and embarked on the journey.
When the day came for me to leave, I was a nervous wreck. I wondered what I got myself into. I thought my two years as an avid Pingry Outing Club participant would prepare me for this, but as the trip grew closer, the thought of strapping my belongings to my back for two weeks in a foreign country felt like something I could never do. Nevertheless, I hopped on the plane to Reykjavik (Iceland's capital) with my half broken-in hiking boots and didn't look back.
As soon as I met my group of nine other high school students and two college students (who led the trip), my anxiety that had built up over the weeks prior seemed to dissipate. We settled down at a campsite in Reykjavik on our first night and prepared for the next week, which we would spend backpacking. We would through-hike the Laugavegur trek, a fifty-mile trail popular among tourists in Iceland. I had never done anything like it before.
Although the nerves were sinking in, the girls that I had met just a day ago were already turning out to be my close friends. We talked about our lives back home, our concerns for the trip, how much we missed home, and so much more. There were four girls including me on the trip, and every night we would go into a tent and talk for at least an hour about everything that happened that day, and any other things that were on our mind.
When we arrived at the start of the Laugavegur trek, my anxiety for backpacking had returned, especially after our leaders told us that the first day would be the hardest day of the trip, with ten miles of ground to cover and many difficult uphills. My pack was heavy with food for the group, my clothes for the next week, my tent, and my sleeping bag (weighing forty pounds altogether!). As it turned out, the forty pounds on my back didn't hold me back from having a great first day on the trail. The ten miles, although difficult, left me feeling accomplished, and the views added to my sense of achievement. When we got to the second campsite, we had pad thai for dinner and played cards, as we continued to bond with our group.
The rest of the trip proved to be one of the most breathtaking and formative experiences I've ever had. I met so many different people from different backgrounds and hearing their stories brought me to tears on several occasions. The trail was tough, but it brought us together as a group. Sometimes, completing even the smallest obstacles, like crossing a river or making it to the top of a steep hill, were so gratifying for me. At the end of every day, when I would take off my pack and look back on the miles I just hiked, I thought of the songs I sang, the stories I told and heard, and even the lunch I had, all the while thinking of how grateful I was to be in such a beautiful place.
My trip to Iceland left me feeling humbled by the outdoors and even more appreciative of our environment. In addition, I made some great bonds with the people on my trip who I'm still in contact with. The raw beauty of everything I saw along the way was incomparable to anything I've ever seen and taught me more than I have ever learned in the classroom, with concrete walls and fluorescent lighting. It made me realize the importance of embracing nature and taking that leap into the unknown.