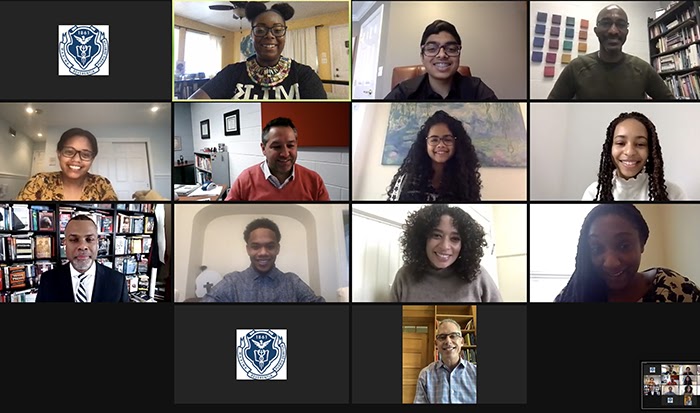 By Anjola Olawoye (IV)
Over 700 members of the Pingry community tuned into the annual Martin Luther King Jr. Assembly virtually. Throughout the years, this esteemed Pingry tradition has hosted various speakers, performances, and even skits to honor King's legacy. A couple of years ago, Sarah Collins Rudolph, a survivor of the bombing of Birmingham's 16th Street Baptist Church, shared her distinctive experience during a MLK assembly. This year, we had the privilege of hearing reflections and perspectives on Dr. Martin Luther King Jr's legacy, presented by Dr. Eddie S. Glaude Jr.
Dr. Glaude Jr. is a James S. McDonnell Distinguished University Professor and the Department Chair of African American Studies at Princeton University. He has been featured in numerous media outlets, including NBC's Meet the Press, MSNBC, and CNN. Dr. Glaude earned his Ph.D. at Princeton University and currently holds degrees in African-American studies and religion.
At the beginning of the virtual assembly, the members of Pingry's Afrofuturism HIRT (Humanities Independent Research Team) introduced themselves and Dr. Glaude. Throughout his reflections, Dr. Glaude often quoted King and James Baldwin, a civil-rights era African American novelist. He addressed numerous questions regarding our current political climate, including the following: how would MLK react to the events that plague our country today, and is America ready for a true multi-ethnic and racial democracy that would resonate with MLK's legacy?
Furthermore, Dr. Glaude compared the US Capitol riots in D.C on January 6th to Black Lives Matter protests over the summer, particularly emphasizing police responsiveness in both situations. More importantly, he explained the division of our country and the events that perpetuated it. The most significant phrase Dr. Glaude cited from Dr. King was "equality is a loose expression for improvement." While King believed that Americans viewed racial harmony differently, he still strived for a peaceful coexistence among the races. In the words of Dr. Glaude, "Dr. King's legacy has been reduced to a four-word sentence: 'I have a dream.'"
Towards the end of the assembly, Dr. Glaude offered a dual challenge to both America and Pingry by posing the following question: what kind of school does Pingry want to be? Beyond that, what are the expectations of America? He also encouraged Pingry students to live up to the school's values, especially those stated in the Honor Code.
Overall, students learned from and enjoyed the assembly, as evidenced by the interactive Q&A session. Students shared a plethora of thoughts on Dr. Glaude's words. For example, Dhruv Nagarajan (II) asked, "What sparked Dr. Glaude's activism for social justice and wanting to make a change?" Student Body President, Nolan Baynes (VI), stated that this was one of the most important assemblies we have had at Pingry. Other students from various grade levels also reflected on their individual experiences and takeaways from Dr. Glaude's speech.
The Pingry community also honored Dr. King in other ways, especially through community service. On MLK Day, Pingry students, parents, and faculty members engaged in the annual "MLK Day of Service," albeit virtually, to fulfill Dr. King and his everlasting legacy.
The Pingry community thanks Dr. Glaude for his impactful speech.