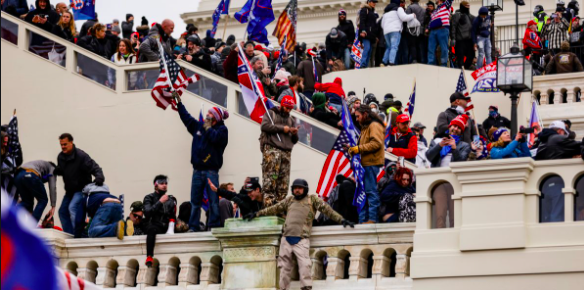 By Kate Marine (III)
On the morning of January 7th, Upper School students were given the opportunity to attend various processing sessions via Zoom in response to the unprecedented events that occurred at the US Capitol Building the previous day. Among these sessions was a news brief, also via Zoom, from Mr. Matt Honohan. It aimed to give students and faculty some guidance in understanding what exactly transpired at the Capitol, and how our country came to such a point.
Mr. Honohan is a faculty member of the Upper School History Department, where he currently teaches World History 10, as well as three sections of AP Government and Politics. "I have a real passion for our country, and for our political system," Mr. Honohan said, regarding his position as a government teacher, "so what I really enjoyed about [the news brief] was [bringing] a slice of what I do in AP Gov to the student body as a whole." The session's goal was to give both students and faculty a better sense of the country's current situation, with the hope that understanding this event would be the first step towards processing it. With all the chaos that has accompanied the 2020 US election, Mr. Honohan especially wanted the talk to address a central question: how did we get here? "We wanted students to have a better chance of understanding why we had such chaos in the Capital, and [of understanding] some of the legal and constitutional reasons why things got so messy by January 6th," Mr. Honohan said.
In terms of its impact on the Upper School community, the news briefing on January 7th was successful and received positive feedback from both students and faculty. "Before, I had a cursory understanding [of the January 6th events]," Leon Zhou (III) said, "but after attending the briefing I had a much more detailed understanding of the events that happened, and ones leading up to them."
Although we hope that the events of January 6th will never have to repeat themselves, Mr. Honohan stresses the importance of staying politically engaged in the world around us. "One of the things I particularly love about teaching government is [that] it is, in a fundamental way, citizenship training," Mr. Honohan said. "Everybody in the school is going to be eighteen soon and voting." For that reason, although he does not expect students to "be massively politically engaged," Mr. Honohan hopes that events like the storming of the Capitol can demonstrate to students the very real and immediate consequences of politics affecting the country as a whole. "It's easy to live life from crisis to crisis, but the challenge is to develop a degree of consistent engagement," Mr. Honohan explained. "I hope [these events] spur students to be more consistently engaged in the world around them."
In such unstable times, events like the ones of January 6th can easily seem scary and overwhelming to the average newswatcher. It is for this reason that staying educated is so important to processing the events both individually and as a community. "The events of January 6th and [similar] events will only drive us apart using fear and political divide," Zhou said. Unless, of course, we bridge that divide with political awareness and common understanding — perhaps that bridge is the one thing we can keep stable amidst a turbulent year for our country.