By Noah Bergam (V) & Meghan Durkin (V)
As the growth rate of the coronavirus begins to flatline, Americans grow tired of a virus that has ravaged this nation for far longer – the racially charged murder of innocent black Americans, including Ahmaud Arbery, Breonna Taylor, and George Floyd, by a systematically flawed criminal justice system.
Since George Floyd's murder in Minneapolis, Minnesota, on May 25, thousands have taken to the streets across the country in frustration. These protests have called for murder charges against the policemen who killed Floyd, as well as concrete legislative reform to end these homicides. The former request was fulfilled on June 3, when the Minnesota Attorney General Keith Ellison announced a second-degree murder charge (upgraded from third-degree) for Derek Chauvin, who asphyxiated Floyd by kneeling on his neck for over 8 minutes, as well as aiding and abetting charges for the three former policemen who allowed Chauvin to do so. In terms of broader reforms, protesters are calling for divestment from police forces, an end to the Qualified Immunity (which make it extremely difficult for officers to be found guilty), and a ban on choke and knee holds.
Within the Pingry community, many students and alumni have joined in on the activism. Most have been helping spread awareness on allyship and petitions via social media, while others took part in peaceful protests in their communities.
The protests across the country are evidence of a desire and pressing need for change. While most of these protests have remained peaceful, some have turned violent, with police provoking protesters and protesters taking part in arson and vandalism. In the case of the former, it is disturbingly unclear how police are being disciplined for their brutality, especially against peaceful demonstrators. In the case of the latter, there has been confusion over who has been inciting the violence, and debate surrounding the acceptable limits to what protesters should do. Some cite the destruction of private property alone as reason enough to condemn the rioting, while others see the rioting as a tantamount reaction to decades of oppression and police violence.

Pingry's Discourse
In the wake of the Floyd shooting, Student Body President Nolan Baynes wanted to see allyship and action from the school's administration, so on May 28 he emailed Pingry's top administrators, including Headmaster Matt Levinson, asking Pingry to speak up.
After some back and forth, including further student emails which pressed the school to take more direct action, administrators set up a community-wide Zoom meeting on June 3 to initiate more dialogue about the issue.
During the meeting, which was attended by over 300 students and faculty, participants had an opportunity to voice their opinions and frustrations in hopes of improving Pingry's future responses and actions against racial injustice. Students were able to offer suggestions to the faculty and the administration, while teachers reflected on "action steps" they could take to better facilitate discussion around race in their classroom and beyond.
On Friday, June 5, the Pingry Allyship Collective (a newly formed coalition of all the affinity groups, student unions, SDLC, and CASE) sent a letter to administrators requesting more transparency between students and faculty involved in diversity and inclusion (inset at bottom left).
Words from a Pingry Protester
Giles Burnett (IV), who took part in peaceful Black Lives Matter demonstrations in Somerset, NJ, on May 31, provided a statement on why he chose to protest:
I'll tell you what my mom told me. 'Watch your tone around strangers, don't wear your hoodie in public, never question or talk back to an officer, turn down your music in the car, don't bike/drive through that neighborhood, you better be home before dark, take your hands out your pocket, walk with a purpose and don't linger, you don't get any second chances in this world.' Or, I can tell you what America told me. 'Cross the street or clutch your purse when you see me, follow me in the store, slow your car down when you see me, slow down your cop car when you see me, ask me if I'm lost or in the wrong store, ask me where I got that $20 from, ask me if I play football or basketball, ask me if you can say the n-word.' That is my everyday life, I march so my black brothers and sisters don't have to answer those questions. I march so innocent black men and women aren't killed in the streets. I march to fight the systemic racism that plagues our country. This past week has been one of the most painful and exhausting weeks of my life. I've cried, reflected, laughed and everything in between. I've been able to channel these emotions into action and change. However, there is no change with only 14% of the nation speaking up. We need allies and we need unity. It's a marathon, not a sprint. Stay safe.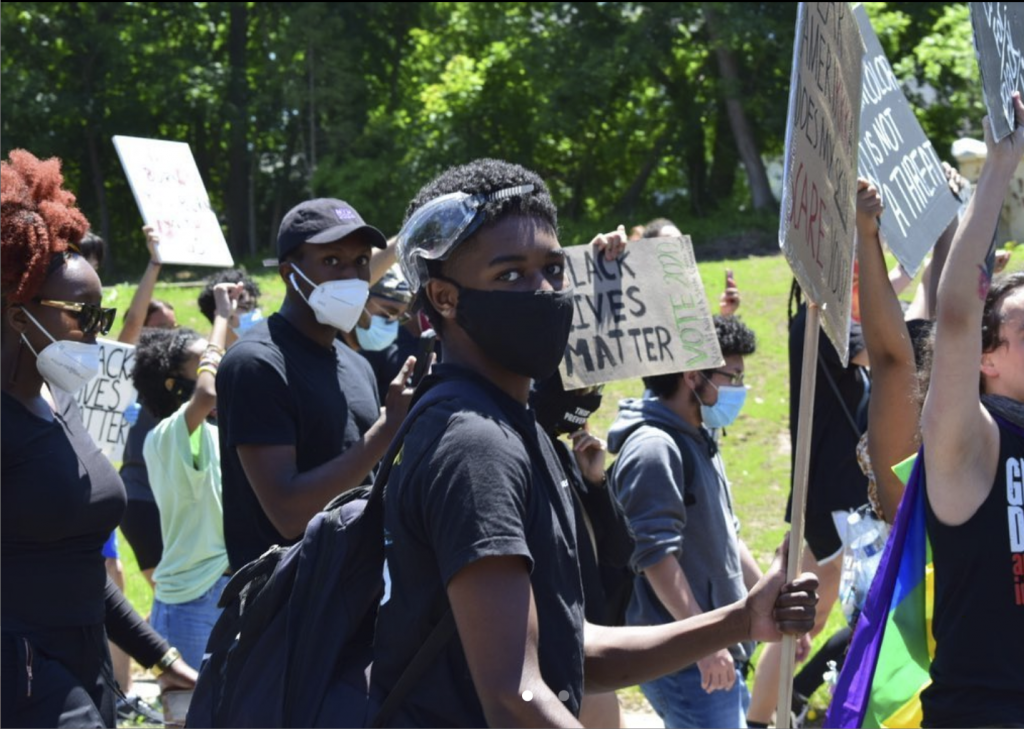 The Record's Statement
We wholly condemn the police brutality present in this country, as well as the silence that has allowed it to viciously persist. As a publication, we stand for improvements in Pingry's discourse surrounding race relations. We encourage writers of all identities to tackle these difficult subjects, and we are open to civil discussions around the presence of racial injustices in our School, our nation, and our world.

Hi Everybody,


I am sure you have seen on the news and
through social media that the murders of
Ahmaud Arbery, Breonna Taylor, and George
Floyd have resulted in mass outrage throughout
the country. This is not the first time this will
happen, and I doubt it will be the last. Many
members of our Pingry community have felt the
need to advocate upon social media discussing
possible protests, sending out petitions, and
even speaking their own emotions. As a school,
during times of crisis, this definitively being
one of them, we have been able to address
issues that are affecting students head-on. To be
direct, in the fall, when commenting upon the
suicide of nearby students, the administration
was very prompt to address the matter, and all
hands were focused upon it. It is odd that even
with the murder of Ahmaud Arbery, I was the
only person upon campus to speak out formally.
There seems to be some lack of adult input in
these situations, and it's isolating to the students
whom it affects daily. From my perspective, the
daily micro-aggressions and events at this school
go silenced and unnoticed, especially from the
administration
As a middle school student, I would feel as
though I was alone fighting a fight that would
never be resolved, and here we are in 2020
dealing with the same issue. Except now, I'm a
senior with a legitimate position in our school.
As a Student Body President, an active advocate
in our community, and most importantly, a
Black boy, I'm asking you to speak out on
it. Show solidarity with the people who have
been affected by systemic racism for over 400
years who attend your school. If you don't, I,
along with other students in your building, will
continue to fight the fight that has yet to be
resolved in this country. As adults, you have a
platform just like I do, and I hope you find a way
to advocate for people who look like me and not
just turn a blind eye and become shocked when
the next murder occurs.
Black tears fall upon deaf white ears.

Sincerely,

Nolan Baynes II

May 28 Letter from Nolan Baynes II (V) to Pingry
Administrators
We are proud to be Pingrians; we wish
to discuss diversity-related issues in Pingry
because we want this community to become
a better, more inclusive place. We started
diversity work in Pingry because we either
were displeased with the lack of representation
in our school or believed that the existing
representation is both superficial and trivialized
by the students and the staff. However, the
goal of PAC is not to point fingers or merely
complain about the past wrongs we have
observed. Instead, we wish to progress in
collaboration with the administration and
contribute to the commendable endeavors of
our school. In order to do this, however, certain
methods of communication and action must be
reformed; one of our main concerns is the lack
of collaboration and/or transparency between
faculty leaders who make diversity-related
decisions and the students who feel the result of
these decisions (or lack thereof). As a result, we
hope that the administration takes our ideas and
perspectives seriously.

Excerpt of June 5 Letter from Pingry Allyship Collective to Pingry Administrators