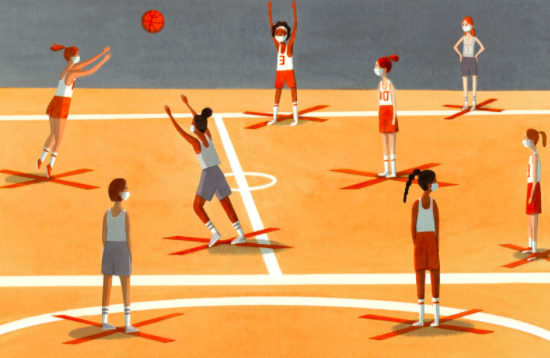 Hansen Zhang (III)
After two weeks of Winter Break, a remote-learning week, a week-long delay in school activities, and plenty of asynchronous workouts, Pingry athletes are ready to return to the fields, courts, mats, and slopes. The Squash, Basketball, Ski, Hockey, and Fencing teams have all resumed practice and played their first games. Swimming and Winter Track began to practice on February 1st, and Wrestling starts on March 1st. All sports, regardless of the start time, have a competitive season of approximately one month.
Although Winter sports are back, they still bring a great deal of uncertainty. Ms. Carter Abbot, the Director of Athletics and Community Wellness, said, "Sports are operating from week to week as we're evaluating the situation based on our testing, the state's testing, and the different counties that we play sports in." So then, how would athletics operate if there was an influx of COVID cases, causing Pingry to shut down for a long period of time?
Well, the situation is pretty complicated: athletics can either resume after school as they did in early November of 2020, or they can be completely canceled due to a high case count, which happened during the second remote week after Winter Break. The main reason why Fall sports were able to resume when Pingry went remote was that they were all outdoor sports. On the other hand, all Winter sports are indoors (with the exception of Winter Track). According to the CDC's Youth Sports resource page, "indoor activities pose more risk than outdoor activities."
In addition to considering the possible effect that a shutdown may have on athletics, it's important to consider whether sports are important enough to be continued during the pandemic. A similar question was the subject of a Word in the Halls in the last issue of the Record. When asked again, JP Salvatore (IV) remained adamant on his opinion that sports should be resumed. He explained, "My opinion on this really hasn't changed much. I will continue to say sports are essential to keep kids active, to give opportunities to kids dependent on their sport, and to maintain school spirit. I understand indoor sports are more of a concern, but without an audience the risk is limited." But, some would argue against that, especially after COVID cases surged after the new year. In a telephone survey of 1,065 adults by NPR between December 1st and December 6th of 2020, thirty-six percent of those surveyed thought indoor sports should continue, fifty-eight percent thought indoor sports shouldn't continue, and the final five percent were unsure. For many, the pros of having sports outways the cons of potentially contracting COVID. According to a Harvard Health article, exercise can "boost memory and thinking indirectly by improving mood and sleep, and by reducing stress and anxiety." Sports may be even more crucial for remote students, as it could help with "Zoom fatigue": the exhaustion that occurs after staring at a computer screen for long periods of time.
In summary, although there is no doubt that sports are beneficial for students, one must still consider their possible consequences. For the time being, however, it is important that athletes wear masks whenever possible, and we look forward to a future where people can once again play sports without pandemic-era concerns.