Volume CXLIV, Number I October 17, 2017 The Pingry School
Pulitzer-Prize-Winning Author Dr. Momaday Shares His Story
by Paige Maultsby (V)
Novelist, poet, and artist, Dr. N. Scott Momaday, visited Pingry on Thursday, October 5, for an assembly, a luncheon, and two creative writing workshops open to both Middle and Upper Schoolers. A Pulitzer Prize winning author and member of the Kiowa tribe, Dr. Momaday, was invited to the school, according to Assistant Headmaster Dinkins, "to animate the 2017-2018 professional learning theme, Diversity & Inclusion." The event was organized by Dr. Diana Artis, the Chair of the Diversity Department, with help from English Department Head, Chris Taylor, who coordinated student preparation for the event in English classes.
Dr. Momaday spent the day sharing his knowledge and engaging in a thoughtful dialogue with students and faculty.  Faculty prepared for the event by reading his Pulitzer Prize winning novel, House Made of Dawn. Guided by their teachers, students read selections of the novel and assorted poems in their English classes.
Though Dr.Momaday won the Pulitzer Prize for his 1968 novel, he considers himself to be a poet first and foremost. As for what draws him to poetry, he points toward its purity. "I think poetry is the best way to express yourself in literary terms," Dr. Momaday told students during his workshop. "To write a poem is to say something in the best way that it can be said." However, Dr. Momaday does not confine his writing to only poetry and novels; his past work ranges from plays to travel literature.
When it comes to influence, Dr. Momaday credits his parents with shaping him into the person he is today. He initially followed in the footsteps of his mother, who was a skilled writer, but later in life, he developed a passion for painting that his father had shared.
Also featured in his work is the influence of oral tradition. As a Kiowa tribe member, he grew up among countless stories, but they existed solely by word of mouth. "My father would tell me stories when I was a little boy," Dr. Momaday said of his personal experience with the oral tradition. "They stuck in my mind, and I loved them so much I made him tell them to me again and again… One day I woke up to the realization that they were very fragile, that if I didn't pass them on, they would be lost forever. So I started writing them down." Out of this process came his best-seller, The Way to Rainy Mountain, a collection of Kiowa folktales supplemented with his commentary.
During the creative writing workshops, students had the chance to take their questions to Dr. Momaday, a true master of the craft. When asked to share what he has learned from being a writer, he responded, "How to be humble. Humility has a good amount to do with writing." To the aspiring writers in the room, he advised, "If you can be humble about yourself and your experience and convey that humility to language, that's quite an accomplishment. It's worth doing."
His words were not lost on the students. "I am so grateful that we were able not only to host him, but also to have personal discussions with him in the writing workshop," said Grace Brown (V). "Not only did he give advice as an author which I can apply to my writing, but he also spoke on a deeper level to his thoughts about the human experience." Though Dr. Momaday's visit lasted no longer than a day — and ended with an evening event for parents at Short Hills —  his stories and insights continue to resonate for many in our community.  
School Spirit Soars at Homecoming
by Allison Verdesca (VI)
On a beautiful, hot Saturday in early October, Pingry hosted its annual Back-to-School Day and Homecoming. Just over 900 parents arrived promptly at 8:15 AM, prepared to experience a day in the life of their children's schedule and a chance to say hello to their teachers. After a morning full of interesting discussions and back-to-school memories, the Homecoming events began in earnest. The focus this year was Pingry sports, celebrating the school's beautiful new athletic spaces, including the football team's new stadium and turf field.
A group of 700 students, parents, and Pingry alumni attended the festivities. Lunch was a bountiful barbeque, featuring hamburgers, hot dogs, grilled vegetables, and a table of delicious desserts, all made possible by the dedicated men and women from Sage Dining. Sporting events went on throughout the day, including water polo, boys' and girls' soccer, football, and field hockey. Visiting alumni could also participate in either a field hockey or a soccer game.
Pingry's teams played well, especially boys' soccer, beating its archrivals Holmdel with a nail-biting victory of 1-0. Captain Vineil Reddy (VI) accredited the win to a pre-game session by mental performance coach and psychology teacher Dr. Fisher and some Pingry soccer alumni, who encouraged the team to "focus on controlling the 'controllables'" of the game. Reddy acknowledges the importance of this game to the morale of the soccer team, coming into the game with an overall record of 6-3-1. He believes that "this was the first game in which every single member of the team was completely focused."
The soccer team was not the only one flaunting a victory. The field hockey team also won its game, which was the second round game of the Somerset County tournament, against Ridge, 5-2, with the help of junior Josie Jahng, who scored two goals and had one assist. The water polo team notched a strong win against Lawrenceville 10-7. However, the girls' soccer team suffered a close defeat, losing 2-1 in overtime against Bernards. The football team also lost a high-scoring heartbreaker, 49-48, against Fieldston, with Obi Nnaeto (VI) scoring four touchdowns.
Both the Balladeers and the Buttondowns made their musical debuts for the year, singing "The Star-Spangled Banner" and "Old John Pingry" before the athletic competitions that day. While the games were occurring, children enjoyed games and face painting, and all attendees received free t-shirts.
After the athletic festivities were over, student council held its annual Homecoming dance themed "Under the Sea," an evening full of music and friends. Senior Sehyr Khan says she "enjoyed all the fun outfits with her peers." The dance was not only a rousing success but also a great way to raise money for the student council, and it marked the end of a pride-filled spirit week, complete with a pep-rally and themed dress down days throughout to keep spirits high. Overall, this year's Homecoming was a great day to celebrate Pingry pride.
Headmaster Conard Addresses National Debate on Free Speech
By Miro Bergam (V)
Mr. Conard closed off last week's morning meeting with a speech addressing our country's current national debates over the white supremacist rallies in Charlottesville and over NFL players kneeling during the national anthem. Mr. Conard began his speech by reciting passages from the Pingry Honor Code, the Bill of Rights, and the Preamble of the Declaration of Independence, stating that these are three texts that, as American citizens and Pingry students, are intended to guide us.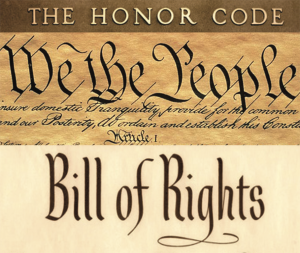 Mr. Conard then explained how today's highly politicized society makes the discussion of such debates extremely difficult. As an educator, he said, "I am certainly entitled to my own political views; [however] I feel an obligation not to share them with you." In the high-tension politics of today, this position becomes even more challenging, as any statement or lack of statement "is perceived as political or unpatriotic."
Regardless, he finds the discussion of these political debates to be important. In order to conduct them productively at Pingry, he believes "we need to work hard to separate them from partisan politics." He suggested that to achieve this we should listen to both sides, regardless of how ugly we may find the other side's opinion. Mr. Conard said that although the white supremacists' beliefs are "abhorrent to [him], and are both unacceptable and un-American," he still believes "that they have a right to voice their opinions."
This brought Mr. Conard to the topic of taking a knee during the national anthem. He maintained his stance on the freedom of expression and speech, saying, "If the flag is a symbol of our freedom, and is emblematic of the beliefs and rights articulated in the Declaration of Independence and the Constitution of the United States, then one of those rights is the freedom to kneel in front of the flag."
Mr. Conard ended his speech by encouraging students to engage in these conversations productively and listening to each other through respectful dialogue. He invited students to continue this conversation in a series of Open Forums, spaces open to the whole school to have such discussions.
An Open Forum was held in the O'Connor Board Room later that day. Attendees split into groups to discuss different topics, including gun control and the recent shooting in Los Vegas, the UN decision to vote against banning the death penalty on the basis of sexual orientation, and kneeling during the national anthem at Pingry sporting events. Vicky Chen (V), who attended the Open Forum, said, "I talked about kneeling during the national anthem at Pingry sports games, and it was nice to have a conversation as sensitive as that with such a large group of teachers and peers."
Regarding Mr. Conard's speech and the Open Forum, Nabeel Jan (V) said, "I think they were a great way to start a dialogue on free speech. I think by having conversations we can only go forward together and not into a state of polar arguments, something that we should apply to other issues in our currently divisive political climate."
Homecoming 2017
October 7, 2017
Photography by Peter Chollick
Photography by Peter Chollick
Editorial: Still Working on Our Story
              I used to believe that if I didn't read the end of a book, it never ended. Like if I didn't nish Harry Potter and the Order of the Phoenix or Mockingjay, Sirius and Rue would go on existing perpetually, even aging and dying naturally. (Spoiler alert!) The characters would nd a way out, and somehow everyone would live happily ever after. Or at least, you know, live.
That's a bit like how I feel right now, at the start of my senior year. In the books of our high school lives, we're hovering right on the precipice of the grand nale. There's so much anxiety and suspense in the air, but there's also this great sense of potential and excitement for the ending—it's a rollercoaster ride and I don't know if I'm screaming out of fear or exhilaration.
Because the thing is, I'm not scared of what I'll nd at the bottom. I know my friends and family will be there to catch me and cheer, just like I know every single one of us will go on to be happy, do great things, and change the world. It's not the fear that gets me, but the anticipation. Where will I nd myself when I open my eyes and catch my breath?
I honestly have no idea.
All I know is that our stories are shaped by the relation- ships we've formed, the roles we play, and the duties we owe. Every failed side quest and hilarious mishap has pushed us along; every Forbidden Forest explored and boss battle conquered has moved our character development and story arc. All this rising action leads up to an inevitable conclu- sion—and once we know that conclusion, we can never change it again. And that terri es me. What if I close this chapter of my life regretting that I didn't nish strong?
So I guess what I've realized is that now is a good time to evaluate the narrative I've written at Pingry and decide how I want it to end. Fortunately, it's not yet set in stone. My fellow seniors and I are still writing; we still have a say in how our Pingry adventures wrap up. It's not too late to change some storylines—to x that friendship you lost in Chapter Five, say, or to tie up the loose ends from that misplaced romantic subplot. Certainly, it's time to call upon that powerful wizard ally for advice and support. God only knows that we need all the help we can get in these next few months.
To my underclassmen too, all of you familiar faces I love and unfamiliar faces I can't wait to meet: Now is the time to write. Write the story you want to read, the adventure you want to tell. Commit yourself to being the best and bravest version of yourself now, because all your sweat and tears add up. You will thank yourself for it later.
Now my question to you is: How do you want your story to end? And what are you going to do about it?
There will come a moment when we've all nished our journeys. We'll turn the nal page, close the cover, and mull over the endings we discovered. We'll either set it on the shelf or burn it, depending on how you feel about your narrative. But either way, we can't go back to reread it, to experience it again for the rst time.
That moment will inevitably arrive—after all, despite my denial, Sirius and Rue still die in their respective books—so let's focus on the present, while we still hold the pen in our hands. Let's write our stories as they're being told. Let's change the endings while we still can.
                                – Rachel Chen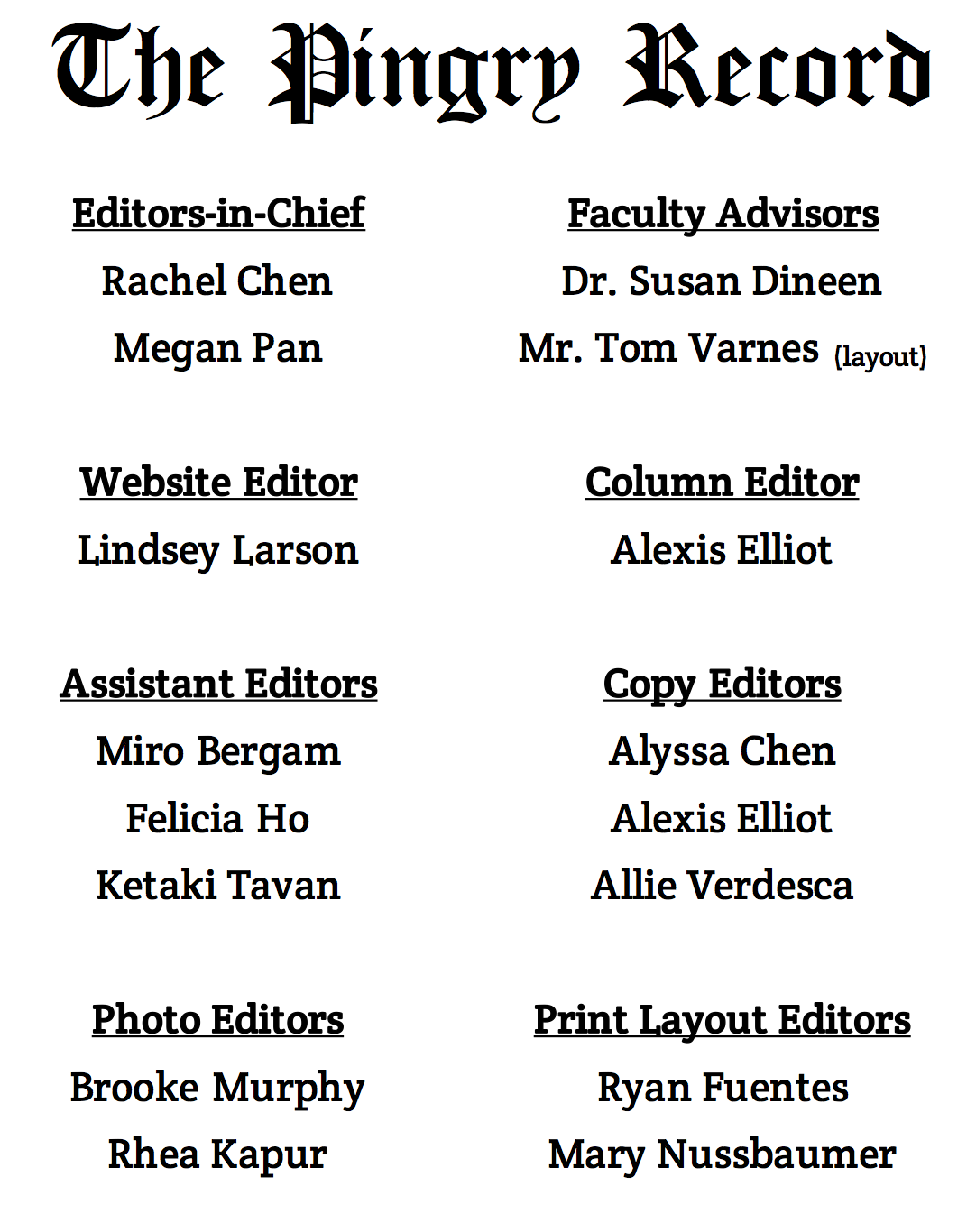 College: Dive Headfirst or Take a Breath?
by Darlene Fung (V)
I still remember my first day of swimming lessons. Six-year-old me was splashing around, when my instructor clapped his hands and announced, "All right, you're going to put your head in the water now!" I looked up at him through my oversized purple goggles and immediately shook my head. There was no way I was getting my face wet. The water was scary: there was so much unknown under there and, most importantly, there was no air. "Come on, just put your head under," he said again. "One, two, thr— ," and before I knew what was happening, a large hand dunked my face into the water. Needless to say, I came back up sputtering and crying.
Now, ten years later, I'm experiencing the same feeling I felt on my first day of swim lessons with the college recruiting process. Similar to that day, I am nervous, uncertain, and feel as if I have been tossed into something before I am ready.
Starting September 1, 2017, college coaches were officially allowed to begin recruiting swimmers in the class of 2019, relatively late compared to sports such as lacrosse and softball in which athletes may be recruited as early as middle school. Yet I still felt as if this whole process is starting way too early. After all, I've barely even started junior year, let alone taken the required standardized tests. It made me realize that while being able to commit early seems like a great opportunity, there are shortcomings to the system that should not be overlooked.
For those athletes who are recruited early and can commit to their dream school, their hard work has finally paid off and it appears to be smooth sailing ahead. However, a great deal can change in a few years. For instance, coaches may move to different schools so that by the time an athlete gets on campus, he or she may face a new coach and an unexpected training program. The team atmosphere may also be different by the time an athlete attends a college, because the players with whom the athlete met when he committed will be different than the teammates with whom he will play. Finally, the athlete himself or herself may change. What was the perfect school when an athlete committed may no longer be perfect as the athlete grows and his interests change. When asked about her recruiting experience, softball player Angelina Mayers (V) said, "I've waited to commit because you never know what may happen in the future. I had my heart set on one school in the past, but now I'm very interested in other schools."
More importantly, early recruiting puts unwarranted stress on young athletes. In order to be recruited early and land a commitment to a top school, young athletes oftentimes put a lot of pressure on themselves to constantly perform well in front of college coaches. Mayers continued, "I am away almost every weekend either for a tournament or at a camp that a college coach asked me to go to." Furthermore, those athletes who are working hard but are not offered commits feel added pressure to practice even harder to get coaches to notice them. This cycle risks overtraining and injury.
To young athletes who feel the pressures of early recruiting: Relax. Make sure you don't get caught up in the frenzy. Take your time to explore your passions, do what you love, and get to know yourself, so you are ready to make the best decision for yourself when the time comes. At Pingry, we are lucky to have understanding and experienced advisors, college counselors, and coaches to guide us through the college process and help us make these important choices. With help, preparation, and knowledge of ourselves and what we hope to get out of the college experience, I think no athlete should have any trouble diving headfirst into the water.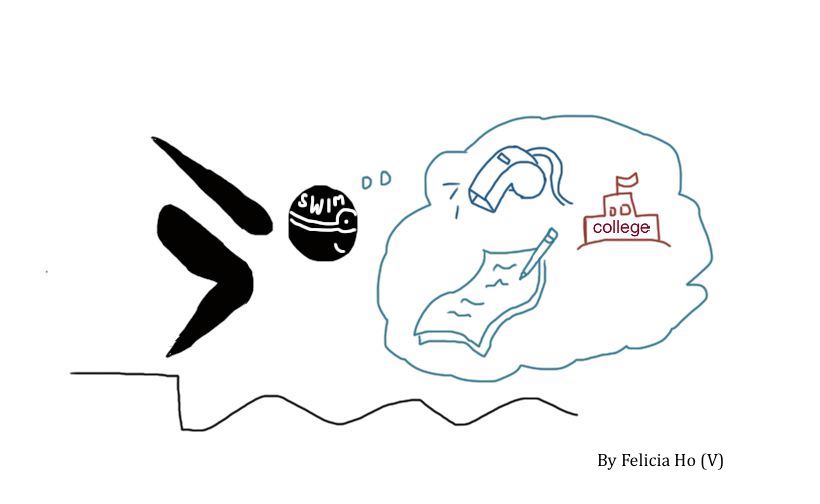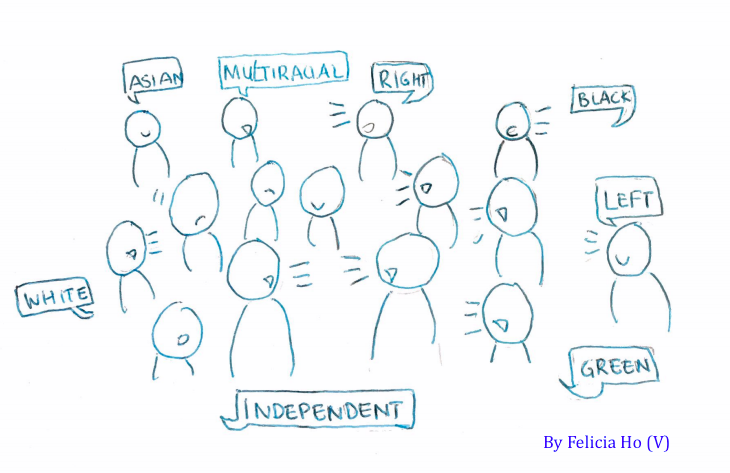 Leaning into Discomfort in a Partison World
by Miro Bergam (V)
"Lean into discomfort." This phrase may sound familiar from the multiple diversity assemblies you've been asked to attend in your years at Pingry. It is a part of a list of "conversation norms" that Pingry's diversity work is grounded in. For many people, this phrase and the list of norms have gone in one ear and out the other. However, I have found that recently, the world that surrounds us has given these norms more context. In particular, I believe the political conversations our country is currently engaging in and the way they translate tangibly into our interpersonal relationships and lives at Pingry has made the norm of leaning into discomfort a necessity.
I had this realization at a leadership workshop hosted by Pingry's diversity department this past August. Student leaders from sports teams, clubs, Student Government, SDLC, and Honor Board were asked to attend this training session, which involved engaging in different activities led by John Gentile, a diversity practitioner who specializes in working with white males.
In the latter half of the activity, the white males at the workshop were isolated into their own group. For the first few minutes, the group was dead silent. The silence was killing the whole intention of holding such a group: everyone was supposed to lean into discomfort and air out the white male opinions that are often overlooked in diversity work. But once people started participating, lightning struck the room: it was uncomfortable, it was problematic, and heads were clashing, but it was exactly what we needed. Everyone leaned a little bit out of their comfort zones, and it unearthed a landmine of opinions we desperately needed to addressed and confront in our world of white supremacist marches and national anthem debates.
Last week, Mr. Conard delivered a much needed speech addressing these conflicts. He shared his own opinion denouncing the white supremacists who marched in Charlottesville, and he commented on the way our current atmosphere politicizes every aspect of our lives, even including our day-to-day conversations.
One of his main points was that although he finds the white supremacists' stances abhorrent, he believes "they have a right to voice their opinions." This may strike some people as the opposite of what we should be doing—if their opinions are "wrong," then why should we even give them a platform? Along the lines of Mr. Conard's statement, I argue that continuing to push these repulsive opinions under the radar is simply feeding a large, silent beast of discontent and frustration that is occasionally released in horrifying moments like the white supremacist rallies that have swept Charlottesville.
Through hearing out the opinions of Pingry's white males at the leadership workshop this summer and listening to dissenting opinions as a leader of the white affinity group, I have learned that the endgame is not always about coming to an agreement, changing someone's mind, or "winning" the argument. All it takes is a dialogue and platform that respects both sides, regardless of how ugly each person thinks the other's opinions are, to begin chipping away at the massive divide that seems to have polarized our country and school recently. Simply honoring someone's opinion by hearing it out, regardless of whether or not you agree with it, builds a sense of mutual respect.
              The key to this is leaning into discomfort. If you have a far left opinion that you think no one will take seriously, lean into discomfort and voice it. If you have a far right opinion that you feel has no place at Pingry, step out of your comfort zone and let it be known. I believe Mr. Conard did an amazing job of stepping out of his comfort zone to address the school on such a contentious issue—setting an example we should be seeing more often from our school's leadership in such divided times.
              I urge you to follow his lead: join the open forums, attend affinity groups, and engage in difficult conversations. As long as you hold these dialogues in a productive way, without the goal of "winning" over or "beating" others, then you should find spaces to voice your opinion and lean all the way into discomfort. In Mr. Conard's words, "I encourage you to engage in respectful dialogue about these issues—they are not going to go away."
How Media Makes Us Smarter
by Ketaki Tavan (V)
           We're told as children that sitting in front of the TV is a waste of time. It hampers creativity, creates couch potatoes, fosters laziness, and leads to a meaningless existence. We're told that our time would be better spent reading a book instead. Reading books is an exercise for our brains that teaches us how to analyze and interpret what comes our way, feeds us valuable life lessons that we can implement at our liberty, and makes us thoughtful contributors to society armed newfound knowledge regarding the human experience. But why do we see watching movies and TV as incapable of doing the same?
           In recent years especially, I've become more acutely aware of the value of English class. The chances that I will encounter the precise themes of Pride and Prejudice or Holden Caulfield's "coming of age" in The Catcher in the Rye at some point during my future career are likely slim, but the act of reading these books, I've realized, doesn't hold its value in the way we might initially assume.
           In English class, we're taught how to read, or rather, how to consume media. And I'd argue that this exercise in the thoughtful consumption of media can be beneficial when applied to quality movies and TV as well. We spend years training our minds to read a certain way: to engage in critical analysis, to become more attuned to detail, and to look beneath the surfaces of these works to draw connections to the larger world in which we live. To my surprise, I began to notice myself watching movies and TV through a similar lens.
           At face value, movies and TV provide entertainment, and I'll be the first to admit that some media is good for nothing more. However, there is a host of digital material out there that is thoughtfully crafted and can prompt its audience to engage with the cultural moment in which we live and the facets of our contemporary world. Take Black Mirror, for example, a controversial and thought-provoking series that explores the  uneasiness of our modern world. Each episode considers a different injustice, tapping into the psychological damage of war, the disturbances of our technology-obsessed society, and the troubling themes we have come to label as entertainment.
           Watching Black Mirror prompted me to consider our world in its current state in a way that, as I read more and at higher levels, great literature does as well. Despite its satirical and amplified portrayal of our current problems, Black Mirror acts as a stimulus that prompts viewers to unearth the glimmers of these issues that can be seen in our modern world. In a subtle way, the show shapes its audience into active, engaged contributors to our society. 
           Showtime's Shameless, a TV series about a dysfunctional family struggling to make ends meet in South Side Chicago, is another show that has stimulated my mind in a way similar to that of literature. Shameless is my favorite TV show for a host of reasons, the biggest reason being that it's what first allowed me to recognize the value of quality television. The show's directors artfully underscore the nuances and depth of the human experience, and the fact that their vehicle to convey this narrative is digital allows for the engagement of the audience's senses in a way that is unique from that of literature.
           Watching Shameless becomes more than following an admittedly entertaining plot; it begs you as the viewer to give credit to its subtleties. Prior to my watching Shameless, never before had a TV show commanded me to pay attention to its soundtrack, staging, camera angles, and script. It effortlessly conveys the rawness of human relationships and the very real and relevant stories shared by many American people today. This detail and these messages are familiar—they're the heart of the academic literature we're told to read and taught how to read.
           Movies and TV shows aren't a replacement for the enrichment that reading provides, but they can sharpen our intellect in similar ways that reading can. I encourage people to discard the belief that TV and movies are a mindless way to squander time, to recognize the genuine and powerful properties of digital media, and to consume them in an intentional manner that, in many ways, parallels the treasure that is reading literature.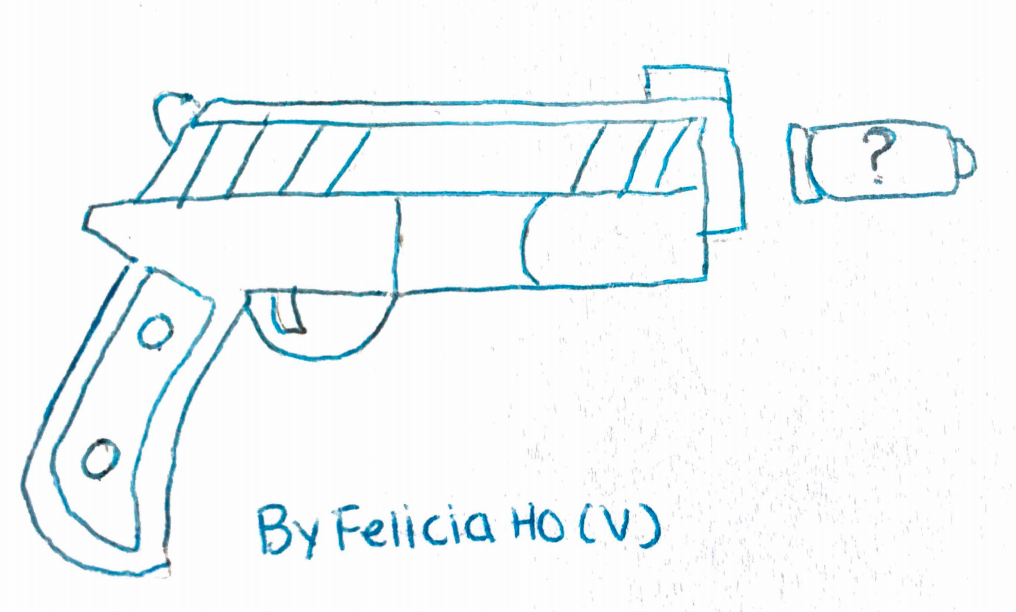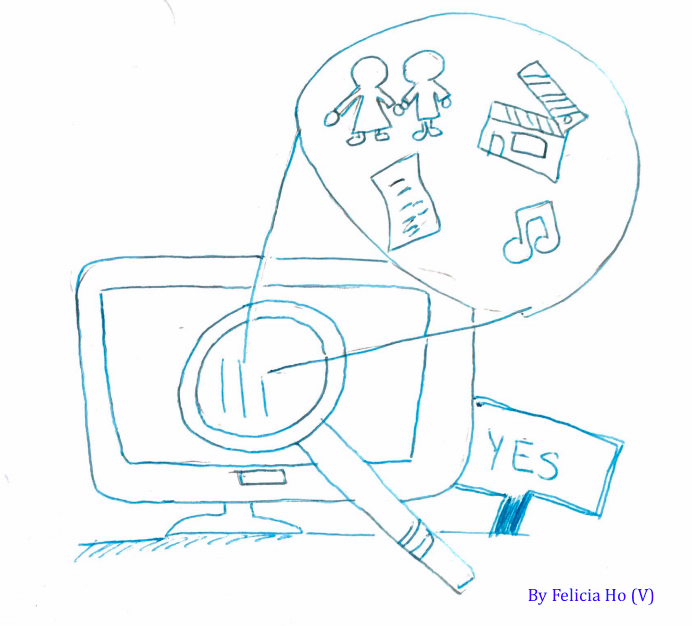 Parrish Puts Herself Behind the Trigger
by Maddie Parrish (VI)
           On the issue of police misconduct and unwarranted violence, I used to foster a one-sided perspective. I have read NY Times articles describing tragic incidents of unarmed young men in Chicago being shot to death by law enforcement officers. I have seen horrifying videos of officers fatally shooting teenagers as they run away or refuse to obey orders. So, heartbroken and appalled by the unjust punishments that I felt were too often dealt to perpetrators of petty undeserving crimes, I rarely challenged negative generalizations towards law enforcement. Until I was put in their position.
           The Union County Police Academy uses a FireArms Training Simulator to train new recruits. Essentially, the simulation consists of a large screen which plays a scenario from the point of view of a police officer. Each scenario is taken from real-life past experiences of New Jersey officers, and the recruit is given an unloaded gun to respond to each situation as they would in real life. I participated in this simulation as a part of my internship this past summer at the Union County Prosecutor's Office and was instructed to shout verbal commands at the perpetrator on the screen according to the scenario. If these verbal commands failed and I felt it was necessary to protect my life or the lives of others, I was told I should shoot.
           My simulation consisted of a call to a grocery store. As I arrived, the scene was entirely chaotic: men, women, and children were running frantically through the aisles and screaming for help. With a sort of awkward feigned assertiveness, I commanded the customers of the grocery store to evacuate the area and remain calm. And after this task was done and the majority of the customers were well on their way out of the store, it wasn't difficult for me to locate the robber.
           From my vantage point on the opposite side of the aisle, I could see that one of his hands was in his pocket. More alarmingly, I heard him threaten to kill a man who was standing nearby. As my confidence grew and my adrenaline kicked in with a new sense of duty to protect this innocent bystander, I shouted "Freeze!" and "Show me your hands!" But the robber simply laughed in mockery and refused to take his hand out of his pocket. As I kept shouting commands, with a racing heart and a growing fear for my own "life," the perpetrator continued to ignore me and began to run.
           At this point, my gun was pointed toward him. I had no idea what to do. Was he going to follow through on his threat toward the other man? What if he had a gun? What if he escaped the store? And suddenly, he turned around, faced directly at me, and whipped his hand out of his pocket. I saw the blur of his hand gripping some solid, black object. So out of sheer human instinct, I "shot."
           I do not know whether or not the black object was a gun. Had I waited a few seconds to figure it out, I may not have "survived." And hopefully, if I had been previously trained for a situation like that, I would have handled it more skillfully.
           But I know now what it feels like to be forced to make a split-second decision in the face of what I perceived to be life-threatening danger. And my challenge to myself and to the Pingry community is one of open-mindedness and of willingness to understand experiences and perspectives from all sides. Do not let your opinions on such critical issues be shaped by a single story alone. Imagine what it might be like to feel that the only way you can protect your life is to shoot and to have less than a second to make that decision. But also imagine what it might be like to be unarmed on the receiving end of those of those tragic fatal shootings. After all, the robber in the simulation may have just been pulling out his wallet.
Editorial: The Bright Side of an Accident
One morning last week, I was driving myself to school when I got into an accident. It wasn't anything terrible. I was a little careless on the turn into the school driveway, and my car ended up scraping against the curbside stones. Aside from a harsh clang and the physical jolt of the ricochet, it wasn't too serious, and once I parked and headed inside I thought nothing more of it.
Flash forward to 5:30 that afternoon: tired from classes and play practice and dreading the work that awaited me that evening, I was more than ready to enjoy the drive home, listening to music while coasting thoughtlessly down the highway. However, as soon as I accelerated onto I-78 eastbound, I noticed that there was a loud, rhythmic thumping noise coming from the back of my car. Panicking, I made the rst exit I could and trudged along until reaching the nearest gas station.
As it turned out, I had actually blown a tire from my accident that morning. Somehow, I had failed to notice it after parking and even upon returning to my car in the afternoon. Luckily, a trucker filling up at the gas station was kind enough to lend a hand. He replaced the at tire with the spare in the trunk, walking me through the procedure so I would know what to do in the future.
"Thank you so much," I said to him after he was done. "If it hadn't been for you, I probably would've kept driving on the blown tire."
"You wouldn't have wanted to do that," he replied. "You could end up really causing damage to the axle or the hub or something if you keep driving on a at tire."
Having been told not to drive over 50 miles per hour on a donut, I scouted a new route home that wouldn't take me along any freeways. On local roads, it would take about 40 minutes in order to get home. Seeing as I had little other choice, I sighed and buckled myself in for the long ride. 
As it turned out, I actually quite enjoyed this little detour. Following this route, the landscapes were much prettier and more varied than the industrial gray and the conventional green of the roads and signs along the highway. Ambling along winding roads and steep hills, humming along to my favorite songs while admiring the view of the setting sun, I was able to experience a rare 40 minutes of tranquility in the car all by myself. I didn't think about the work that I needed to do or the upcoming deadlines for all my assignments or even the editorial I had been procrastinating for the newspaper. I just drove and drove and made my way back home.
You might be wondering why I'm telling you this, all of which seems to add up to simply an anecdote of a minor inconvenience in an otherwise ordinary day. But by the time I pulled into the garage that evening, I had realized something important.
Since the beginning of the school year, I have been working myself to the point of exhaustion in the attempt to do everything. Juggling a full course load, college applications, extra-curriculars, and family obligations, I have skipped meals, shed tears, and sacri ced sleep to try to get everything done. In terms of my physical and mental well-being, I had de nitely blown a tire. In spite of that, I was still struggling to keep going on a at tire, resulting only in ineffectiveness and further disappointment.
Within the Pingry community, there is a sense of urgency pervading the atmosphere that makes many people feel as if they're running a race in which they can't afford to stop or slow down. There is a constant deluge of things to do, and with the added pressure of seeing everyone else around you working hard, you push yourself past your limit to be able to keep up.
But you can't keep driving on a at tire. It's simply not practical, and you run the risk of causing further damage to yourself, whether you sputter out from excessive fatigue or explode in a burst of stress and frustration. What students must come to understand is that when they nd that they've reached a point at which trying to keep going would only prove counterproductive, it's necessary and perfectly ne to take a moment to breathe. When times get rough, take the time to perform repairs, ll up on gas, and pick up a couple of snacks from the convenience store. Then, you'll be ready to hit the road again.
People often use the metaphor that life is a marathon in the sense that it's a long-distance race and you have to pace yourself. However, I'd like to provide a modi cation of that metaphor. To me, life is not a quest to complete a set distance along a set course while competing to achieve the fastest time; in fact, it's not a race at all.
To me, life is a long car drive. All of us are driving at different speeds and in different directions, and we're each going someplace different. But no matter where we're headed in the long run, it's important to take the time every once in a while to exit the highway, slow down, and truly enjoy the scenery.
                           – Megan Pan (VI)
How Much Privacy Do We Actually Have?
by Anna Wood (VI)
Simply put, media is powerful. A single hashtag or posted message can influence people for months. We've seen trends such as store robberies and dangerous stunts. We absorb the posts we see online, oftentimes more than we think we do. As members of society, we should keep this in mind. Rachel Chen (VI) agrees. "On one hand, I understand that we are students and we do represent Pingry," she said. "We're supposed to be the best and the brightest–representing honor and integrity and citizenship." On the other hand, we are allowed to exercise our rights, including freedom of speech. While we are fortunate to have this liberty, consequences are inevitable. Ultimately, it is the individual's decision to gauge whether or not their message will influence others in a positive manner.  
Pingry, however, is a private day school — and one of the strongest in the country, at that. Resources, time, and energy shouldn't always be spent dwelling on events that aren't directly affiliated with the school. Actions displayed at athletic competitions, arts performances, and on campus activities reflect the values of the Pingry community; informal events between students do not mirror Pingry to as full of an extent. Private details of students' personal lives should not be mixed with their academic endeavors, as long as those details don't reflect their behavior on campus. Provided that Pingry students are honorable, dedicated, and respectful in their daily lives on campus, it is not up to the school to decide what students do in the privacy of their own homes.
The Honor Code states, "The members of the Pingry community should conduct themselves in a trustworthy manner that will further the best interests of the school, their class, and any teams or clubs to which they belong." Pingry students who dutifully serve their athletic teams, clubs, and classes certainly follow this aspect of the Honor Code. Certain human values can be encouraged, but cannot be wholeheartedly enforced outside of the community. Unfortunately, social media is melting the privacy that keeps home and school separate. Social media is the easiest form of communication, but it can be misinterpreted. A post not intended to harm others can most certainly do so if we aren't careful. Content shared on social media can compromise safety and reputation, even when privately shared.
Some may argue that nearly every platform of social media allows the user to go "private," disabling strangers from viewing his or her posts. Others may add that online expression changes relative to the platform of social media. Among the younger community especially, Facebook, Twitter, and Reddit report the most use in retrieving news, whereas Instagram, Snapchat, and Youtube are used in a more casual manner ("News Across Social Media Platforms 2017"). That being said, media users must still be cautious on their Snapchat accounts or their private Instagram profiles. Posts are not only viewed but also shared and discussed. In other words, private isn't truly private. A post that sparks political controversy, no matter how concealed, will still emerge from the shadows and be spread to every corner imaginable.
Liberty lets us flourish in our own opinions and ways of life. But limitations are still present. We must utilize the privilege of freedom with maturity values are destroyed over social media, they are destroyed in the real world.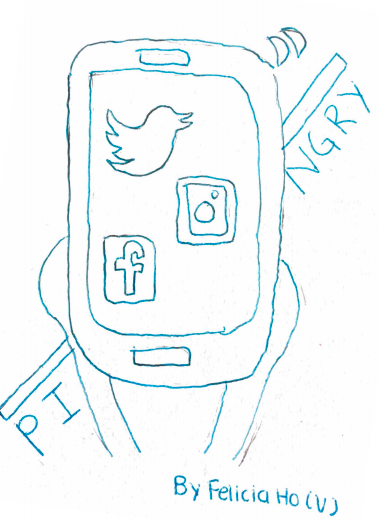 Dear Freshmen: High School is a Dim Sum Restaurant
by Felicia Ho (V)
Transitioning into high school is a lot like walking into a dim sum restaurant. Sometimes you hear great 'reviews' of high school, sometimes you only hear about the huge amount of pressure during high school. However, you never know until you truly experience it yourself.
In a dim sum restaurant, like the one I go to with my family, you are greeted by an eager old woman who whips out a red stamp maker and a pen and begins to list what she brings to the table from an overflowing cart.
"Over here we have some chew beef tripe, fresh from the kitchen," she says. "And here are some soup dumplings and noodle rolls, and some shu mai! Finally over here we've got some filling tofu soup."
Her auctioning descriptions finished, she impatiently clicks her pen and waits for your answer. So what would you like? she wants to know, already ready to move on to the next table. Ninth grade can feel exactly like that.
At first, it seems overwhelming: suddenly, teachers aren't holding your hand anymore, and your friends seem to be so competitive. Just like the servers at a dim sum restaurant, more and more people seem to be impatient. Each teacher expects you to treat his or her class as your focus, and thus they pile work onto you, yet you still have to make time for hanging out with friends.
Although it may be hard at first, my suggestion is that you try to look beyond the pressure in high school. In other words, think beyond what the servers at the Pingry high school dim sum restaurant may think of you. Think about what's on the cart, instead.
Beckoning to you are tons of clubs, striving to get your attention and attract more members. Some are science-related, such as Anatomy Club or Journal Club, while others are more humanities-focused, such as Toastmasters or the Pingry Record. On other plates sit other clubs related to Community Service or environmental issues, and still more clubs revolve around the idea of exploring different hobbies and interests, such as debate or astronomy. With so much to choose from, how do you decide? It's freshmen year, so just go for it!
Just like in a dim sum restaurant, what may sound gross at first, like the steamed beef tripe (cow stomach), might actually turn out to be great (steamed beef tripe is one of my personal favorites)! Once you've got a great selection in freshmen year, you can start developing which clubs are your favorites – which 'dishes' do you always come back to every day you walk through the doors of the school? Throughout your four years in high school, you'll become the expert on these dishes, and you will grow to be a frequent customer of this dim sum restaurant. You will become an expert on the culinary delights of high school.
Don't worry. You won't be alone! Although some teachers, just like some servers in the dim sum restaurant, will set seemingly impossible deadlines, others will become your support base throughout your high school career. Your friends and family are also a part of this group, and when you're not sure what order to make, don't be afraid to ask for their opinion; they'll be glad to help.
Finally, freshmen, don't forget that a fantastic meal is never complete without the dessert: senior year. That golden egg tart is waiting at the end of the road of high school for you, and you are sure to enjoy a well-deserved piece of it. Although the days to come may be filled with the hubbub of high school life, complete with stressful tests and difficult papers, take a moment to sit back and look at the bigger picture. High school is about finding yourself, and the only way you can embark on this quest is by digging in and getting a taste of all the samples.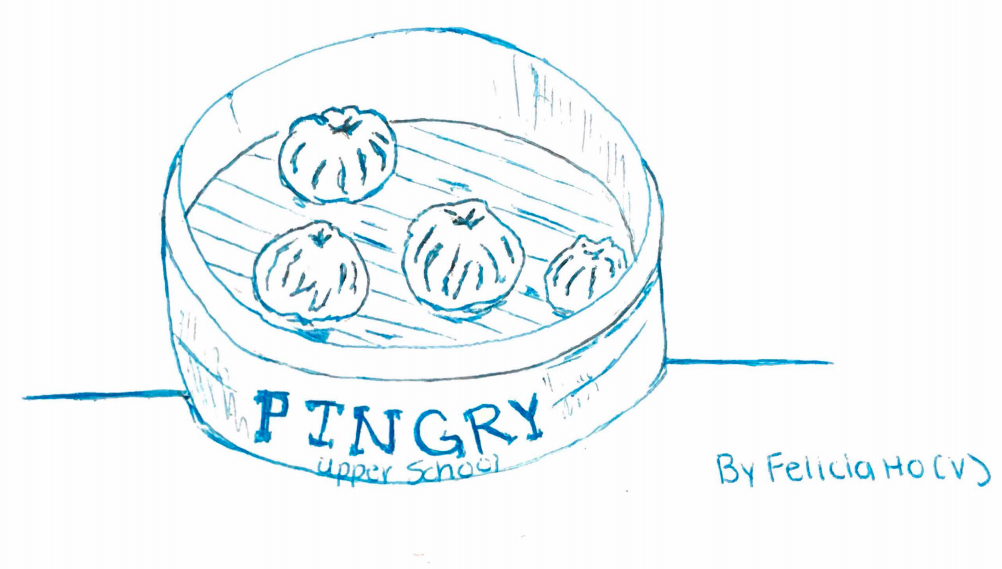 Fu's Favorites for Fall Fashion
by Kristine Fu (V)
Although the summer season of sundresses and denim shorts has sadly ended, fall is the perfect season to mix and match your summer wardrobe with cozy sweaters and cardigans. With temperatures rising and falling from 50 to 75 degrees in a single week, it may seem difficult to dress appropriately. However, it's always a good idea to dress in layers during seasons like this, especially since some areas of the school are freezing cold while others are extremely warm. Cardigans and vests are definitely good investments for this season because of their versatility, simplicity, and comfort. Plaid shirts, which can be worn by men and women, will forever remain the staple item of fall fashion. New trends and looks in the hall for girls include: wide hoop earrings, flared sleeves, and Steve Madden flats.
New trends and looks in the hall for boys include: rolled up khakis and basketball jerseys on dress down days. Both genders, however, forgo on the "no white after Labor Day" rule, opting for classic white sneakers. Frequently seen in the halls are Sperry topsiders, which are designed to be boating shoes. The rubber sole and comfortable lining makes it a sensible choice for girls and boys. As the weather starts to get colder, leather boots are a good way to keep warm while evoking elegance and style.
Although private schools like ours are stereotypically depicted to be preppy and pastel, don't be afraid to break away from the trends and express yourself! The beautiful fall colors are perfect for inspiration. Rajeev Doraswamy (V) gives some tips on men's fashion: "I like wearing vibrant fall colors like a bright maroon and even matching the color themes of my collared shirt with my pants."  Kat Deliargyis (V) also agrees that color is a highlight of this season commenting, "My favorite part of fall fashion is the colors, especially in eye makeup and statement earrings. It's all about the really funky stuff." There is no better time to experiment with gold eyeshadow, peach blush, or a Bordeaux lipstick than this season. Kat also brings up a good point about statement jewelry. Any ensemble can be dramatically changed when paired with a layered necklace or a set of tassel earrings. One of my favorite things to do is to go to flea markets in Chelsea in New York City to find unique pieces of jewelry.
There have also been exciting new changes to the school dress code, which now allow for shorter dresses and skirts (at 4 inches above the knee) and tailored T-shirts. On the other hand, the dress code for dress down days will be more strictly enforced, officially banning sweatpants and pajama wear. While some may argue that limitations restrict creativity and self-expression, as Mr. Shilts said in my sophomore year English class, "under limits, one becomes even more creative."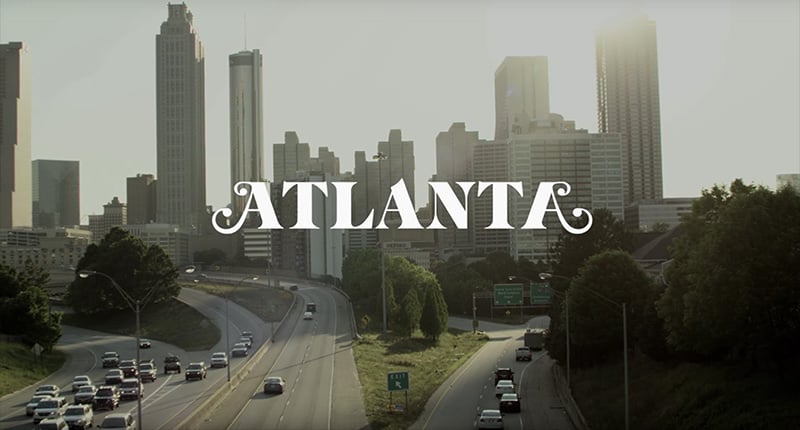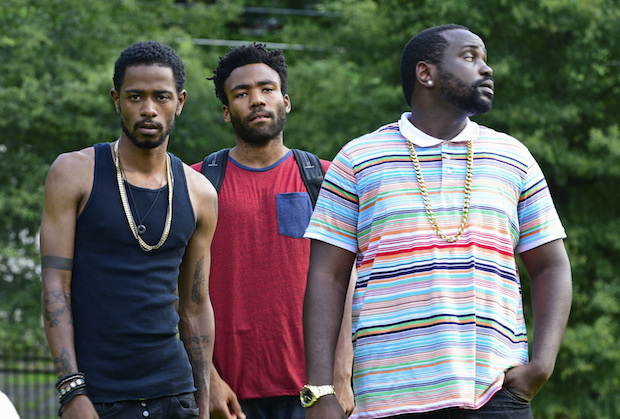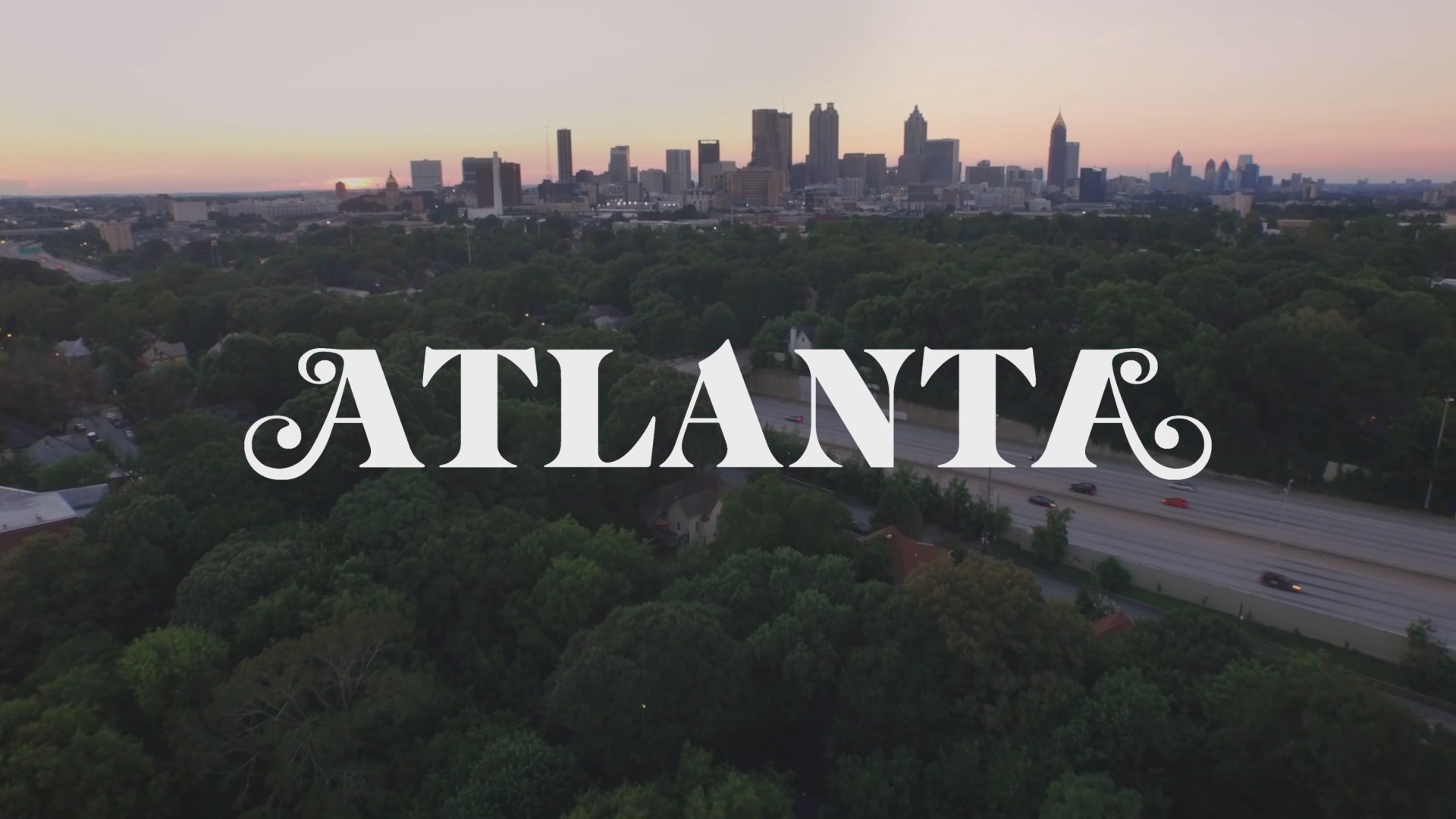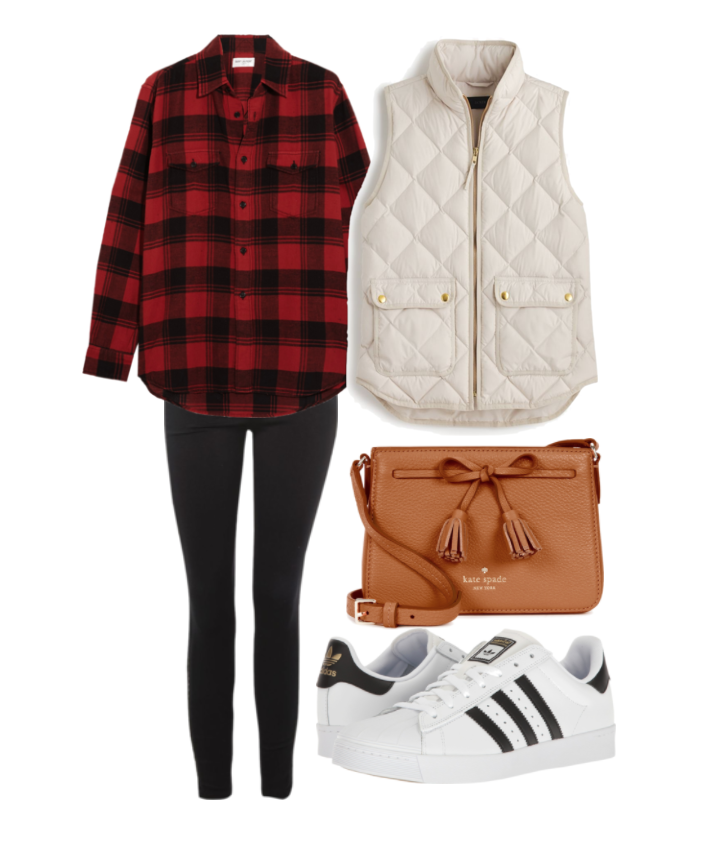 Elliot's Take on Today's TV
by Alexis Elliot (VI)
Shots fire out at a local gas station. The culprit? Up-and-coming rapper Paper Boi. Atlanta opens up with a scene that epitomizes the message of the show: minor mistakes cause major damage. Coming off the heels of an Emmy award, Atlanta is a show that paints the hardships of life that so many people face in a profound way. Writer and producer Donald Glover stars as Earn, a Princeton dropout who can barely make ends meet. Earn has to find a way to support his daughter and now his cousin, Paper Boi. Desperate to make an income, Earn turns to music management after seeing the success of Paper Boi's new song.
However, before Earn can make an attempt at making a career out of Paper Boi, he first has to await bail for the gas station incident. Earn and Paper Boi sit in jail, and while the scene is depicted simply, Donald Glover inserts several critical messages. First, one of the inmates is clearly mentally ill and repeatedly provokes the guards. They know he is ill, but the guards just laugh at him. The guards wait until this inmate pushes their annoyance to the edge to finally rough him up. Earn is in shock and pleads for the man, asserting that the latter is mentally ill and doesn't know how to control his actions. In addition to mental illness, other issues such as transphobia and homophobia are explored in Earn's time in jail, all in a single scene.
After their time in jail, Earn and Paper Boi return to their project of turning Paper Boi into a household name. The rap life proves to be difficult as Paper Boi has to dodge critics, make ends meet, and clean up his name after the gas station incident. Earn and Paper Boi are accompanied by their sidekick Darius, who often holds them back from success. The trio symbolize the misfortune of opportunity without resources.
Paper Boi has the talent to be a street rapper, but he has to learn the reality that the street life widely differs from real life. He needs to learn to make connections with important reporters, promote himself at clubs, and manage his money properly.
As a rapper himself, Donald Glover tries to portray the message that the rap life isn't easy and not everybody makes it. In Atlanta, Donald Glover shows the constant setbacks that characters face including homelessness, racism, and a lack of resources. Yet what makes the show outstanding is the fact that Glover manages to convey these subjects in a comedic manner.
One example is the scene when Earn decides to impress his girlfriend Vanessa by taking her to a fancy restaurant. Earn only has $90 in his bank account to spend on their night out. Viewers see how Earn tries to avoid paying for parking, orders only one glass of wine, and orders the cheapest meal on the menu. However, Vanessa insists on getting a valet, she orders a bottle of wine, and the pushy waitress makes them try every expensive item that the restaurant serves. In this scene, along with many others, viewers find comic relief from how relatable Earn's struggle is.
At other times, I found myself laughing until I realized the veracity of the underlying message. In a satirical episode, Paper Boi is starring on a show called Montague, and during one of the breaks, a cartoon commercial for a cereal similar to Froot Loops appears in which the kids steal the cereal from a mummy. As I was laughing at the stupidity of the commercial, a police officer appears and pins the mummy to the ground. I began to realize how Atlanta uses its creative genius to touch on a subject as deep as police brutality in a fake commercial. I literally had to rewatch the scene to better understand the message.
This is what makes Atlanta different. Viewers laugh at the comedy of the struggles that the characters face but are also challenged to pick up on the various messages that it leaves behind. Although the storyline simply follows an up-and-coming rapper and his manager, Atlanta causes the viewer to question all aspects of society. I highly recommend this show, and its short, hilarious episodes make it an easy watch. Season 2 doesn't come out until 2018, so there is still a long time to catch up on this fantastic masterpiece.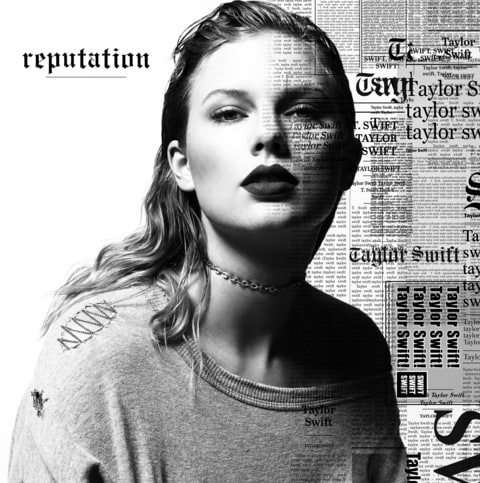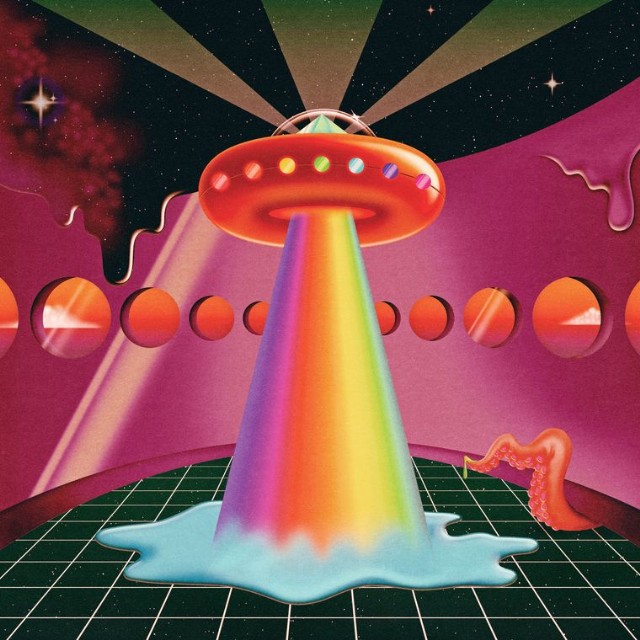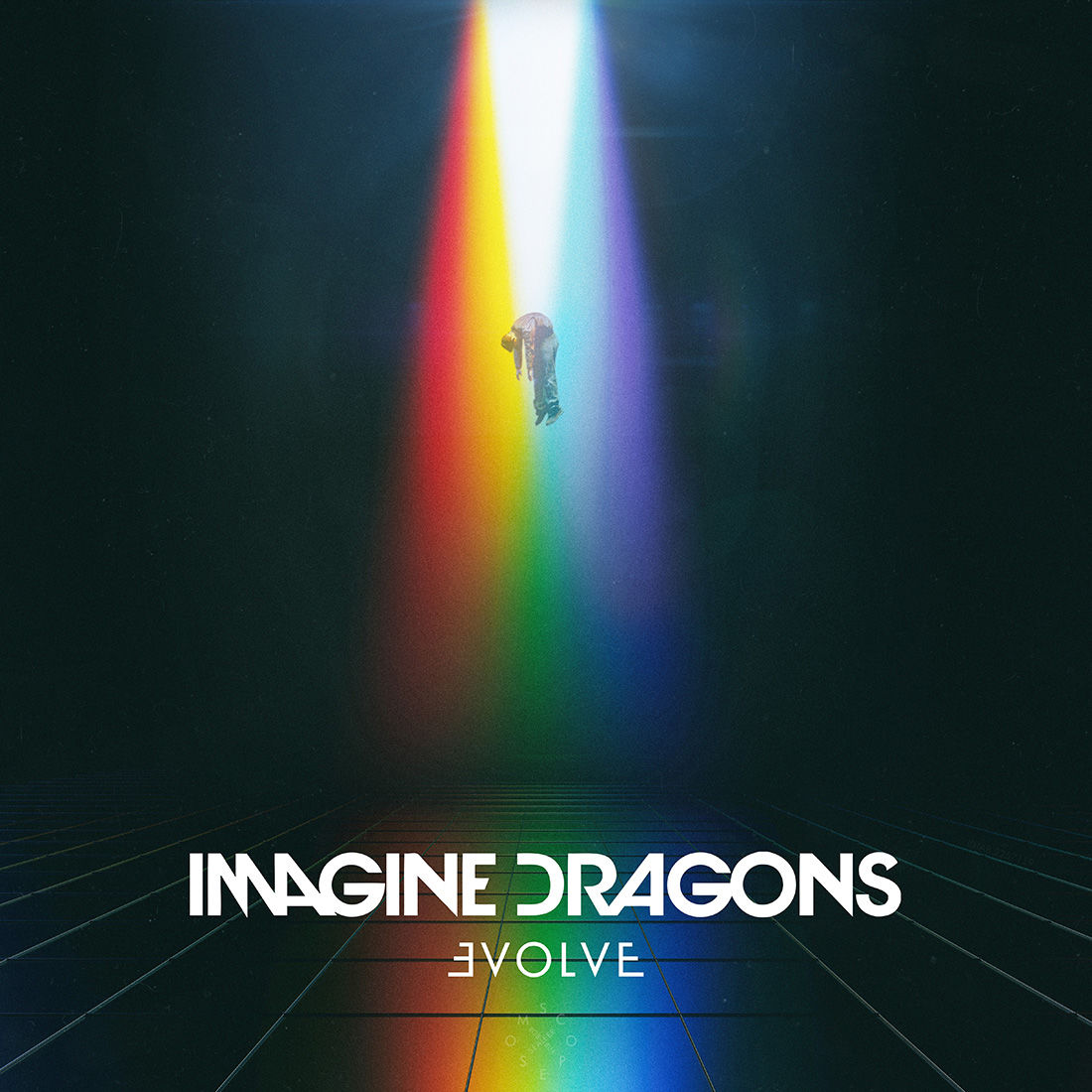 Verdesca's Tunes: Listen and Learn
by Alison Verdesca (VI)
Transitioning from summer to fall is tough. Having to balance a new schedule while also getting back into the swing of schoolwork makes it easy to get overloaded with new information. However, one of the benefits of this season of change is the amount of new music being released. Hundreds of artists are releasing new songs for the fall, and with the help of fresh new sounds and outlooks, you'll be better prepared to take on the new school year.
Looking for an edgier approach by a superstar? Try Taylor Swift's new album, Reputation. Although the album won't be officially released until November 10th, her lead single "Look What You Made Me Do" is already taking the world by storm. In mid-September, it was ranked number 3 on iTunes's Top Songs and number 1 on Billboard's Hot 100. Her other song from the album,"…Ready for It?", also rose to number 4 on Billboard's Hot 100. "Look What You Made Me Do" marks a significant shift in Swift's musical style. Her last album, "1989," was her first full-fledged venture into the world of pop music. This time around, Swift's lyrics contain newfound themes of revenge and shady nods to those who have wronged her in the past. The rhythm of the song and its infectious beat provide the perfect backdrop for her spiteful lyrics and determined message. There's no doubt that Reputation will become wildly successful upon its release.
Still popular is one of this summer's most notable releases, Kesha's album Rainbow. Following a controversial contract dispute and a sexual assault case, Kesha's songs "Praying" and "Rainbow" show the singer's renewed passion and positivity in the face of setbacks. A central theme of the album is affirmative energy, and this is not only reflected in the album's vibrant and psychedelic music videos and album cover, but also in the very fibers of the songs' rhythms. "Praying" is a pleading, satisfying pop tune with a good message of forgiveness and renewal.
On the more alternative side of the spectrum, Imagine Dragons's new release "Believer" has a catchy and gritty beat that has commanded attention this fall. Their album Evolve, which was released last June, contains the band's typical futuristic and post-apocalyptical sound, represented in its shouted vocals. The other main single off the album, "Thunder," introduces a new, more synchronous style to the group's usual intense chords and choral background vocals. It has a more generic pop sound, which isn't my personal taste, but for those looking for more variety in Imagine Dragons's usual sound, this song may be for you.
In this same vein of more rock-sounding, alternative beats, Fall Out Boy has been teasing their fans with songs off their album Mania, set to be released in January of 2018. The three leaked singles so far, "The Last of the Real Ones," "Champion," and "Young and Menace," have already become immensely popular. "Young and Menace" has been a real experiment for the band. Ever since their last album American Beauty/American Psycho, Fall Out Boy has been experimenting with integrating a classic pop sound into their more traditional rock, angst-ridden, pop-punk sound. "Young and Menace" is one of Fall Out Boy's first official forays into synth and auto-tuned sound effects, a recent trend in many popular songs. "Young and Menace" has a great build up; the song starts off soft, with a driving beat, until it finally coalesces into mass hysteria at the chorus. "Champion" is a much more subdued song, with a simpler instrumental accompaniment. It is more like their typical style; gritty, determined vocals are paired with a strong drumming beat to craft a great pump-up song that will be sure to get you through those first trying weeks of school. No matter how you've managed to deal with all the layers of stress that come with the beginning of the school year, I hope that all of these new releases will keep you motivated for a great year to come!
The Pingry Palate: Chen Reviews Local Food
by Alyssa Chen (VI)
Delicious sandwiches and burgers, massive portions, and quirky décor can all be found at Burger/Que of Basking Ridge, a relatively new casual BBQ and burger spot located on King George Road, only ten minutes away from school. I had passed by Burger/Que many times on outings to Frozen Falls or O'Bagel: in the context of the plaza, the restaurant's corner location seems to make it an afterthought. A few months after first noticing it, I suggested the spot to a few friends who were in the mood for burgers. It turned out that the little store had a lot more flavor than I had expected, both in terms of atmosphere and food.
The first notable item was the décor. Even before entering the restaurant itself, we passed by a large metal pig sculpture. Inside were paintings of cows and pigs, cute signs, and a hand-chalked menu board, among other little trinkets. The restaurant itself was not large, seating at most around 30 patrons at tables for mostly three to four people. The atmosphere was both laid-back and full of character, from the alternating blue and brick walls to the metal buckets on each table used for holding sauce bottles.
The food was flavorful and filling. We ordered cheese fries as a table; I ordered the brisket sandwich for myself. The cheese fries were topped with two types of cheese and served in a large portion—addicting to the three of us who were there. The brisket sandwich I ordered turned out to be two of the thickest slices of toasted bread I have seen sandwiching a good amount of fatty beef brisket, onion straws, and provolone cheese. Just half the sandwich was more than enough for one sitting. The meat and onion straws seemed to overflow from the bread—not a negative, considering the excellent flavor and texture of both. The bread itself was probably one inch thick and toasted to a crisp.
My friends, who ordered the BYO (build your own) Burger and the Figaliscious chicken sandwich, seemed to enjoy their meals, too. Looking around the restaurant, I noticed other quirky and tasty-looking sandwiches, such as the waffle burger (a patty surrounded by two waffles). As Naiyah Atulomah (VI) said, "Their food is so amazing, I don't care how I look when I eat. By the end, I have food and a content look on my face."
The only two complaints I might have for Burger/Que are that the portions are too large and the food is unhealthy. Of course, the latter is what one expects from such a burger joint, and the former "complaint" is really just a great deal, considering that most sandwiches cost $10-11 and that the restaurant provides carry-out boxes for those (like me) who cannot finish an entire sandwich.
If you are looking for a break from the usual dry or monotonous meal, or if you enjoy satisfyingly flavorful sandwiches, I would highly recommend giving Burger/Que a visit. A great meal awaits.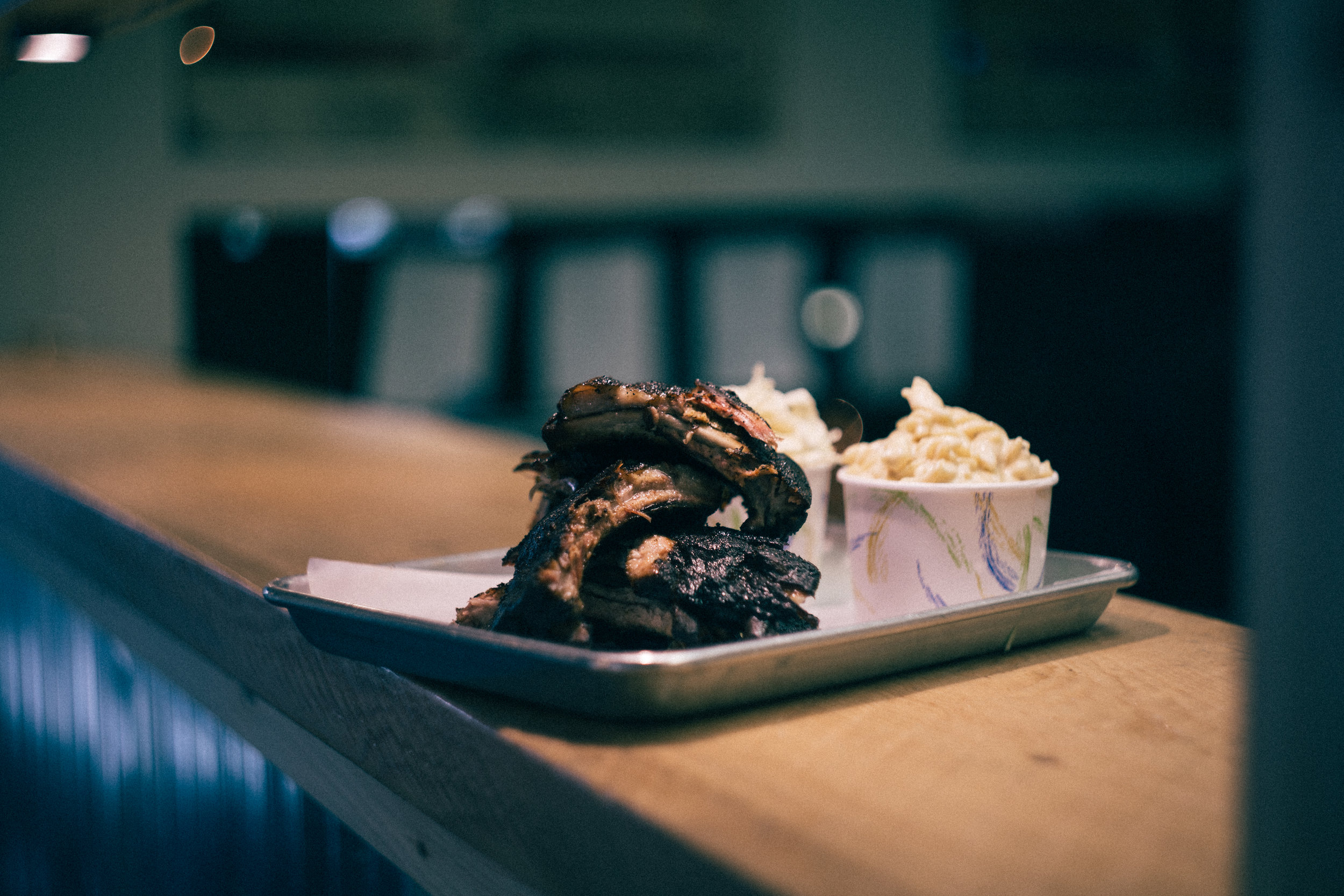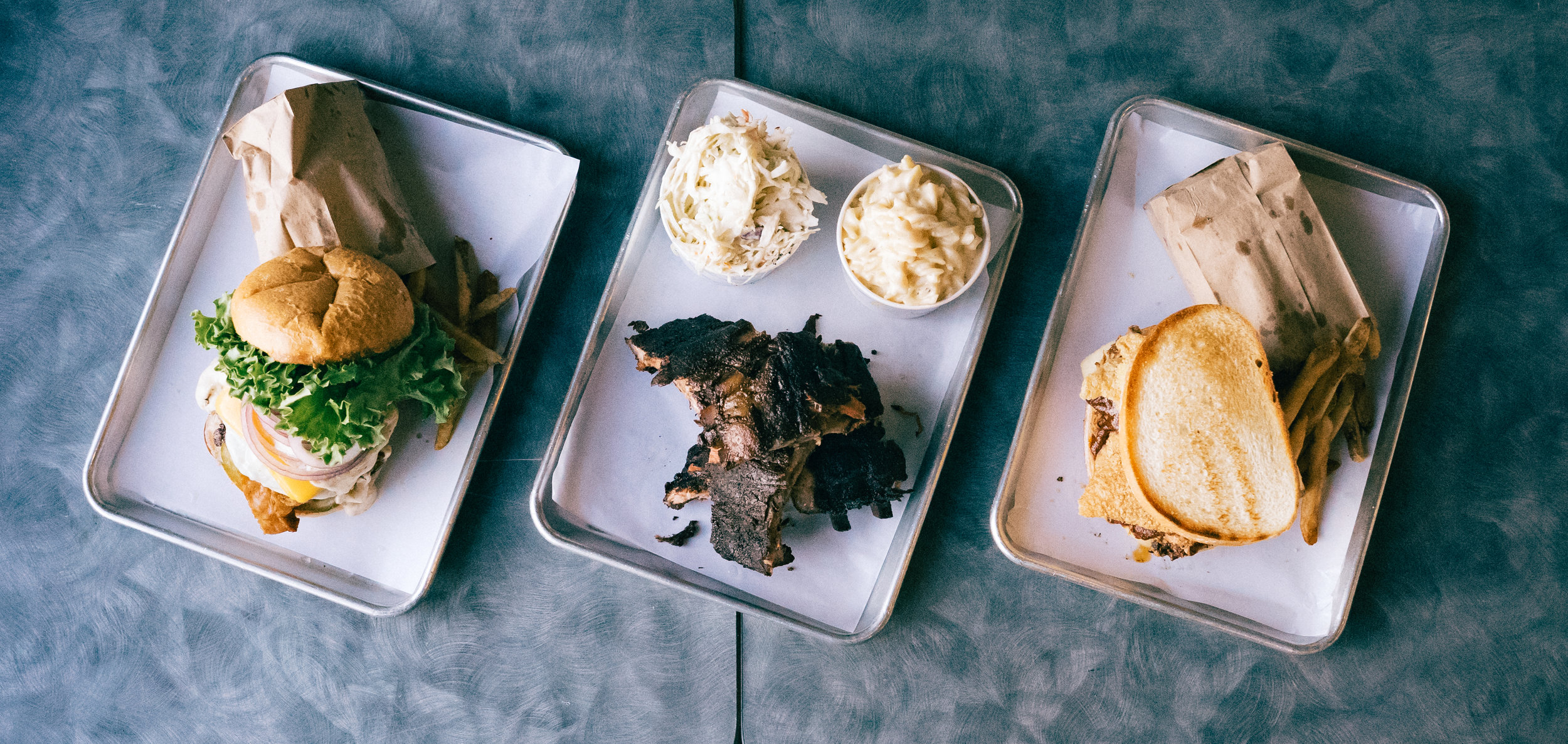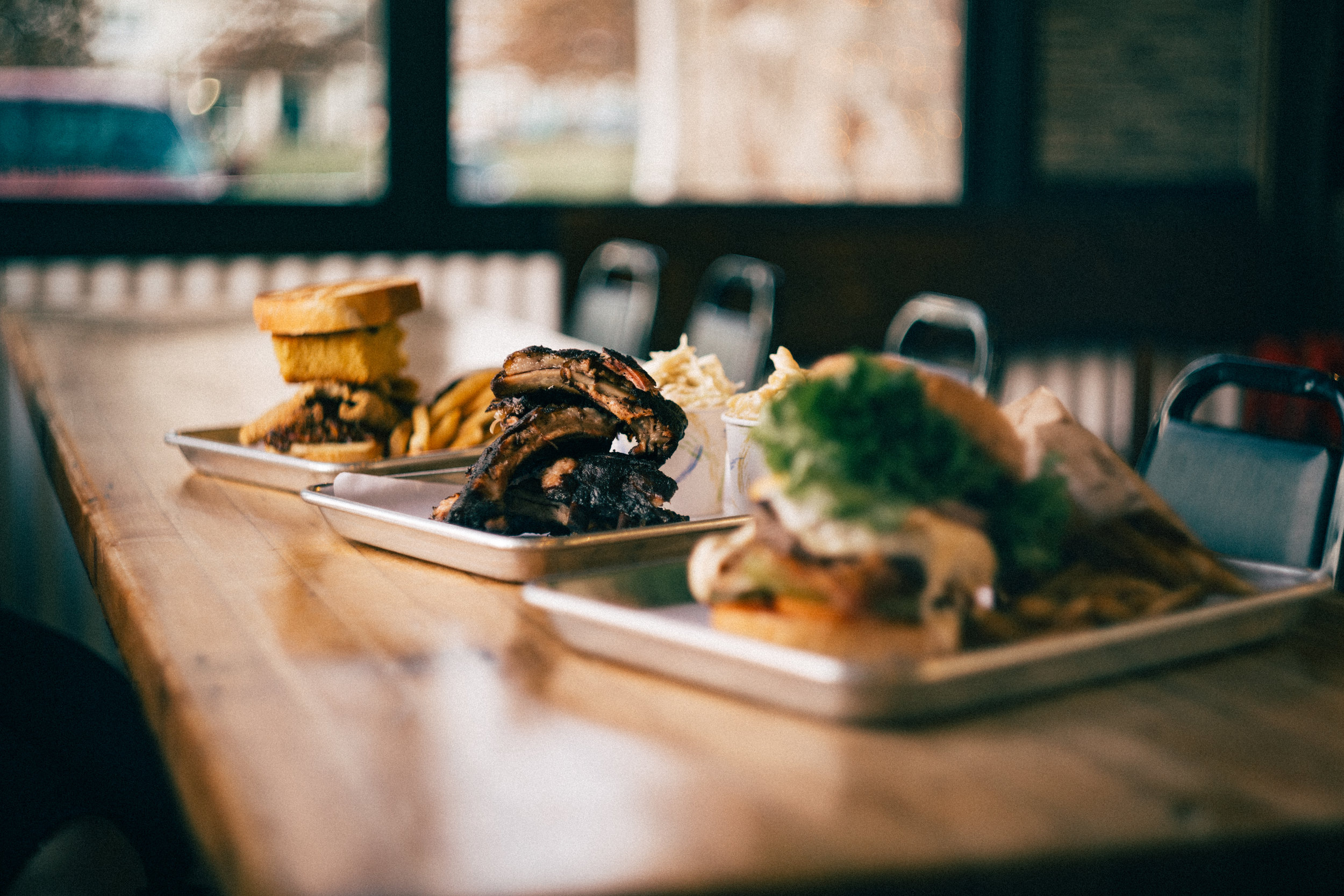 Kapoor Broadens Her Horizons at Camp Rising Sun
by Anjali Kapoor (IV)
It was 2 AM and I was alone in the woods. Under the stars and next to a fire, I stayed up all night writing a letter to my 21-year-old self. It was vigil night—a camp tradition since 1930. Camp Rising Sun is a full scholarship international leadership camp that I attended this summer in Rhinebeck New York.
Growing up I always heard the term "diversity," but this camp was diverse on a whole new level. I got to meet girls from over 30 countries in North and South America, Europe, Africa, Asia, and the Middle East. In fact, a couple of my best friends at camp were from Israel, Korea, and Spain!
We received instructions about academics, art, or culture every day, led by campers or counselors. One of my favorite instructions was by a Spanish camper who taught us a Spanish dance, el candil. In another instruction, a counselor who is an acrobat at a circus taught us how to do tricks on the silks. I learned cultural dances, listened to new music in different languages, and tried food from all over the world. One girl described camp as a way to "travel around the world without going anywhere."
Another fun part of camp was being sachem. Sachem is a Native American term for chief or leader, and the sachem gets to run camp. I was chosen as sachem of our wilderness trip, a three-day hiking and camping trip at another campsite. At the campsite, we cooked by fire and sang our favorite songs every night as we made s'mores. When another camper was sachem, she organized a fashion show. It was so fun dressing up, taking pictures, and strutting down our runway. Another night, the sachem organized a murder mystery night. We teamed up and ran around the buildings with flashlights looking for clues about the murderer among us.  
We also had council on Thursdays, another camp tradition. It would start by us meeting after dinner in silence, singing "Rise up Old Flames," and walking into the woods in a single file line holding candles. We would sit around a huge fire and pass around the council rock. When you received the rock, you had the opportunity to talk in front of the whole camp. Counselors would share life advice and campers would share personal stories or sing songs. Finally, we would end every council with our arms around each other singing "Lean On Me." This really reinforced the bond between everyone at camp.
This camp is everything a traditional summer camp is and more! We still did the usual fun summer activities, such as canoeing in our camp lake and sleeping in cots underneath large tents of tarp every night. However, I also got to meet girls from all over the world.
This camp was such a life-changing experience,  I wanted to share it with everyone. I learned so much and have made friendships that will last a lifetime!
Chokshi Embraces Chinese Culture
by Alisa Chokshi (V)
This past summer, I was fortunate to receive a National Security Language Initiative for Youth (NSLI-Y) scholarship from the US State Department for a language and cultural immersion program in China. NSLI-Y's goal is to help prepare American citizens to be leaders in a global world by helping students gain critical language skills and cultural knowledge to promote communication between countries. The Chinese language has always fascinated me with its complex characters and tones. As an aspiring polyglot, I thought this would be the perfect opportunity to learn it.
I became part of a group with 27 other teenagers who turned into family over the course of six weeks. The program offered the unique chance to communicate with Chinese people from all walks of life, such as the ones I met and befriended on domestic flights, my host family, teachers, peer tutors, the elderly, young children, shopkeepers, and waiters. From climbing the Great Wall to swooning over cute pandas, from having a traditional farm lunch in the countryside to crashing Chinese weddings, I was truly immersed in the local Chinese culture, an experience unlike anything I could have imagined.
My excitement made my host family appreciate their culture even more. Wednesday was my favorite day of the week because we had morning language classes and then spent the rest of the day on a cultural excursion to usually do community service. I volunteered at a kids' summer camp, helped out at senior citizen centers, and taught young children English.
On one particular Wednesday we went to Huang Long Xi, a famous ancient town that has a river flowing through it. There were hundreds of Chinese people playing around in the water, and my friend and I tried to stay away to avoid getting soaked. Unfortunately, this was not so easy. As my friend was taking a picture of me, a man came up behind us and soaked us with a bucket of water. We were annoyed, but at the same time, we realized we were getting the authentic experience.
Among my favorite times were the weekends when my host family and I would go on long road trips to a different cities, exploring their history and culture. Overall, I went to six different cities over the course of six weeks.  In the end, I was in tears at the Chengdu airport.  Saying goodbye to my host mother and sister was so difficult.
During the first week in Chengdu, I remember hearing a thought-provoking statement during our visit to the US Consulate. A representative had told us that the relations between two countries are built on people-to-people interactions more so than exchanges between media, government, etc., and I remember thinking that this concept was so simple yet so powerful.
After finishing my program, I can now say with certainty that the people-to-people interactions I had with Chinese people were the most rewarding part of my experience. Whether it was joking around with my Chinese friends, having meaningful discussions with my host family, or simply bargaining with shopkeepers in Chinese, I broke down many stereotypes and gained a true appreciation for China and its deep culture.
Holiday in Holland with the Field Hockey Team
by Shruti Sagar (VI)
More than two dozen field hockey sticks and giant harrow backpacks were piled on top of each other as we checked in at the Newark airport. I started to feel overwhelmed by the fact that this trip was actually happening. It was less than a year ago that my field hockey friends and I were joking around with our coaches about taking a team trip to Holland, so the fact that I was starting my senior year traveling to Europe with my best friends was still hard to believe. After weighing our bags, waiting in a long security line, and scrambling for last minute snacks, twenty-eight girls and four coaches boarded our evening flight to Amsterdam. 
We arrived in Holland early in the morning and immediately boarded a bus to our home for the next nine days. Our team stayed in villas filled with common areas where we spent our time together every night. After dropping off our bags, we hit the ground running with a full day of sightseeing in the Dutch countryside. We were able to try Dutch pancakes, explore windmills and bakeries, and gain familiarity with the sights and sounds of Holland. We continued sightseeing the next day as we ventured into the capital city of Amsterdam. We spent our day touring Anne Frank's house, shopping and exploring in smaller groups, and taking pictures in front of the beautiful buildings and elaborate canals.
After two full days of exploring Holland, it was time to finally play some field hockey. We each rented a bike and rode through the forest in the rain to the field hockey club where we would train. Field hockey clubs in the Netherlands are synonymous to country clubs in America; they have endless amenities and allow for athletes to socialize while practicing their skills using state-of-the-art facilities. We met our Dutch coaches, who became our friends and role models during our days of training. Their expertise and humor kept us entertained and working hard. We still reminisce about their jokes daily.
We fell into a routine while training that the team would come to love and miss once we came home. We hopped on our bikes each morning, sore from the previous day and bundled up in sweatshirts because of the windy, rainy weather.
We practiced with our Dutch and Pingry coaches for a few hours each day; then we took a break for lunch, which almost always consisted of sandwiches. The Dutch coaches introduced us to a couple of their favorite sandwich combinations, like peanut butter and chocolate sprinkles. After lunch, we would get back on our bikes to play a few more hours of field hockey. We also played in international matches with and against Dutch and international field hockey players. These athletes were incredibly skilled and agile, and it was amazing to see the differences in technique compared to American teams. One night, we were even able to watch the Dutch national team compete in a friendly match against India. Many of us had never seen field hockey at this caliber, and we were stunned watching their speed and flawless passing.
Throughout our trip, our coaches set phone restrictions for us that allowed us one hour of phone time each day; when we were touring and playing field hockey, our phones were to stay turned off in the villas. When we first heard about these phone restrictions, many of us felt uneasy about staying "unplugged" in a foreign land, but after nine days full of dance parties, solving a thousand-piece puzzle, deep talks, and endless rounds of elephant master and card games, many of my teammates reflected on the no phone policy as a positive experience. Because of our efforts to live in the moment, we were able to immerse ourselves in new perspectives and cultures, creating an unforgettable experience that will remain a part of Pingry field hockey for years to come.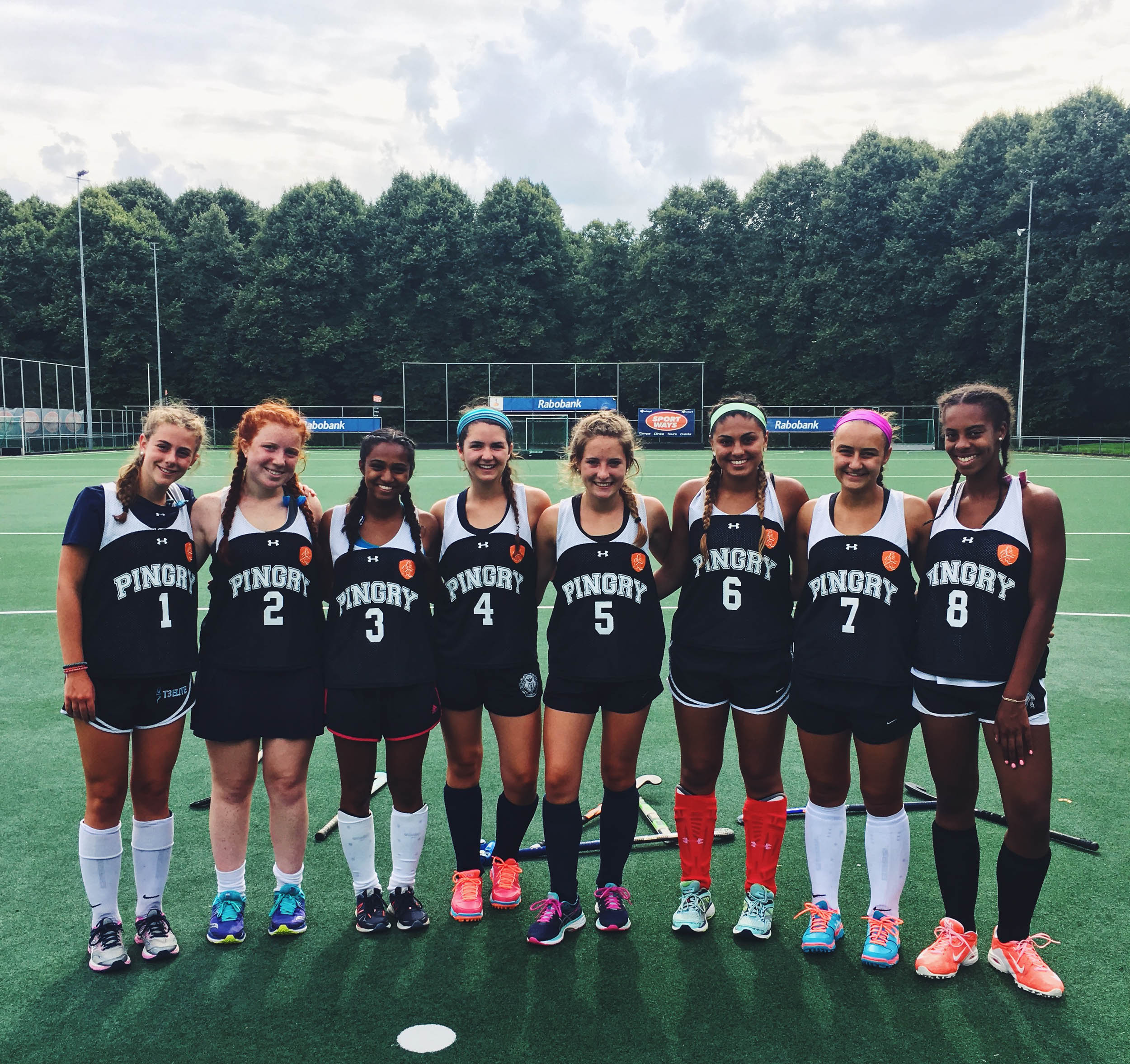 Kloss Takes on BMW in Germany
by Nicole Kloss
Ever since I was a young child, I have visited my family in Germany every year. I used to love running around the quaint town of Schwabisch Hall, splashing my feet in the Kocher River, and playing mini golf tournaments with my cousins. Over my years of spending time in Germany, my love for the country and its culture has grown, which drove me to apply for a couple of internships in Germany this summer. However, the internship that stood out to me the most was one for BMW.
BMW, the Bayerische Motoren Werke, is a successful car company founded and located in Munich, Germany. The luxury car company is a large part of German culture and I was honored to have the opportunity to contribute to this amazing company. After being accepted to intern in the contracting department at BMW, my uncle and his family helped make the opportunity a reality by offering their home for me to stay in for one month.
Towards the end of June, I packed a suitcase full of business casual clothing, got on a plane with my family, and flew to Germany in anticipation for my internship. When we arrived at the airport, my mom and sister drove two hours west to Schwabisch Hall, and my dad and I drove two hours south to Munich. After arriving in Munich, my dad helped me settle in and I caught up with my extended family. However, it was not until the next morning, when my dad had already left for Schwabisch Hall, that I realized how independent I would have to become. At home, my parents care a lot about my safety. They don't want me to use public transportation alone, stay out late, or even walk around New York City by myself. But without my parents around, I had to adapt to my new independence. Along with becoming independent, I was determined to make the most out of my internship at BMW.
On my first day of work, my uncle explained to me how to get to BMW. Following his instructions, I walked from his house to the subway station, bought a subway ticket, boarded the U2 subway, and was finally on my way to BMW. After the thirty-minute ride, I stepped out of the subway station. Directly in front of me was a large, sleek BMW building. I quickly realized that this building was where I would work, and I was stunned. I walked through the revolving doors and met Selin, a college intern whom I was to shadow. As I followed her towards our department, I was surprised by the amount of people I passed by. I later learned that tens of thousands of people work in that building alone.
When we got to our office, Selin showed me around the contracting department, gave me a desk, and explained what was expected of me. My duties included speaking only German and working from 8am to 4pm every day. Selin then gave me a tour of BMW through BMW's employee bus service. The area BMW occupies is much larger than I had imagined, as the building I first saw occupies only a small area. I saw several large factory buildings and Selin even brought me to the nineteenth floor of the BMW headquarters. She then led me back to our office and gave me PowerPoint presentations to read about BMW and their history. I also learned a lot about the contracting department. After a long day, I took the subway back home. I was exhausted and went straight to bed.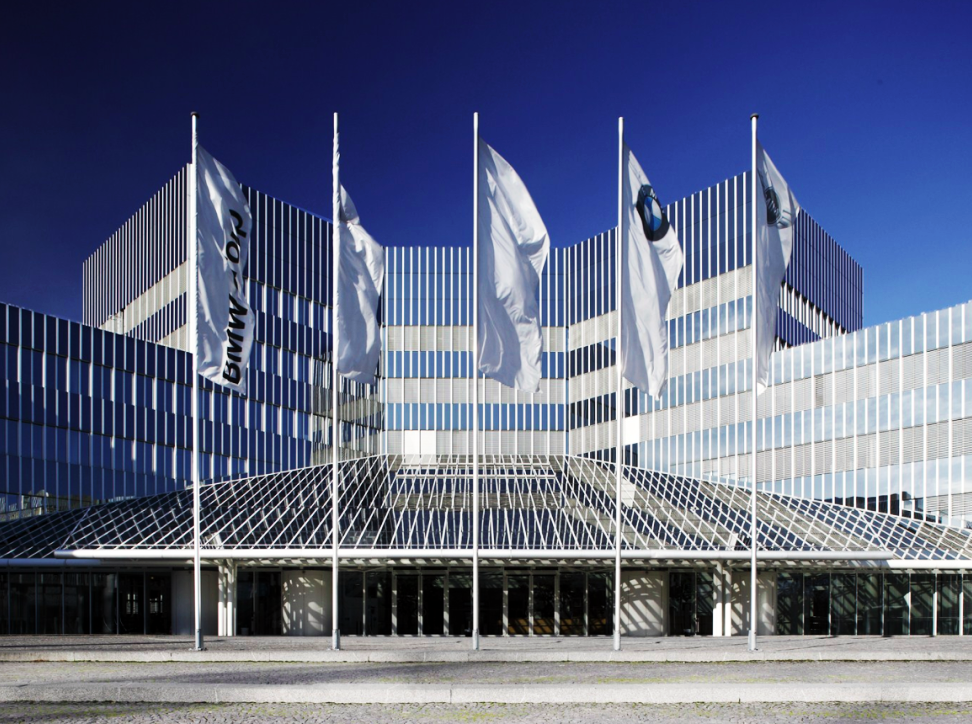 Healthy Work Environments Foster Healthy Work Habits
by Miro Bergam (V)
Early last summer, I embarked on my first foray into the professional working world. Dressed in my business casual best and armed with a shiny new MetroCard, I hopped on the 7:30 A.M. train for the first day at my internship with a video journalism company down the street from the New York Stock Exchange.
After series of newbie mistakes—buying a ticket to Newark Penn Station instead of New York Penn Station, walking up Wall Street at least five times before finding my building, forgetting a photo ID, etc.—I arrived thirty minutes late to my office feeling even more daunted than before. I expected nothing less than a stuffy, time-crunching work environment run by an exacting boss, who would be annoyed by my tardiness on the first day.
Upon arrival, I was astonished to find that I was earlier than my boss. When he arrived, he apologized for his lateness, saying he was exhausted from a weekend of surfing. Before he showed me what I would be working on for the next month, he insisted on having coffee with me so we could learn more about each other. I'm not sure whether it was the relaxed manner of my boss and coworkers or the massive poster of an almost-naked Howard Stern on the wall near my desk, but I could tell that this job was not going to be the stereotypical, stringent, Wall Street experience I had expected.
That's not to say my work wasn't highly rigorous and educational. Over the course of my internship, I learned about the production of video journalism at all of its stages. I operated several different advanced cameras, used advanced editing software, and distributed videos to our third party buyers. Beyond these technical skills, I wrote and reported on reputable news stories. I also learned about finance through my multiple visits to the NASDAQ and New York Stock Exchange.
The casual and colorful environment under which I worked optimized my learning and made for a positive experience to which I would be eager to return. My boss made a point of this to me; he told me that he would rather his employees come to work happy than punch in a card on time, so long as all the work (around 15 videos per day) got done. He always emphasized the importance of loving one's job, telling me how he had left his job on the Stock Exchange to pursue journalism. He said that although his previous job had been more lucrative, he had chosen to follow what made him happy. His choice to run his business in an easygoing, lively way reflects that same desire for all his employees to come to work with a smile on their face. The functionality of this work model really shone through when one of the reporters had a crisis at home. Thanks to the compassion of my boss and coworkers, the reporter took as much time off as she needed to handle the incident, as the rest of the employees gladly filled in for her. If the workplace were not run so leniently, I doubt anyone would have been as eager to help out, and the reporter would have had to compromise either her work or deal with the issue at home. However, since the company had been understanding in their times of need, the employees readily offered to fill in.
I came away believing that the style in which my boss leads his company should be applied to our lives at Pingry. On a personal level, this translates to how students allocate their time. I know how hard it is for Pingry students to quit anything; it took me several years to quit swimming, an activity I started out of obligation instead of interest. However, as my boss taught me in regard to his old job, doing something you dislike is neither productive nor sustainable, and pursuing what you are passionate about will optimize happiness and mental health.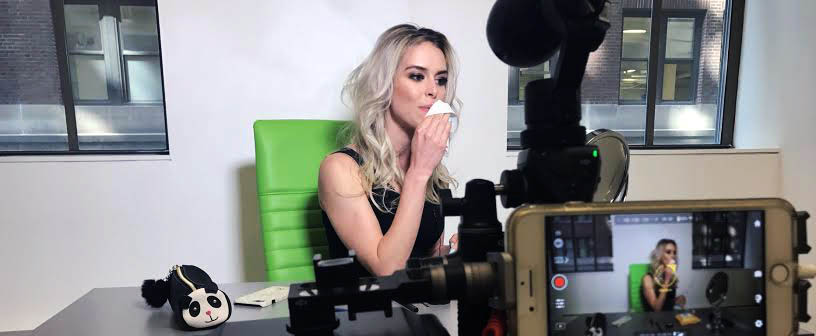 Pingry Welcomes New Faculty!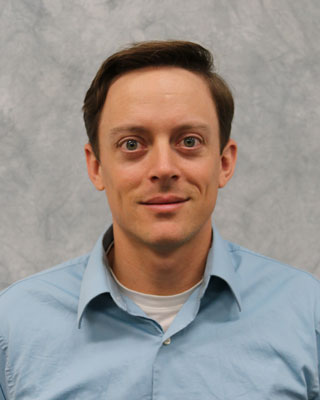 Dr. Fisher
Psychology
Dr. Brandyn Fisher joined the Pingry community as a new teacher in the Psychology Department. Dr. Fisher is teaching four sections of AP Psychology. He will also be co-advising a Form V advisory with Mr. Douglass Scott and hopes to assist in coaching Pingry's tennis programs.
Initially inspired by his high school teacher, Dr. Fisher set out on becoming a psychology teacher himself. He attended West Virginia University, where he enjoyed being around passionate people who motivated him to pursue his passion in psychology. Regarding his academic pursuits in college, Dr. Fisher said, "I liked that college allows you to be who you want to be."
Dr. Fisher graduated with a bachelor's degree in Psychology, a PhD in Sports Psychology, and two master's degrees, one in Community Counseling and one in Sports Psychology. In order to get his multiple degrees, Dr. Fisher attended a rigorous concurrent-study five-year program.
In graduate school, Dr. Fisher taught undergrad classes, as he wanted to "hopefully lead other people into what they are passionate about." After college, Dr. Fisher coached and consulted for sports psychology, specializing in tennis. He worked with several Division I college athletic programs, such as NCAA All-Americans, USTA National Champions, ITF players, and ATP/WTA players.
Dr. Fisher was drawn to Pingry because of its high emphasis on education and achievement. He wants to teach in an engaging way and "inspire a passion for psychology" in the same way that his high school psychology teacher inspired him. He predicts that his toughest challenge this year will be teaching "the tougher subjects in psychology in a way that students can learn effectively."
Dr. Fisher also hopes to use his background in psychology to start a new mental performance program at Pingry. The program would offer mental performance training in order to have students working at their best and most confident levels. Explaining his motivation behind the program, Dr. Fisher said, "I want to learn more about the culture at Pingry and then add to that culture in some way."
In his free time, Dr. Fisher enjoys a multitude of outdoor activities, including mountain biking, skiing, hiking, and tennis. He is a parent to two sons, aged two and three.
Dr. Fisher is very excited to teach at Pingry and is ready to inspire students to pursue their passions.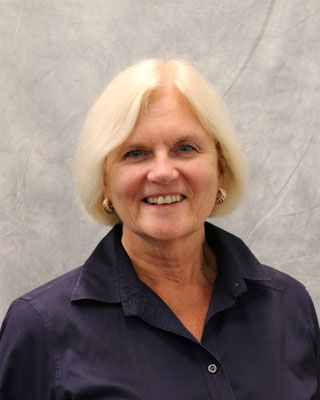 Ms. Conklin
Learning Specialist
Ms. Susan Conklin joined the Pingry Upper School as the new Academic Support Coordinator and Learning Specialist. In describing her role, Ms. Conklin said, "When an aspect of academic rigor poses a challenge to learning, a learning specialist problem solves strategies for students to achieve at a higher academic level."
Ms. Conklin received her B.A. from the City College of New York, her M.S.W. from the Hunter College School of Social Work, and her Ed.S. in Language and Literacy from Simmons College.
Prior to joining Pingry, Ms. Conklin worked as a Learning Specialist in several different schools, both public and private, and was a psychotherapist in private practice.
When asked about her first impressions of Pingry, Ms. Conklin commented, "I loved it from the second I got a phone call asking me to interview for this position. I love the students and faculty, and am energized by the four pillars of education the school holds: diversity and inclusion, intellectual engagement, sustainability, and honor. When people live by these four pillars, we sculpt ourselves into the finest human beings on the planet."
In her free time, Ms. Conklin enjoys reading, sailing, traveling, socializing with her friends, and going to the Bugliari Athletic Center. In October, she will be attending the teacher workshops at Comic Con in New York because she knows "some students enjoy reading graphic novels for pleasure, but there are also many themes represented in this growing genre which include significant academic material."
Ms. Conklin is most excited to live the Pingry life. "I love that students and faculty are intensely involved in all aspects of whatever they are learning and teaching as we grow together," she said. "People here are prompt, engaged, respectful, kind, and happy, so who wouldn't want to work at a place like that?"
When asked about her goals for the school year, Ms. Conklin replied, "To get to know the specific learning challenges of the students at Pingry. All pathways to learning are valid."
When asked what obstacles she might encounter, Ms. Conklin said, "Keeping up with the pace of all of the wonderful ways to contribute to this community. But I'm encouraged; I'm just going to 'drive' like a New Jersey driver—with speed, agility, and presence of mind!"
Ms. Conklin is delighted to be a part of the Pingry community. "I am happy to be here everyday, and I hope everyone else is too!" she said.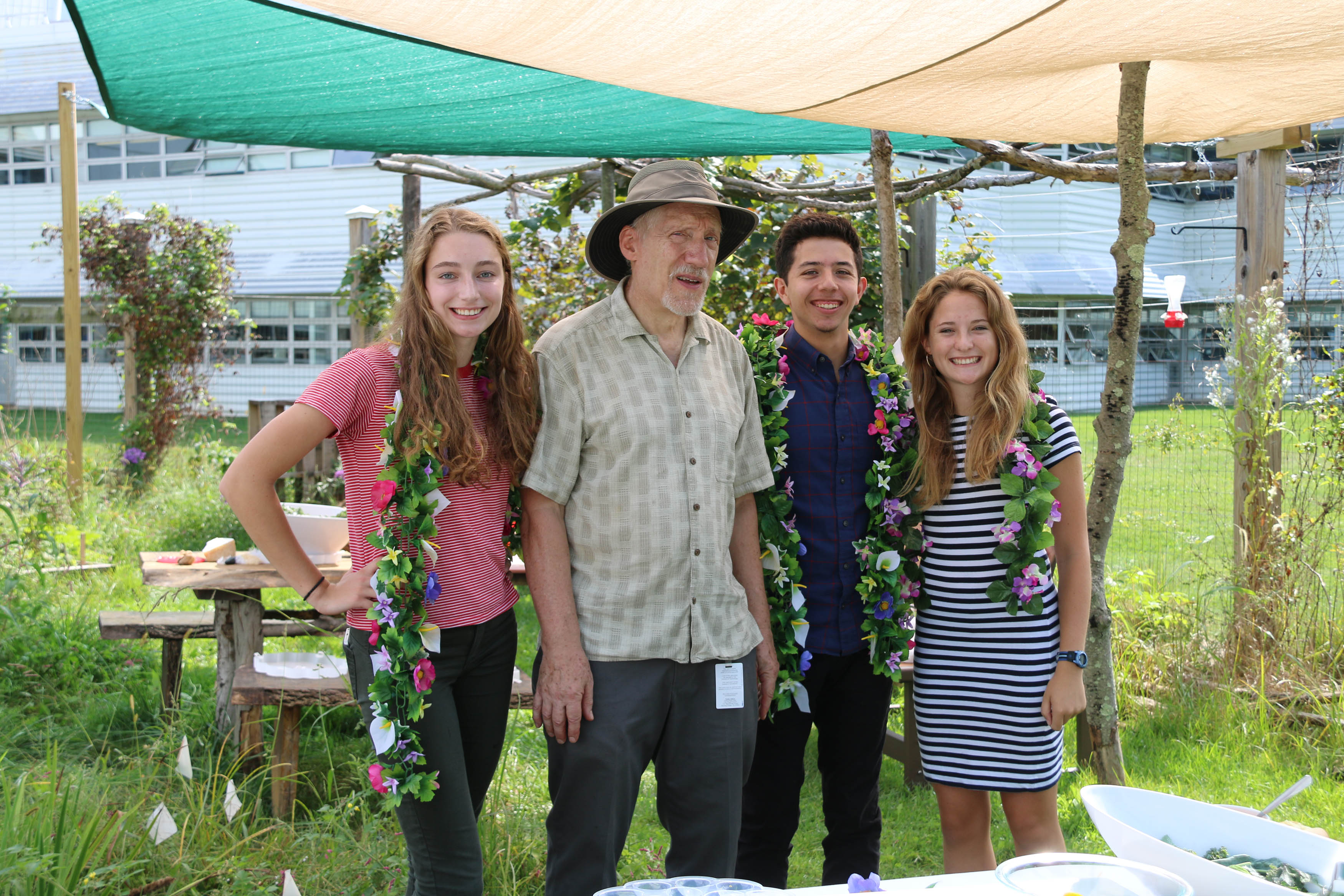 Mr. Delman: Sustainability Coordinator
by Caroline Friend (V)
Mr. Peter Delman, former Drawing and Painting and Art Fundamentals teacher, is taking on the new role of Sustainability Coordinator at Pingry this year.  As the Sustainability Coordinator, Mr. Delman has many projects planned to give Pingry a "greener" campus this upcoming year.
These "green" projects are inspired by Mr. Delman and the student-led Green Group, which he advises.  "There is really a great group of student leaders this year," Mr. Delman said. The returning leaders for the Green Group are Isabel DeVito (V) and Nick Ladino (VI), and the new leaders include Josie Cummings (VI), Caroline Petrow-Cohen (VI), Natalie Ladino (IV), and Isabella Acosta (IV).
One of Mr. Delman's areas of focus is developing Pingry's green campus design with Pingry graduate Scott Loikits, Principal/Design Director of Greenburg Farrow. Mr Loikits was a lead architect on the new Whitney Museum and the renovation of the Museum of Modern Art, and other major global projects. Loikits has been creating drawings and other plans for several upcoming projects, including a marsh walk and a tree canopy walk to be used in studying the wildlife around campus in science classes and for everyday access.  In addition, there are plans to install an industrial- strength composter to process food from the cafeteria and possibly grass cuttings as well. The resulting compost will then be used as fertilizer for the soil on Pingry grounds.
One project that connects sustainability to academics is the outdoor classroom. According to Mr. Delman, timber-frame builder Greg Katz has proposed that "we upgrade significantly the outdoor classroom that we have now." The outdoor classroom is currently located in the woods behind the cafeteria. Mr. Katz will "work with classes like Architecture and Art and Nature" on the project.
Mr. Delman is also working with Ms. Olivia Tandon, a new science teacher in the Upper School, to develop a farm program.  Mr. Delman said, "Right now we really want to get students who will be part of our farm team." The farm program currently includes seven chickens and a rooster, and future plans for the farm include planting fruit trees and bringing in pigs and goats.
There are also plans to install a deer fence around certain areas of the campus. Mr. Delman hopes that the deer fence will keep the deer out and allow other wildlife to to thrive. DeVito (V) added, "This will be used as a living laboratory for certain classes." The deer fence is expected to be installed by October 15.
What is most important, Mr. Delman said, is that we "integrate all these programs into the curriculum." He added that he hopes to "work with the Middle School and Lower School more, as well as with the wider community."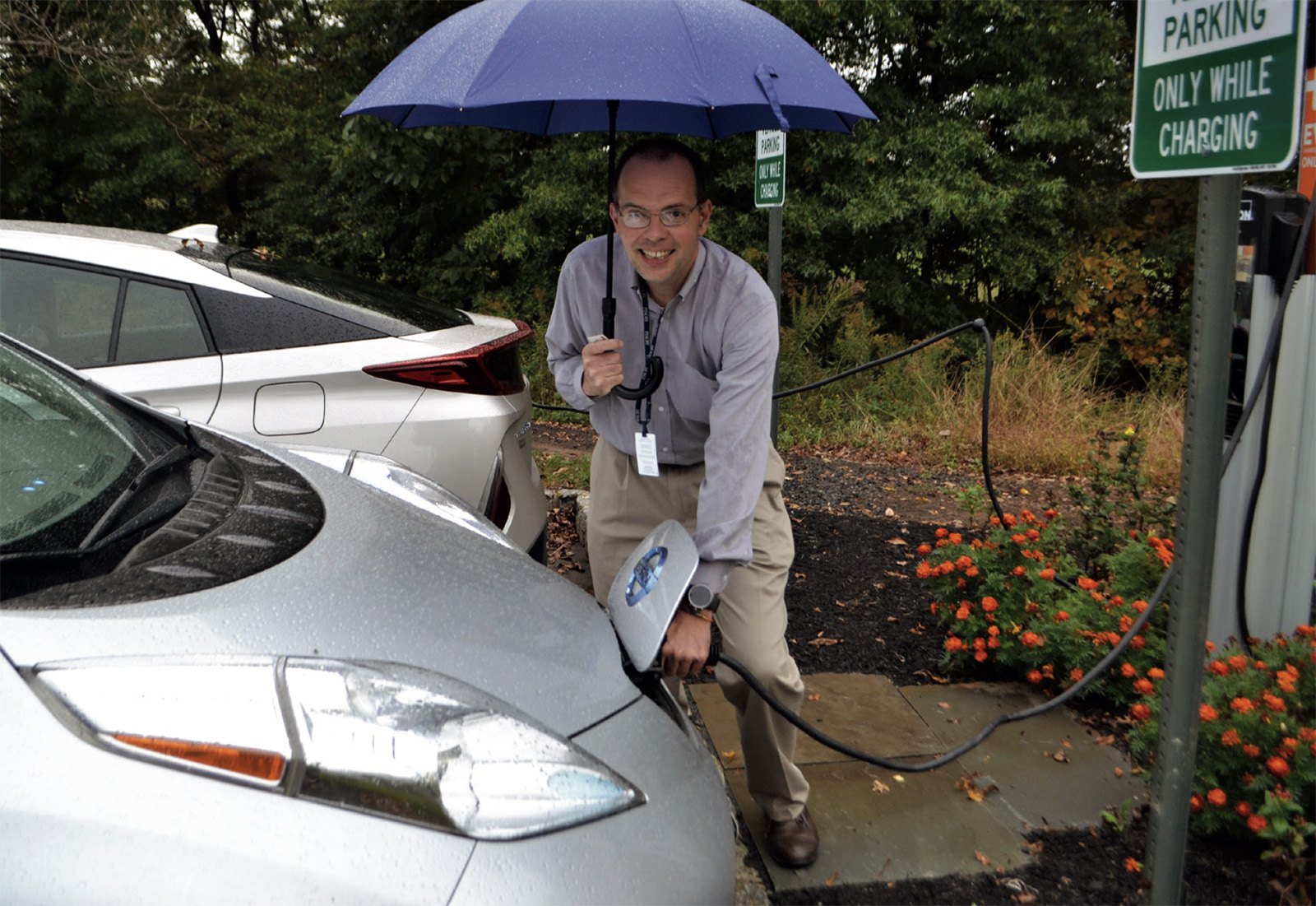 Middle School German teacher Karsten Niehues plugs in his electric car at the new charging station.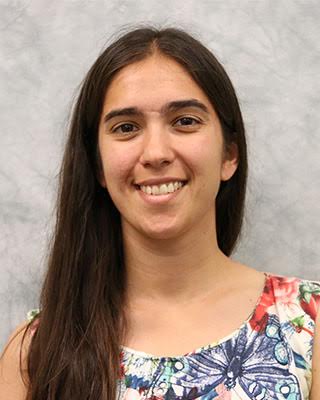 Ms. Tandon
Biology
This fall, Ms. Olivia Tandon joined the Upper School Science Department to teach Biology I, Biology II, and AP Biology. Previously, Ms. Tandon taught at New York City public schools for two years, at a charter school in the South Bronx for one year, and at Poly Prep in Brooklyn for four years.
Ever since she was a child, Ms. Tandon has always been interested in nature. She grew up playing outside and collecting all kinds of insects, rocks, and other natural treasures. Gradually, she began to develop her love of the natural world. She understood that it is often not valued enough, resulting in numerous environmental issues threatening the insects, frogs, and plants that she had always loved to collect. Later, during graduate school, Ms. Tandon took classes in geology and paleontology through which she rediscovered her passion for these subjects.
For her undergraduate degree, Ms. Tandon attended Columbia University, where she double majored in Environmental Biology and Creative Writing.
Ms. Tandon then became interested in teaching. She started her teaching career in NYC public schools as part of the NYC Teaching Fellows and simultaneously received a Master of Earth Science Education from Brooklyn College. Last year, Ms. Tandon took some time off from teaching to pursue her second master's degree in Private School Leadership at Teachers College, Columbia University.
Because Ms. Tandon's father was a professor, teaching was an important part of her life growing up. Throughout her school years, she had met several incredible teachers who also inspired her to pursue a career in education. Also, she explained that her students at the public schools where she previously taught had instilled a love of teaching in her.
Initially, she planned on teaching at the NYC Teaching Fellows for around two years and then returning to graduate school to pursue an academic or nonprofit research career. In the end, however, Ms. Tandon "fell in love with teaching and wasn't ready to quit after my commitment with the Teaching Fellows was up!"
When asked how she likes Pingry so far, Ms. Tandon referred to Pingry as an "incredibly welcoming place" and is happy that Pingry has already embraced the chicken coop. She is excited to work with fellow colleagues to build the Pingry farm over the next few years. She will also be coaching squash in the winter season.
Having recently moved from New York City, Ms. Tandon is excited to be able to hike and garden more, "both of which I can now do right in my own backyard and neighborhood, rather than having to travel miles away." She also has two border collies, Archie and Finn. Archie, who has been trained in agility and flyball for many years, might come to the Pingry farm in the future and work as a herding dog!
Ms. Tandon is looking forward to a wonderful school year and continuing to get to know the Pingry community.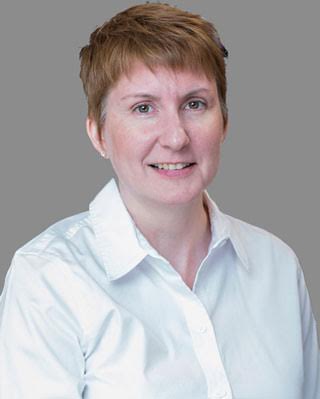 Ms. Piette
Middle School Director
This fall, Ms. Laurie Piette joined the Pingry community as the new Middle School Director. In addition, she will be playing many other roles, such as teaching the new Form II Leadership course with Mr. Gerry Vanasse.
Ms. Piette attended Wellesley College where she received degrees in English and classical civilization. She has an M.A. in creative writing from The City College of New York as well as an M.Ed. in private school leadership from Columbia University. When asked if her interests were limited to humanities, she responded, "I wouldn't say I am a scientist, but I can help a science teacher and plan out science lessons and concepts."
She went on, "I'm very interested in brain research and mental cognition. I just finished my M.Ed. at Columbia and we did a lot of work on the various ways you can produce deeper learning in students, and that fascinates me."
Regarding her other interests, Ms. Piette said, "I love to read, I love history, I love the story of history, and I love the fact that you can interpret history from your own perspective, while acknowledging there can be multiple perspectives on one part of history—in fact, there have to be."
Ms. Piette has vast experience in the field of education. When asked about her background in teaching, she said, "I've taught English, history, creative writing, and Latin for grades four through twelve." Her position at Pingry is not her first as a director for middle school students. She commented, "In my last position, I was in charge of the curriculum for a nursery-to-eighth-grade school, so I really learned how curriculum is put together there."
In terms of her goals for the year, Ms. Piette said, "My goals for the year are to fully implement the schedule and to tweak it so that it's even more effective moving forward." She also looks to encourage risk-taking in the classroom.
When asked about her thoughts on Pingry so far, she said, "I absolutely love it. Pingry has such a talented group of faculty, administration, and parents who are really invested in their children doing well." She finds Pingry students to be "amazing, intelligent, and articulate. They walk the walk: they really represent the honor code and take it seriously."
Ms. Piette is ecstatic to be Pingry's new Middle School Director. She would like the community to know, "I'm just so excited to be here. I hit the ground running in July first, and it's been just a wonderful experience so far and I'm looking forward to the rest of the year."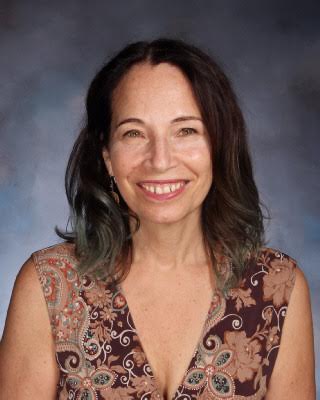 Ms. Ring
Art
After stepping in for Ms. Jennifer Mack-Watkins during her leave of absence last year, Ms. Nancy Ring joined the Pingry Arts Department permanently this fall. She now teaches Art Fundamentals in the Upper School as well as two eighth grade electives, Drawing & Painting and Art & Nature. Eager to immerse herself in the community, Ms. Ring has taken on roles beyond the art studio; she co-directs the Hostetter Gallery along with Ms. Rebecca Sullivan, hosts the Middle School Art Club, co-advises Form III students with Mr. Freiwald, and serves on the Diversity Committee and the Multicultural Team.
Outside of Pingry, Ms. Ring works as a professional artist and occupies a studio space in East Orange. In her free time, she enjoys writing poetry, baking, and going for runs. She recently picked up a new hobby: "I play the violin––badly. I started taking lessons in May, so I play like a kindergartener, but I love it." Her "pride and joy" is her 20-year-old son, a music major at Rhodes College in Memphis, Tennessee.
As an undergraduate student, Ms. Ring attended the Syracuse University College of Visual and Performing Arts and earned her B.F.A. (Bachelor of Fine Arts) in Studio Art. Of the experience, she said, "[It was] a large university and I loved the diversity. It's a passion of mine. The fact that there were not only artists there but also people studying every single kind of subject you can imagine––I found that exciting." She went on to graduate from the University of the Arts in Philadelphia with her M.F.A. (Masters of Fine Art).
Ms. Ring's passion for the visual arts has been integral to her life for nearly as long as she can imagine. "I knew I was an artist when I was eight years old," she said. "It's who I am. I have a very visual experience of the world…As a little, little girl, I told everyone who would listen that I was going to be an artist. I just knew."
In this coming year, she hopes to infuse that same passion in the hearts of her students, Upper and Middle Schoolers alike. Ms. Ring's goal "is to make sure that my students feel they own their work, that it's not me giving out projects that matter to me but rather finding ways to relate the projects to the students' lives in as many ways as I possibly can." With a laugh, she added, "If I can manage it."
If there's anything she loves particularly about the Pingry community thus far, Ms. Ring said it's the school's attention to the arts. "Pingry honors art," she explained. "In a lot of schools, art is just something on the side––you know how it is. At Pingry, there's an arts building, there's a professional gallery…there are a lot of talented artists. The enthusiasm for the arts here is very rare and special." Joining an environment as conducive to artistic exploration and experimentation as Pingry has brought her nothing short of joy.
"I love Pingry. Pingry's amazing," she remarked. Ms. Ring added, "I knew it when I worked here as a leave replacement. I really wanted to come back, so I feel as though this is a gift. It's wonderful!"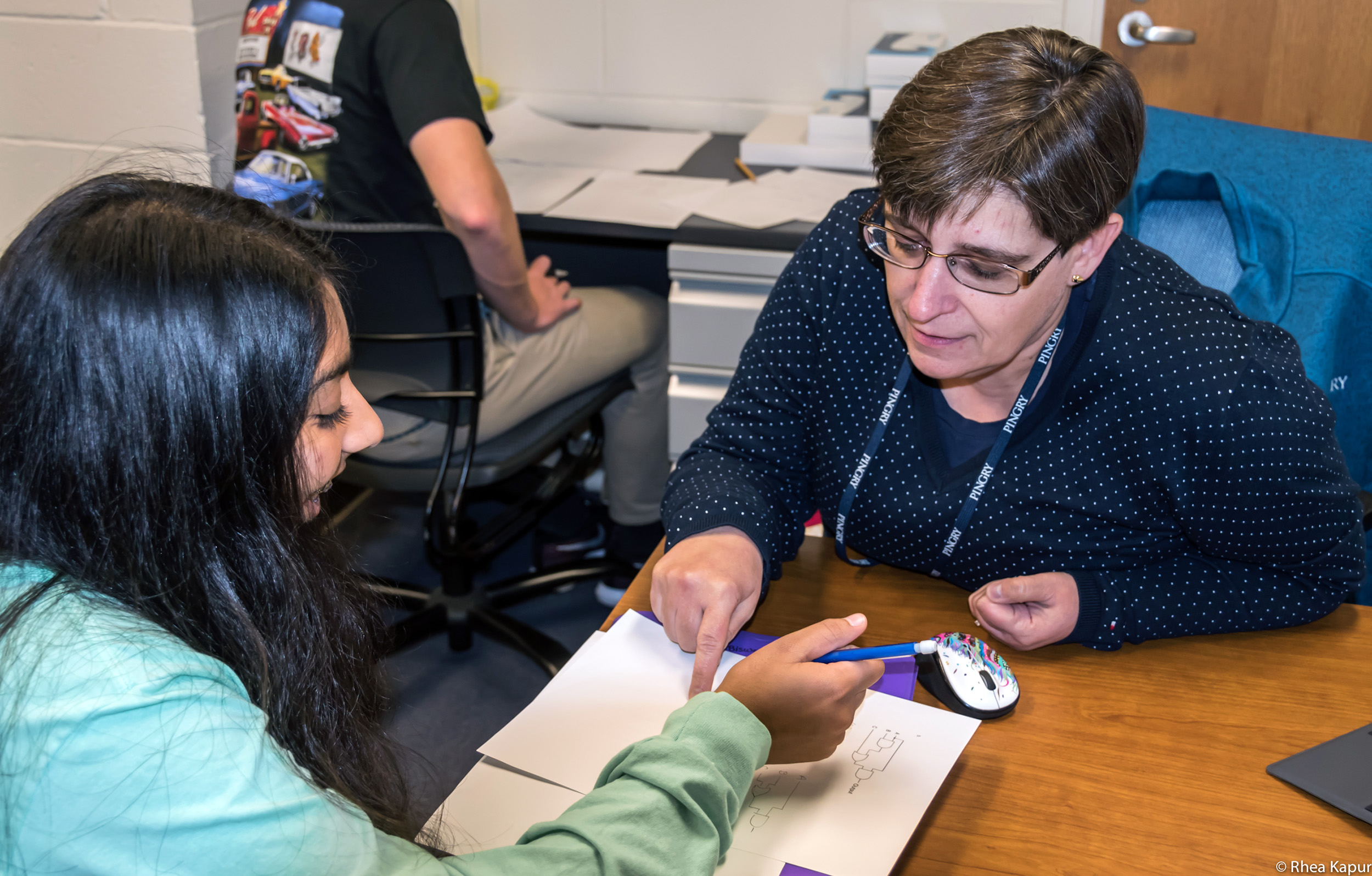 Dr. Jolly
Computer Science
Dr. Marie-Pierre Jolly joined the ranks of the Computer Science department in Pingry this year, teaching Survey of Computer Science, Intro to Computer Science, and Advanced Placement Computer Science. She has not yet decided on how to join the Pingry community (for example, as a coach or club advisor) but is interested in advising the research team and the Girl Code club.
Dr. Jolly, who is originally from France, received her Bachelor's degree in Computer Engineering from the University of Technology of Compiègne in northern France. She then moved to the United States and received a Master's and a PhD in Computer Science from Michigan State University.
After graduating, she started working in Princeton, New Jersey, at Siemens AG, a leading automation company. When asked what she worked on, Dr. Jolly said, "I was a research scientist working on image analysis for cardiac MRI [Magnetic Resonance Imaging]." She was at Siemens for twenty-two years before coming to teach at Pingry. When asked why she made the switch from Siemens to Pingry, she said, "I've done a lot of programming, and I wanted to instill all this knowledge into the new generation while helping students make the right choices with their programming ability."
Dr. Jolly nurtured her love of teaching long before her stint at Siemens, when she was a Teaching Assistant (TA) at Michigan State. As a mother, she says, "I really enjoyed tutoring my kids and their friends, and I tutored my kids in French and helped them with their math and computer science and physics and chemistry and you name it." She also says that her children, now in high school, really inspired her to become a teacher.
When asked how she likes Pingry so far, Dr. Jolly responded, "Oh, I love it. It's a great school with great kids."
In her free time, Dr. Jolly likes to cook and read, specifically fiction. When she has the time, she also enjoys arts and crafts.
Dr. Jolly grew up in Compiègne, which is about an hour north of Paris. "My dad was a university professor, and he's the one who kind of inspired me to be a computer scientist. He brought computers into the household really early, back in the eighties." She said that her upbringing taught her to be very organized, which she still is.
"Things were very scheduled when I grew up," she explained.
Dr. Jolly really appreciates the sense of community at Pingry, calling it her favorite aspect of the Pingry experience. "It's like a family here, it seems. I like that," she said. She believes the students are more conscientious and responsible because of the Honor Code, saying that students are "serious in trying to do well and trying to do good in life, not only in academics but in everything they do."
On a less serious note, she appreciates the quality of the food in the Pingry cafeteria. "The food is better than what you would expect from a school cafeteria…and I like all the choices," she said.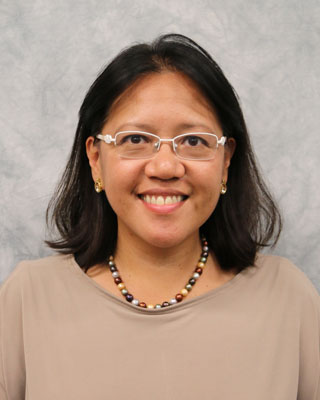 Ms. Eneiquez
English
This fall, Ms. Audrey Enriquez joined the Upper School English Department, teaching both the eighth and ninth grades. She is also serving as co-advisor for an eleventh grade advisory and the Quiz Bowl Team.
A citizen of the Philippines, Ms. Enriquez described herself as a "third culture kid." She grew up in Indonesia, attending international schools that made her a native speaker of English. She studied at the University of Asia and the Pacific, majoring in humanities.
During her first two years in college, Ms. Enriquez did not make any decisions about her occupation. In her junior year, however, she had a special dream in which she stood in front of a class and taught kindergarten kids. She took this as a sign and went on to pursue a career in education. Ms. Enriquez attended Bard College and earned her M.A.T. in English.
She also graduated from the Teacher Training Center for International Educators, FL with a Certificate in Advanced International Teaching, a preferred credential by international schools all over the world.
After graduation, she taught at multiple high schools in New York, including Dwight School in Manhattan, Harlem Children's Zone, and Kew Forest in Queens. She then decided to leave New York for Europe, aiming to work in Vienna. However, at a job fair, she met a group of teachers from Pingry and changed her mind. She interviewed and joined the school.
As an English teacher, Ms. Enriquez aims to teach diverse literature from all five continents, and all major religions – not just specifically Asian, Jewish, and Muslim.
She wants to include elements from different cultures, religions, and races to make her class truly a "world literature course."
In her free time, Ms. Enriquez enjoys watching Broadway musicals. Her favorite ones include The Book of Mormon and Miss Saigon. She is also a foodie and loves traveling.
"When there's a three-day weekend, I'm out. When there's a longer holiday, I'm out of the country," she said.
Ms. Enriquez appreciates different kinds of literature, especially books by authors who share similar experiences teaching overseas. She also listens to different genres of music and goes to concerts frequently. "My next concert is reggae," she added.
She greatly values the diversity present in Pingry. She said, "I have never taught in a more diverse school than here, even in all of New York." She also spoke highly of the way Pingry takes care of its teachers, and she believed that this would not only help the development of her skills but also her personality.
Regarding her goals this year, Ms. Enriquez mentioned that she would like to get to know more of her students. She also wants to take advantage of all the opportunities given to teachers including various arts exhibits, conferences, and even the Taiko Drumming Club.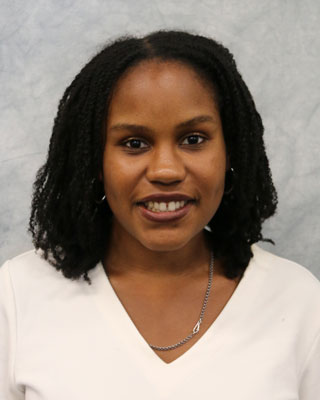 Ms. Jack
French
Ms. Sade Jack joins the Upper School World Language Department as a French teacher for French 1, French 2, and French 3. In addition, she serves as an assistant coach of the Girls' Junior Varsity tennis team. Before coming to Pingry, Ms. Jack taught at Philips Academy Andover for a year.
Ms. Jack obtained a B.A. from Wesleyan University in French and European History, Literature, and Philosophy in 2014.
Although Ms. Jack had always considered French a beautiful language and had particularly appreciated French literature growing up, she only started to seriously pursue the language once she moved to France after college. She lived in a small town where few people spoke English, forcing her to learn French in order to survive. Looking back on the experience, Ms. Jack explained, "Living on my own and speaking French and being understood by natives gave me a lot of confidence to study it even more." Inspired by the experience, Ms. Jack chose to stay a few more years in France and enrolled in a master's program at Middlebury College, receiving her M.A. in French Civilization in 2016.
Ms. Jack has always had a passion for teaching. Originally, she had wanted to be an English teacher, but after realizing she was more interested in foreign language classes than English literature classes in college, Ms. Jack chose to pursue teaching French. Her favorite part of teaching French is showing her students the diversity and extent of the French-speaking world; many people often underestimate the popularity of the French language, even though 300 million people around the world speak French.
At Pingry, Ms. Jack already loves her students' curiosity. Although Ms. Jack is currently reviewing topics from last year, her students are still very attentive and willing to learn. Her goal for the end of this year is to help her students improve their speaking ability in French.  
In her free time, Ms. Jack loves running, translating stories from French to English, and painting her nails. She also has a puppy named Oscar, who, she exclaimed, "is the absolute love of my life!"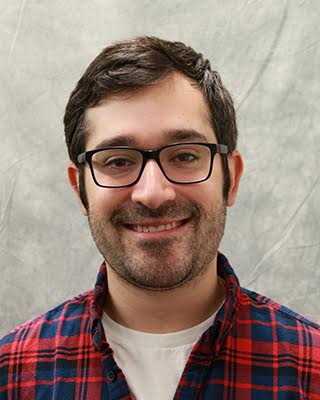 Mr. Van Antwerp
Drama
Mr. Alan Van Antwerp joined the Pingry drama department to teach Drama and Public Speaking in both the Middle and Upper Schools. He will be teaching Drama 8 in the Middle School, Drama 2 for sophomores, and Public Speaking, an elective open to all Upper School students. Additionally, he is the club advisor for the Podcast Club and will be taking the role of Technical Theatre Director, overseeing lights for the upcoming plays and musicals this year.
Mr. Van Antwerp attended Montclair State University in New Jersey where he received a Bachelor of the Arts. He is also pursuing his masters in Theatre Studies. When asked what made him want to become a drama teacher, he said, "I had an amazing theatre director in high school and I took a lot from how he taught and directed shows."
Mr. Van Antwerp has had many professional experiences in theater. He was the stage manager and event coordinator for Broadway Sings, a company that takes Broadway actors on their off days and has them perform a ninety-minute original musical cabaret act. Also, for almost nine summers, he taught Performing Arts at the Passaic Valley High School in New Jersey.
Regarding his experience at Pingry so far, he said enthusiastically, "I love Pingry! The students have been very welcoming and the Drama Department has been very supportive. Pingry values the arts and I really appreciate that." His goals for the school year are "to ask good questions and to be a fair and balanced evaluator. My funniest goal might be to not get lost."
In his free time, Mr. Van Antwerp likes to take part in community theatre. He has a number of other hobbies as well. He commented, "I love golf and I love tennis. I love dogs and in my spare time I often play with my best friend's dog." He added, "I love food. So having lunch here has been extraordinary." When asked what advice he can give to aspiring actors, he replied, "To be your toughest critic and to continue to think about the process of getting better, not the end result."  
To the community, Mr. Van Antwerp would like to say, "Theatre sometimes might get a bad rap in school. I think that theatre is something that teaches you life skills in a non-classroom way. Theatre teaches empathy." Mr. Van Antwerp is very excited to be a part of the Pingry community, and he is ready to spread his passion for theater throughout the school.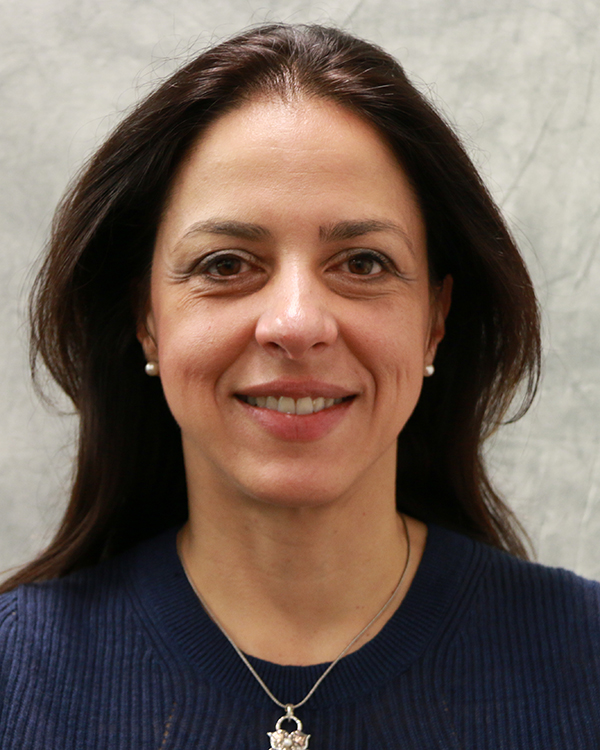 Dr. Mirliss
Technology
This year, Dr. Danielle Mirliss joins Pingry as an advisor on the technology committee. Among several technology-related roles, she will be helping the faculty integrate Schoology into their classes.
Dr. Mirliss received her B.A. from Rutgers University, her M.A. from New York University, and her M.Ed. and Ed.D. from Columbia University.
Having studied psychology and instructional technology, Dr. Mirliss decided to pursue teaching technology at Seton Hall University.
There, she worked on various technology projects such as developing creative spaces for new technology as well as online courses. When asked about her experience there, Dr. Mirliss said, "The environment of helping the faculty and students showed me the benefits of teaching."
At Pingry, Dr. Mirliss looks forward to being involved with computer science, robotics, and other new technology projects.
One idea that she is currently working with is using virtual reality (VR) headsets to display art in a new way. She is working to have VR available for the whole school to use.
In her free time, Dr. Mirliss enjoys spending time with her family. With her son starting fourth grade at Pingry this year, she is very excited to be both an administrator and parent with Pingry. She enjoys attending her son's sporting events and working on robotics projects with him.
This year, Dr. Mirliss hopes to build connections with the faculty and learn about the student culture. When asked what her goals are for the year, she responded, "Not only do I want to support the community, but I also want push innovation at Pingry."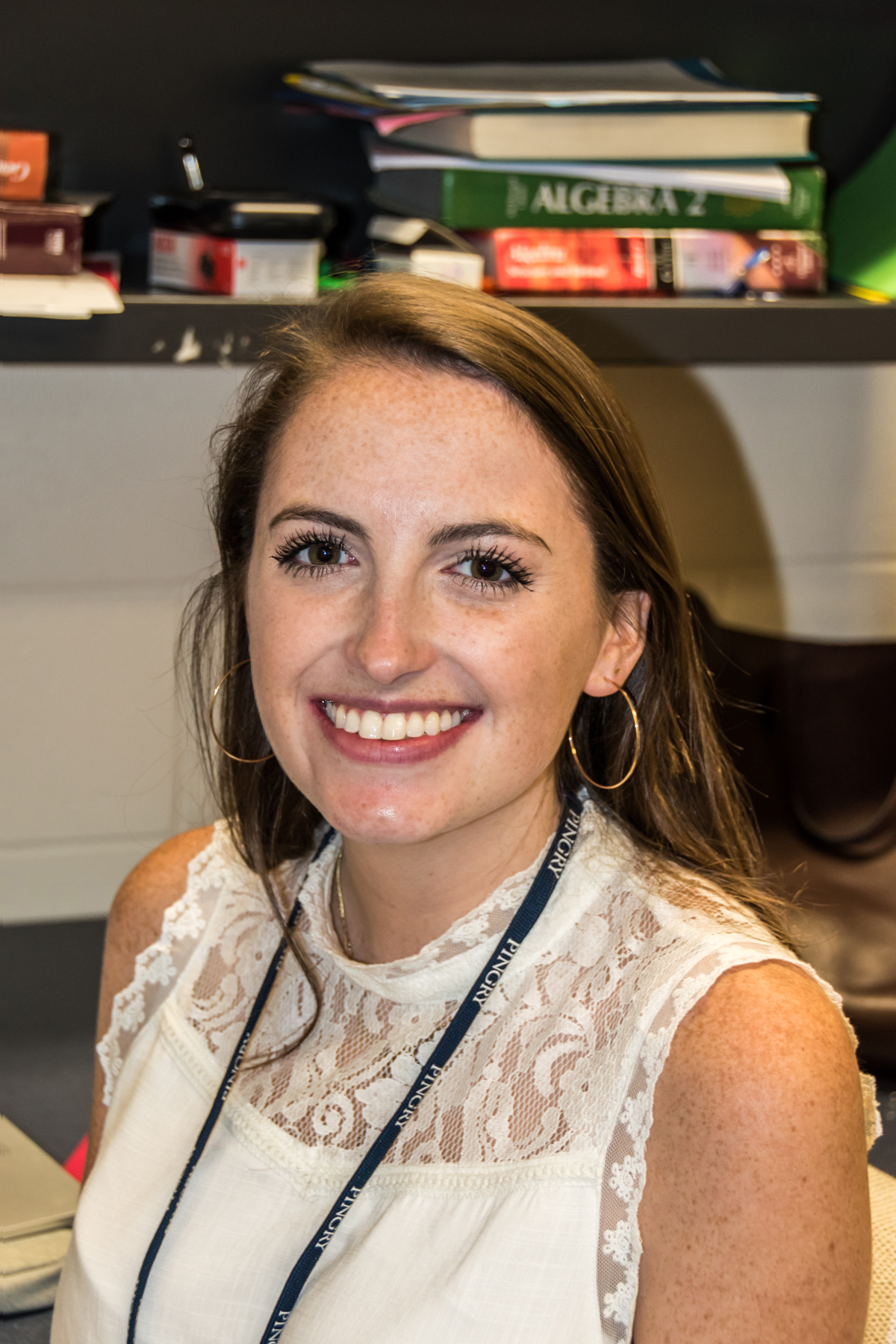 Ms. Sher
Math
This fall, Ms. Anne Sher joins the Upper School Mathematics Department to teach Geometry and Intermediate Algebra. She will also help coach the Girls' JV Basketball Team in the winter and is co-advising seniors with Ms. Judy Lebowitz.
Ms. Sher attended Williams College, where she received a B.A. in mathematics and history and graduated this past June. Taking courses in both math and history "was a good balance," she recalls. "I enjoy both subjects."
Prior to arriving at Pingry, Ms. Sher worked as camp counselor at a sleep-away camp for five years, and this was one of the experiences that inspired her to become a teacher. "I love being around kids and being a part of their lives," she says, smiling. "Teaching seemed like the perfect match for me."
At Williams, she was employed by the Math and Science Resource Center and tutored fellow college students in chemistry and multivariate calculus. She also worked for the local elementary school to tutor students after the school day. These experiences strengthened her resolution to become a teacher, and she now arrives at Pingry to pursue her first full-time teaching position after college.
When asked about her time at Pingry thus far, Ms. Sher "can't imagine it being better." She notes how motivated and kind the students are and how she already "feels so welcomed into the community."
Speaking about her goals for the year, Ms. Sher hopes to "improve myself as a teacher and see my own personal growth" as she eases into this new teaching experience. "I also hope to become a part of the Pingry community and connect with my students," she adds.
When she is not teaching, Ms. Sher loves to visit her friends in New York City, as she lives in the nearby city of Hoboken. She has many dogs at home and is a dedicated animal lover. "I really like music as well," she adds, "and I like going to concerts. They are great experiences."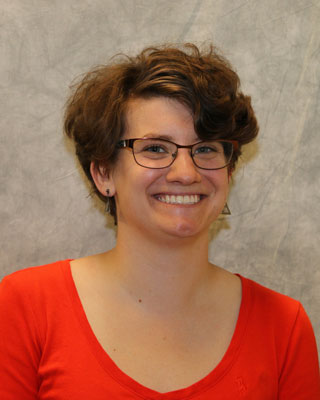 Ms. Mygas
Biology and Chemistry
This fall, Ms. Stephanie Mygas joined the Pingry faculty to teach both Biology I/II and Chemistry I/II. Additionally, she is working closely with Journal Club and will be coaching fencing during the winter. She is also a co-advisor with Mr. Steve Benoit for Form V students. Ms. Mygas originally hails from Randolph, New Jersey and attended Rowan University, graduating with a B.S. in Science and Biology. She then went on to earn her Master's in Marine Biology from the University of Massachusetts Dartmouth. Prior to starting at Pingry, she worked as a substitute teacher in the District of Philadelphia and as a science teacher at Monsignor Bonner and Archbishop Prendergast Catholic High School.
When asked about her decision to become a teacher, Ms. Mygas cited her experiences in lab research and her time as a T.A in college. "I enjoyed conducting research and teaching others about my research," she said. After working as a T.A., Ms. Mygas' passion for education and science led her to become a science teacher. She also stated that she likes Pingry so far because the "students are often really involved in research" and because the science facilities at Pingry are great for teaching all levels of classes.
This year, Ms. Mygas wishes to stay involved with the Pingry community by working closely with students. She hopes to bond with the students by learning more about them and being an active member of the community.
During her free time, Ms. Mygas enjoys a variety of hobbies, including playing softball, knitting, and weaving. She also loves reading sci-fi books and is a big fan of Jurassic Park and The Hitchhikers Guide to the Galaxy.
On her thoughts about Pingry thus far, Ms. Mygas said that she is definitely enjoying teaching at Pingry and is looking forward to a great first year. She also said, "Students should definitely come out to Journal Club, it's really cool and the topics are interesting."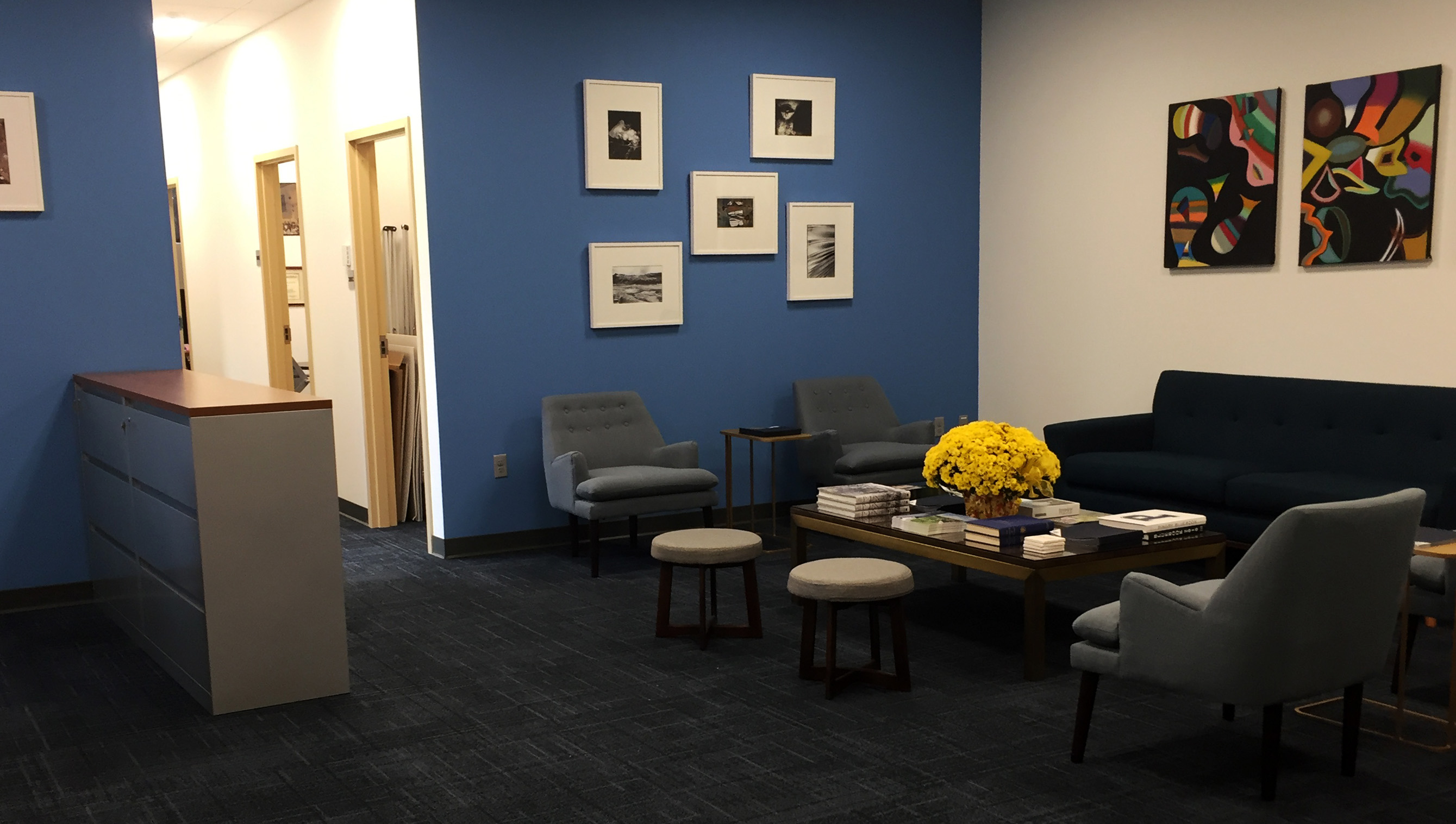 Administration Returns to Renovated Offices
by Jonathan Chen (V)
Over the summer, Pingry underwent construction of the main building on the Basking Ridge campus to further improve the school.
The interior renovation created offices for new faculty members. Starting in the Upper School Office, the construction crew created a wall for Dr. Reid Cottingham's new office, which is now where Mrs. Karen Peake's office was last year. As the new Upper School Academic Dean, Dr. Cottingham has been enjoying her new office. "It is really convenient to be centrally located," she said.  "I can see more students, and this office enables them to find me more easily." Ms. Audrey Enriquez is now located in Dr. Cottingham's old office in the English wing.
Dean Ross, the Dean of Student Life for Form V and VI, and Mrs. Peake, Pingry's registrar, have relocated to the old admissions office, now known as the "Admin Office." Dean Ross has moved into the office that used to belong to the Director of Admissions. The office has been reconstructed with a newly installed door. Dean Ross appreciates the shift: "It is a lot brighter, I can see more people, and more students and faculty stop in to say hi." Mrs. Peake's office is directly next to Dean Ross's office. The office of Dr. Delvin Dinkins, Pingry's new Assistant Headmaster, is in Dr. Diana Artis' old office, and Mr. Nathaniel Conard, Pingry's Headmaster, is still located in his original office.
The admissions department has relocated to the Multi-purpose Room. The area has been completely renovated with brand new carpeting, desks, and rooms. Dr. Artis, Mrs. Brunhouse, and the rest of the admissions department have new offices in this newly renovated space. Two-thirds of the old Multi-purpose Room is now the "admissions suite," since wrestling is now held in the Bugliari Athletic Center.
Finally, part of the mail room was changed into the office of Ms. Carol Mahida, the new Dean of Student Life for Form III and IV. The construction team installed a wall between the mail room and Dean Mahida's office. The mail room is still in its original location, but it has been reduced in size.
All in all, the faculty looks forward to a great year in their new offices and positions. Dean Ross said, "It's not that different, just a lot of internal shuffling." Now, it will be easier to find the teachers and advisors, as their offices are located towards the main entrance of the school. Dr. Cottingham says, "I am very lucky to have such a nice office and to be surrounded by people whom I love to work with every day. This is going to be a great year!"

Athletes Enjoy Improved Athletic Facilities
by Rhea Kapur (V)
Pingry Athletics is a key element in the lives of many students. Last year was notable in the school's history because of the addition of the Miller A. Bugliari '52 Athletics Center (BAC). This past summer, existing athletics facilities were further improved. Ranging from upgrades to the softball fields to a completely new track and field area, the new state-of-the-art facilities are amazing resources for student-athletes.
The plan to strengthen Big Blue Athletics through advanced facilities encompasses not only indoor facilities like the BAC, but also new tennis courts and other renovated fields. Pingry Tennis continues to enjoy a successful program. Last year, the Girls' Varsity team was the Non-Public "A" South Sectional Champions and the Non-Public "A" Group Champions after qualifying for the Tournament of Champions. The Boys' Varsity team finished second in the Somerset County Tournament and third in the Non-Public "B" Group rankings. This success must be attributed in part to amazing tennis facilities, which have been completely redone this summer with 12 new tennis courts to set the stage for many seasons to come.
"They are really great courts; it's such an amazing opportunity to become proficient at tennis and learn the game in a competitive environment, along with great coaching," says Eva Schiller (III), a new student and player on the Junior Varsity girls' tennis team.
A complete makeover of the Parsons Track and Field area was also an exciting, long-awaited project that was completed just before the start of school. The updates include a new scoreboard, a dual-sport artificial turf playing surface, goalposts, and a completely new, advanced track. The facility is becoming an indispensable part for the football, track, soccer, and lacrosse programs. Football coach Mr. Chris Shilts reflects that in the past, "We spent half our practice time moving to different areas to avoid trampling the grass field into a mud bowl. With this upgrade, we'll have turf. We'll have a first-rate facility that draws athletes in."
Director of Athletics and Lacrosse Coach Carter Abbott said that before the renovation, during the lacrosse season, "Boys and girls [were] getting an hour of practice time each, while competitors [got] way more." By removing previous disadvantages, this new track and turf field presents another opportunity for Pingry Athletics to thrive.  
The last improvement to the exterior athletics grounds includes the construction of a new Junior Varsity softball field near the tennis courts and renovations on the Varsity softball field.
Leveling Up: Schoology Replaces Moodle
by Noah Bergam (III)
When students returned to Pingry this fall, they saw significant changes in Pingry's technology use. Although Pingry has been using technology to advance its educational environment for years, the one-to-one policy was introduced three years ago, requiring students to have a laptop for all classes. Since then, Evernote, Papercut, Moodle, Membean, and Google Drive, among other internet applications, have all been major, sometimes required, parts of class curriculum. There are also numerous other projects, like the Pingry Website Portal and the student-made Pingry Today App, that currently play a big part in the everyday lives of Pingry students.
The most notable technological change this year was the shift from Moodle to Schoology. In the past, teachers have mainly used Moodle to send students homework and course updates. This year, all teachers are using Schoology for these purposes.
When asked why the change was made, Mr. Brian Burkhart, head of the Technology Department, explained, "Moodle didn't have the same level of collaboration." By switching to Schoology, Mr. Burkhart added, "The biggest thing was improved communication, and having one place to go."
Back when Moodle was the main class distribution tool, many teachers chose not to utilize it and instead used Google Classroom, or, in some cases, no online tool at all. Now that all classes are required to use Schoology, accessing materials is much easier for students. Pingry students can log into their Schoology accounts with their Pingry login information at pingry.schoology.org.
Schoology was not the only change made over the summer. ID Cards are finally more than mini-portraits; they now hold an additional functionality for building security. All students are now able to access the building's Dining Hall Entrance and Main Entrance by swiping their ID from 7 AM to 7 PM, a privilege only faculty had last year. Seniors are also able to access the Athletics Entrance within the same hours.
In addition, ID Cards are now the keys for students to use printers. Students can link their Pingry accounts by scanning their cards to any of the school printers and logging in. Next, students can email an attached project to uniflow@pingry.org, scan their card, select on the printer, and print. The reasoning behind these changes was, according to Mr. Burkhart, "a strong desire to get rid of PaperCut," the more outdated software previously used for school printing.
There were also a host of changes made behind the scenes that most students may not even know about. There is a whole new student information system, Veracross, used to take attendance and record grades. According to Mr. Burkhart, "If you've ever been associated with the Pingry School, you're in this system."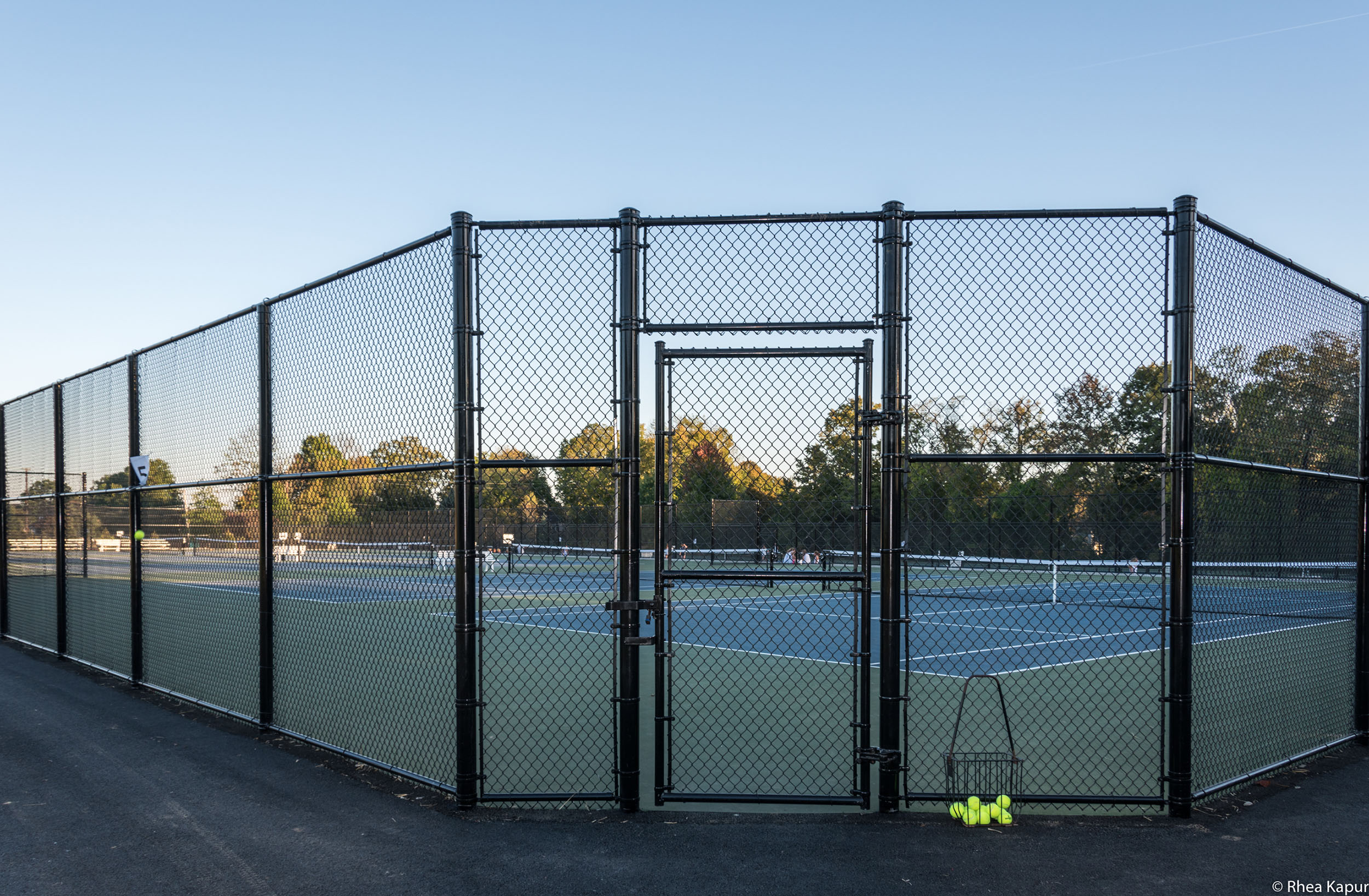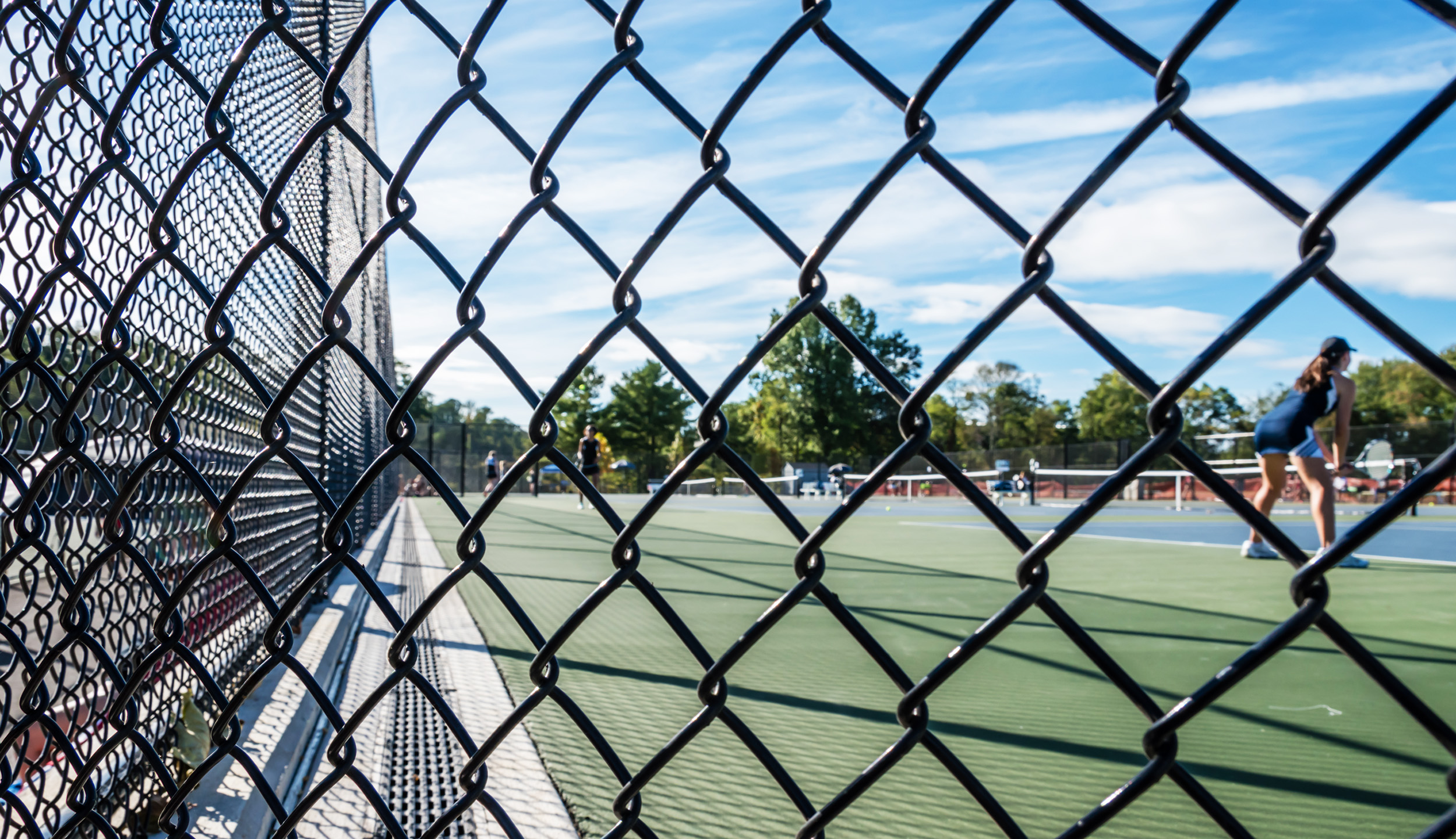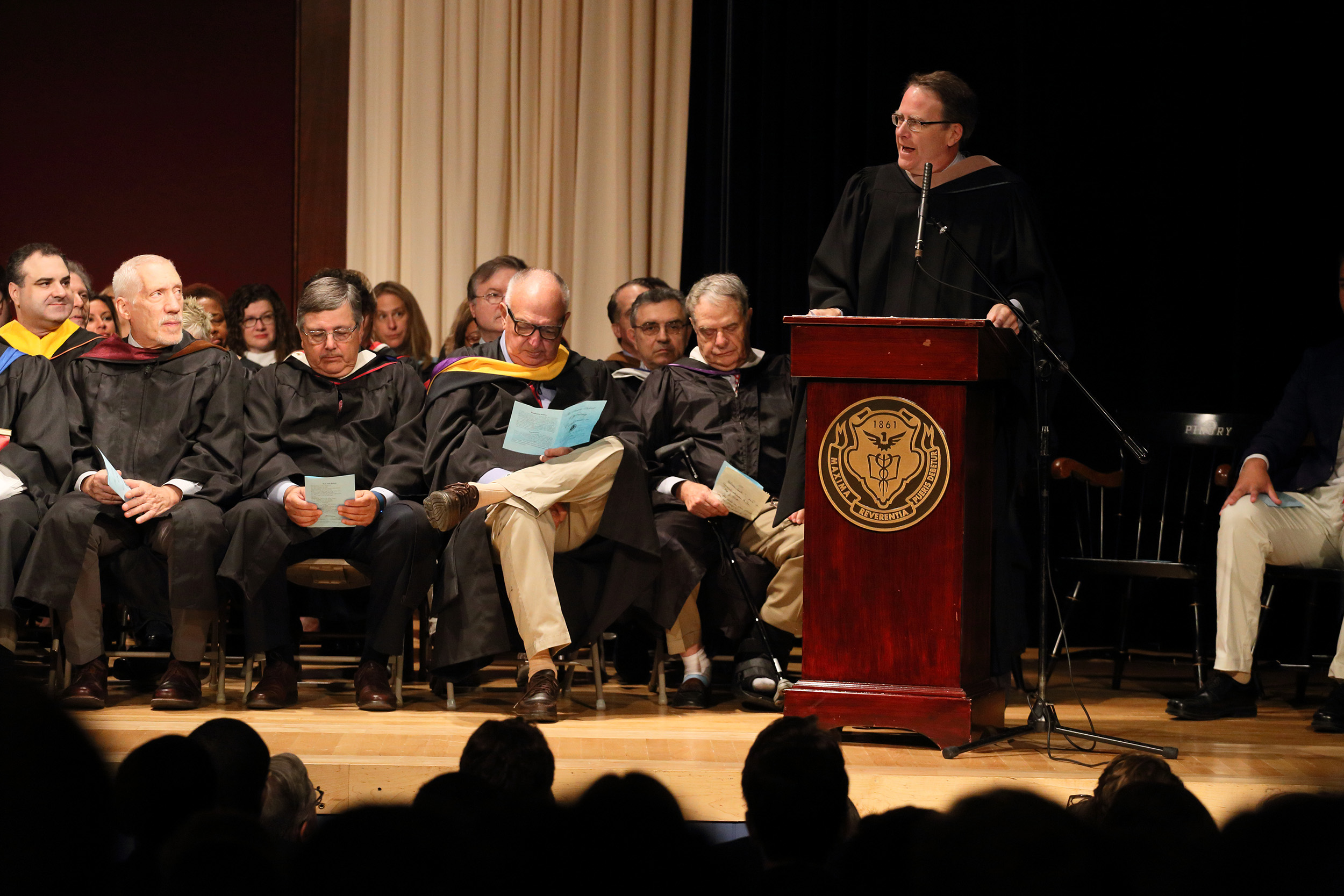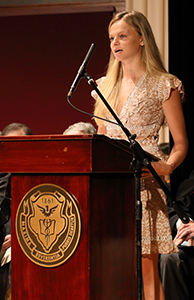 Ally Pyne
Honor Board Chair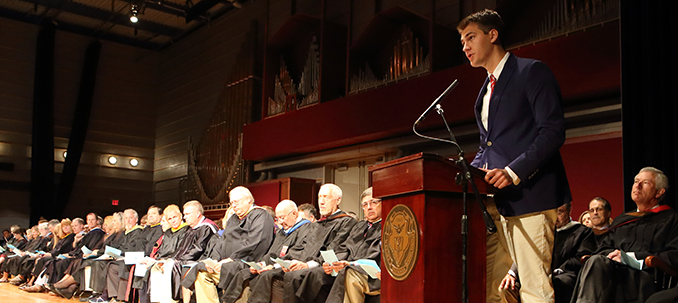 Michael Weber
Student Body President
Students Fundraise to Aid in Hurricane Relief
by Vicky Chen (V)
This fall, the start of the school year unfortunately coincided with the start of hurricane season. First came Hurricane Harvey, which destroyed over 100,000 homes in Texas and Louisiana. Then came Irma, which displaced thousands after hitting Florida and the Caribbean Islands.
As community servants, Pingry students were faced with the task of helping the victims who were struggling in the wake of these massive disasters. To begin the relief efforts, a school-wide Dress Down Day was planned for September 14. The cost to "dress down" was raised to two dollars (instead of the typical one-dollar fee), as this was a joint Dress Down Day that supported two separate causes: the victims of both Harvey and Irma. After hearing about the Dress Down Day, a student quickly approached Mrs. Shelley Hartz, the Director of Community Service, about organizing a bake sale on September 14 as well.
The fundraising efforts on September 14 were a great success. After an entire day of collecting donations, Mrs. Hartz said, "This was Pingry's largest Dress Down Day monetarily. We collected over $4,000! The joint effort of both the Upper School and the Middle School made it an especially successful day."
The money that was collected will go directly to two nonprofit organizations: The American Red Cross and the ASPCA. "The money that Pingry students donated will go a long way," Mrs. Hartz said. "I also am hoping to take the check over to Walmart, where they will match it three to one. This means that whatever funds we raised will be multiplied by three."
Ms. Barbara Chilmonik, Pingry's Bookstore Manager, notified Mrs. Hartz that there were a number of organizations in New Jersey that were collecting physical donations and distributing them to hurricane victims. Immediately, a donation drive was also organized, and bins with lists of items that were much needed were posted around the school. As the week progressed, the bins around the school filled up with donations from students. They were later collected and distributed by Ms. Chilmonik to an organization in Holland Township, New Jersey.
Unfortunately, another natural disaster devastated a U.S. territory just weeks later–Hurricane Maria in Puerto Rico. Again, students immediately rose to help the victims dealing with the aftermath of Hurricane Maria. Many students and teachers approached Ms. Hartz to devise a plan to help tackle the destruction that took place, and a Dress Down Day and bake sale were quickly planned.
In these tough times following natural disasters, Pingry students have proved able to unite and respond in a powerful and positive way. Impressed by the enthusiastic efforts of the community, Mrs. Hartz said, "I think that when a natural disaster occurs, whether it be locally, nationally, or globally, we recognize that we have a responsibility to step up and help our neighbors, wherever we are."
Convocation Opens 2017-18 School Year
by Jessica Hutt (IV)
One of the most timeless and treasured traditions at Pingry is the annual Convocation ceremony, during which every member of the student body makes a formal commitment to the Honor Code. This event serves as the official opening to the upcoming school year, beginning with the procession of faculty and trustees attired in their collegiate gowns.
Senior Faculty Member Miller Bugliari '52 opened the ceremony by delivering his Invocation, in which he addressed the Class of 2018 and reminded them of their responsibility to act as role models to the rest of the student body. He was followed by Student Body President Michael Weber '18, who paid homage to Walt Whitman's "Song of the Open Road" by using the metaphorical "open road" as a model for the upcoming school year. Acknowledging that students may encounter challenges and obstacles along their "open road," Weber said that students would also experience joy and passion greater than they could even imagine. The only flaw in this metaphor, Weber conceded, is that the man described in Whitman's poem was alone, whereas Pingry students are surrounded by a number of people who will provide guidance along their journey to success. The next speaker was Honor Board Chair Ally Pyne '18, who suggested that students should "buy in" to the Honor Code and make an effort to avoid being the "weak link" in the upstanding behavior of the community.
Following Pyne's address, representatives from each advisory came to the stage to present to Pyne and Weber a copy of the Honor Code that had been signed within each advisory.  "The Honor Code is the most fundamental part of our value system at Pingry. This ceremony demonstrates student ownership of the Honor Code, and we hope that you will always remember this day and your promise to each other," Ally said.
Board of Trustees Chair Jeff Edwards '78, P '12, '14, '18 then delivered a speech in which he determined that the most success is found when individual talents are combined. He encouraged students to "develop your talents, but don't lose sight of helping the larger community."
After recognizing the twenty-five Magistri (faculty members who have served the school for at least twenty-five years), Headmaster Nat Conard P '09, '11 reflected upon the fact that the Honor Code unites the community by encouraging each student to ask himself, "Would this choice be consistent with the attitude and spirit of the Honor Code?" Martha Lewand (IV) especially admired "how Mr. Conard cleverly connected free throws and cookies to make a fair point."
Following Mr. Conard's thought-provoking remarks, all those in attendance joined together for a rousing rendition of "Old John Pingry," setting the tone for the new school year ahead. Isabelle Sheyfer (IV) summarized the day's events by saying, "Convocation is the time for us to come together as a community and celebrate the love of learning and the Honor Code that unites us."

Annual Fall Awards Assembly Celebrates Academic Achievements
by Caroline Santoro (V)
On Friday, September 22, the community gathered in Hauser Auditorium for the Fall Awards ceremony. This annual event brings the school together and recognizes the outstanding academic achievements of Pingry students.
The ceremony began with recognition for high PSAT scores, awarded by the National Merit Scholarship Program. The program honored thirty-eight students, including twenty-two as Commended Scholars and twelve as National Merit Semi-finalists. Four high-scoring students of Hispanic backgrounds received praise from the National Hispanic Recognition Program.
Following the PSAT awards, Headmaster Nat Conard presented two character awards to a member of each grade: the Citizenship Prize and the Faculty Award. This year the citizenship prize was awarded to freshman Ore Shote, sophomore Hannah Dillon, junior Ketaki Tevan, and senior Jacqueline Chang. The Faculty Prize was awarded to freshman Chloe Mason, sophomore Rita Harrobin, junior Rashida Mohammed, and senior Brandon Rosen. The prestige of these faculty-determined awards epitomizes the value Pingry students place on being well-respected, ethical citizens. Mr. Conard also awarded the Scholarship Prize to the valedictorian of each grade: freshmen Rhea Kapur, Julian Lee, and Justin Li, sophomore Brian Li, junior Andrew Beckmen, and senior Alyssa Chen.  
Students who excel in math and science were then presented a variety of awards, including the Bausch & Lomb Science Award, which was presented to Senior Jennifer Fish, and the Rensselaer Mathematics & Science Award, which was presented to Senior Raymond Chen.
Following those honors, Dr. Dinkins presented the college book awards, a tradition that is highly anticipated each year. A college book award is presented to the member of the senior class who embodies the values of the associated college. With the award, the recipient receives a book given to them by the college. This year the colleges represented were Brown (Megan Pan), Columbia (Ethan Chung), Cornell (Clyde Leef), Dartmouth (Jennifer Coyne), Mount Holyoke (Alexis Elliot), Penn (Jared Lefkort), Princeton (Jacqueline Chang), Smith (Madeleine Parrish), Wellesley (Rachel Chen), Williams (Alexandra Pyne), and Yale (Wallace Truesdale).
The Justin Society awarded students for their writing competition honors in the categories of fiction, poetry, memoir, and flash fiction. First place winners of these awards went up on the stage to receive their award from Dr. Cottingham.
The ceremony always concludes with the fall induction of seniors to the Pingry chapter of the Cum Laude Society. President Mrs. Lydia Geacintov explained the difficult requirements for induction eligibility: students must maintain an A- (Honor Roll) average, take a full college preparatory course load, and receive a minimum of half of the votes from the chapter's electing members. Nine students were presented with this great honor, and they were met with praise from their classmates and teachers. Those students were seniors Naiyah Atulomah, Alyssa Chen, Rachel Chen, Jennifer Coyne, Josie Cummings, Clyde Leef, Megan Pan, Jackson Proudfoot, and Ally Pyne.
The Pingry community congratulations all of this year's award recipients and looks forward to celebrating the academic successes of a new set of students next year.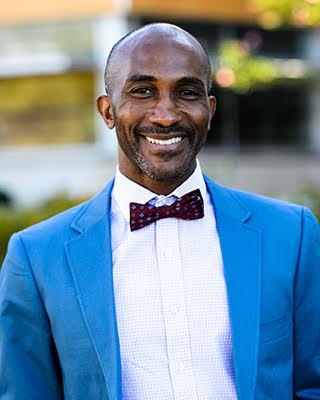 Dr. Dinkins Joins Basking Ridge Campus as Assistant Headmaster
by Ketaki Tavan (V)
Dr. Delvin Dinkins, who joins the community as the new Assistant Headmaster, previously worked at Episcopal Academy Newtown Square, Pennsylvania, serving as the Head of the Upper School and teaching English.
Dr. Dinkins received his B.A. in English from Swarthmore College in Pennsylvania. He then received his M.A. in Literacy and English Education from the University of Michigan and his doctorate from the University of Pennsylvania.
When asked what activities he was involved in as a student, Dr. Dinkins said, "I really loved running in college—it was my main activity." He also sang for an a cappella group and was involved with the gospel choir, literary magazine, and different affinity clubs. "I love the deep connections I made with my colleagues," he said. "I have enormous affection for the schools, the experiences I had there, and the people I met."
When asked about his first impressions of Pingry, Dr. Dinkins commented, "I love it! Even if every day or every moment isn't a home run, I know this is a magnificent place that prides itself on being thoughtful and intentional across all aspects of the school environment.
"The club fair was a great example of the kind of autonomy and agency students here are afforded," he said.
Dr. Dinkins' goals for the year include trying to get to know as many people as he can and developing an intimate understanding of the Pingry environment. "Before the year is over," he said, "I hope to have interacted with everyone at some point and to use those interactions as an opportunity to get to know what Pingry is all about."
Although Dr. Dinkins is especially excited about big events like Homecoming, he also wants to "appreciate the magic of the everyday," which includes small moments in classrooms and the hallways. "I look forward to learning more about what makes this place special to students, to faculty and staff, to families, and to alums," he added.
When asked what obstacles he thinks he might encounter this year, Dr. Dinkins said, "Not knowing what I don't know. I'm a person who likes names and faces, but it's daunting to think about the 1000-or-so names and faces I want to get to know when I'm not interacting with them in the classroom every day." Nevertheless, he does not believe this obstacle is insurmountable and looks forward to tackling it.
Dr. Dinkins wants the Pingry community to know that he is "a man of enormous principle" and that he "believes wholeheartedly in Pingry's core values."
"I believe in and embrace these values," he said, "and it's important for everyone to know that you'll find me to be someone who's optimistic, approachable, and friendly. I want to know what's on the hearts and minds of people, and I believe in everyone's inherent goodness. I don't believe in judging people based on single stories, and my door is always open!" 
Dr. Cottingham Becomes Academic Dean of the Upper School
by Miro Bergam (V)
This year, Dr. Reid Cottingham will be stepping into a new role in the Pingry community. Formerly teaching English full time, she now assumes the mantle of the Upper School Academic Dean. Dr. Cottingham will also continue her work with the English department, teaching two sections of World Literature in the fall and two sections of Magical Realism in the spring.
As the Upper School Academic Dean, Dr. Cottingham will "serve as a liaison between students, parents, teachers, department chairs, the Coordinator of Academic Support, and the Upper School Director to help students navigate their way through high school academics." She will be helping with course selection by aiding students in choosing courses that both challenge and interest them.
Dr. Cottingham will also monitor students' progress, being in contact with parents and teachers when academic concerns arise. Other responsibilities she will be tasked with as Academic Dean include helping out with the advisory program, providing guidance to new faculty on academic policy and procedure, and stepping up as a leader in the seniors' ISP program.
This will not be Dr. Cottingham's first foray into the world of administration. When asked about her experience, she said, "I taught and served as an administrator at an all-girls school in Los Angeles. At Marlborough School, I was the English department chair for two years and a form dean. I was also an English teacher, obviously." In addition to her work experience, Dr. Cottingham graduated with a B.A. in English Literature from Harvard University and a PhD in English Literature from the University of Chicago.
In her words, Dr. Cottingham is most excited "to get to know students as whole people. In the past, I only got to know my students as English scholars, but now I get to see the big picture." She continued, "I get to see students as researchers, historians, athletes, artists, community servants, and children to the parents I'll be working with."
Her biggest obstacle, she figures, will be working with a much larger pool of kids. "Although getting to know so many students from so many different angles is amazing, I'll need to come to terms with not getting to know each student as deeply as I would in a classroom setting, something I enjoy a lot as an English teacher."
All things considered, Dr. Cottingham is very excited for her new position. Between the joys of teaching she's experienced so far and the new challenges she will take on as an administrator, Dr. Cottingham is ready to see where her new role in the community takes her.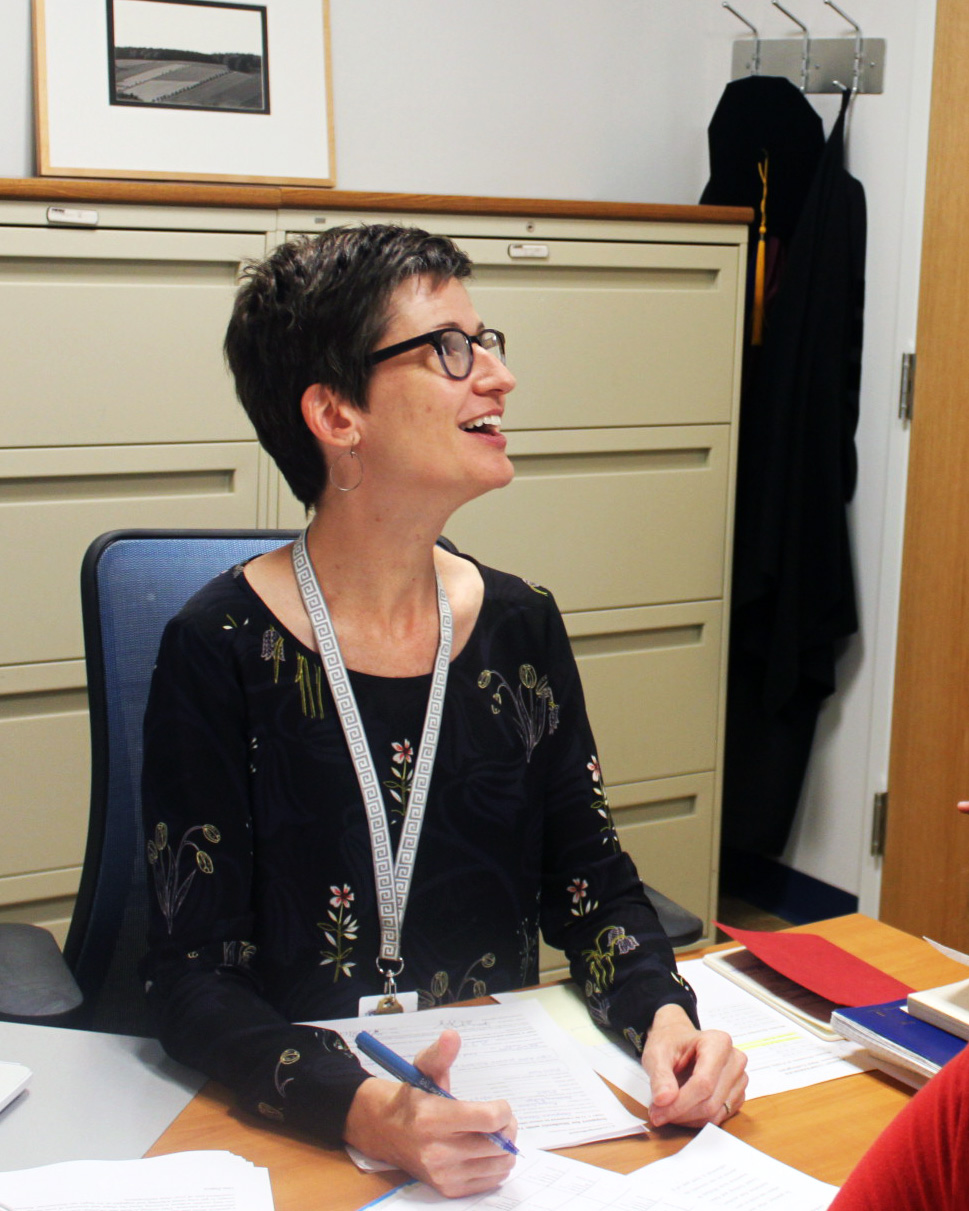 Ms. Mahida Steps Into New Role as Form III / IV Dean
by Ketaki Tavan (V)
This year, Ms. Carol Mahida, who taught English in the Middle School last year, has taken on a new position in the Pingry community.  In addition to teaching two sections of Form III English, She is now the Form III and IV Dean of Student Life in the Upper School.
Historically, Mr. Jake Ross has been the Dean of Student Life for Forms III-VI, but this year, the position has been split. "The younger and older groups have different needs," said Ms. Mahida.
Ms. Mahida attended the University of South Carolina for her undergraduate degree, where she majored in English and minored in History. For graduate school, she attended Columbia University's Teachers College and received a master's degree in English Education. When asked about her college experience, Ms. Mahida said she "appreciated the freedom to explore who I was and what I wanted to do."
While Ms. Mahida loved her college experience, she found her high school years to be even more formative than her college years. "I was an average student at a really large public high school, and in an environment like that, it's easy to get lost in the shuffle. It wasn't until I had two teachers that really saw me that I was able to learn what I was capable of," Ms. Mahida said.
Because of her own high school experience, she commented, "what I love about working in a school environment is helping kids not fall through the cracks. I want to make sure that everyone has the opportunity to do what they want and to see what they're capable of."
When asked about her transition from the Pingry Middle to Upper School, Ms. Mahida said, "The Upper School is different from the Middle School in that students have reached a different maturity and skill level. Rather than teaching maturity and those skills, now I get to tap into the traits they have already developed and go deeper in conversation with students."
Ms. Mahida was also drawn to the Upper School because of its significant female leadership. "It's really exciting to see," she said. "I have so many female role models that are incredible to watch and learn from."
This year, Ms. Mahida thinks her biggest obstacle will be switching roles from teaching to being an administrator. "As a teacher, you're guided by your classes, but as an administrator, you have to create your own schedule," she said. "You have the time to plan and dream and help make goals for the school… it's like being back in the learning stage, which is really humbling and exciting at the same time."
When asked what she would like the school community to know, Ms. Mahida said, "Please introduce yourselves to me! I would to love learn more about everyone, and I'm always someone who will listen."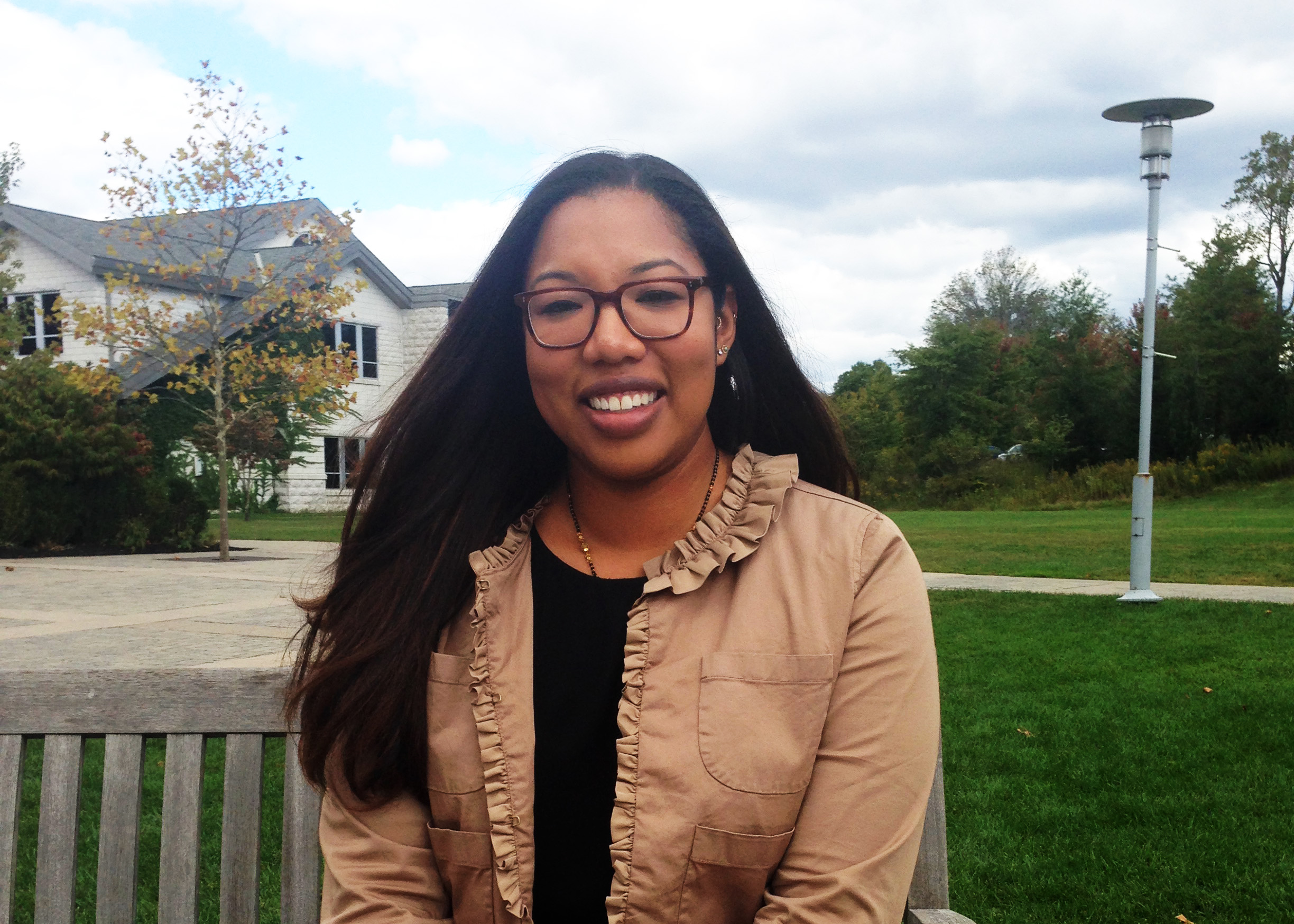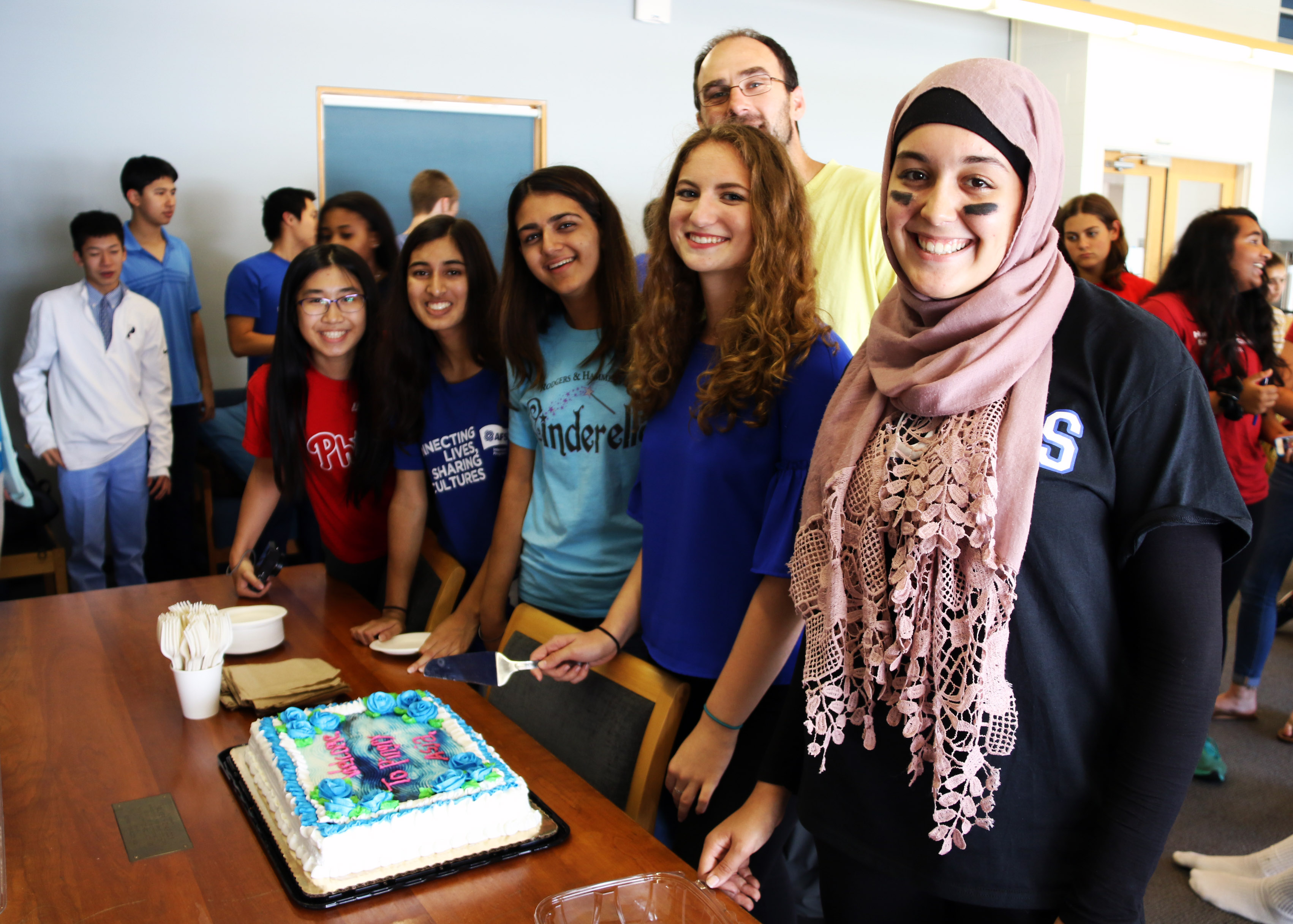 Pingry Welcomes New AFS Student Asja Alispahic
by Felicia Ho (V)
Returning to school after the dog days of summer can be difficult for students, having to settle back into their routine of meeting deadlines, finishing homework, writing papers, and studying for tests. However, one student this year faces the greatest challenge in adjusting to the new school year: Asja Alispahic, Pingry's new AFS (American Field Service) student who will be joining Form V.
Through offering international exchange programs, AFS gives students around the world the opportunity to spend a school year in a foreign country to immerse themselves in another culture and become fluent in a foreign language. Pingry has been an AFS member school since 1960, hosting students from countries such as Sweden, Turkey, Lebanon, Germany, France, and most recently Italy and Spain.
A native of Tuzla, the second largest city in Bosnia and Herzegovina, Alispahic is visiting the United States for the first time. In order to apply for AFS exchange to the United States, Alispahic wrote several essays, took standardized tests and quizzes, and had many interviews. From the seven hundred people who applied from Bosnia and Herzegovina, Alispahic was one of only ten people selected to come to the US.
Although she did not have the option to choose the city or school she wanted to attend in the U.S., Alispahic explained that she "likes suburban New Jersey because of its relaxed atmosphere and the polite locals." With her host family, the Jan family, she has already been to several Jersey diners and other small towns in New Jersey.
Compared to her hometown, she said, getting around New Jersey is less convenient. In Tuzla, she could take a taxi or walk nearly everywhere. In New Jersey, however, she needs to be driven everywhere. Alispahic has also recently visited New York City and Toronto, Canada. She especially loves Brooklyn.
When asked what the biggest difference is between Pingry and her school in Tuzla, Alispahic said, "At Pingry, there is more freedom in choosing classes. At my school in Tuzla, I am assigned thirty required subjects to take throughout my high school career, and there is usually no choice involved. At Pingry, I can choose six courses with few requirements." Also, Alispahic, a talented swimmer, said she "loves that sports are incorporated into the school day at Pingry, resulting in more team spirit."
When asked what she loves the most about Pingry so far, Alispahic said, "People seem so relaxed and optimistic, even though most people have packed schedules and many responsibilities." In the year ahead, Alispahic said she hopes to "continue to make new friends and to take advantage of the many academic and extracurricular opportunities available at Pingry."
Class of 2018 Kicks Off Senior Year at Poconos Retreat
by Alyssa Chen (VI)
On September 5, the Class of 2018 boarded three buses to the Pocono Valley Resort in Reeders, Pennsylvania for their Senior Retreat, the annual overnight trip in which the graduating class bonds through fun activities and prepares for college admissions through workshops.
After arriving at noon and dropping off their bags in outdoor cabins, the students were given the remainder of the afternoon to relax, hang out with classmates, and take part in the numerous activities the resort had to offer. These activies included swimming in the pool, kayaking out on the scenic lake, playing sand volleyball, and completing the tree-top ropes obstacle course. Of the ropes obstacle course, Ethan Chung (VI) said, "It was challenging, but still doable and fun."
Near the end of the afternoon, it started to rain. "We were lucky," said Ryan Fuentes (VI), "because we had just enough time during the day to do all of the activities we wanted to before it started pouring in the evening." Even with the downpour outside, the seniors continued to enjoy their afternoon with indoor activities like basketball, table tennis, and board games. Popular board games included Scattergories and Spot It!, while over twenty seniors partook in a friendship bracelet-making session led by Sehyr Khan (VI), who had brought more than enough bracelet-making thread.
After a delicious dinner served in the cafeteria of the resort, the seniors dressed up for a dance with the theme of "High School Stereotypes." Seniors went as nerds, jocks, goths, and everything in between. After the dance, the students unwinded by making s'mores and snacking on pizza before heading back to the cabins and sleeping.
The morning was filled with hot breakfast followed by several college workshops led by Ms. Amy Cooperman, Ms. Meghan Finegan, Ms. Susan Kinney, and Mr. Timothy Lear of the college counseling department. The workshops were focused on various aspects of the college application process the seniors were about to begin, such as essay-writing and discussing the admissions office's point-of-view.
"The college workshops were pretty helpful," said Melissa Tungare (VI). "I understood more about what colleges were thinking. Also, the workshops made me feel better, because coming back from summer, I didn't feel ready. But afterwards, I realized that we're all in the same boat and that the college counselors are there to help us."
One memorable activity had seniors act as the Pingry admissions committee, tasked with choosing only one student out of six prospective students to admit, while waitlisting and rejecting the five others. From the exercise, students learned how subjective and difficult admissions decisions can be, and that, unfortunately, schools can only admit a few students from a pool of qualified students.
Other workshops saw students reading and evaluating sample college essays while brainstorming for their own. Another workshop was led by Coordinator of Diversity and Multicultural Affairs Dr. Diana Artis, Peer Leaders, and the Student Diversity Leadership Club, in which students read about and discussed issues relating to discrimination in their lives and in the world today.
After the educational college workshops, the seniors ate one last meal at the resort, packed their bags, and boarded the buses back to school. The Class of 2018 arrived at Pingry, relaxed, excited, and ready for the first day of school and their final year of high school. As Fuentes said, "It was a great bonding experience and I thought it was a perfect end to the summer."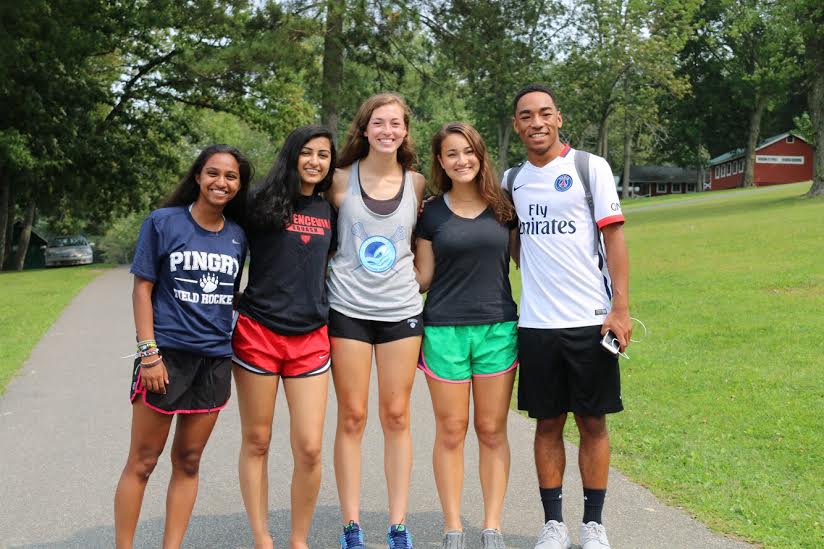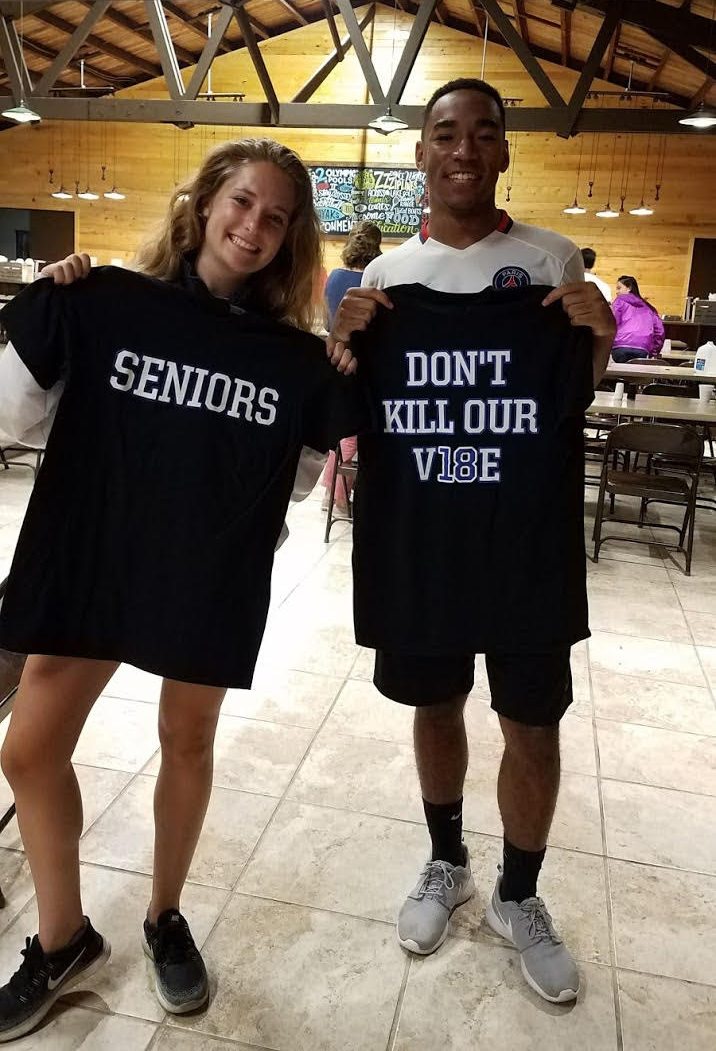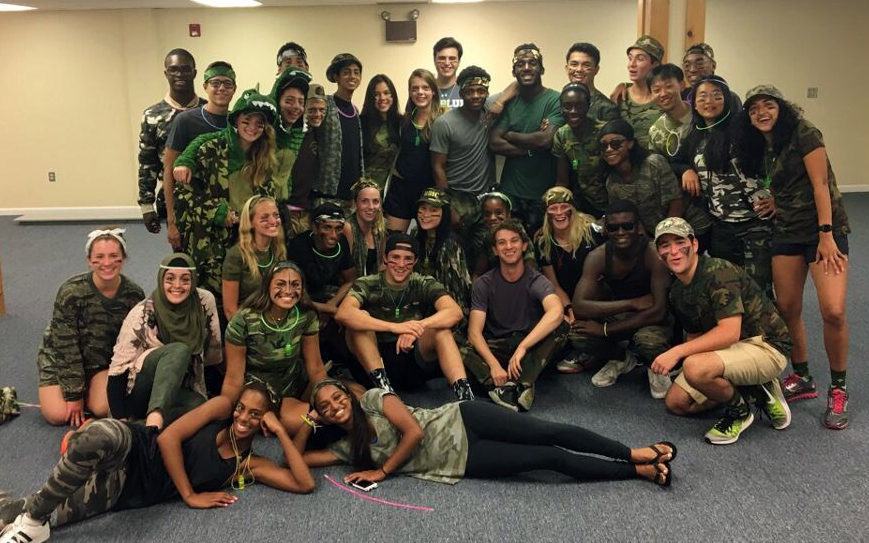 Freshmen Bond with Peer Leaders at Camp Bryn Mawr
by Calvary Dominique (VI) and Ouarida Benatia (VI)
On September 5, the Class of 2018 boarded three buses to the Pocono Valley Resort in Reeders, Pennsylvania for their Senior Retreat, the annual overnight trip in which the graduating class bonds through fun activities and prepares for college admissions through workshops.
After arriving at noon and dropping off their bags in outdoor cabins, the students were given the remainder of the afternoon to relax, hang out with classmates, and take part in the numerous activities the resort had to offer. These activies included swimming in the pool, kayaking out on the scenic lake, playing sand volleyball, and completing the tree-top ropes obstacle course. Of the ropes obstacle course, Ethan Chung (VI) said, "It was challenging, but still doable and fun."
Near the end of the afternoon, it started to rain. "We were lucky," said Ryan Fuentes (VI), "because we had just enough time during the day to do all of the activities we wanted to before it started pouring in the evening." Even with the downpour outside, the seniors continued to enjoy their afternoon with indoor activities like basketball, table tennis, and board games. Popular board games included Scattergories and Spot It!, while over twenty seniors partook in a friendship bracelet-making session led by Sehyr Khan (VI), who had brought more than enough bracelet-making thread.
After a delicious dinner served in the cafeteria of the resort, the seniors dressed up for a dance with the theme of "High School Stereotypes." Seniors went as nerds, jocks, goths, and everything in between. After the dance, the students unwinded by making s'mores and snacking on pizza before heading back to the cabins and sleeping.
The morning was filled with hot breakfast followed by several college workshops led by Ms. Amy Cooperman, Ms. Meghan Finegan, Ms. Susan Kinney, and Mr. Timothy Lear of the college counseling department. The workshops were focused on various aspects of the college application process the seniors were about to begin, such as essay-writing and discussing the admissions office's point-of-view.
"The college workshops were pretty helpful," said Melissa Tungare (VI). "I understood more about what colleges were thinking. Also, the workshops made me feel better, because coming back from summer, I didn't feel ready. But afterwards, I realized that we're all in the same boat and that the college counselors are there to help us."
One memorable activity had seniors act as the Pingry admissions committee, tasked with choosing only one student out of six prospective students to admit, while waitlisting and rejecting the five others. From the exercise, students learned how subjective and difficult admissions decisions can be, and that, unfortunately, schools can only admit a few students from a pool of qualified students.
Other workshops saw students reading and evaluating sample college essays while brainstorming for their own. Another workshop was led by Coordinator of Diversity and Multicultural Affairs Dr. Diana Artis, Peer Leaders, and the Student Diversity Leadership Club, in which students read about and discussed issues relating to discrimination in their lives and in the world today.
After the educational college workshops, the seniors ate one last meal at the resort, packed their bags, and boarded the buses back to school. The Class of 2018 arrived at Pingry, relaxed, excited, and ready for the first day of school and their final year of high school. As Fuentes said, "It was a great bonding experience and I thought it was a perfect end to the summer."
Juniors Discover Nation's History in Philadelphia
by Darlene Fung (VI)
On September 6, rather than visiting the Eastern State Penitentiary as juniors have done in past years, the Class of 2019 explored the Philadelphia Museum of Art and the Museum of the American Revolution.
Students spent the two-hour bus ride catching up with peers after summer vacation, and they were ready to explore the Philadelphia Museum of Art when they arrived. Once they were given their tickets, the students were free to roam the museum, exploring rooms that contained a diverse array of art installations. One favorite display was called "Arms and Armor," a collection of full body armor, swords, and even armor for horses. Advisor and English teacher Mr. Thomas Keating said, "The museum had such a fantastic collection. I saw my favorite artists and got to enjoy time with my students."
After spending a few hours in the Philadelphia Museum of Art, the students enjoyed lunch at the Reading Terminal Market, choosing from a variety of food options in the bustling market, including burgers, Chinese food, Italian food, fresh deli sandwiches, several dessert options, and of course, Philly Cheesesteaks.
After lunch, the students went to the Museum of the American Revolution, which recently opened on April 19 of this year. Groups of around fifteen students were assigned a tour guide and given an interactive worksheet to fill out during the tour. Students were also given the background information of a prominent figure during the American Revolution. As they experienced the tour, students were encouraged to imagine what the revolution would have been like for their specific character.
As students walked through the museum, they watched educational videos, touched various displays, and even smelled a piece of rope that would have been used on a ship bringing goods to the New World. One interesting artifact included a punch bowl from an old tavern, which was excavated at the very site of the museum. With its pieces glued back together, one could see a picture of the Tryphena, an English brigantine ship, painted on it.  
Interacting with signs that said "Please touch" and "Please smell" throughout the museum was a unique and engaging experience compared to the "Please do not touch" signs that are in most other museums. Commenting on her experience at the Museum of the American Revolution, Veronica Williams (V) said, "I really liked the interactive Revolutionary War museum. All of the videos made it very entertaining. In general, I thought the trip was a lot of fun and a great way to start the school year."
Sophomores Explore NYC Culture
By Madeline Skapper (IV) and Martha Lewand (IV) 
On Wednesday, September 6, the sophomore class embarked on their Form IV trip to New York City to visit the American Museum of Natural History and view the award-winning Broadway musical, Groundhog Day.
Students travelled from Pingry to New York City by bus, where they would begin their day at the museum. Shortly after arriving, advisories competed in a scavenger hunt that took them to different exhibits throughout the museum.
The scavenger hunt had clues and riddles to find objects in different exhibits of the museum. The team or advisory with the most correct answers to the riddles received the highest amount of points, enabling them to place somewhere in the top three–provided that their team name was judged worthy. Once the entire grade gathered back together, the winners received their medals in a short ceremony and everyone headed off to lunch.
After lunch at the museum, the sophomores boarded their buses to see the Broadway play Groundhog Day at the August Wilson Theatre. Students were given tickets and sat with their advisory groups to watch the matinee performance of the show.
Groundhog Day, based on the 1993 movie of the same name, focuses on a weatherman named Phil Connors (Andy Karl), who travels to Punxsutawney, Pennsylvania to cover the annual emergence of the groundhog. His exit from the town goes awry when all of the roads are blocked, and he is trapped in a blizzard. Waking up the next morning, he realizes he has been trapped in a constant loop of the same day. Through this ordeal, Phil gets to know associate TV producer Rita Hanson and learn the stories of the other people in the town. Through Phil's struggle to finally get the day "right," he grows as a character and gains a new perspective on life which would not have been possible without his tribulations on Groundhog Day.
After the performance, the students and teachers got back on the buses to return to Pingry. Overall, the sophomores enjoyed their day in New York City, reuniting with friends before the school year officially began.
Boy's Soccer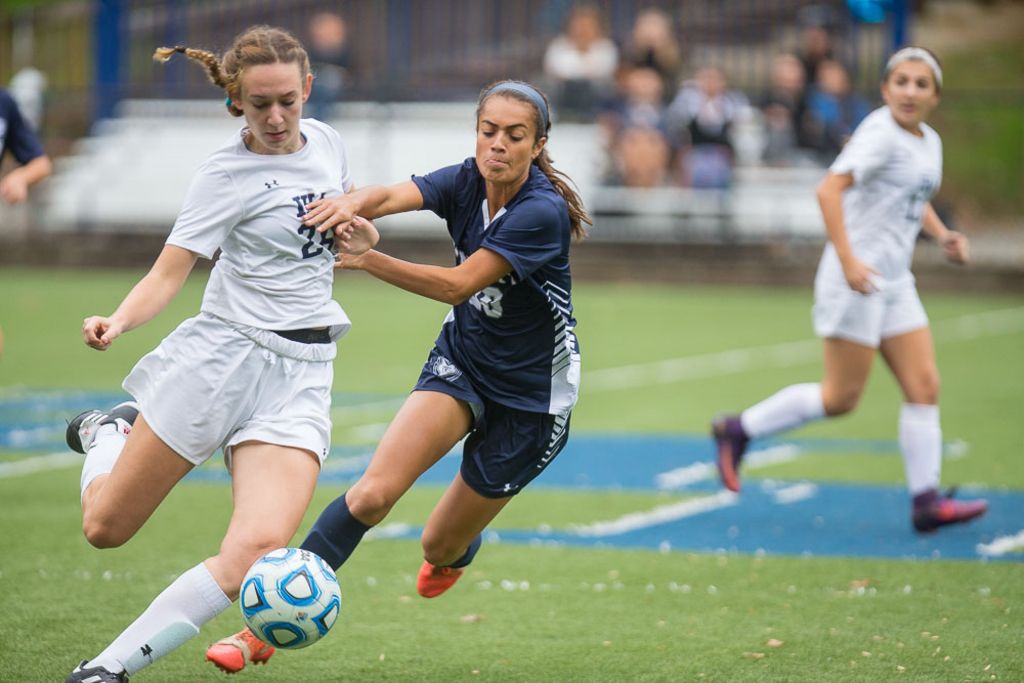 Girl's Soccer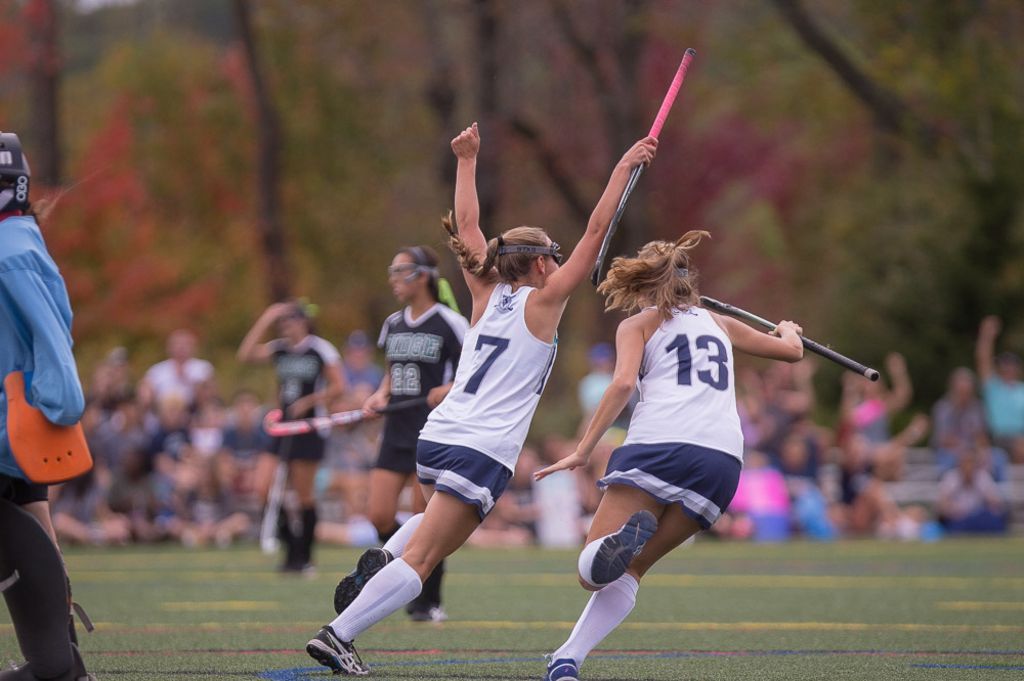 Field Hockey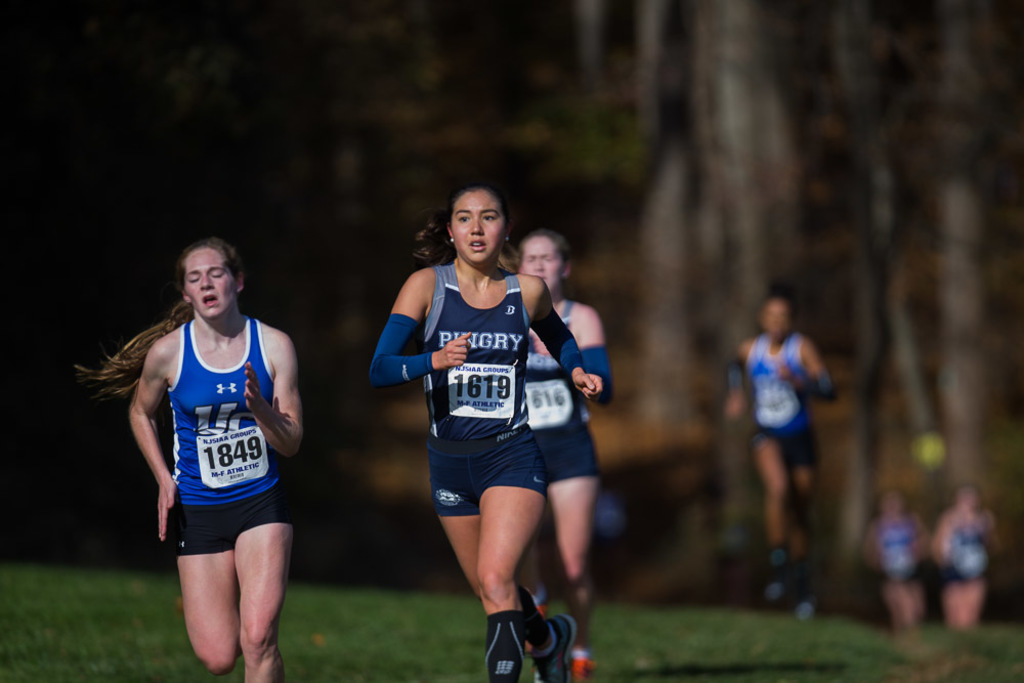 Girls Cross Country
Boys Soccer
By Nick Robinson (V)
The boys' soccer team has kicked off their season with their record currently sitting at 3-2-1.
They opened their season this year with a 1-1 tie against Watchung Hills. "Nobody was happy with that one," said Coach David Fahey about the close game. However, the team went on to win its next three games against Montgomery, George, and Friends Central. It then lost its last two games against Bridgewater-Raritan and Peddie, two big rivals for the team.
Coach Fahey said that, despite losing four very strong seniors last year, the team is pushing hard to have a good season. He said their goals are "to win the county, the conference, and the state tournament." The team is adjusting and playing well. Captain Alexy Alin-Hvidsten (VI) already scored four goals this season, and the rest of the team is also doing well.
Overall, the season is off to a decent start as the team prepares for bigger challenges at counties and states.
Girls Soccer
By Ameera Ebrahim (III)
With a record of 3-3-1, the girl's varsity soccer team is having a solid season so far. The girls started off strong with a 2-1 win against Watchung Hills. They went on to tie their next game and win their third game against Montgomery.
The team then faced three tough losses in a row. However, after a recent win against the Peddie School, the girls are optimistic for the rest of their season.
Captains Emma Lombardo (VI), Ally Pine (VI), Mairead Higgins (VI), and Alexis Elliot (VI) are determined to reach the goals they set for themselves in the beginning of the season. Regarding their performance, Elliot said, "Our season has been off to a good start. We secured an early win against Watchung Hills that set a high standard. We are confident that our hard work will pay off and we will get the results we expect and deserve."
Field Hockey
By Zara Jacob (III)
The girls' varsity field hockey team had a rocky start to the season this fall but came back strong by winning the last three out of four games. The team now has a record of three wins and three losses.
Head coach Julie Delinsky described this growth when she said, "We are really getting better every week, which is what matters to me. We are working hard and starting to play well together."
The team kicked off their pre-season with a trip to Holland, where they trained hard while bonding and growing as teammates. Once they returned, they hit the ground running in preparation for the upcoming season.
The team's goals for the season include improving their standings in the league. The coaches and players also aim to develop a team where "there be nothing average about our effort," as said by Coach Delinsky. She stated that the team hopes to uphold the values of "effort, intensity, and hard work" throughout the season.
Girls XC
By Brooke Pan (III)
The girls' cross-country team is off to a fantastic start, currently flaunting an undefeated record of 5-0.
Led by captains Anna Wood (VI) and Cathleen Parker (V), the team is supported by its strongest lineup in years. Regarding the team, Parker said, "We have so much potential on the team with a strong group of underclassmen: Nikki Vanasse (IV), Ryan Davi (III), and Alina Irvine (III). They will help us go very far and surprise the competition."
Keeping her expectations high for the team, Wood hopes "to go undefeated in dual meets, win the Skyland Valley Division meet, and possibly win the Non Public A state championship."
Head coach Tim Grant believes that "this team may be one of the best cross country teams that Pingry has ever had, and the best part is that they are young."
With a solid start, Parker, along with the rest of the team, is "looking forward to a very promising season!"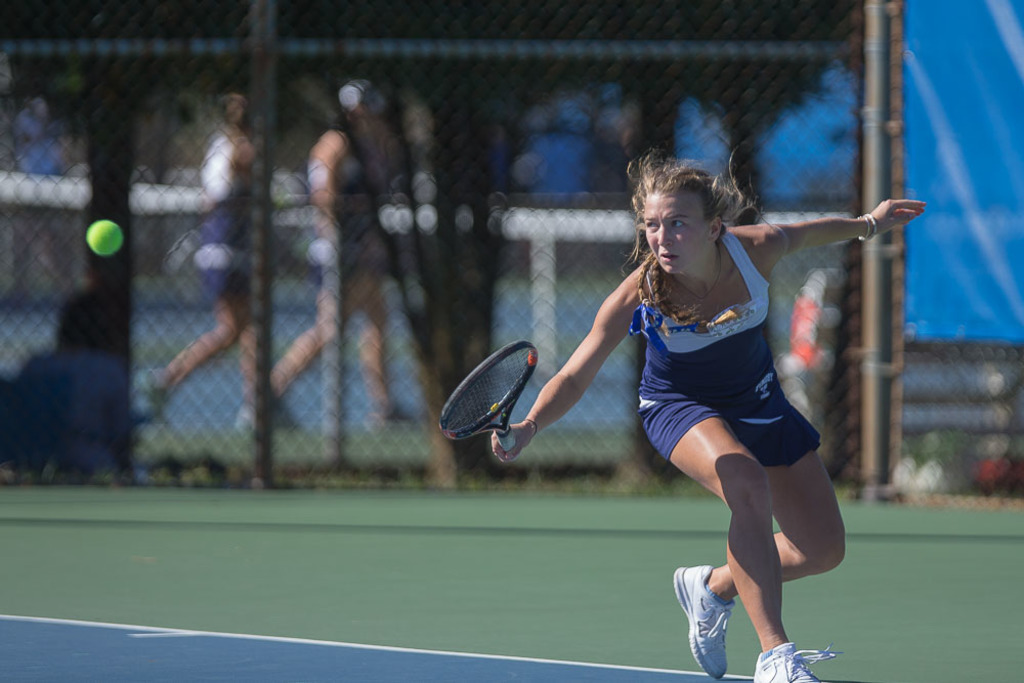 Girl's Tennis
Boy's Cross Country
Water Polo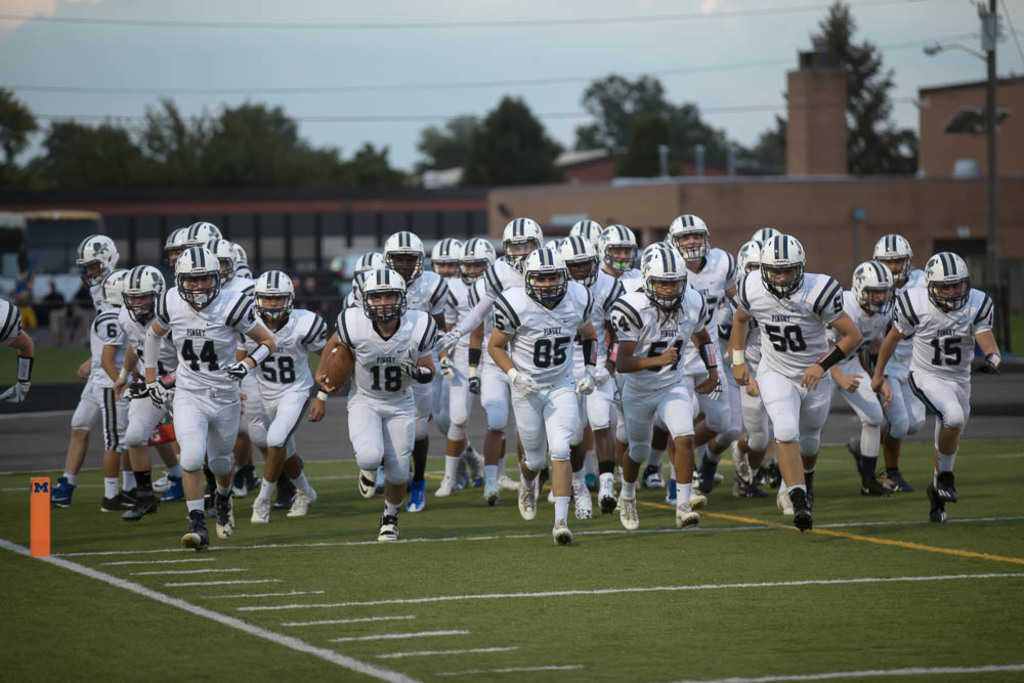 Football
Girls Tennis
By Eva Schiller (III)
Starting off the year with a winning record of 4-3, the girls' varsity tennis team has held their own in the competitive Skyland Conference. The team's winning matches were against Hillsborough, Bridgewater-Raritan, and Hunterdon Central. Two of those victories were sweeps, meaning that every member of the team brought in a win.
Regarding the season, Coach Marion Weber remarked, "I'm very happy with the way the season's going. The Skyland Conference is very tough."
Cassie Yermack (V), who plays third doubles, said, "I'm really proud of everyone so far. We have such a great team dynamic." Second doubles player Caeley Feeny (III) agrees, saying, "The team is really close. We love playing together and supporting each other."
On September 22nd, Pingry tennis faced off the rest of Somerset County in the counties, hosting the event on twelve new courts. "The new courts are fantastic," said Jessica Li (VI), first doubles, "It's definitely motivation to do well!"
Some goals for the season are to finish in the top three and hopefully win sectionals. "Most of all," Coach Marian says, "we're looking forward to a fun season."
Boys XC
By Nick Robinson (V)
The boys' cross country team is off to a strong start this season. Despite graduating its two fastest runners last year, the team currently holds a winning record of 3-1.
Regarding the new lineup, Tom Drzik (V) said, "We lost a couple of people, but we still have a strong team." Two newcomers to the team, Henry Wood (III) and Chris Ticas (III), have shown strong potential when it comes to racing.
The team had a disappointing loss to Philipsburg in their first meet, but they bounced back with three consecutive wins and are preparing for the rest of their season. "Coming off a great 2016 season, we hope to retain our title at the Prep Championships and win the Non-Public B title at the State Championships," said captain Jeffery Xiao (V).
Coaches Matt Horesta and Tim Lear are pushing the team to compete as strongly as they can in preparation to defend their Prep A title at the end of October.
Water Polo
By Matt Stanton (VI)
This fall, Pingry co-ed water polo is in for an exciting season. Although key players graduated at the end of last year, talented underclassmen have stepped up to bring the team to a whole new level.
Regarding the new lineup, head coach Misha Klochkov said, "We are expecting to play on a higher level with returning players building on their skills and a strong cast of underclassmen supporting them."
The team is led by captains Matt Stanton (VI), Victor Vollbrechthausen (VI), Billy Fallon (VI), and Jonathan Epifano (VI), backed by strong starters Connor Smith (VI), Kevin Ma (V), and Max Sanchez (VI). According to Vollbrechthausen, the team is looking to "maintain last year's state title and win games at higher level tournaments this year."
The team is coming off an impressive showing at the Beast of the East tournament in Pennsylvania. They played in flight three, a whole division above last year, and placed second. They lost to Calvert Hall, a strong team from Maryland, in the finals. Their other losses this year have all been close games against formidable out-of-state opponents.
The team has not played any non-tournament in-state games thus far, but with stronger performances than last year, the team looks to defend their state championship later this season.
Football
By Sehyr Khan (VI)
The boys' varsity football season is already off to a solid start with a current seasonal record of 2-3. The team has been working hard since the start of August preseason under the guidance of Head Coach Chris Shilts and Assistant Coach Jon Leef. This year, the team is looking forward to playing in a new league with new competition.
The team looks to be incredibly strong with a significantly large senior class. According to captains Obi Nnaeto (VI) and Clyde Leef (VI), the team's strength lies within its versatility. "We have a lot of people that can play a lot of positions," Leef said.
The team played an incredibly close game at Homecoming on October 7th against Fieldston but ultimately lost to the team 48-49. Despite their defeat, Big Blue Football is "determined as a team" and excited to redeem themselves in their upcoming games.