Volume CXLIV Number 3 // March 7, 2018 // The Pingry School, Basking Ridge
The Addams Family Stuns Sold-Out Audiences
By Meghan Durkin (III)
On February 22, 23, and 24, Pingry's Drama and Music Departments presented this year's winter musical, The Addams Family, a quirky comedy written by Andrew Lippa. Following the members of the infamous clan known for their dark and twisted outlook on life, the musical takes place over one wacky night filled with exposed secrets and new revelations.
The plot focuses on what happens when Wednesday Addams (Dorothea Miller, V), the oldest child and only daughter of Gomez (Lucas Vazquez, V) and Morticia Addams (Isabel DeVito, V), finds love with a normal Ohioan named Lucas.  When Lucas (Leo Zhu, V) and his parents come to the Addams's house for what they believe will be a simple dinner, instead they experience an unusual night of bizarre family traditions and meddlesome potions.
When Wednesday decides to tell only her father of her recent engagement to Lucas, Gomez, as a loyal husband and father, struggles to keep this secret. At dinner, while playing the family's time-honored game, "Full Disclosure," in which everyone must confess an untold secret, Wednesday's brother Pugsley Addams (Katerina Deliargyris, V), attempts to stop the marriage.
However, this plan goes awry. In a dramatic fashion, Morticia learns of their plan to wed. Both families in shambles, the lovers, both new and old, must learn to forgive and to find their way back to one another. As the musical progresses, viewers watch both Wednesday and Lucas, Morticia and Gomez, and Lucas' parents, Mal (Andrew Cowen, V) and Alice (Maya Huffman, V) come to accept their differences and reaffirm their undying love for one another. The clan's elders, hoping for love to triumph, cheer on the lovebirds throughout the show.
Director Mrs. Stephanie Romankow brought a creative, and spunky take to this twist on the classic family. When choosing this year's musical, Romankow decided on The Addams Family because it "allowed all students to practice some acting, singing, and dancing," while it "speaks to all types of love" as well as family life and forgiveness.
Proud to see everyone "coming together" and "collaborating," Mrs. Romankow said that her favorite moments in the rehearsal process were when "two actors would find a moment when they connect dramatically." As the director, she was elated by the "giant puzzle" the students, teachers, and parents put together. "It was an honor "to spend time with people who care about this musical," she said.
To create a complex and beautiful set, Mrs. Jane Asch and Mr. Christopher Abbott worked long hours, along with students and parents. Mr. Alan Van Antwerp served as the lighting and technical director, while Dr. Andrew Moore, as the pit orchestra conductor, directed student musicians throughout the show. Stage managers for the musical included Allison Matthias (V), Udochi Emeghara (V), and Quarida Benatia (VI).
Like many of her fellow performers, Sydney Stovall (III), a student involved in the production, considered participating in The Addams Family an opportunity to explore "my talents and other people's talents, and to venture outside my comfort zone."  

Sarah Collins Rudolph Preaches Compassion at Martin Luther King Jr. Day Assembly
By Annaya Baynes (V) and Udochi Emeghara (V)
On January 12, 2018, Sarah Collins Rudolph and her husband, George Rudolph, came to the Basking Ridge Campus for the annual Martin Luther King Jr. Day Assembly. Mrs. Rudolph is the only survivor of the 16th Street Baptist Church bombing of 1963. On Sunday, September 15, 1963, Klu Klux Klan members placed a bomb outside of a window at the 16th Street Baptist Church and it exploded, killing four young African-American girls: Addie Mae Collins, Cynthia Wesley, Carole Robertson, and Carole Denise McNair. Mrs. Rudolph is the younger sister of Addie Mae Collins; at the time, she was only twelve years old. She suffered a series of burns and was blinded in one eye after the bombing.
During the assembly, Mrs. Rudolph answered a series of questions about subjects ranging from her life immediately after the bombing to how her religion has shaped her. She detailed the events of that day, from her parents rushing her and her sisters, to her and her sister's reluctance to go to Sunday School, and finally their decision to go to the bathroom to freshen up. As the four girls were getting ready, the bomb went off, shooting debris into the room. The noise was so loud that her future husband, who was across town in another church, could hear the explosion clearly. Mrs. Rudolph immediately started calling for her older sister, Addie Mae, but she did not receive a response. A deacon, Samuel Rutledge, saved her, and she was rushed to the hospital. It was there that she learned of the death of all the girls who had been with her. After the bombing, the perpetrators bragged about their actions and how many children they had killed, while Sarah Collins Rudolph had to go back to school with an eye missing and the death of her sister haunting her. She described her frail emotional state at the time and the incessant panic attacks that plagued her.
As she grew up, she eventually reconnected with her religion; she detailed the role God has had in her life following this traumatic event. She and her husband spoke about the need for forgiveness in this day and age. Mrs. Rudolph spoke about her personal journey to forgiving the bombers despite their indifference and even pride in their actions. She refused to continue being bitter or to allow the event to have a negative impact on her life. Eventually, she married her high school sweetheart, who helped her after the bombing. When asked if she had ever considered leaving Birmingham, she said that she had never thought of leaving.
All in all, Mrs. Rudolph and her husband sent out a loud, clear message to the student body: Forgiveness is key. Her story of loss, faith, and kindness personified the legacy of love in the face of hatred that Dr. Martin Luther King left behind.
Six Speakers Present
at LeBow '53
Oratorical Competition
By Noah Bergam (III)
On Friday, February 23rd, Upper and Middle School students joined together in Hauser Auditorium for the 2018 Robert H. LeBow '58 Oratorical Competition. The competition, held annually and open to juniors and sophomores, was founded in 2005 by William Hetfield '58 and the Class of '58 in memory of Dr. Robert H. LeBow. Dr. LeBow, a renowned public speaker, traveled through developing countries with his wife, providing medical services to underprivileged communities.
Organized by Spanish and French teacher Mr. Richard Karrat, the assembly featured four-and-a-half- to six-and-a-half-minute-long speeches from six juniors who had qualified in the initial round.
The contest opened with a speech entitled "The Pingry Story" by last year's runner-up Avery Didden (V). Didden celebrated the Pingry community for its members' unique passion for learning. She illustrated this point with the trivia game show HQ, noting that, while people she knew from other schools slowly forgot about the game, Pingry students continue to play. Pingry students understand, she explained, that the game is about more than just its prize money, and they embrace the spirit of trivia and learning the game promotes.
The next speech was "Thank You" by Jonathan Chen (V). Chen began the speech by reminiscing about the childhood days when his father and mother cheered him on at soccer games and swim meets. He then transitioned into the memory of his parents' divorce and the devastation of seeing his parents split, as he regarded them as the "best team." Despite the feelings that came with the divorce, Chen recognized the "endless love and support" his parents continue to provide him; his final message was to "thank your parents" for all the hard work that they do.
Rashida Mohammed's (V) "A Trust Fall" followed. Mohammed opened the speech with an anecdote about a friend confessing to her about having an anxiety disorder. Later on, Mohammed confessed, "That friend I mentioned—that was me." She offered inspiring words as she spoke about living with the disorder. Near her conclusion, she recognized that "having any form of anxiety is on a spectrum" and highlighted the importance of representation.
Then, in traditional Chinese dress, Alisa Chokshi (V) opened her speech, "Let Your Spark Ignite," by singing "Chengdu" by Zhao Lei. Chokshi shared her life-changing experience as a member of a Chinese language immersion program, through which she resided for six weeks last summer in the city of Chengdu. As an American, Chokshi spoke about recognizing her inner ethnocentrism, the "viewing [of other cultures] with the bias of one's own culture," and how her perspective changed while living in China.
The penultimate speech was "Breaking Brand: Looking Past Brands for the Better" by Miroslav Bergam (V). Bergam opened the speech with a story about how his family overlooked a cookout in South Carolina summer after summer due to its lack of branding. Bergam deconstructed the illusion of branding all around our lives and community, from cereal to computers to clubs at Pingry. He went on to highlight the "dark side" of branding: the exclusion and subsequent elitism between those who are "in on the brand" and those who are not. His final message was to be wary of the impact brands have on our lives and personalities.
The final speech was "How Media Makes Us Smarter" by Ketaki Tavan (V). Tavan questioned the ways that television, movies, and other forms of visual media are seen by our culture. She challenged the assumptions that "TV rots your brain" and "hampers creativity" by arguing that one can "consume visual media" with as much critical analysis as one can with literature. Tavan continued by analyzing Mudbound, a 2017 movie involving race relations on a farm in the Mississippi Delta, and Shameless, an ongoing television comedy about a dysfunctional family living in South Side, Chicago.
As the assembly drew to a close, Mr. Karrat named Mohammed the runner-up of this year's competition and then announced Bergam as the winner. Everyone in Hauser walked away enriched and though-provoked by the six fantastic speeches they had heard.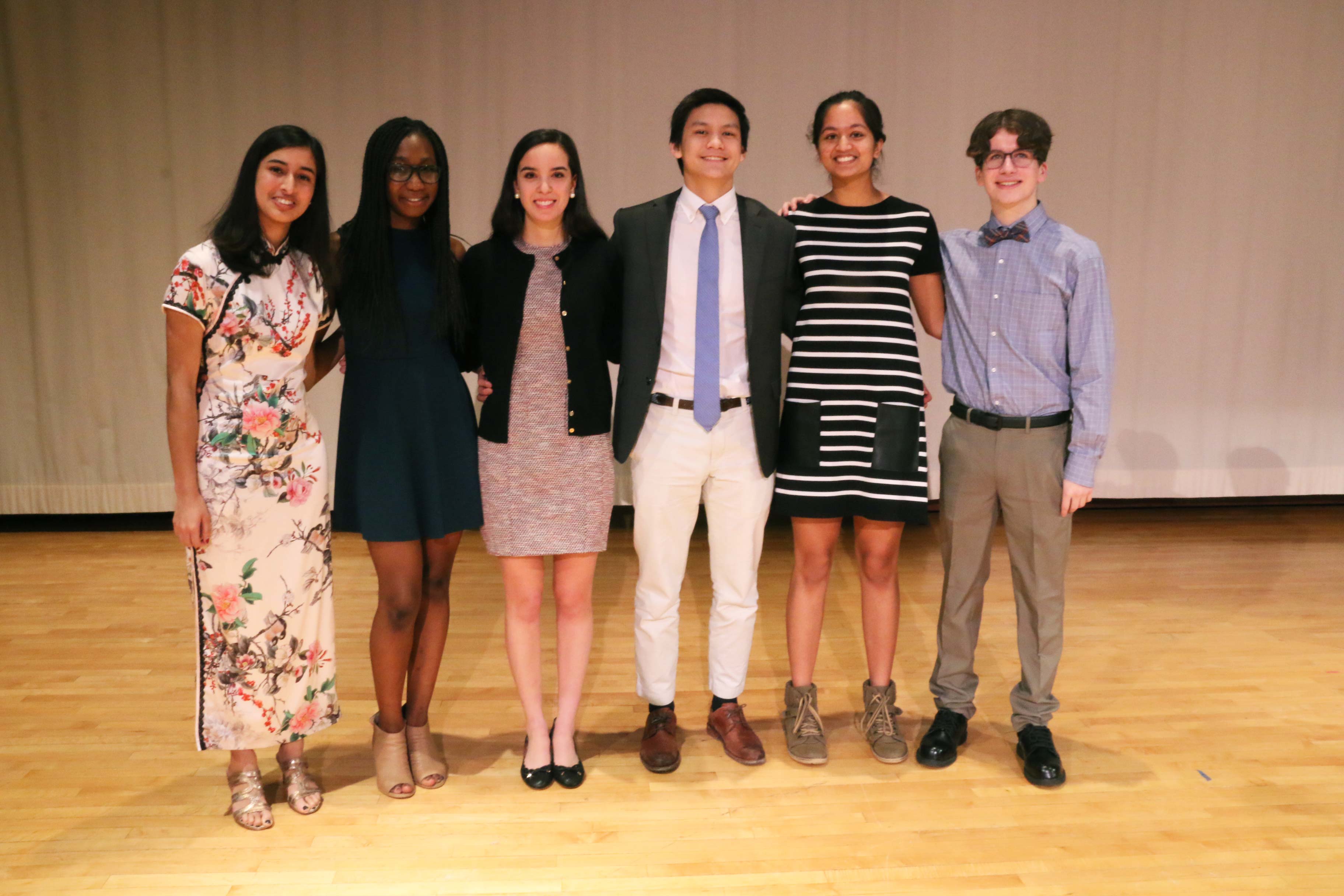 Students Celebrate Snowball
at New Venue
By Darlene Fung
On Saturday, January 27, Upper School students enjoyed a night filled with friends, fun, and food at Snowball, the annual winter dance. Starting at seven o'clock, students filed in through the glass doors clad in an array of formal outfits, from party dresses to jumpsuits to bowties to button-downs.
Due to the Dolce Hotel in Basking Ridge being sold to new ownership, Ms. Kent, Ms. Weinberger, and Dean Ross decided on the Westin Governor Morris in Morristown as the new venue for Snowball.
Initially, students were unsure about the change in venue. "I had never been to the Westin before, so I didn't really know what to expect," Hannah Gruber (V) said. "I liked Snowball at Dolce, so I was hoping that the new place would be just as good."
Luckily, most students agreed that the venue was a great place to host Snowball.  The Westin features a large marble lobby, where students were able to check their coats before heading upstairs to the main floor. "I really liked how we could check our coats on the first floor, and the actual dance was all happening on the second floor," said Aanya Lall (V).
Chase Barnes (V) added, "There was plenty of parking, and the place itself was beautiful."
Tables set up all around the dance floor provided ample seating. A large variety of food was served, including pasta dishes, Asian dumplings, mini sliders, and plenty of fruit and desserts. Soft drinks and Starbucks coffee were also available throughout the night.
Commenting on the cuisine, Lall said, "The food was great, and I especially liked the layout of it. Everything was organized so that it was easily accessible to all. However, I do wish there was ice cream like they served at Dolce."
Students also enjoyed the music. Some of the songs played included pop songs like Bruno Mars's "Finesse" and throwbacks like Dexys Midnight Runners' "Come on Eileen." Songs produced by Pingry students were also featured on the dance floor, including "Phoenix" by Melissa Tungare (VI) and "Maybe I'm Crazy" by Brandon Rosen (VI).
Barnes said, "The music selection was really good this year. All the songs were ones we knew and could sing and dance along to, and I love how they played songs that our peers wrote and sang. It made Snowball extra special!"
Overall, Snowball was a night enjoyed by all. Student Body President Michael Weber (VI) said, "The Westin exceeded all expectations. Everything from the food to the decor was fantastic, and the student body really had a great time."
Student government faculty advisor Ms. Colleen Kent added, "The feedback we've received from students has been overwhelmingly positive. We've decided to book it again for next year."
Editorial:
The Labor of Love
In the past few weeks, we've had the chance to
hear some excellent speeches about parenting. At the
LeBow Competition, Jonathan Chen (V) talked about his parents' "endless love and endless support" and urged us to "thank those who support you," while at last week's Morning Meeting, Mr. Keating shared stories about his own parents and encouraged us to "pay attention to how your parents are raising you." Even Mr. Andrew Onimus, in his presentation at the Carver Lecture, emphasized the support he received from his parents in his struggle with mental illness. Spurred by their example, I'd like to take the time now to pen atribute to my own parents
Since before even I was born, both of my parents
commuted every day to work in the city. Sometimes
if I woke up early enough, I could hear from down the hall the rustling sounds of my parents getting ready in the morning.
Nestled underneath the warm covers, I listened
through a semi-conscious, sleep-clouded haze to the
sound of water striking tile in the shower like keys of
a typewriter, the crisp click of my mother's high heels
and the swift zip of a jacket, and finally the distant roar of the car ignition growing ever fainter as my parents drove off into the dawn. As I heard but never saw my parents in the mornings, these sounds were the only confirmation that my parents did in fact exist prior to six in the evening and did not simply materialize every night out of thin air, complete with work-weary faces and the perfume of the commuter train.
Nevertheless, it was anything but an unhappy life.
The many grown-ups who watched over me during the day treated me kindly, and there was no shortage of love on the part of my parents either. But even if I can say that now, looking back in retrospect, I can't deny that there were times during my childhood life when I simply felt that something was different. Not missing, necessarily, not wrong either—just different. In the eyes of a young child learning to observe the world around her, the small inconsistencies between other families and hers must have imprinted themselves in her mind; a quick kiss planted on a reluctant cheek in the morning carpool line, a lunch box complete with sandwich and sticky note lovingly packed, a pair of arms outstretched in greeting, waiting at the door—she must have circled them in her memory as if they were objects in a game of spot the difference.
My parents' love felt like the light of the sun—brilliant, warm, and vividly palpable, but ultimately exer- cised through the physical barrier of distance. However, I never felt any resentment towards them, even as a child. In fact, it is as a result of their absence in my childhood that I believe I am able to better appreciate them now. As opposed to being something that is taken for granted, their presence is something that is alive and dynamic, like a flower wriggling its roots through the dirt or a fire breathing smoke through its embers. Throughout the years of my development, I have grown up and become increasingly independent. One by one, the adults who had watched over and cared for me as a child have let go of my hand, and I have since stepped forward to join them in line as a fledgling adult myself. The responsibility for my own well-being has now fallen squarely on my shoulders with no one else to lead me.
That is, with the exception of my parents. Even now
when I'm expected to be able to walk on my own, my
parents still remain by my side and serve as a source of guidance and support. But unlike the child for whom the surrogate love of others eclipsed the solitude she felt, I have since learned to become receptive to my parents' love in every form that it takes.
In parting, I would like to urge members of the
Pingry community—adults as well as adolescents- to
remember their parents and to be forgiving of them. If there is anything in my perception of my parents that has changed from childhood, it is that I have learned that they are fallibly, beautifully human, subject to the same emotions, desires, and fears as we all are. The true strength of my parents' love manifests itself in its endurance. Throughout all this time, it has never wavered or faltered—instead growing to overcome any barrier in its way, like vines of ivy winding their way upward, ever upward in search of sunlight.
                    – Megan Pan (VI) 
Affinity Groups: An Open Dialogue
by Ketaki Tavan (V)
The first time I was ever exposed to the concept of affinity groups was during my freshman year at Pingry. These groups were presented as "safe spaces for students to learn more about their various identities and to discuss their questions, comments, and concerns with other students who share that same identity." My initial reaction was confusion–I couldn't wrap my head around why we'd want to create spaces that physically separated students of different identities when the ultimate goal of our community should be inclusion and acceptance.
After this initial introduction, I hadn't thoroughly revisited the concept of affinity groups until this year, when I was presented with the opportunity to lead the South Asian Affinity Group. With this opportunity came the task of thoughtfully considering the purposes and goals of affinity groups. Through affinity group leader training, I became more familiar with these objectives.
It became clear to me that affinity groups are a space to process and explore your identity with people who share it. I find this especially valuable as a minority in a community, country, and time. Even though I don't necessarily feel marginalized or targeted on a regular basis, I also don't feel like my environment is conducive to a complete freedom to embrace and grapple with my South Asian heritage.
Although I've found the South Asian Affinity Group to be an invaluable space where I can connect with those who can relate to the challenges I face and questions I have regarding my identity, I do understand those who believe that these spaces are divisive.
In discussing the potentially divisive nature of affinity groups, I think it's important for people to first and foremost recognize that these groups aren't meant to end where they start. Rather than creating identifier-specific groups that are separate but equal, affinity groups should and do serve as stimuli for conversations within cultural groups as to how each of us can effectively support productive cross-cultural dialogues as well as consider how we fit into the bigger and more diverse communities of our school and the outside world. However, this purpose is a fragile one that may not always be fully achieved.
It's easy for affinity groups to become the only spaces where honest, identifier-related discussions are held as members return to the larger community and forget about them. This results in limited change; affinity groups are a space for our smaller groups to make progress, but Pingry lacks a structure that allows for inter-group work between each of their attendees to take place.
Ideally, this structure would be the everyday interactions of our community in its natural state, and oftentimes I find that it is. I've had plenty of productive and thought-provoking conversations with students with cultural identifiers different to mine that were inspired by conversations we had in our respective affinity groups. But I do think it's potentially naïve to assume it unnecessary to have a bigger processing space where the progress made in smaller affinity groups can clearly be seen.
I also think that this lack of an inter-affinity group structure contributes to people's fears that affinity groups are divisive. The anxiety and suspicion that can arise from a lack of insight into the work done in other affinity groups has nothing to calm it, resulting in decreased buy-in toward them in our community. Not everyone trusts that the larger processing space necessary as a follow-up to affinity groups will take form naturally in the outside world. Therefore, it would be beneficial for both those who doubt affinity groups' effectiveness and for the realization of the ultimate goal of affinity groups to create this space at Pingry. There are many forms that this space could take; the two open forums we had this year where all students could attend were great examples.
I do believe that affinity groups are a step in the right direction on the path to equality and inclusion. I've found my participation in them to be an important part of my connection to my South Asian identity. That being said, I do believe there's more to be done before affinity groups can fully accomplish their ultimate goal.
.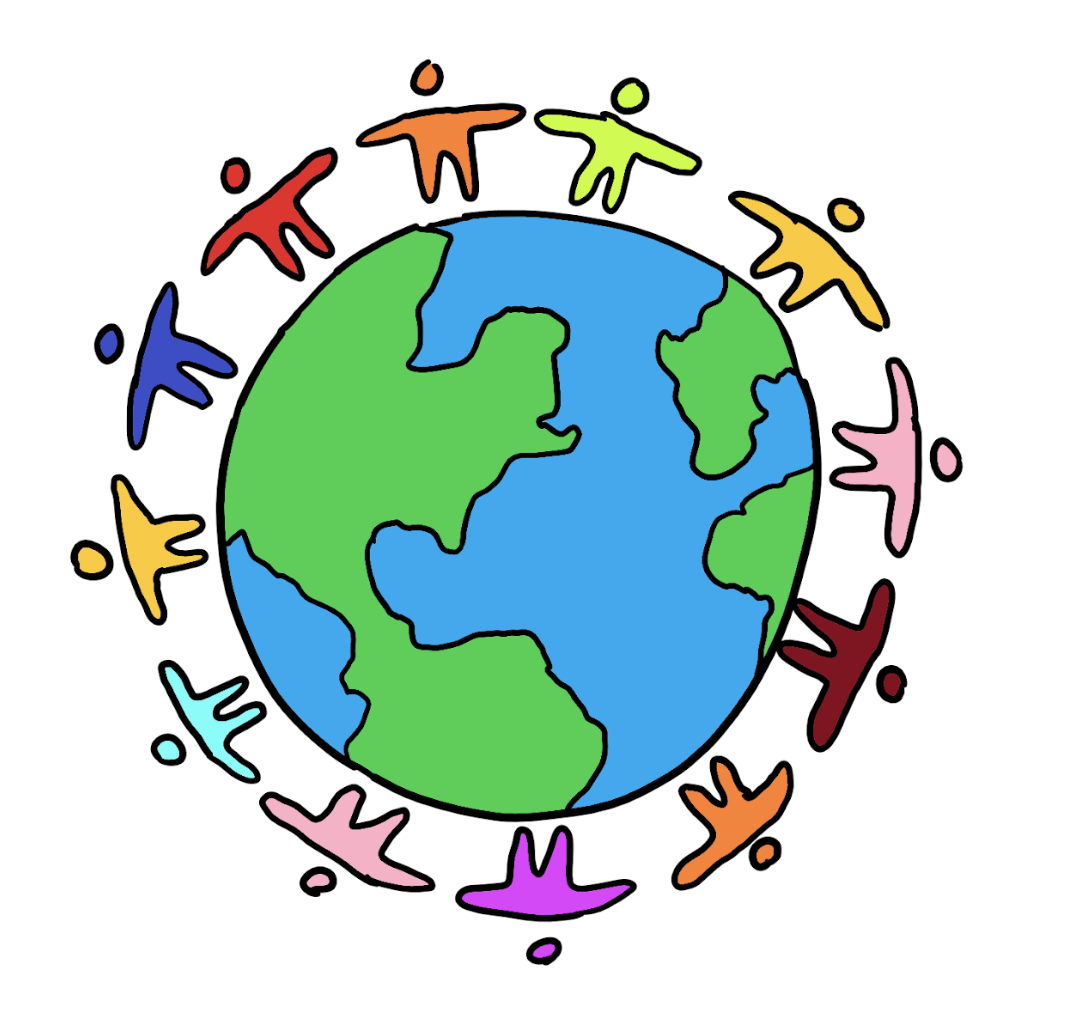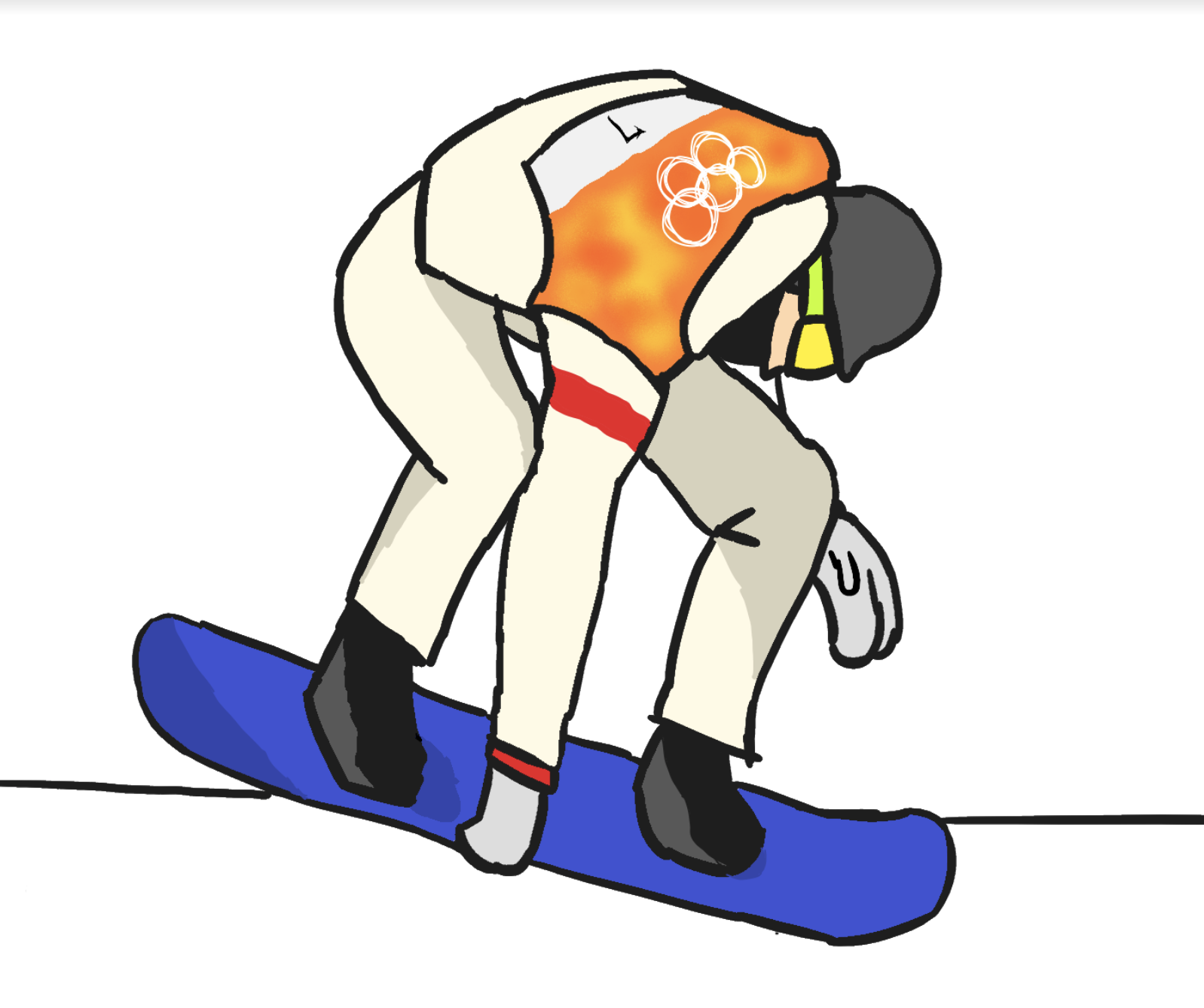 Ho Encourages Us to Be the #BestofPingry
by Felicia Ho (V)
"At 17 years old, he's won it — the first gold medal for the United States at the 2018 Winter Olympics." "She's a golden girl! What a force to be reckoned with!" As the Winter Olympic Games opened in Pyeongchang, South Korea on February 9, two breakout snowboarding stars, Red Gerard and Chloe Kim, shone on the glittering half pipe. Immediately they became Internet sensations and lit up headlines on newspapers around the world; they had made their mark, one for the ages, in this year's Olympics. Although these two young rising stars are beaming signs of hope in the 2022 Olympics, it is important to remember that the Olympics also celebrates stories of veterans.
There are several five-time Olympians competing in the Games this year, including Aliona Savchenko, a German pairs figure skater, and Kelly Clark, an American snowboarder. Lindsey Vonn, an American skier, is competing in her fourth Olympics, and Mirai Nagasu, an American figure skater, is in her second Olympics. These veterans all have their own outstanding stories of getting back up when they've been wiped out, of taking up the courage to compete again after failing to qualify for the Olympics in previous years. After all their sweat and tears, they've pushed through to make it to the podium. And even if they don't win, they continue to work even harder than before, inspiring athletes like Red and Chloe.
"Today I wrote history… This is what counts," Savchenko said after she finished her record-breaking gold medal free skate pairs program with her skating partner, Bruno Massot. Savchenko had been a Bronze medalist in both the Vancouver 2010 and Sochi 2014 Winter Olympics, but never before had she clinched a cold, hard, golden medal in her hands. Although her age posed a challenge in continuing a physically demanding career, she fought on, and the results have paid off, as she is now the oldest woman to win an Olympic gold medal in figure skating.
Similarly, Kelly Clark at 34 years old defies her age in snowboarding. Although her last Olympic gold medal in half pipe snowboarding was over a decade ago, at the 2002 Salt Lake City Winter Olympics, Clark continued to fight for gold at this year's Olympics. Although unsuccessful in her attempts and capturing 4th place instead, Clark has not regretted a single moment of the work she has put herself through. Instead, she looks to inspire the next generation, explaining, "Your dreams are too small if they only include you." Kim acknowledged Clark's mission by presenting Clark with the Order of Ikkos Medal because "she just took me under her wing," in reference to meeting Clark when Kim was only eight years old.
This close relationship between Clark and Kim embodies the true meaning of the Olympics: to inspire and encourage the future to challenge their limits, break records, and above all, create a lasting impact that will change history forever. Whether it be figure skating, performing in a show, or even finishing an exam with the flourish of a pen, we are built to follow our dreams, no matter how big or small they are. Once we achieve those dreams, we become an example to the people around us who cheer us on every day.
As the Olympic athletes representing Team USA are in Pyeongchang to be the #BestOfUs, we students are in Basking Ridge and Short Hills to be the #BestOfPingry. Although the competition is strong and can be overwhelming at times, we must learn to overcome that feeling and "skate" to our own songs. Our own coaches—our parents, counselors, and teachers—are watching in the bleachers, advising us every step of the way even as we fall. At times we shine in the spotlight alone, and at other times we share the spotlight, hand in hand.
For each day that we walk through those double doors, we step onto the ice a little more confidently as we are ready to amaze this big wide world.
Support Common Sense on Firearm Regulations
by Madeleine Parrish (VI)
"Everything seemed so easy. No way we would get caught."
This is a quote from the notebook of Eric Harris, one of the two perpetrators of the Columbine High School shooting in 1999 that killed 13 people. Since then, journalists have attempted to pinpoint some of the motives of the boys: Eric was, according to psychiatrists, a psychopath, Dylan Klebold was depressed, and together they wanted to "wipe out as much humanity as possible" (a quote from Eric). When considering what causes any killer to pull the trigger, mental health is often a critical issue. Nikolas Cruz, responsible for the recent Parkland shooting, had previously been diagnosed with depression. But for many mass shootings, there is another common characteristic among the perpetrators: they look to previous incidents for inspiration.
Since Columbine, there have been 208 school shootings in the US, and an ABC News investigation pointed to 53 attempted or successful school shootings in which the killer explicitly cited Columbine as an inspiration. How could a single act of violence turn into a cycle across America? The answer to this question, although complex, lies partly in the quote from Eric's notebook.
According to a 2007 survey, the US owns an estimated 48% of the world's 650 million civilian-owned firearms. We own more guns per capita than residents of any other country. The history of the Second Amendment and the prevalence of guns in the United States means that measures taken in other countries like Australia to essentially ban gun ownership would not work the same way in the US, but also that US citizens are more inclined to turn to guns as their mode of violence. This is made possible by insufficient state regulation of private gun sales. After all, everything was so easy for Eric; even though he had previously been arrested and local law enforcement had seen his website on which he wrote about making pipe bombs, he was able to buy a TEC-9 (a semi-automatic pistol) and three other guns at a private gun show where the seller was not legally required to perform a background check.
Federal law only requires background checks for gun sales by federally licensed firearm dealers, and states have their own laws for gun regulation. Currently, only 12 states (including NJ) and DC require background checks for all privately sold firearms, and six more states require background checks for privately sold handguns only. The statistics are alarming: a 2017 study estimated that 42% of US gun owners acquired their most recent firearm without a background check, and a survey in 13 states of state prison inmates who were convicted of gun offenses found that only 13% obtained the gun from a gun store where background checks are required. So, why is it that 32 states don't require background checks at all for private gun sales?
The arguments against background checks for private sales include the possibility that innocent citizens might be denied guns because of flaws in the background check system and the claim that regulations would be too difficult to enforce. However, these are justifiable risks of common sense regulations as the federal government works to improve the National Instant Criminal Background Check System. After the shooting at Marjory Stoneman Douglas, it is clear that the net benefits of preventing firearms from falling into the wrong hands outweigh any potential negative consequences.
Additionally, if state and local law enforcement struggle to enforce these regulations at first, perhaps private companies could help out by providing background checks for private gun sales. Walmart is the largest seller of firearms in the United States and performs its background checks through NICS. Being the largest private employer in 22 states, Walmart has tremendous influence and already requires employees who sell firearms to get a background check even when state regulation doesn't. Companies like Walmart could act as a sort of middle-man, providing more convenient background checks for local private sellers to enforce state regulations.
In the meantime, Pingry students and high schoolers across America who are both angry and fearful should not and are not remaining silent on the issue. Students from Marjory Stoneman Douglas High School are sparking an incredibly powerful movement on a crucial issue, and as it gains momentum across the country, listening to students' requests and implementing common sense firearm regulations is the least state legislatures can do.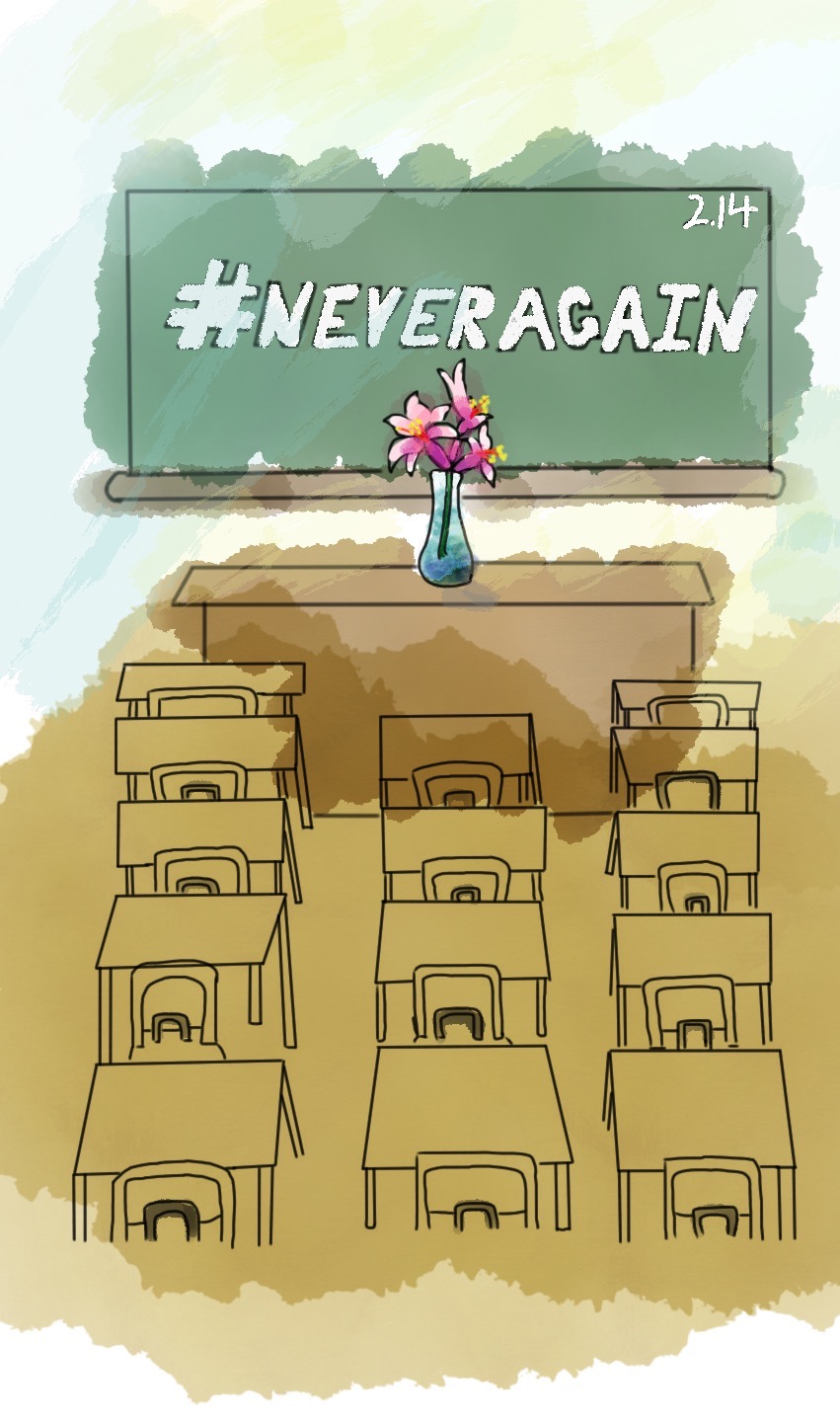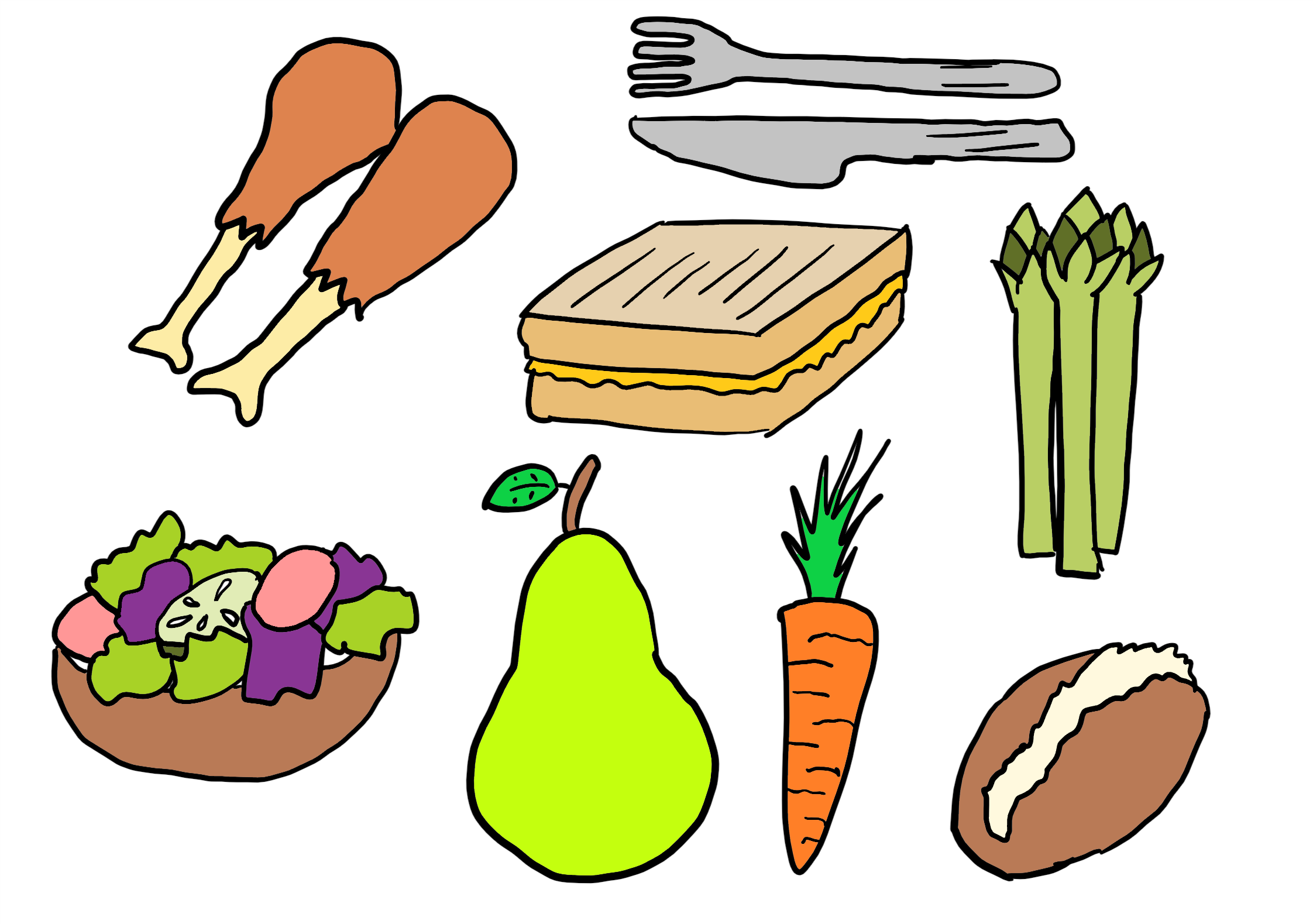 SuBreaking Brand: Looking Past Branding
by Miro Bergam (V)
The following piece is the speech that I delivered for the Robert H. Lebow '53 Oratorical competi- tion on Friday, February 23. My inspiration for the topic has been witnessing the divisions and dis- parities brought about by brands beginning within my own family, around the topic of private school, and extrapolated to the brands that in uence all of us. I hope that readers and listeners of my piece take away a better understanding of how the forces of brands push, pull, divide, and control us, and how we can avoid these effects.
Across the bustling William Hilton Parkway on the languidly warm Hilton Head Island lies a small, canteen-style eatery. From what I've gathered, it's an authentic Southern roadside cookout. Every summer, my family drives to South Carolina and boards just a short walk away from this establishment. Although we don't shy away from exploring the island, I noticed last summer that in all the 7 years we've gone to South Carolina, we've never once visited this place – I couldn't even tell you its name. I came to the conclusion that it was because of the complete lack of brand. The cookout had no glossy coat of branding, no eye-catching logo or polished exterior or catchy name to hold our hand as customers. It didn't have the bankable logo and iconic name of the Salty Dog Cafe, nor did it have the reputability of the Marriott brand that led us to purchase our timeshare in the rst place.
There's an implicit assumption that anything off-brand is inherently not up to par. We accept that Fruit Loops are a better cereal than generic "Fruit Rings", and that real Nike sneakers are more attractive than their knock-off counterparts. People will pay over $500 for a plain white t shirt from the brand Yeezy and the majority of us default to Apple products because of their brand's preeminence in the technology market. Brands dominate our interests, our minds, and our wallets.
Branding has just as great an influence here at Pingry. Just think, why do you go to school here? Pingry as an institution does an amaz- ing job of branding itself, packaging its mission into the marketable tagline: Excellence & Honor. The new website, the construction of the lustrous BAC, and even the removal of sweatpants from Dress Down Days are all upgrades that build Pingry's brand as a school that will make you a high-achieving, honorable person. And it worked: that branding is why we all applied and are here today.
Branding exists within the school as well with extracurriculars. iRT for example garners so much hype as a club because it builds an impressive brand. The lowercase i in their name serves no purpose other than to give off an image of swagger, their rigorous application process conveys a level of exclu- sivity, and the language used on pingry.org promotes this iRT brand: mentioning they "collaborating with scientists at nearby universities." All of these factors market a first-class reputation, drawing in attention and applicants.
So, yes branding is everywhere, but is it a bad thing? While I concede that living a life without feeling and sometimes giving into the pull of brands is close to impossible, I want to highlight a dark, inherent truth about brands. The happiness and safety and coziness you feel when you are in on the brand, when you have the adidas or the macbook, is only possible because of the other- ness and perhaps even embarrass- ment that those on the outside feel.
For example, Gucci and Canada Goose are luxury brands only be- cause there is a population of people who don't have or can't afford their clothing; if everyone could buy it, those brands would lose all their glamour. In Pingry, the feelings of upset and jealousy towards iRT from those who didn't make it into the club is a major factor in elevat- ing the iRT brand as exclusive, mak- ing the club seem more sought after.
This reality applies to Pingry. It feels good to be a Pingry student not only because it's an amazing school, but because it's an exclusive school that sends 100% of their student body to competitive colleges and has a name that people in the New Jersey area recognize and respect. But with that feeling of inclusion comes the exclusion that's inherent to all brands. This institution pro ts on the fact that people on the outside feel left out. Applicant families feel sadness and exclusion when their child gets rejected, and the Pingry brand is helped by this sadness naturally: it paints the school as more competitive and exclusive and draws in more applicants. I got re- jected from Pingry in Kindergarten, and that experience made my family view Pingry as more competitive, driving us to apply again in 3rd grade with a thirst to be included in this elite establishment.
Well, I got in in 3rd grade, and I felt the safety, the power, and the feeling of inclusion that comes with going to a private school. But as my family grew and grew, we came to realize that we can't afford to send all 7 of our kids to Pingry. The fact that I get to go to this school instead of some of my siblings simply due to birth order is made hideous by branding. When my siblings visit massive events like Homecoming or the Research Exhibit, they get glimpses of the fact that I'm behind the gates of the shiny prep school and they're left in the default school system. This is not at all to say that a public school is subpar; rather I' m pointing out that brands by nature foster an elitism that divides people into the IN crowd and the OUT crowd. There are in and out crowds for who has what clothes, on who got into what colleges, and, yes, who goes to Pingry. This dark side of branding has been made abundantly clear to me because this dynamic plays out at the heart of my family.
Editorial: When Do We Get to Weigh In?
"The big question is: should the media be promoting opinions by teenagers who are in an emtotional state and facing extreme peer pressure in some cases?"
                        -Bill O'Reilly
"Their sorrow can very easily be hijacked by left-wing groups who have an agenda,"
– Former Rep. JackKingston
When I heard about the tragedy at Marjory Stoneman Douglas High School in Parkland, Florida, my first reaction was not to have one. "17 dead, 14 injured…" the car radio droned, and I remember thinking, oh. Another one. And I
promptly forgot it.
I strive to be compassionate, but after years of hearing about mass shootings every few months, the concept of a mass shooting has lost its tragedy to me. It has become too regular an occurrence for me to summon up the same intensity of grief
and despair that it once did. So on Monday afternoon, during an unseasonably warm fire drill, I forced myself to feel the visceral fear of those students under attack in Florida. For one
searing second, I tried to imagine what might occur if an active shooter were on campus.
Would I dodge behind cars? Would I run fast enough to reach the BAC? Would I scream as my classmates were cut down, or would shock prevent me from registering it?
Now and in the moment, I shudder. My heart pounds in my ears. 17 dead in a high school of 3000 broke the Parkland community; 17 dead in our entire school of just 1000 would shatter us.
Something needs to change. But why hasn't it already?
Everyone who passed middle school social studies knows that the Second Amendment guarantees the "right to bear arms," an important provision in the Revolutionary era for establishing democracy in the face of tyranny and military
abuse. Since those days of muskets and bayonets, the Second Amendment has become a symbol of ultimate freedom—perhaps even more so than freedom of religion, speech, or press.
While other rights have served the same purposes throughout time and thus become established as simple, non-negotiable rights, the right to bear arms has nearly lost its original purpose
as guns become more developed and dangerous. Less thanphysically defending the republic against oppressive government military abuses, it has now evolved into taking an ideological stand for freedom—to the point where owning a gun is a deliberate exercise of that freedom, and the gun itself is used only for recreation.
So the symbolic power of gun ownership drives gun advocates and the National Rifle Association (NRA) to block any legislation proposed to curb our near unfettered access to military grade weapons. Instead, the national conversation
is redirected toward improving the mental health system to prevent the severely mentally ill from obtaining weapons and arming teachers to defend students.
But would these solutions be effective? I doubt it.
In my nightmarish reimagination of our Monday afternoon fire drill, who would be behind the trigger? I may not know any severely sociopathic, mentally volatile aspiring murderers, but I can think of many socially isolated, frustrated, angry teenagers who think they deserve better. Committing every adolescent who fits that profile to a mental institution and a lifetime of mental health stigma would be a greater offense to
constitutional freedom than any gun control restrictions could be.
And who would defend us? Should Dean Ross bring a weapon to Morning Meeting, just in case Should Dean Cottingham carry her pistol from her office to English class in the same bag as her laptop and glasses case? Would I feel any more safe surrounded by teachers with guns who have no experience or desire to wield them?
The image is absurd. Surreal. And for me, the answer is no—no to armed teachers, and no to an "improved" mental health system that confuses adolescent rage and clinical psychosis and treats both the same.
Thankfully, students are stepping up. The survivors of Marjory Stoneman Douglas are speaking out, arranging marches and protests, and challenging their representatives to take a
stand. The sorrow that ought to paralyze them is driving them to greater action, and I am grateful for their leadership in this fight for our lives and futures.
And yet somehow, their suffering is not enough. In the eyes of some prominent national leaders, our loss does not make us qualified to speak—it disqualifies us, because we are too young. Too blinded by emotion. Our tiny, undeveloped
prefrontal cortexes are too easily manipulated and influenced by the freedom-hating left agenda.
Somehow, it is the people furthest away from the situationwho are qualified to speak. It is those who are calm because they are remote, who are unafraid because they are unaffected. It is those who are "rational" and "experienced" because they will never have to picture themselves hiding underneath desks and behind cars from classmates wielding AR-15s.
What would the victims of Parkland say to that?What would the founding fathers think? Maybe I don't know enough. I don't understand the intricacies of politics, the checks and balances, the hard-earned compromises that got us to today. I definitely don't understand the appeal of and attachment to assault weapons that so many Americans feel so passionately. But here's what I do know: I am 17. I go to a school—like
Sandy Hook, like Columbine, like Marjory Stoneman Douglas High—and I am afraid. I may not have all the answers, but I think I deserve a chance in finding them.
Karuppur Commentary on New Tech (TEMP)
by Aneesh Karuppur (III)
The start of the new year always marks the release of new tech. In this column, I will talk about the latest technology releases, products, and news. I will also report on updates in Pingry Technology.
What's happening in the Student Technology Committee (STC)? This past fall, STC sent out an application and accepted new members to its team. Currently, the Acceptable Use Policy is being revised to become more relevant to the community's use of technology. STC is also interviewing students and faculty for feedback on Schoology, the online classroom platform that classes are currently using after the switch from Moodle. Furthermore, the virtual reality group is working on implementing Pingry's VR system into multiple fields of the school. Finally, the coding group is modernizing the Community Service Portal using the programming language, HTML.
In January, the Consumer Electronics Show 2018 (CES 2018), where technology products are released and updated, took place in Las Vegas, Nevada. Here are a few of the releases that I found particularly interesting:
First, smart mirrors began gaining prevalence in this year's show — think the Mirror of Erised from Harry Potter, which shows your heart's deepest desires, though these smart mirrors aren't quite as developed as the Mirror of Erised just yet. The Haier Magic Mirror allows you to try on articles of clothing virtually by superimposing images of clothing onto your reflection in the mirror. The clothes are scanned into the system via a Radio-Frequency Identification tag embedded in them. The HiMirror Mini is another interesting glass gizmo that allows you to track the effects of different skin care treatments.
Another interesting release is the rollable Organic Light Emitting Diode (OLED), a 65-inch diagonal monitor created by LG. When not in use, the monitor, which can be used as a TV, can be rolled up into a long cylinder. The user can change how much of the monitor can be viewed by controlling how much of it is rolled up, similar to the way a projector screen can be pulled down at different lengths. This flexibility allows for different scaling options and optimizes the screen for different content.
My last pick is the Vivo X20 Plus UD, an innovative smartphone with a fingerprint scanner underneath the screen. One of the biggest questions leading up to the launch of the iPhone X was whether or not it would have an on-screen fingerprint scanner, since there would no longer be a home button that doubled as a scanner. Well, we now know the answer to that: no. While FaceID is a good substitute, fingerprint scanners work better in certain scenarios. It is a big deal that Vivo was able to keep a fingerprint scanner on a bezel-less screen without putting it in a less intuitive place like the back (á la the Samsung Galaxy S8/Note 8 and the Google Pixel 2). Hopefully, we will see this technology in more upcoming phone releases.
Apple made waves recently with its long-awaited launch of the HomePod. Although the release date was a smidge late (two or three months behind schedule), the smart speaker has racked up lots of good reviews and ratings. The HomePod is essentially a high-quality speaker with advanced Siri and "smart home" functionality, as well as the ability to play music from the Apple Music streaming service. The HomePod features impressive sound, coming from a large "woofer" on top and seven "tweeters" on the bottom — an unorthodox layout. Sandwiched in between them is a six microphone array, which assures that Siri can hear you over loud music. The HomePod only works within the Apple ecosystem, which means that you will need an iPhone 5s or later running iOS 11 to operate it. The $350 price tag makes it a tough sell since it's stuck in Apple's ecosystem of products, but Apple fans should find it a reasonable purchase.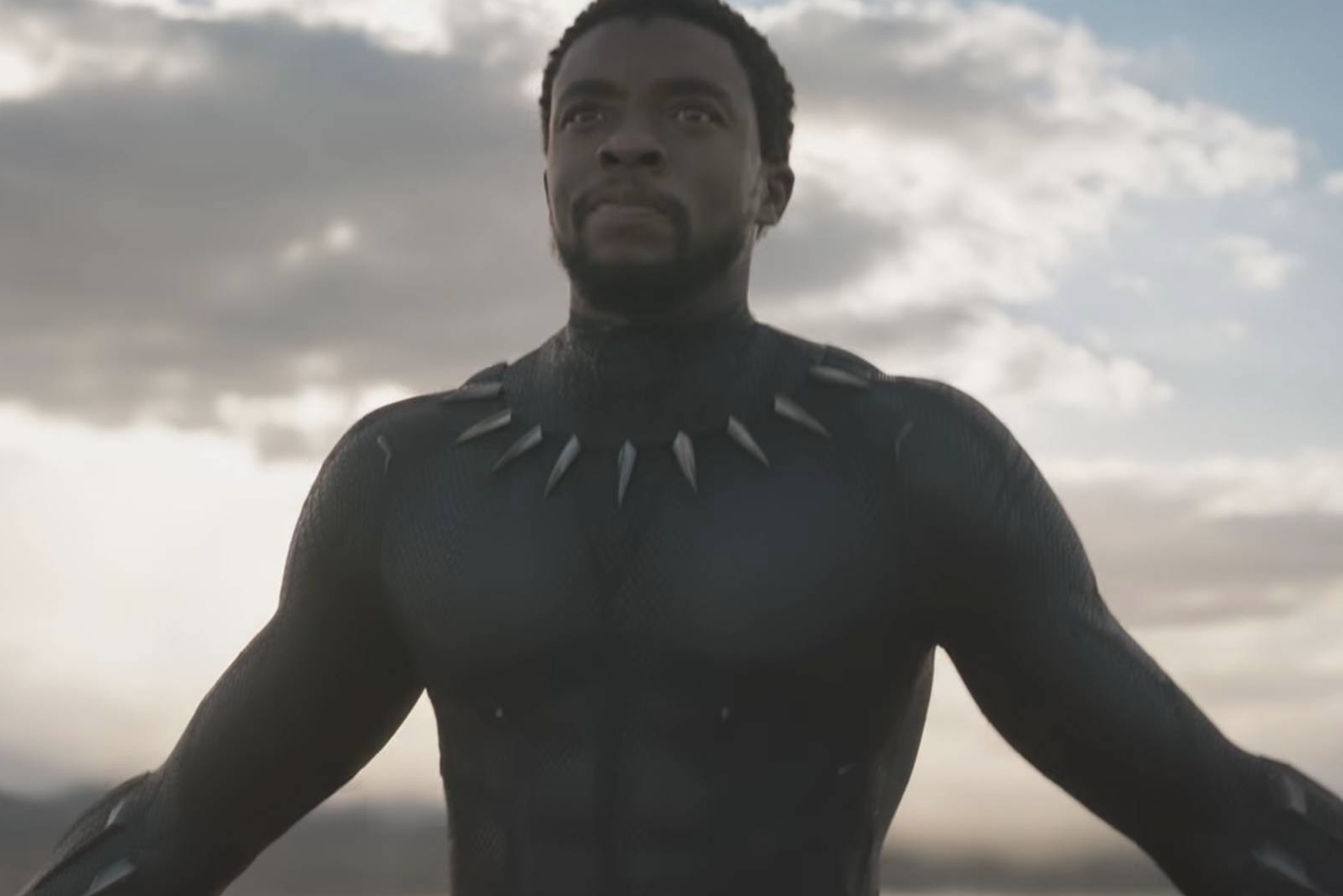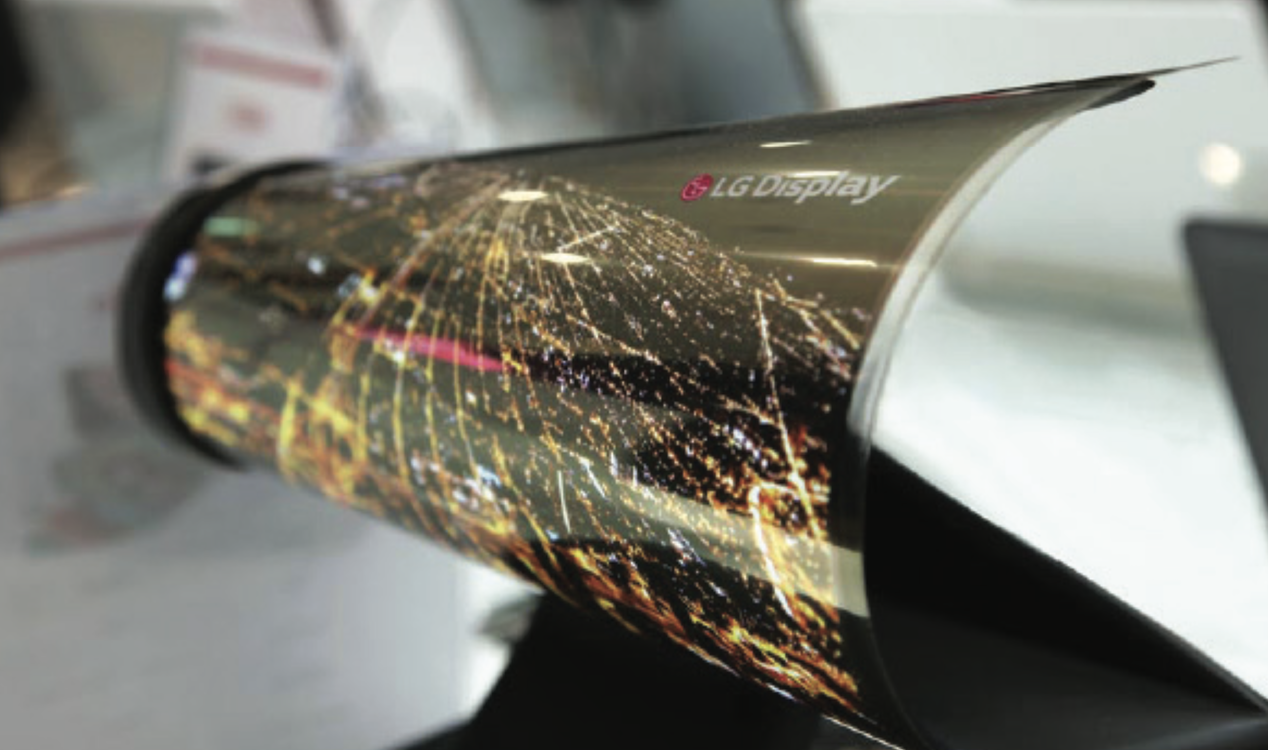 Elliott Discusses Impact of Black Panther
by Alexis Elliot (VI)
Black History Month is a time to learn, remember, and celebrate the past and present achievements of African-Americans. This year, Black History Month also included the debut of Black Panther, the highly anticipated Marvel film that ties together all the values of Black History Month, inducing feelings of empowerment and cultural celebration.
The film opens with an introduction to the fictional nation of Wakanda in East Africa. Many centuries ago, this nation was struck by a meteorite that contained vibranium, the most powerful metal on Earth. Wakanda then unlocked the powers of the Black Panther and five tribes emerged. Because of the strength of the vibranium, the citizens of Wakanda did not want it to fall in the wrong hands; thus, using the vibranium, they concealed their gorgeous and technologically advanced world to appear like a barren third world country.
Unfortunately, the King of Wakanda is killed while presenting at a United Nations Press Conference. His son, T'challa, is left behind and must assume the role of the new King of Wakanda. The powers of the Black Panther are transferred to T'challa and he must ensure that there is peace both inside and outside of Wakanda's invisible walls. One key component of Wakanda is that they have undercover spies posted in various global locations to inform the home base of any dangers to their safety.
One of the recurring problems that T'challa and the kingdom of Wakanda face is the notorious arms dealer, Ulysses Klaue. Earlier, Klaue had found a way to break into Wakanda and steal some vibranium. Ever since then, he used the powerful metal to illegally create and sell deadly weapons. T'Challa, with the aid of his female sidekicks Nakia, Okoye, and Shuri, go to South Korea on what they believe to be an easy mission to finally capture Klaue. However, T'Challa meets his match, an outsider who possesses a vibranium chain.
At the same time, a former member of Wakanda betrays the kingdom by trying to expose all of Wakanda's resources to the world and potentially causing ruin and destruction if the vibranium ends up in the wrong hands. Black Panther and the entire Wakandan kingdom therefore face a problem that is even more potent than protecting their precious vibranium: how to address a traitor.
Black Panther is a movie filled with action packed scenes, beautiful landscapes of the fictional African nation, and many drops of humor. Even though the film was a little over two hours, my eyes were glued to the screen the entire time. Aside from the brilliantly written plot, a major highlight of this movie was the African-American representation in the cast. Cast members included Chadwick Boseman (who starred as the Black Panther), Michael B Jordan (who played the Wakanda outsider and eventual villain), Lupita Nyong'o, Angela Bassett, Danai Gurira, and Daniel Kaluuya.
Another key element in Black Panther was female empowerment. Most, if not all, of King T'Challa's main advisors are women. The strongest warriors in Wakanda are also women. Furthermore, the soundtrack for the movie adds to the theme of African-American empowerment with top artists such as Kendrick Lamar and SZA contributing to the score. This powerful representation of African-Americans and strong women in the cast helped Black Panther become the fantastic film that it is.
As a young African-American woman, it felt good to finally see people who look like me being in the majority of a movie's characters. Usually, superhero movies have a token Black person as a minor or stereotypical character. Black Panther rose above this norm and empowered African-Americans to take on strong roles. Black Panther is definitely a must-see movie. The electrifying music, cast, and plot make this movie excellent. I'm already planning for when I can rewatch it!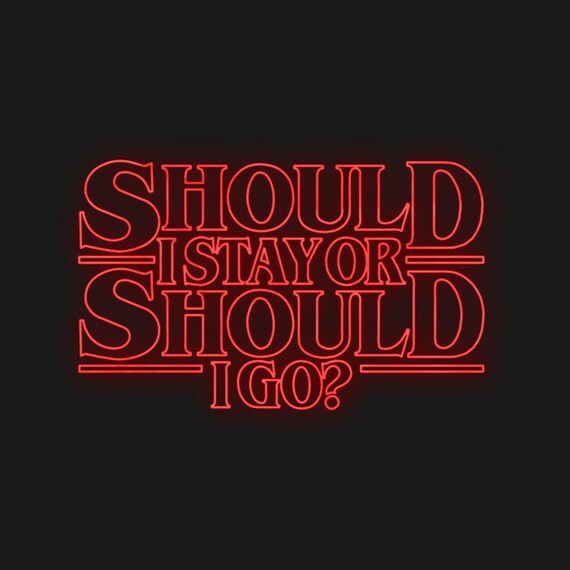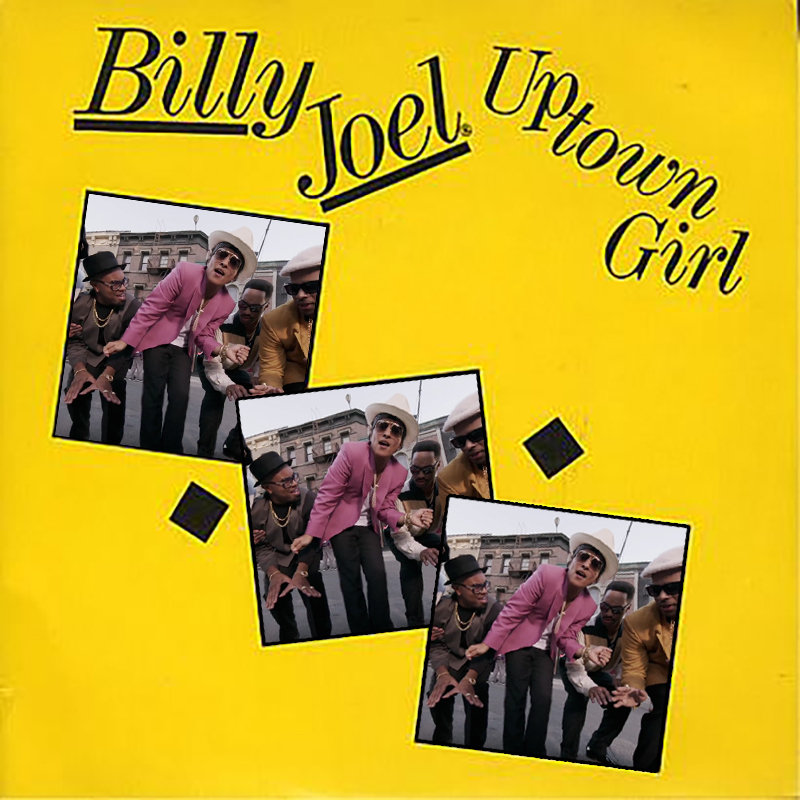 Verdesca Reviews Vintage Rock
by Alison Verdesca (VI)
All right, raise your hand if you've had this experience. During a family car ride, your mom or dad would turn up the radio and sing along – a little too loudly – to the music they loved as a teenager: classic rock. Maybe it was Bruce Springsteen, maybe the Rolling Stones, maybe the Eagles. Although I might not want to admit it to my parents, a lot of this music has stayed with me throughout my life and provides a nice break from today's oft-auto-tuned pop offerings.
For this column, I want to explore these musical roots. This is in no way a comprehensive list of the best classic rock songs. Instead, I will highlights songs that I've been listening to at the moment. With that said, here are three of my favorite classic rock and roll songs.
The first song on my list has made a comeback recently due to the popular Netflix show, Stranger Things. "Should I Stay or Should I Go" by the Clash plays in one of the first episodes of the first season. Stranger Things, which is set in the 1980s fictional town of Hawkins, Indiana, is known for its nostalgia. This nostalgia has exposed a whole new generation to the Clash's hit single. One thing I love about classic rock is the amount of guitar highlighted in each song. "Should I Stay or Should I Go" pairs raunchy guitar riffs with a solid, catchy drum beat. The song shifts tempo from the verses into the chorus, creating an effect that keeps the listener guessing. The vocals are shouted in punk-esque style, highlighting the band's origins as a part of the first wave of British punk. The song is a great addition to a throwback playlist, and it should keep you going through these brutal weeks before Spring Break.
Another song I listened to growing up is "Uptown Girl" by Billy Joel. Frankly, any Billy Joel song could make this list. Billy Joel is arguably the quintessential classic rock artist. He has sold over one million tickets at Madison Square Garden, setting the record for any single artist, and he will be performing his fifty-fifth consecutive show in August during his musical residency at MSG. Of all his songs, however, "Uptown Girl" is one of my favorites. Anyone who claims "Uptown Girl" isn't catchy is lying; the rhythm is infectious and conveys the song's status as a cheerful earworm. The song is playful and light; it stands in perfect contrast to "Should I Stay or Should I Go." Nostalgic vocals back the lively chorus, giving the song a danceable beat.
The last throwback song on my list is "Call Me" by Blondie. Showcasing the vocals of female singer Debbie Harry, Blondie was among the first bands to show that girls could rock and roll alongside the guys. A quintessential eighties band, Blondie's other hits included "One Way or Another" and "Heart of Glass." "Call Me," which was Billboard's most popular single in 1980, pairs girly pop vocals with a steady and tempestuous drum beat underneath. The vocals are certainly part of the rock genre; the song, like "Should I Stay or Should I Go," prioritizes instrumentals over vocals, which is common among classic rock songs. The simplicity of the vocals and the driving beat gives the song its iconic reputation.
I hope these three throwback songs will provide you with a little nostalgia and encourage you to listen to classic rock. In our modern era of auto-tune and rap, it's always nice to hear the bands and singers who put the era of popular music into motion. Happy listening!
Chen's Hot Spot for Hot Pot
by Alyssa Chen (VI)
V Yan Hot Pot: one of the joys of living anywhere near Parsippany, where this recently opened hot pot restaurant is located. For anyone searching for authentic Chinese hot pot, a great deal, and a fun group meal, I would highly recommend visiting this local gem located only thirty minutes from Pingry.
First: what is hot pot? I don't blame you for maybe not knowing; the only time I had hot pot before V Yan opened was in China when I was much younger or at the homes of family friends. Hot pot, according to the ultimate knowledge source Wikipedia (which I think sums up the idea well) is "a Chinese soup containing a variety of East Asian foodstuffs and ingredients, prepared with a simmering pot of soup stock at the dining table."
The main idea—at least at V Yan, where each individual has their own hot pot—is that you cook your own personal soup using raw ingredients. The ingredients added to the broth, which is kept boiling at the table by a flame or by electricity, usually include thinly sliced meat (my favorite is lamb), vegetables, mushrooms, tofu, and noodles. These ingredients are then spooned out of the broth and dipped in a sauce.
Doesn't sound too appetizing? Before I went to V Yan, I would have agreed with you—in fact, as a young kid trying hot pot out for the first time, I could not understand why people enjoyed it. However, after trying it again in Parsippany, I realized not only that hot pot is delicious and flavorful, but also that it offers a unique and creative eating experience to all who try it.
V Yan in particular offers great deals along with its fresh ingredients and exciting atmosphere. All-you-can-eat hot pot is $22, and the lunch special, which includes a set amount of ingredients, is only $12. Plus, V Yan offers a wide range of sauces to mix and has free ice cream for those who are still hungry after eating hot pot. V Yan also offers cook-your-own BBQ, an option which I have not yet tried. However, I can attest to the quality of its hot pot, and I can guess that the same guarantee applies to its BBQ. I can also attest to the authenticity of V Yan—according to my parents, who have both visited many hot pot restaurants in mainland China, V Yan offers a similar experience with ingredients that are just as good and prices that are often better than its counterparts in China.
I'd recommend getting a reservation before you go—the wait can be long, especially on weekend nights. And, once more, I want to encourage hot pot novices and experts alike to go check out V Yan Hot Pot.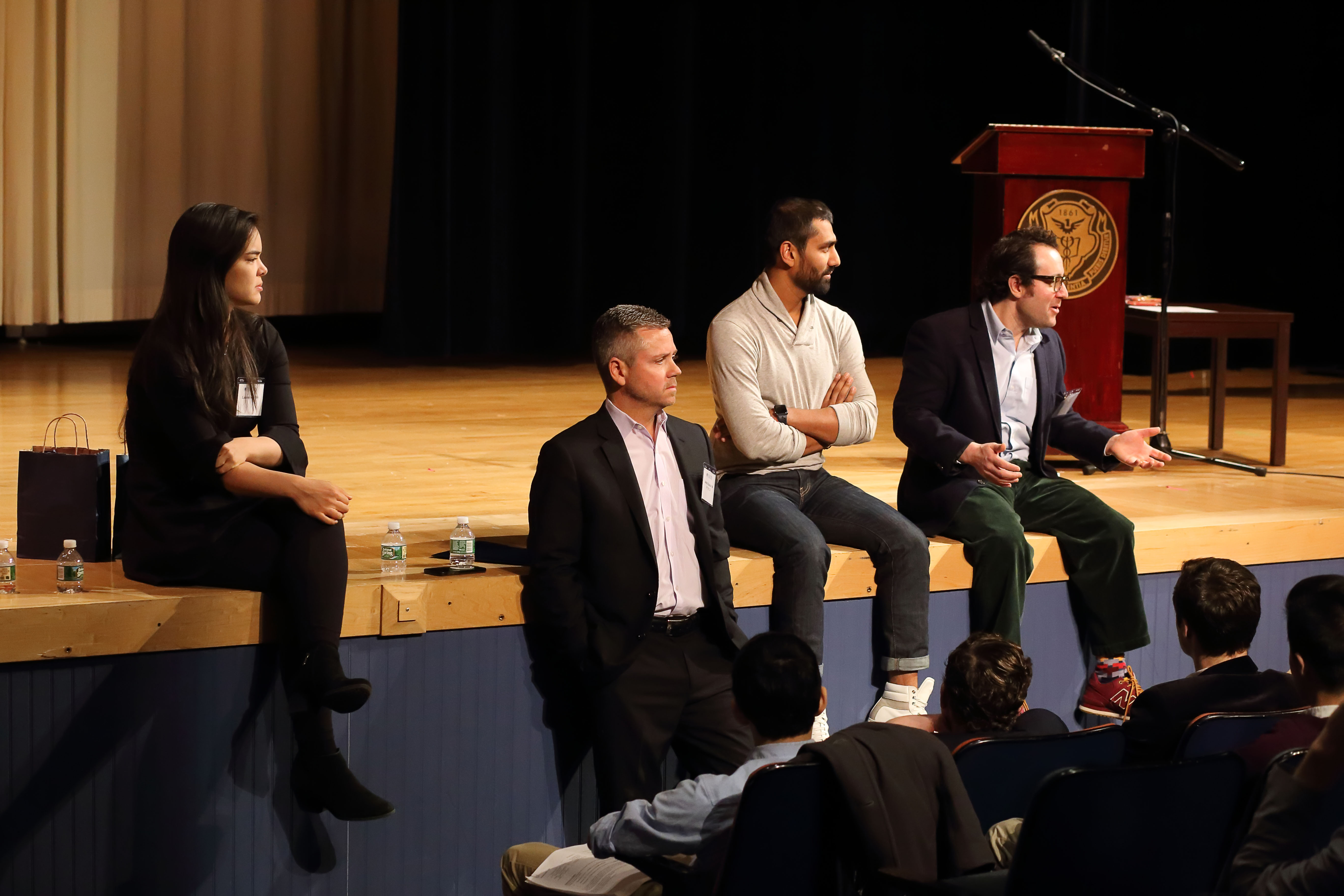 Pingry Alumni Offer Insight on Career Day
by Ketaki Tavan (V)
On Friday, January 26, Pingry held its annual Career Day, an event during which Form V and VI students have the opportunity to speak with diverse panels of Pingry alumni to learn more about potential career options.
The day began with a presentation from keynote speaker Dr. Jennifer Hartstein '88, a psychologist who helps children, adolescents, and their families with a wide range of psychological diagnoses. On the executive board of Active Minds, a national organization devoted to decreasing the stigma surrounding mental health in young people, Dr. Hartstein is also a "Self-Esteem Ambassador" for Dove's "Real Beauty" campaign.
During her presentation, Dr. Hartstein discussed the effects of developing technology and increased social media usage on today's youth. She also shared stories about how her interest in psychology developed during her time at Pingry.
After the keynote presentation, students attended three separate industry-focused sessions, assigned based on preferences they indicated a few weeks prior. The sessions covered a broad range of fields, inlcuding engineering/architecture, entrepreneurship, finance, law, management consulting, marketing/advertising, media/communications, medicine, nonprofit/public-service, performing arts, visual arts, psychology, and science. Each session featured two or three alumni panelists who shared their experiences in their current fields and answered any questions students had for them.
Ms. Maureen Maher, who organized Career Day, commented on the value of these panels, saying, "The guidance and life lessons that our returning alumni share with our students on Career Day are invaluable, and the Pingry alumni network is an amazing resource that continues to get stronger every year." Jackie Chang (VI), who attended the medicine panel, was led to an ISP opportunity through the alumni network that Ms. Maher refers to. "At the medicine panel, I got to meet Dr. Matthew Chow, who is actually going to be my ISP mentor. If I hadn't attended the panel and met Dr. Chow, I never would've had my current ISP project," Chang said.
The media/communications session featured panelists from the industries of publishing and media, including Jonathan Karp '82, the President of publishing company Simon & Schuster. Participants discussed the ways in which these fields are changing due to technological advances such as social media news coverage and self-publishing companies like Amazon. Miro Bergam (V) commented that "seeing Jonathan Karp, who's one of the biggest names in publishing, and hearing his story not only spoke to the amazing connections we have at this school but also really helped me see the wide range of careers you can have success in."
Vicky Chen (V) attended the entrepreneurship panel, where panelists shared the various ways in which they channeled their creativity, ambition, and love of excitement into entrepreneurial career paths. Chen said the entrepreneurship panel was "very encouraging." "I really appreciated how the panelists emphasized the fact that there isn't just one prescribed path to success when it comes to entrepreneurship. It got me thinking about all of the different places my interests could take me," she added.
When asked what she hopes students take away from Career Day, Ms. Maher replied, "The career journey is not always a direct flight. What interests someone today might be very different from what interests him or her in 5-10 years—but that's OK. The paths our accomplished alumni have taken throughout their professional lives are just as fascinating as their current roles and responsibilities, and yesterday's failures have often played an essential role in today's success. If our students ultimately find a rewarding and fulfilling path in life as a result of someone they met on Career Day or something they heard during one of the breakout sessions, well, that's the gold medal."
Overall, Career Day was a great success. The day's events gave students the opportunity to learn about an array of industries and to begin thinking about how their interests might inform their future careers.g.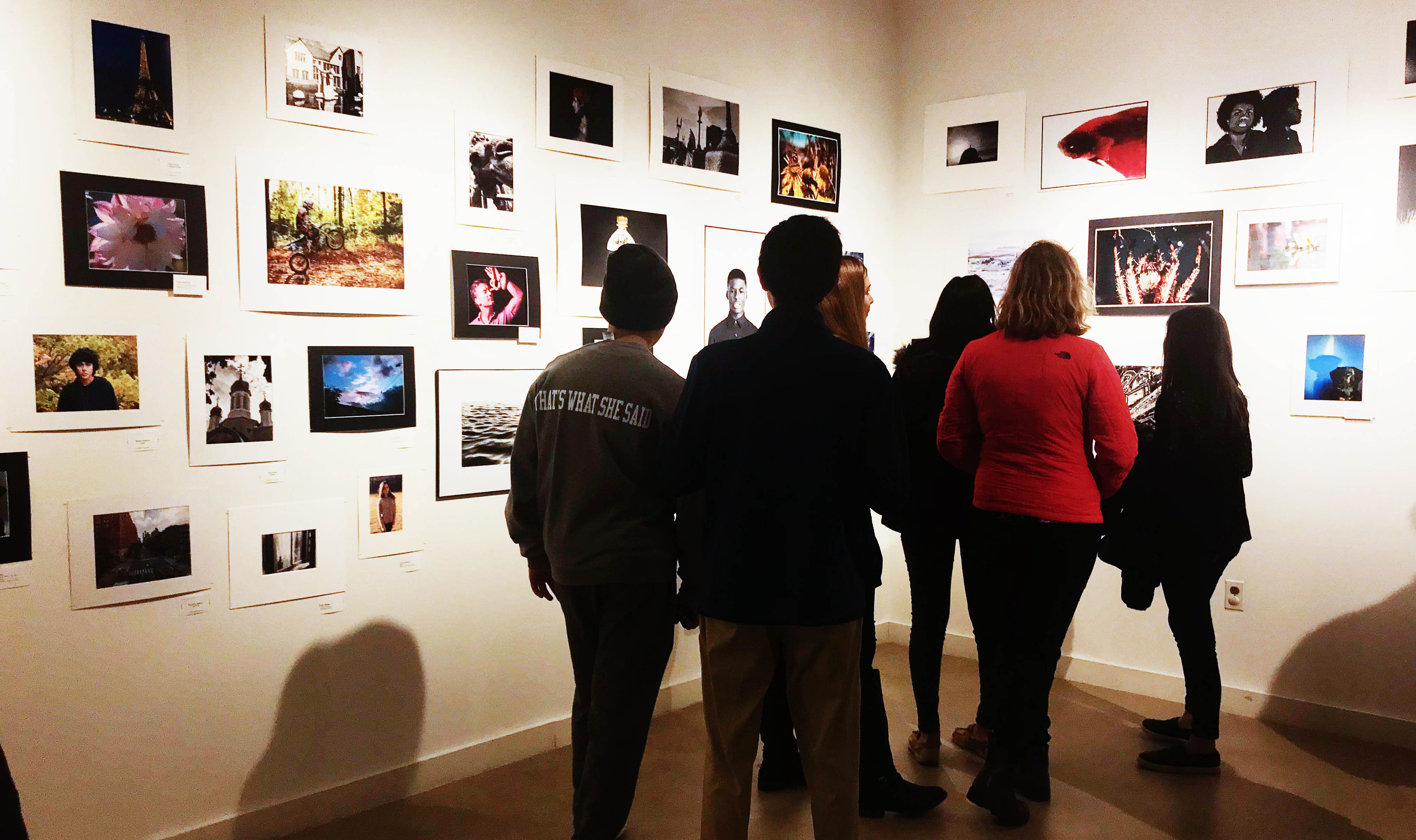 Student Art Featured at Annual Photography Exhibition
by Rhea Kapur (III)
From February 7th through March 6th, the Hostetter art gallery was home to the 22nd Annual Pingry Student Pho- tography Exhibition. Over two hundred photographs were submitted, depicting the best work of students spanning fteen different public and private high schools near Pingry. The judge of this year's show was Peter Jennings, a photographer, director, and artist based in New York.
The work included both traditional, lm-based pho- tographs and digital prints. Many different tones and moods were represent- ed, ranging from dark and mys- terious to light and upbeat. The exhibit captured a range of unique perspectives about current events and everyday moments.
For example, Conor Ma- honey (VI)'s photograph, titled "Anger Management," features a st punching into water, pos- sibly symbolizing the need to release the stress and anger that high schoolers frequent- ly experience. Additionally, "Cigarettes" by Remi Nichols from North Hunterdon High School was another standout work, featuring a jar full to the brim with cigarette stubs. It potentially speaks to the cost of smoking in society and how it must be controlled and contained to minimize the terrible health-related impact on future generations. Lastly, "Bliss," a black-and-white photo by Arieliz Ramos from County Prep HS, featured two young girls laughing together, referencing the incomparable bond of friendship and the joy it brings between sisters, friends, and family.
For the observers of this exhibition, the experience of viewing and interpreting the photos was enthralling. Monica Chan (III) reflected on how "it was interesting to see how Pingry hosts different photographers and allows them to display their work." An artist herself, Monica remarked that "she nds photography useful as a reference to use when drawing," taking inspiration from the exhibit in that way.
Mr. Boyd reflected on how "this show provides an op- portunity for Pingry students to get a snapshot of student photography in New Jersey." He also spoke to how Hostetter has "allow[ed] Pingry to realize its full artistic expression." With its constant variety of exhibitions, he advises Pingry students to visit the gallery often, saying how many students' lives have been "forever changed by its exceptional vision."
Visual Arts teacher Mrs. Jennifer Mack-Watkins also remarked that "the stories that these young artists are telling with their photographs have to do with common themes that teenagers go through," and she has seen how enriching it is for other students to observe the work. Mrs. Mack Watkins views this exhibit as a "great way for students to connect with each other" overall.
The following Pingry students were featured in the 22nd Annual Pingry Student Photography Exhibition:
Brynn Weisholtz (IV), Grace Brown (V), Maddie Parrish (VI), Mitchell Pavlak (VI), Olivia Nugent (IV), Namita Davey (VI), Natalie Ladino (IV), Conor Ma- honey (VI), Mariam Trichas (VI), Owen Wolfson (VI), Mad- eline Skapper (IV), Leighton Mayers (V), Maddie Massey (IV), Evan Taylor (V), Nicolette Brig- ante (IV), Noelle Mullins (IV), Peter Papadopoulos (IV), Ben Ingrassia (V), Ben Mandelbaum (V), Caroline Dan- nenbaum (IV), An- nie Oatman (IV), Abby Jay (V), Ty- ler Williams (VI), Rita Harrobin (IV), Mercedes Garcka- Kenny (IV), Sophie Loesberg (VI), Aubrey Molloy (VI), Alli Simon (V), Ilana Lurie (VI), Ben Ramos (VI), Nicole Toney (V), Sidney Shannon (VI), An- nie Smith (IV), Abby Beckmen (V), Zach Trichas (V), Ryan Geller (IV), Olivia James (V), Kamal Brown (V), George Mychajluk (VI), Lindsey Larson (VI), Alberto Choussy (V), Brian Benson (V), Hailey Cernuto (VI), Chase Barnes (V), Nikki Vanasse (IV), Jordan Taylor (VI), Sophia Weldon (VI), and Kassidy Peterson (VI)..
Lunar New Year Assembly Rings in the Year of the Dog
by Felicia Ho (V)
Weaving through the packed audience, the Form II Chinese class opened up the Lunar New Year Assembly with a lively per- formance of a traditional dragon dance. Dragons are recognized as auspicious creatures in Chinese legend and symbolize good luck for the New Year. The Lunar New Year, also known as the Spring Festival, begins on Febru- ary 16 of the Gregorian Calendar, or the 23rd day of the twelfth lunar month. It lasts around 23 days according to old folk tradi- tion, ending on the fteenth day of the rst lunar month of the New Year. Based on the Chinese Zodiac twelve-year cycle, this year also marks the arrival of the Year of the Dog
Brian Li (IV) and Natalie De- Vito (II) served as the announcers for the assembly, setting the tone for the rest of the program by noting that the Lunar New Year is an important time of reunion and celebration.
First, Ethan Chung (VI) on the cello and Rebecca Lin (VI) on the violin performed a duet entitled "Swan Geese." DeVito described the meaning of the title as "swans migrating home as spring approaches… as do so many people around the world as they return to their families during the Lunar New Year." To bridge the gap between old traditions and new ways, Lin and Megan Pan (VI) performed an excerpt of the popular K-pop song "Tomorrow, Today" from the JJ Project. Brian Li explained the song as "telling the feelings of youth and highlighting the difficulty of making decisions about the future."
The Taiko Drumming Club delivered a rendition of "Mat- suri," a piece often played at Japanese festivals. The perfor- mance featured solos by Michael Gallagher (V), Pan, and Justin Li (III). Although Taiko drums are widely known as Japanese percussion instruments, they have Chinese and Korean roots, having been introduced to Japan in the 6th century CE.
In closing, to celebrate the diversity of the Chinese people, the Purple Swans Dance Troupe, a performing arts group dedicated to spreading Chinese culture that features many members of the Pingry community, performed a dance entitled the "Delicate Beauty of the Hui Maiden." This dance represents the Ningxia Hui Autonomous Region in north-central China, a region that is home to a large indigenous Chinese Muslim population.
Before dismissing the as- sembly, Brian Li and DeVito wished everyone "Xin nian kuai le," which in Mandarin means "Happy New Year!" Gong xi fa cai and have a prosperous New Year. Welcome to the Year of the Dog.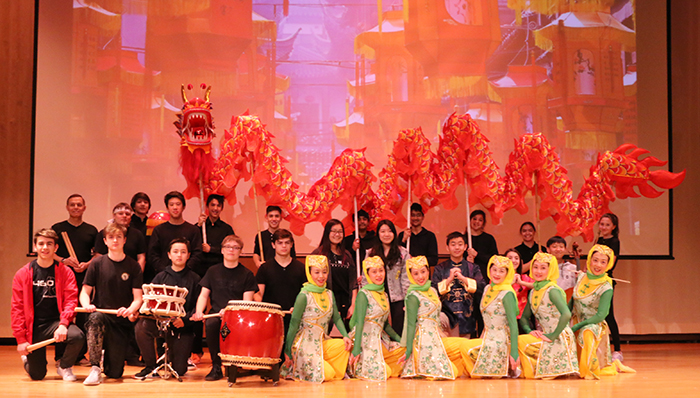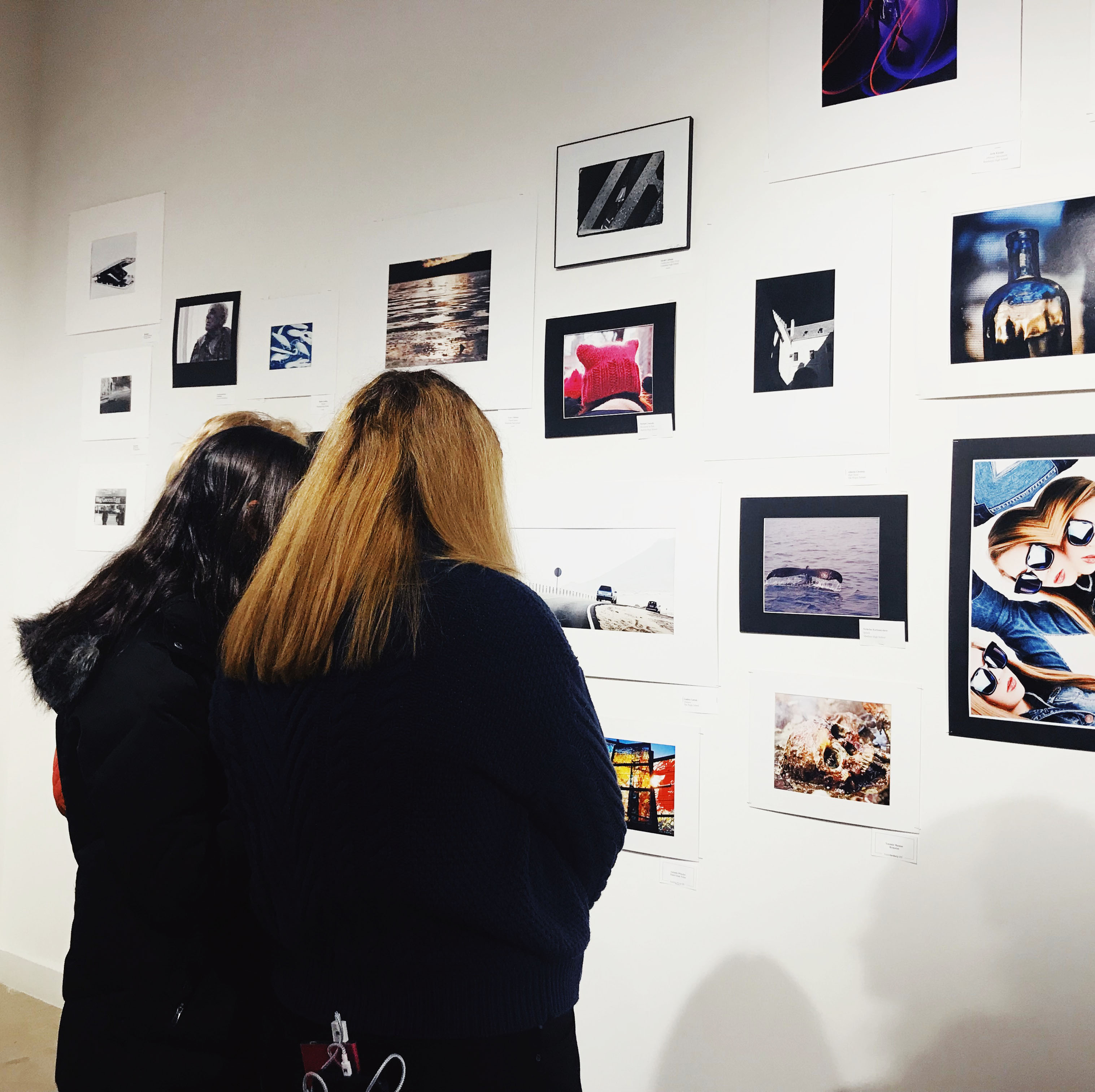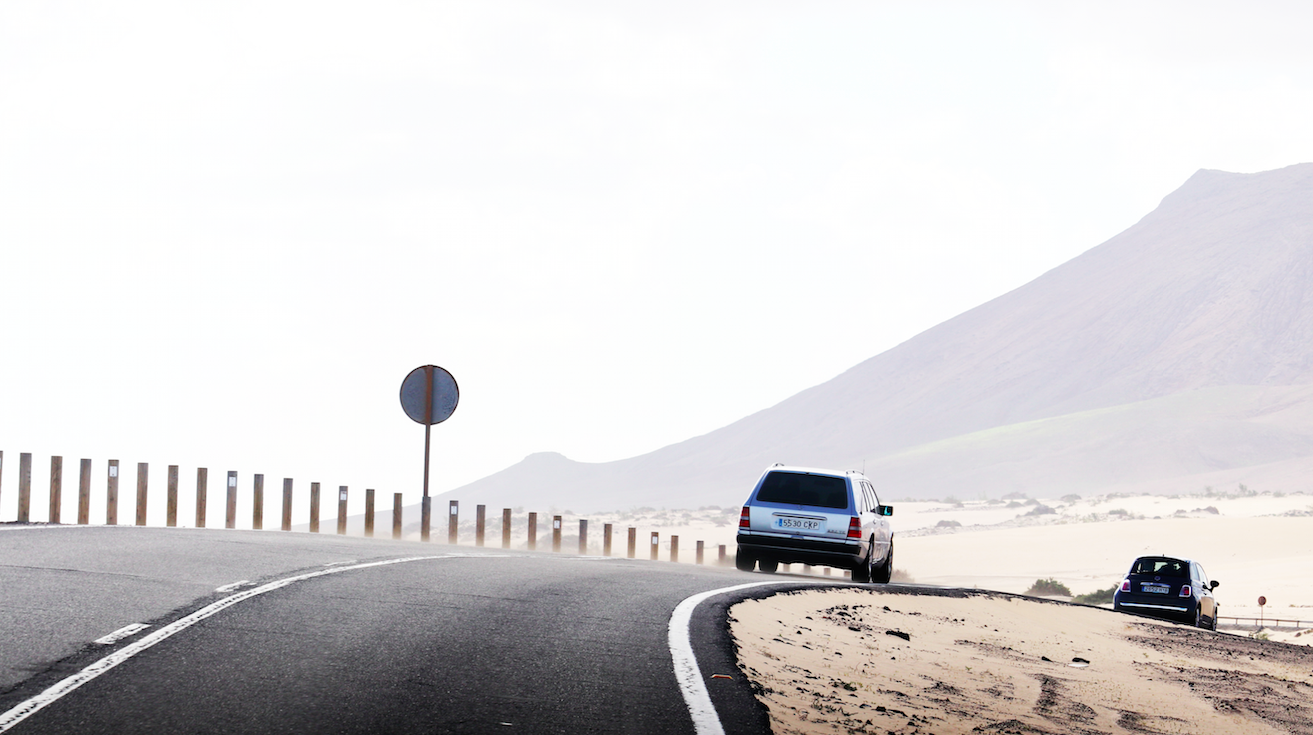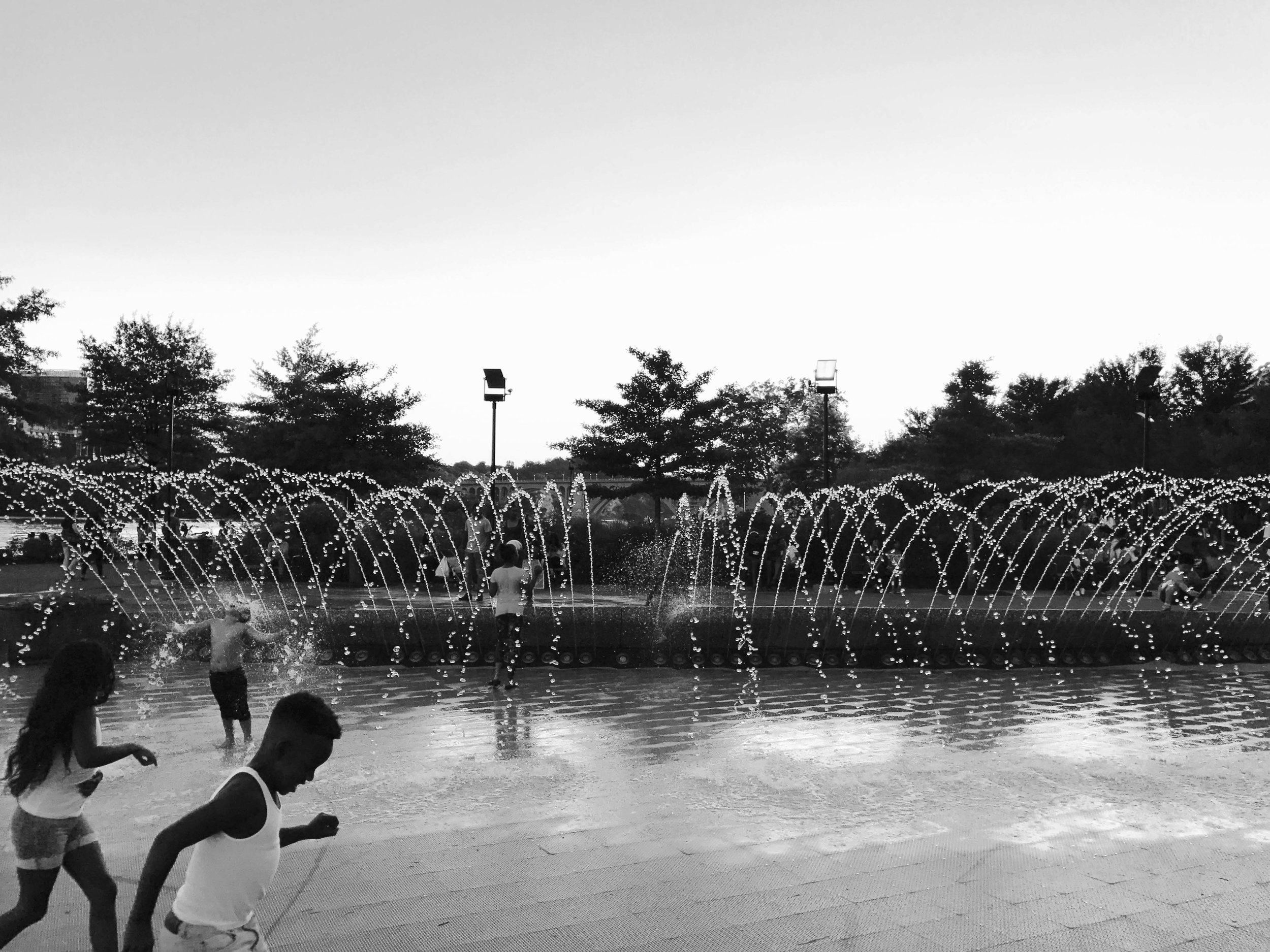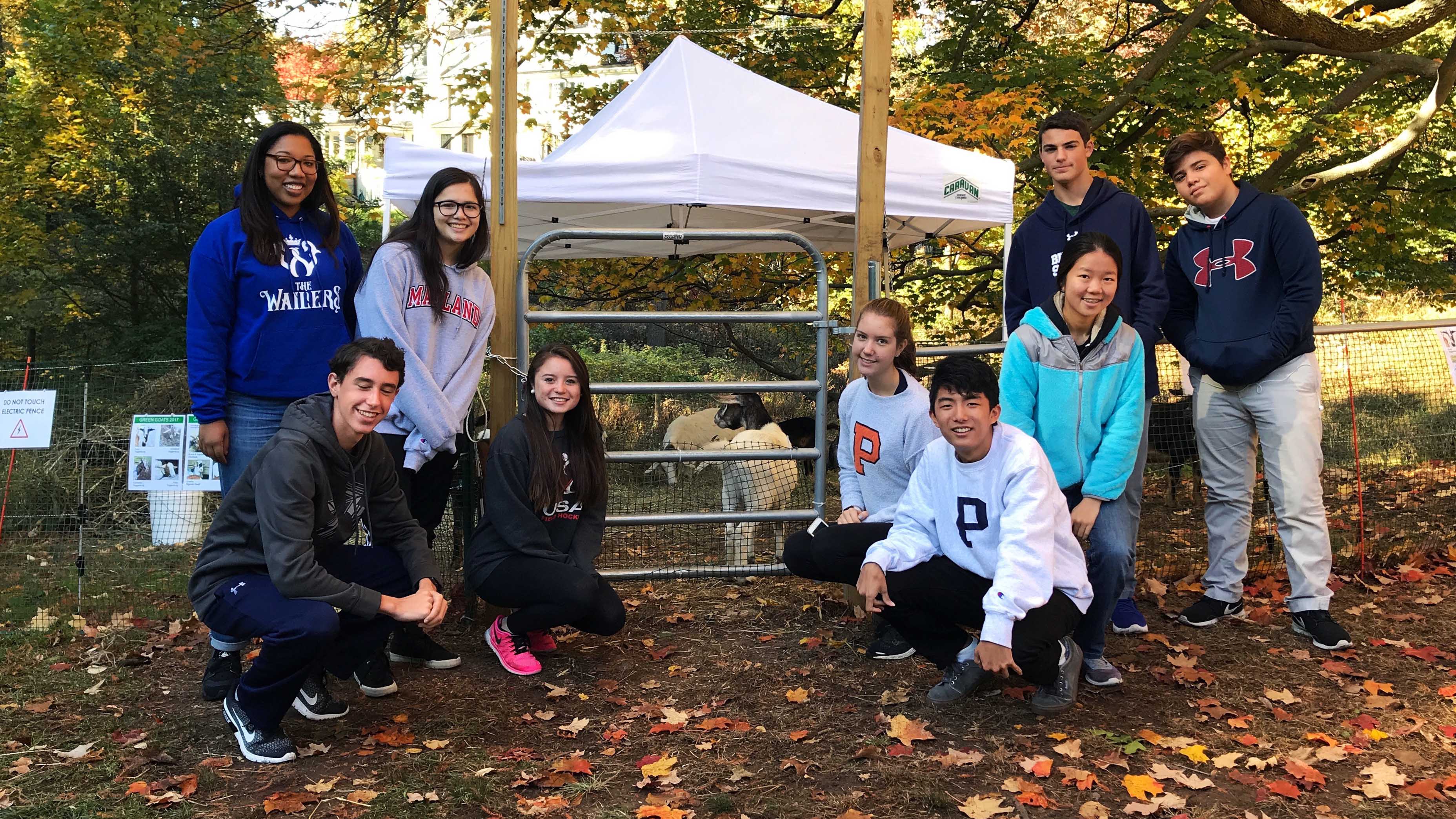 Black Student Union Presents Black History Month Assembly
by Brynn Weisholtz (V)
On October 27th, over 800 Upper and Middle School students, faculty, and staff volunteered at 34 organizations for Pingry's annual Rufus Gunther Day. Students worked on a variety of different projects, including making ceramics, helping the facilities team, building a chicken coop, performing music for senior citizens, and working with students at local charter schools. Rufus Gunther Day has been an integral part of the Pingry tradition since Pingry was at the Hillside campus. It is the one day in the school year during which the entire Pingry community devotes itself to community service.
Ms. Shelley Hartz, Director of Community Service, has successfully developed several partnerships with local and alumni-founded community service organizations, leading to a variety of service opportunities on Rufus Gunther Day. Ms. Hartz shared that she loves how "when the students are returning, they are all excited about the time they spent in the community… and how much the day meant to them."
Students, staff, and faculty volunteered at organizations like the Community Food Bank in Hillside, ECLC (Education, Careers & Lifelong Community), and the Great Swamp, all of which have long-standing partnerships with the Pingry community. Many also volunteered with non-profit organizations started by alumni, such as Birthday Wish, the Christopher and Dana Reeve Foundation, the John Taylor Babbitt Foundation, and the Keep the Children Safe Halloween Parade.
Several service opportunities were new to Rufus Gunther Day this year. 13 Upper School drama students played improvisational theater games at Montgomery Academy in Basking Ridge, a school for students facing social, emotional, and academic challenges. Twenty-seven Upper School students performed music for children and elderly at the Cornerstone Family Programs and Morristown Neighborhood House. Monica Chan (III), who performed at Cornerstone Day Center for Adults with the Horizon Music Volunteers group, said, "It was a rewarding experience for me. I find happiness in making people smile, no matter who, no matter where."
This year, the Middle School was split into several different groups, with 150 students (Grade 6 and most of Form I) volunteering at the Community Food Bank in Hillside and other students volunteering at the Great Swamp or remaining at Pingry to help with campus projects. The Middle School also collected and sorted 1,795 pounds of candy to donate to the Keep Children Safe Halloween Parade in Newark, led by Pat Birotte '87.
Reflecting on the successful day, Ms. Hartz said that she is thankful "that the best part of my job is working everyday with committed and engaged students who are constantly looking for ways to engage with the larger community."
Drama II Teachers Theater Etiquette Through Comedy
by Udochi Emeghara (V)
On November 11, the Upper School had the honor of hosting Sergeant Jason Foster for this year's Veterans Day assembly. Ryan Willsey (VI), founder of Pingry's Wounded Warrior Project Club, introduced Foster as the speaker for the assembly. Foster is a former combat medic in the U.S. army. He enlisted in the army when he was twenty-one years old and proudly served for nine years.
Telling stories from his experience as a combat medic, Foster spoke of the struggles of war. He said, "We were shot at and blown up by improvised explosive devices. I was knocked unconscious on four separate occasions. Most 21- year olds are playing drinking games; I was cradling a warrior in my arms as he died." He added, "You grow up fast."
Foster, who had planned on dedicating his career to protecting our nation, encountered a complication when doctors discovered a brain bleed the size of a quarter in his right frontal lobe. This injury forced him to medically retire from the army in 2011.
Foster's purpose in the army had always been to help others, so when he returned home, he "felt absolutely worthless." His wife Theresa helped him out of the dark by contacting the Wounded Warrior Project, who helped Foster find a new purpose: guiding fellow warriors.
Based on the way he found new meaning in his life, he encouraged students and faculty to use their talents to give back to their community. "More often than not," Foster said, "your actions might go unnoticed. But they make a difference. Everything you do matters. You have unique talents that you can use to give back."
 He then brought Willsey back on stage to commend and thank him for his work with the Wounded Warrior Project.
Regarding his involvement with the Veterans Day assembly and the Wounded Warrior Project Club, Willsey said, "I have many members in my family who have served in the military and I suppose that is one of the reasons why the military and veterans are important to me." He continued, "From a young age I have been taught to respect their sacri ce for us. Not only are their stories incredibly moving, but their perseverance to overcome everything they have gone through is truly amazing."
As Foster closed his speech, he implored Pingry to embrace its sense of community. He mentioned that, in a few months, Pingry might not remember who he is or what he said. Instead, Pingry will remember how he made them feel. The assembly ended with a moment of silence for soldiers who served and lost their lives in the military.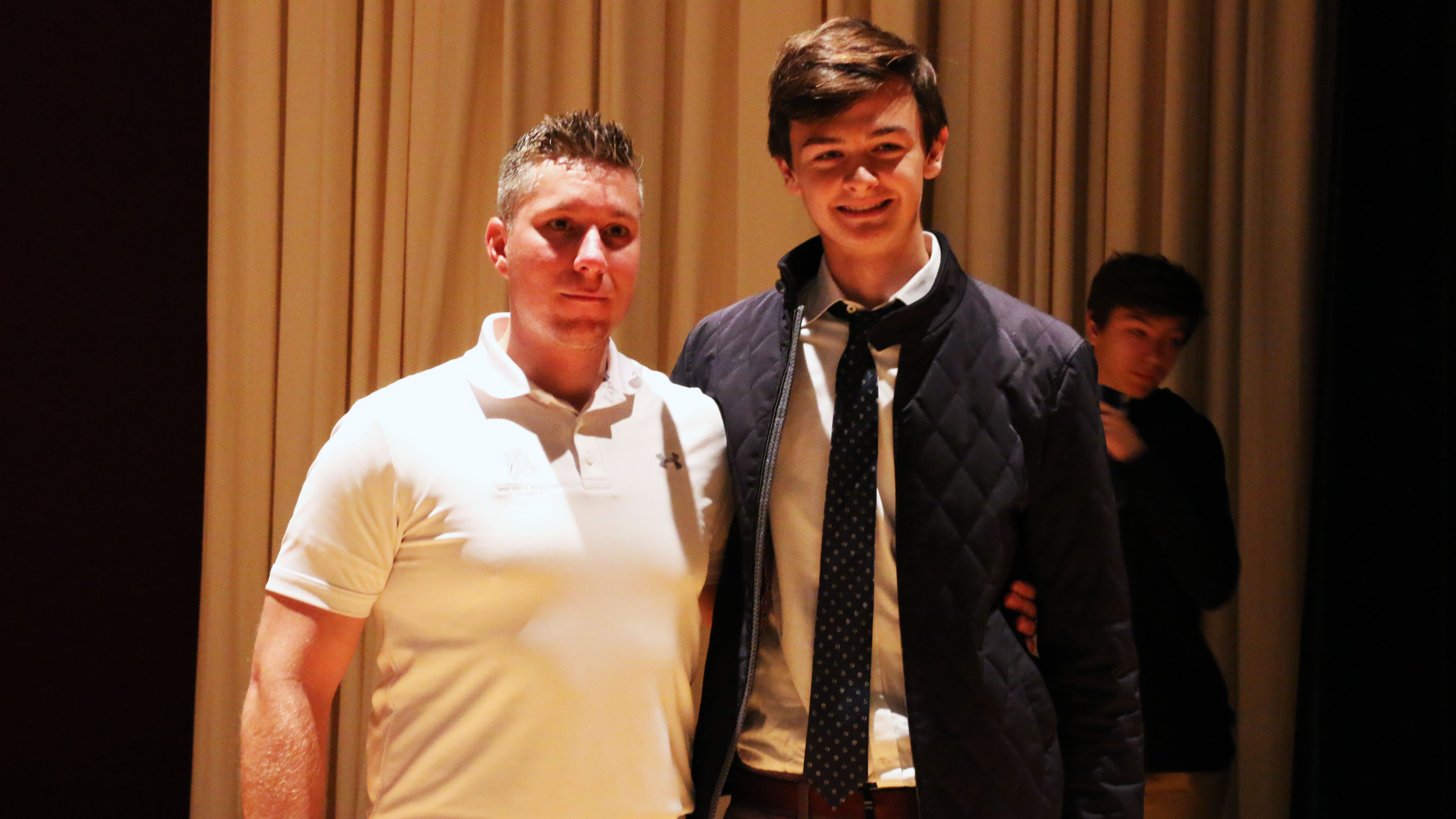 Club Spotlight: Foreign Affairs Club Explores International Issues
by Zach Trichas (V)
Pingry's Podcast Club is a new club started by Annaya Baynes (V) and Udochi Emeghara (V) that gives students an opportunity to create an anthological podcast. A podcast is an auditory episodic series ranging from informational talks to audio drama. Audio dramas, which are the podcasts that the club is currently working on, are purely acoustic performances that have no visual components. Baynes described them as "a totally unique way to experience fiction." The five episode series that the club is currently making draws from the talent of its 15 members who are working together to write a script. In Baynes' words, the theme for this anthology is the "folly of humanity." The club is currently in its voice casting process, and the expected release of this intriguing podcast is early December. In an interview with the club leaders, Annaya Baynes and Udochi Emeghara, we learned about the creative process and their current project.
Where did this idea of podcast club come from?
Annaya: Lubke: The idea for the club came about when the four found- ers (Aditya Gollapudi, Kevin Ma, Varun Seetamraju, and myself) realized that many Pingry stu- dents were unaware of con icts outside of the United States. We wanted to help people understand the basics of the world outside of their borders.
What makes for a good presentation in your club?
Seetamraju: A good presentation is essentially made up of two parts. Background information for the con ict or situation and then a deep analysis of the cur- rent situation, including where the presenter, in their own opin- ion, sees it going forward. I feel like this format of rst explaining how we got to this point in a con ict is crucial as it gives you a sense of the geopolitical atmosphere. After that, we encourage the presenter to give their own analysis on the situation. It's very easy for someone to do a Google search or read a Wiki- pedia article on a con ict, so we try to offer a different perspective on top of that to allow people to understand the situation more deeply. Nothing in foreign affairs is black and white. There is always nuance.
How does Foreign Affairs Club differ from other political clubs, such as Pingry Politics?
Lubke: This club is different from other clubs in that it encourages students to actively par- ticipate in discussions through a moderated conversation. We emphasize accuracy and correct information in our debates; we aim to be unbiased and ensure that every presentation has a variety of sources from all sides.
Tell us about one presentation you hosted this year that was particularly interesting.
Seetamraju: I think the most unique and, in my opinion, most interesting presentation we hosted this year was our last one, in which Jackson talked about pos- sible con icts that could erupt in 2018. Usually our presentations go in-depth on one specific topic, but in that presentation, Jackson covered many topics, many that were rather under the radar, and how those skirmishes could explode into large scale con icts. For example, I never knew about how weak Pakistan's defenses were on their nuclear arsenal or how likely a terrorist organization, such as ISIS, could take over.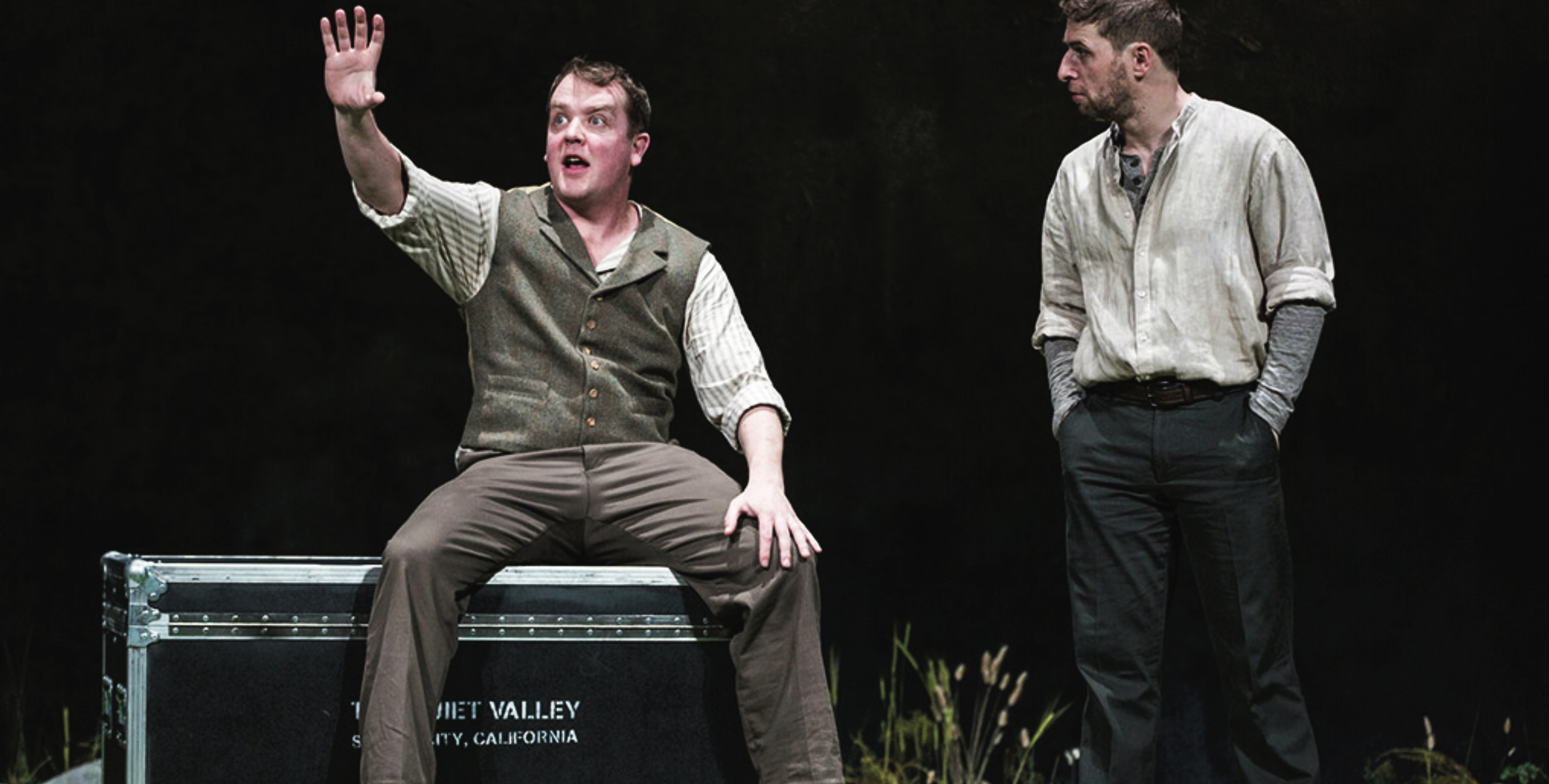 Drama Students Visit McCarter Theatre
by Brooke Pan (III)
On February 1, the students in the Drama program visited the McCarter Theatre to see a live performance of the play Stones in His Pockets by Marie Jones. There, students were captivated by the performance of two actors, Garrett Lombard and Aaron Monaghan, who each played more than ten characters throughout the performance. Though different from a standard play in terms of the number of ac- tors, Ms. Stephanie Romankow, the drama teacher, remarked on the importance of how just two actors "were able to portray such a unique story" by "rearranging their physical roles."
Stones in His Pockets, set in a rural town in Ireland, tells the story of two friends who are hired to play extras for a movie. In the beginning, the friends are enthralled by the idea of being in a movie; however, as the film carries on, the charm and appeal of life on the silver screen starts to disappear. The play is set in motion when a local townsperson commits suicide from the humiliation he underwent when trying to socialize with one of the movie stars of the film. The two friends and the townspeople are devastated by his passing and are con icted when the film crew are unwilling to let the extras take time off to attend the townsperson's funeral. After fully understanding his situation, two friends gain a new perspective, allowing them to recognize the reality of how the film crew's sel sh desires to nish the movie left them uncar- ing for the people of the town. To try and honor the local townsperson, the two friends try to rewrite a script dedicated to his life. When they present the script to the director of the movie, the director ironically suggests the lack of romance would not appeal to the general audience.
After returning to Pingry, classes reflected on their perspectives of the play. When asked about the most important message of the play, Ms. Romankow emphasized "the importance of extras in life," suggesting that "no one should be overlooked…. Everyone has their own story." Ms. Romankow thoroughly enjoyed the trip and is looking forward to more drama eld trips.
In addition to the teachers, the students also had their own takes on the show. "Watching seasoned actors perform in a show like Stones in His Pockets really allowed us to see how the skills and techniques we learn in drama are implemented at the professional level," said Megan Pan (VI). Overall, the eld trip to the McCarter Theatre offered a unique experience for the drama students, one from which they could learn and grow as a community of actors.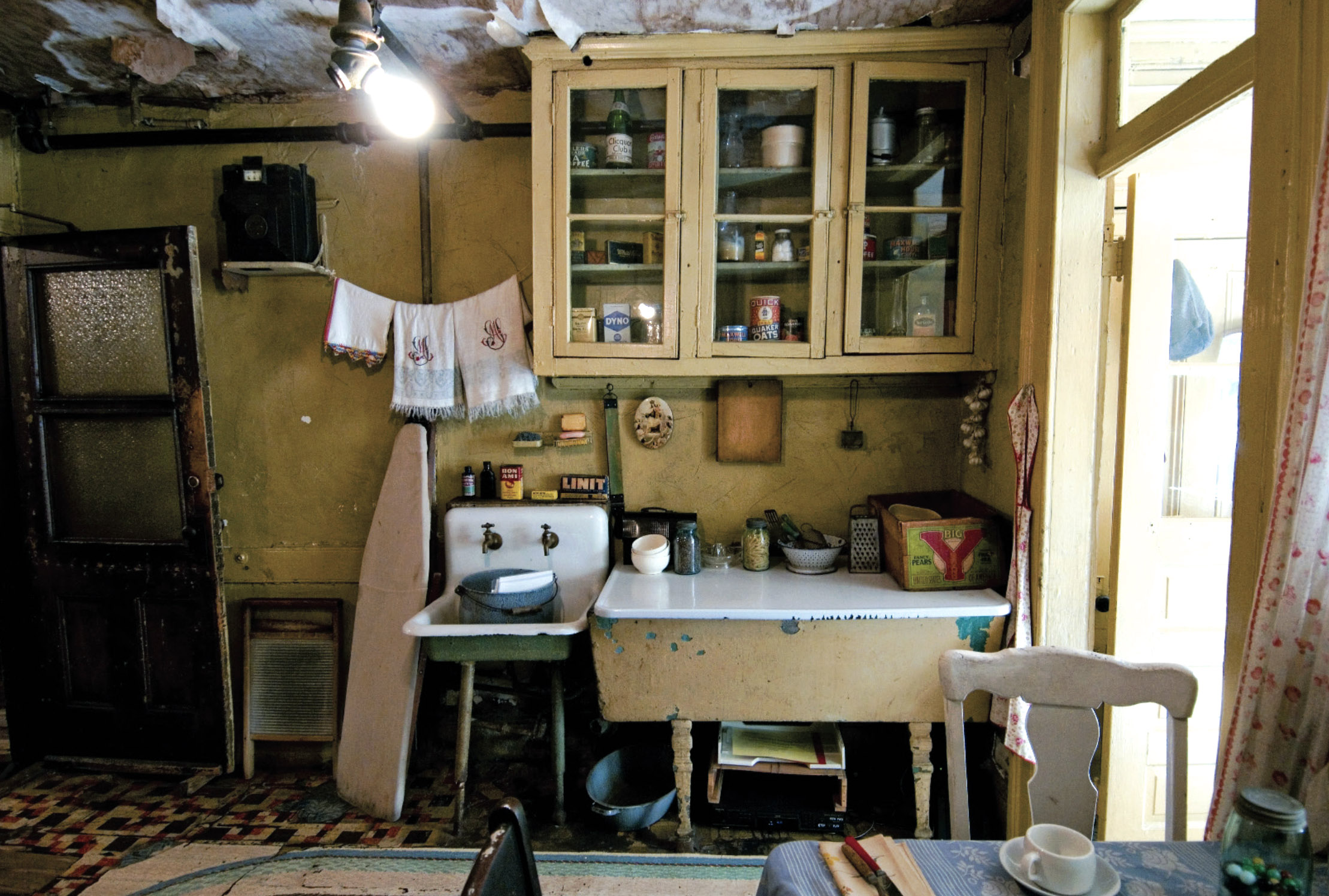 History and English Classes Explore Tenement Museum
by Miro Bergam (V)
On February 9, students enrolled in American Society and Culture, a junior American History class, and AmericanPerspectives, a spring English elective, spent the day visiting the Tenement Museum in the Lower East Side of Manhat-tan, New York City. The trip was chaperoned by American Perspectives teacher Dr. Anne Dickerson, American Societyand Culture teacher Ms. Colleen Kent, and Library Director Mrs.Eileen Hymas.
When the group arrived, they were split into two different tours. Half of the group went onthe "Hard Times" tour, wherethey visited the tenements of the German-Jewish Gumpertz fam-ily and Italian-Catholic Baldizzifamily. The tour focused on tough economic times for these
immigrant families, including stories of how the Gumpertz pa- triarch abandoned his family dur-ing the Panic of 1873 and how theBaldizzis survived an extended period of unemployment during the Great Depression.
The other half of the group at-tended the "Irish Outsiders" tour,where they studied the Moores,an Irish-Catholic family living in the tenements in the late 19thcentury. The tour focused on thestruggle of celebrating Irish heritage while enduring the prejudice that existed at the time.
"The tour connected reallywell with the work we are doingin American Perspectives," said Jeffrey Xiao (V), "where we arecurrently reading Hungry Heartsby Anzia Yezierska, a short storycollection about different immi-grants coming to America and living in tenements."
"Pingry has sent people to the Tenement Museum in the past, but this is Dr. Dickerson's and myrst year chaperoning the trip,"said Ms. Kent, who learned about the museum while visiting with a professional development pro- gram she attended last summer.She explained, "I thought it was a great t for American Societyand Culture. Getting to see the conditions of the tenements in real life is much more powerful and is a really good example ofexperiential education."
After visiting the museum,the group had lunch at several different local eateries, ranging from a Chinese wonton shop toa small Italian restaurant. "Wedecided to split up and eat at a few very different places that were all a bit spread out to show off the diversity of the neighbor- hood that developed around thesetenements," explained Ms. Kent.
At the end of the day, thegroup reconvened and took the bus back to Pin-gry. All of the classesthat attended the trip discussed the museum experience and how it related to their course- work at their following class meetings. When asked about what she gained from the experience, Lexy Beard (V) said, "It was cool to usethe Tenement Museum to connect the modernNew York City, a placewe all visit very often, with history that we arestudying in school."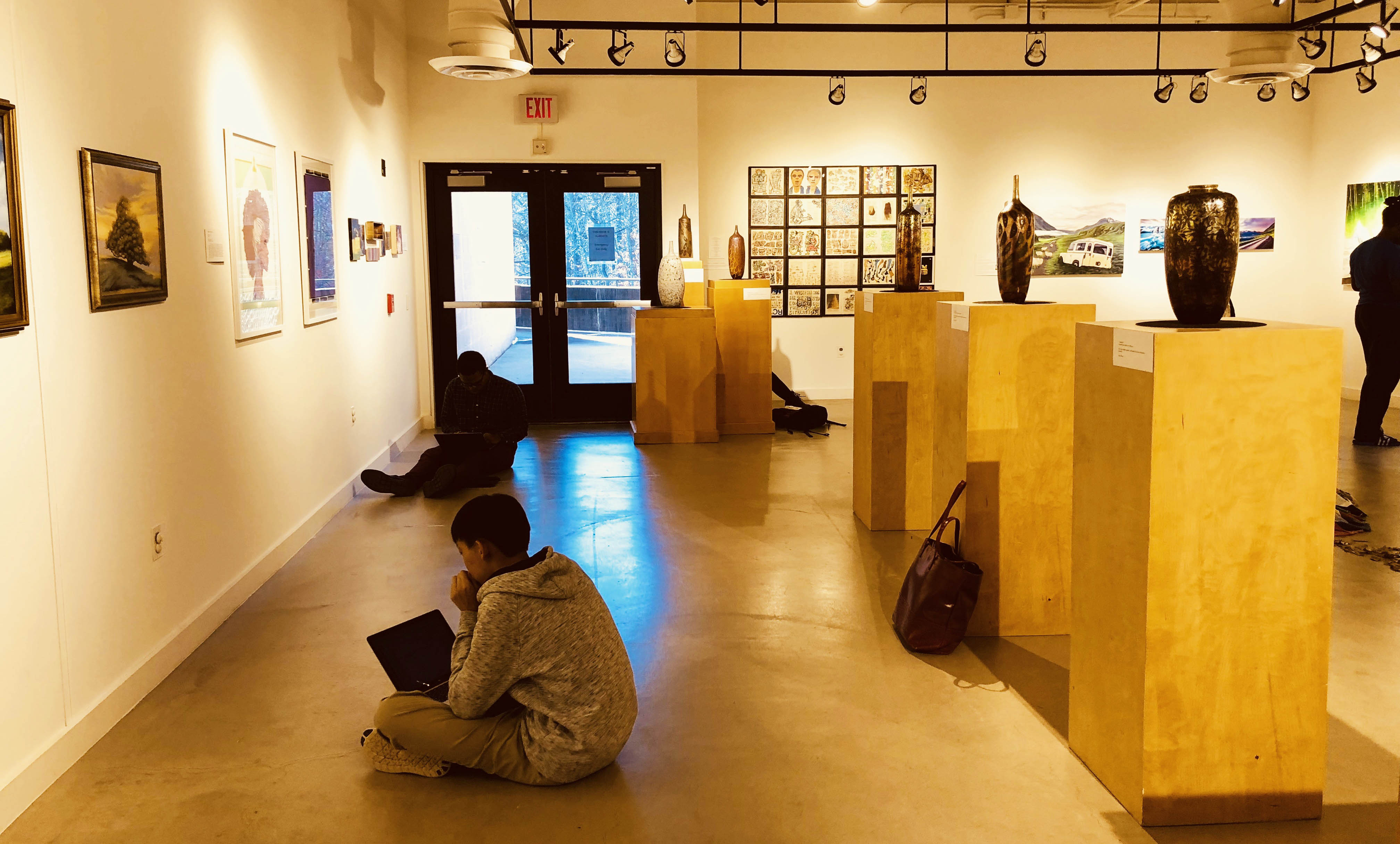 Visual Arts Faculty Show and Creative Writing: A Visit to the Gallery
by Miro Bergam (V)
On January 10, 2018 to February 2, 2018, the Visual Arts Faculty Show highlighted artwork by all Basking Ridge campus art teachers in the Hostetter Arts Center Gallery. From painting to sculpture to pho-tography and beyond, the featured works of art reflected the talents and artistic visions of Pingry's dedicated faculty artists. Two of Dr. Susan Dineen's creative writing classes paid a visit to the art gallery and created pieces of writing in response to the artwork they saw. Featured here are works by Ethan Chung (VI), Calvary Dominique (VI), Megan Pan (VI), inspired by a few of the works from the gallery.
By Ethan Chung (VI)
I sit and wade in the liquid LaZBoy recliner.
Relaxing in my underwater living room, the light is my air and my knowledge.
Photons are seldom tame soldiers marching in unison;
They are unbridled creatures in endless search for a home.
Narcissistic, they see their re ection in owing ripples and
Dive into a prison of prisms.
Diffraction. Entropy. Collision.
Gone are the focused, innocent beams.
Upstairs is smothered in cake layers of Blue and Yellow,
Both refusing to mix.
The boundless roof is a jigsaw with blue and yellow puzzle pieces,
Constantly shifting and changing, never reaching that nal, tting solution.
Sometimes, It looks Blue with eruptions of Yellow;
I almost fear that glowing, yellow meteors might come down and kill us all.
Other times, the Blue wears a trenchcoat of Yellow,
Its dark head sporadically popping out once in awhile.
Mother Earth welcomes me with soft leaves and cool, Green grass.
My bed is an Oak tree, standing proud and sturdy.
It's dark and cozy in my sylvan bedroom—
The way I like it.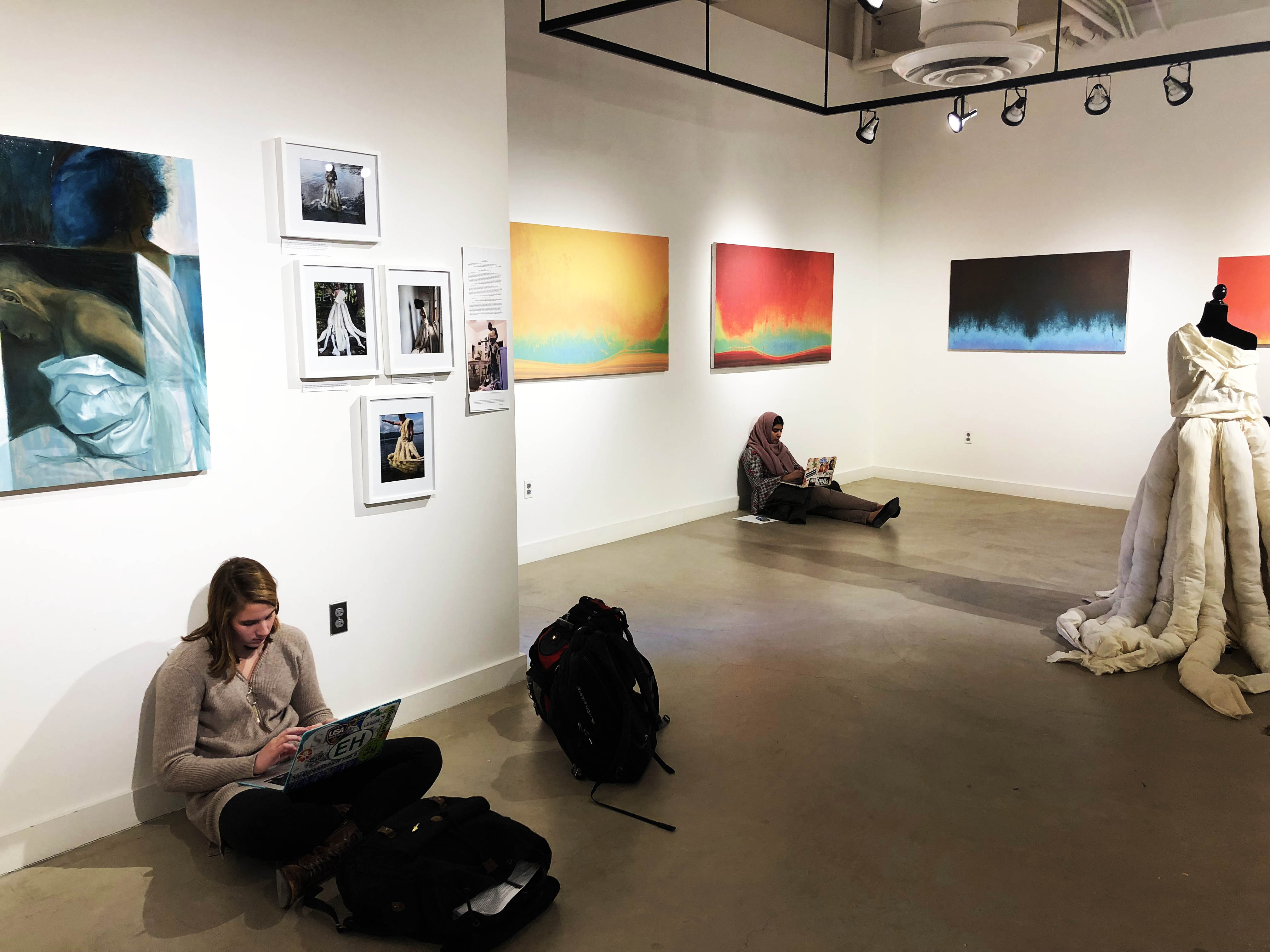 By Megan Pan (VI)
Before the third lifeboat was to take him and the last ofhis crew to Elephant Island, back to safety, he must have stopped to take one nal look. After securing the supplies,donning his life jacket, counting and re-counting all twenty- seven of his men, he must have paused for a moment beforeboarding and turned back to bid Antarctica farewell. Stand-ing there on the edge of the water, gazing over the icy atsthat constituted the resting place of his dream, what must he have felt? What must he have seen?
He must have seen the sky, colored bottle green, punc- tured with a thousand holes where the light of the galaxy was allowed to peek through. Somewhere off in the distance, acharged yellow light silhouetted the white landscape—like ghostly spirits emanating from graves of ice—casting a shybut curious glance at the departing strangers, these foreign men. His attention must have rested on the one icy peak that jutted forth from the sea, pointed star-ward as if searching for light, a jagged bloom that organically grew from a terrainsupporting virtually no life. A mile or so farther back, the En- durance rested her fragile frame, her belly having been torn open and exposed for the past several weeks. His eyes must have glazed over the fragments of her once beautiful body, littering the ice and surrounding waters like a crumbling biscuit in a glass of milk, and her noble mast now stooped in exhaustion, having long been stripped of her sails. He must have seen how the bow of his faithful ship, mirroring the giant shard of ice before him, tilted gently upward toward the sky, as if she, too, were taking in the beauty of the view before succumbing to sleep among the spirits.
At that moment, he must have felt a pang of remorsein the hull of his heart, as he knew this is where his ship would remain, abandoned by her captain, until the elementsor eternity overwhelmed her, whichever came rst. He hadmanaged to save every one of his men, that was true, but he must have known he was leaving behind the vessel that had conveyed them through perils, shielding them from harmat the sacri ce of herself. As he settled into his lifeboat, hemust have had a sense that she knew he was watching her.And as the boat pulled away from icy elds of Elysium, hemust have known that she was watching him too.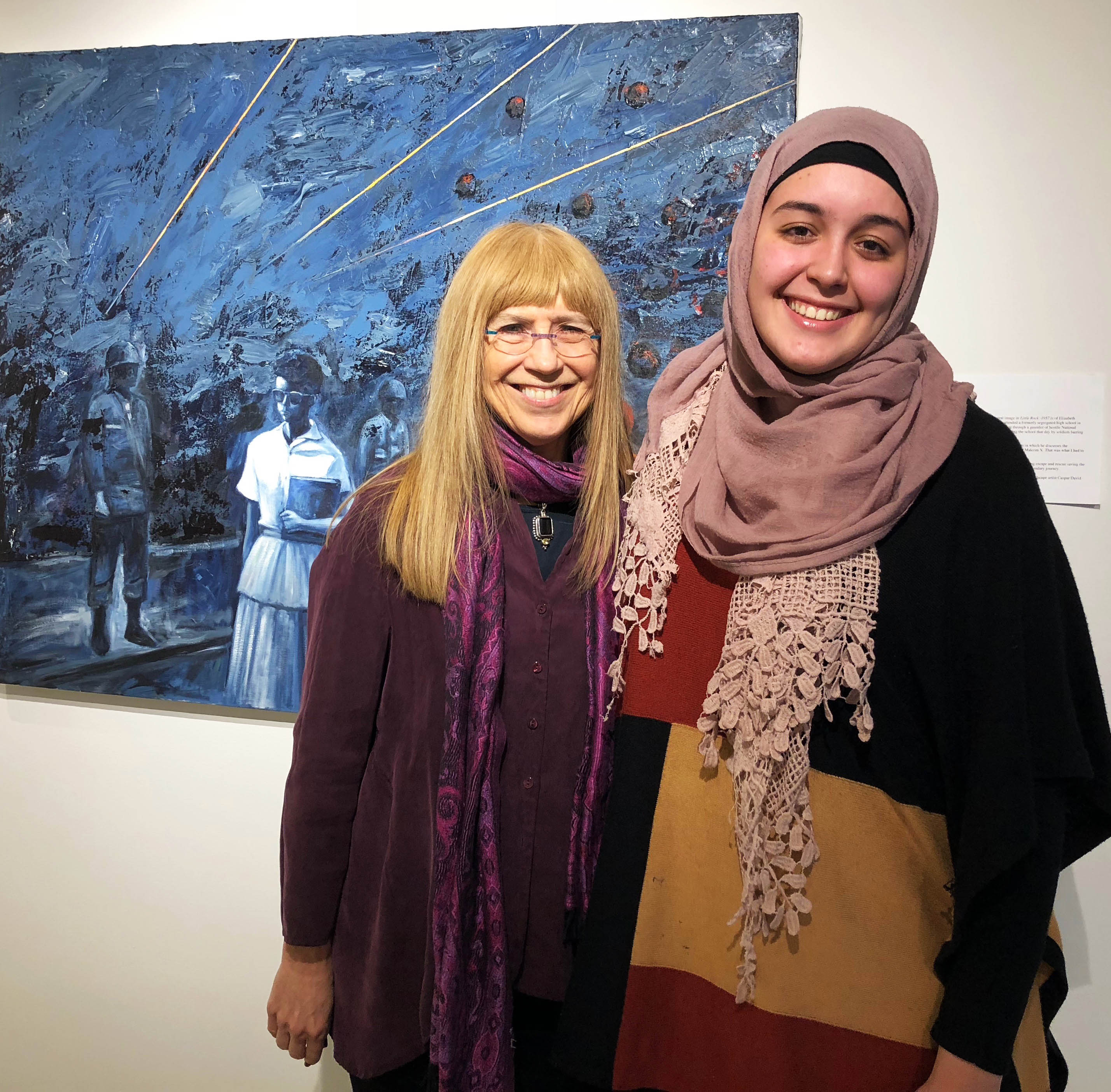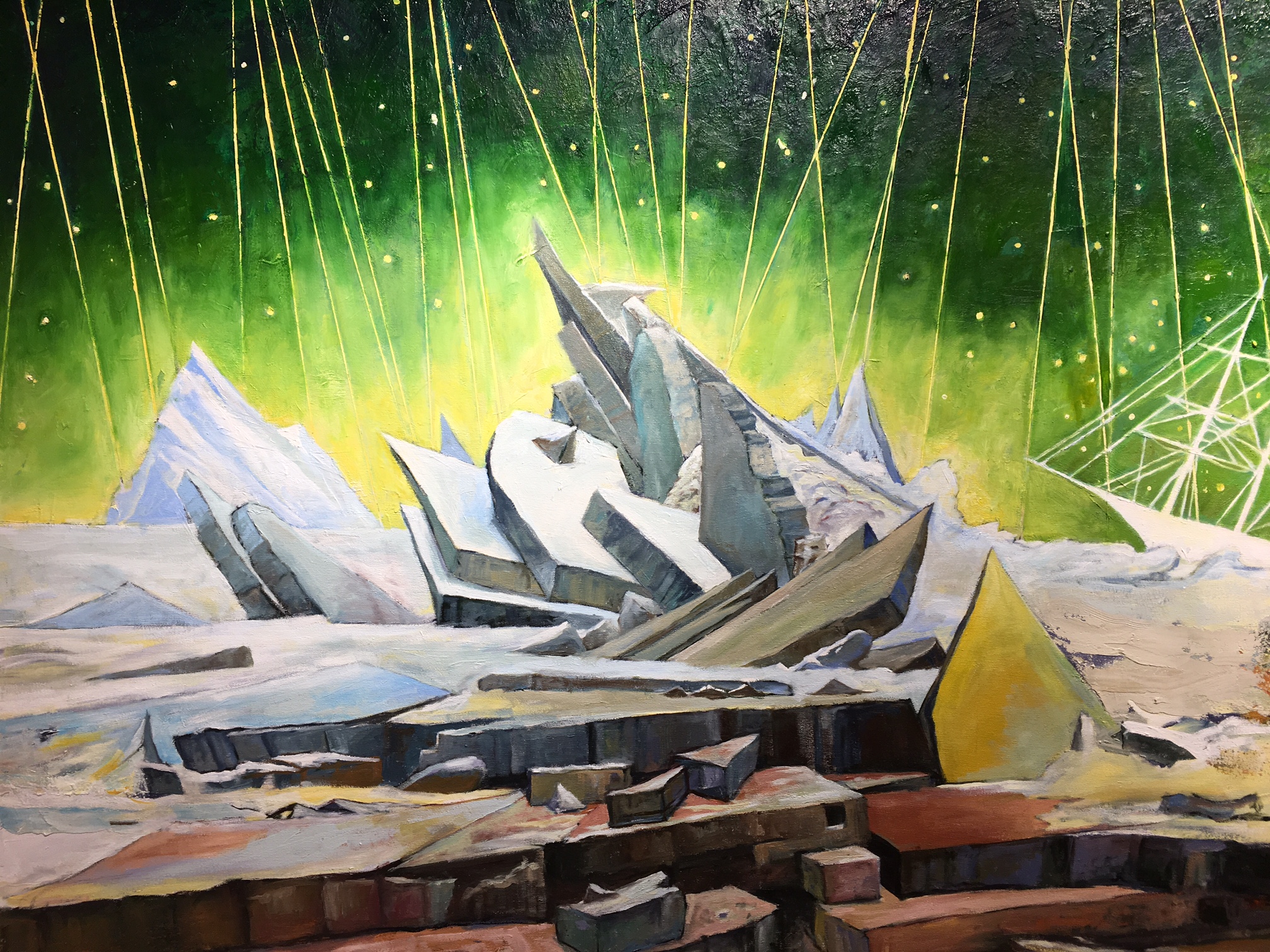 By Calvary Dominique (VI)
Hey!
There you are!
No, please don't cower in fear; I don't mean to harm you—
Don't try to run away; there's nowhere to go—
I am just an observer; that's right, I observe—
I am your friend—a real one, with heart
and soul and emotion—unlike those bandits—
I wish I could enter your world and save you from Electric Blissville, but alas, I cannot—
There's a large White Wall between my world and yours that renders this impossible—
I could pound on this Wall a trillion times and scream and claw because you don't deserve it—
No 13 year-old boy should face so much pressure and have to dive into that lime green sea—
You should be playing and running and jumping and skipping, not struggling to stay sane—
You should be going to school, not leading a movement to save your world—
I could pray a trillion times or play with tantalizing dark magic to try and rescue you—
But the Yellow Hyenas have rendered this impossible—
And they are not to be tri ed with—
Their tyranny is unstoppable—
And they have everyone by the palms of their hands through enforced arti ciality—
You know this. But you can't let them know. They would kill you—
So I sit here. And cry. And write. As if my vanity will save you, as if you can hear me—
I care about you, and I want you to know that you are powerful—
Keep training. Keep stretching. Keeping sharpening your mind. Keep embracing your heart— Electric Blissville is an illusion, and the reality of passion will shatter its mirage—
The bumblebee backdrop, the false, "How do you dos?" and the Wednesday blueberries are hollow— You just might be the spark of hope needed to expose its hidden darkness.
Boys' Swimming
By Josie Jahng (V)
Led by Head Coach Steve Droste and Captains Billy Fallon (VI) and Victor Vollbrechthausen (VI), the boys' varsity swim team has had a record-breaking season, flaunting an undefeated 7-0 record.
The team has enjoyed considerable success in the pool during their regular season, captured best by their impressive 119-51 victory over longtime rival Bridgewater-Raritan. Currently in the midst of their championship season, they have continued to demonstrate their dominance, winning the Skyland Conference Championships, the Somerset County Championships, and most recently, the NJISAA Prep Championships.
Assistant Coach Graig Peterson believes this year may be the team's most successful year yet, especially because "the seniors and the freshmen are two of the strongest classes that we have ever had." Additionally, Mr. Peterson emphasized that the "leadership that the captain and the rest of the senior class has provided has really set the tone for the team."
At the NJSIAA Non-Public "B" Semifinals, the team secured their 11th consecutive state title.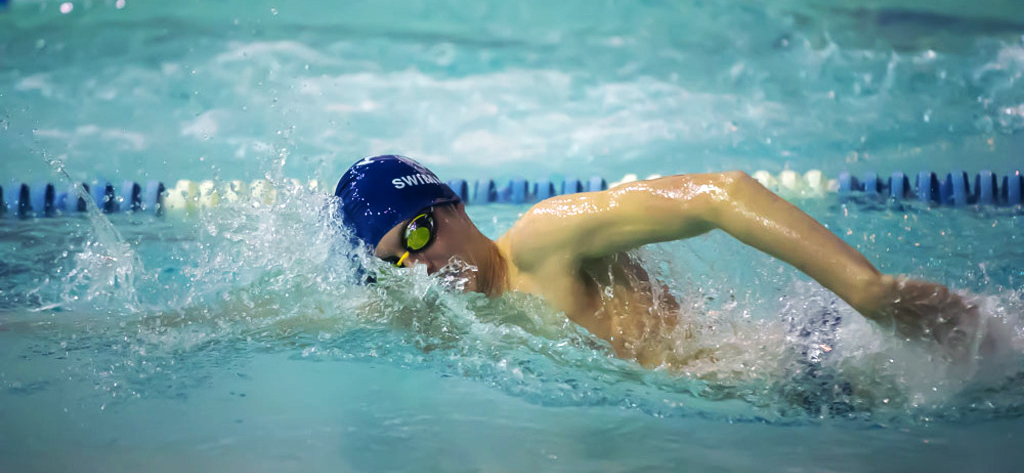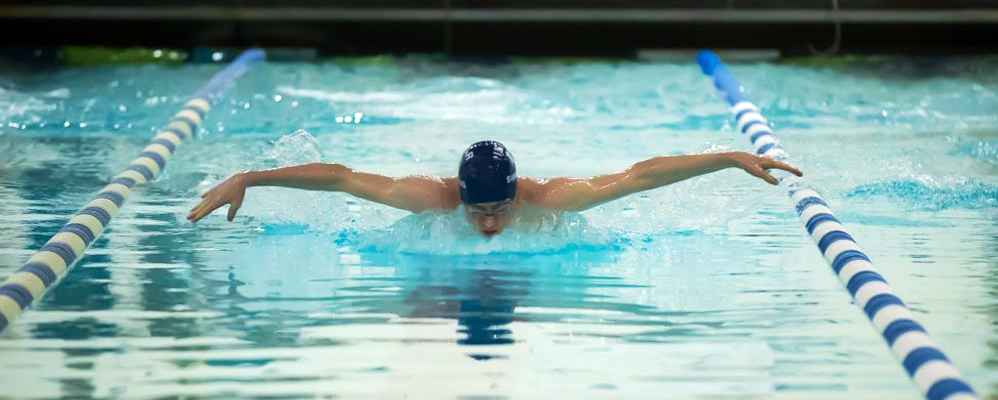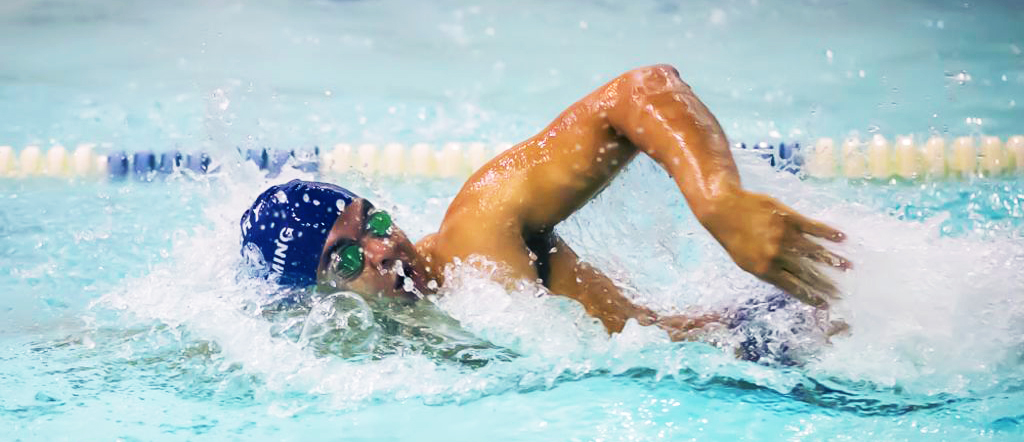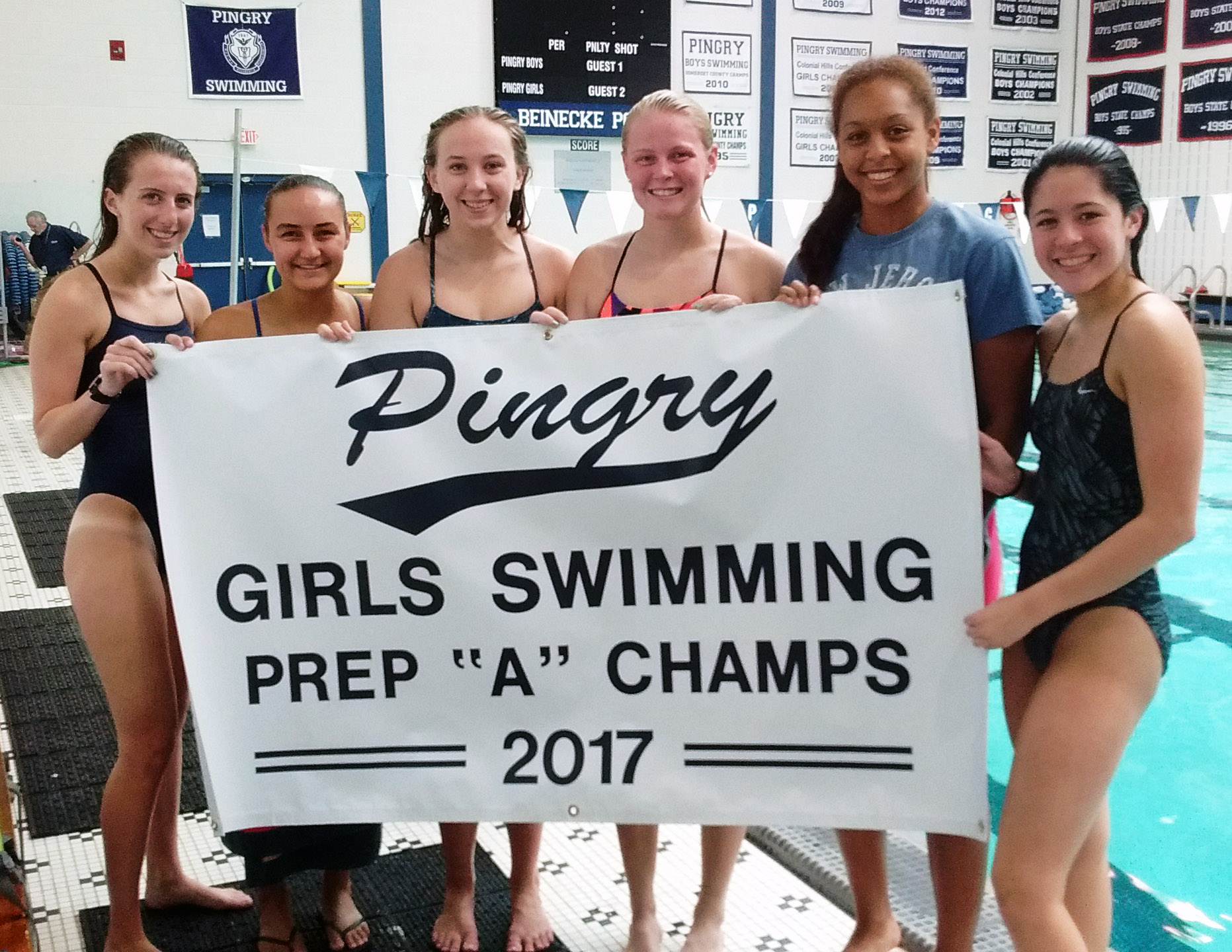 Girls' Swimming
By Darlene Fung (V)
Led by Head Coach Deirdre O'Mara and Captains Naiyah Atulomah (VI) and Kassidy Peterson (VI), the girls' swim team has raced their way to a 6-2 record in the regular season. The team has excelled in invitational meets, where they compete against up to twenty different teams.
The team swept at this year's NJSIAA Prep Championships, winning the meet by over two-hundred points and setting multiple school and meet records. Coach O'Mara said, "Our recent Prep Championship meet was a superb show of our swimmers' talents. We had outstanding swims from almost every member of the team."
The swimmers are not only flourishing in the pool individually but are also thriving as a team as well. Despite graduating several seniors last year and introducing many new freshmen, the team has become very close over the course of the season.
Atulomah said, "All of the girls on the team are talented swimmers and, even more important than that, amazing people."
"We have built a strong bond and have created many great memories together as a team," Peterson added.
The team used their talent and team spirit to reach the Non-Public "A" State semifinals.
Boys' Fencing
By Ameera Ebrahim (III)
The boys' fencing team has enjoyed a relatively successful season so far this year. The boys ended the season with a record of 7-5. At Districts, the boys placed third overall and their sabre squad won first. After that impressive showing, the team qualified for the Sweet Sixteen Tournament. This is a very significant achievement, as the team has not competed in Sweet Sixteen for many years.
Captain Michael Sun (V) remarked, "I think this season was probably the best boys season we've had so far; we made it to Sweet Sixteens for the first time in many years, we came in third at Districts, came in second at Centrulos, but most importantly, we became really close as a team, and we all invested ourselves into it."
The sabre team had their final competition at Squad States. All in all, the boys are wrapping up one of their most notable seasons in a long time and hope to continue the success next year.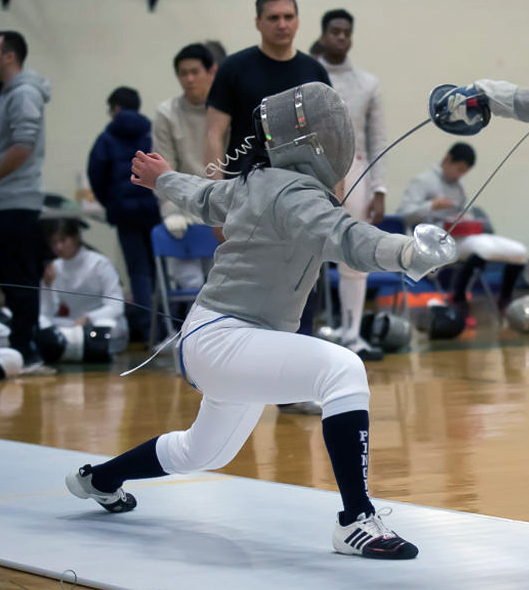 Girls'

Fencing
By Ameera Ebrahim (III)
The girls' fencing team has started the off-season very well, with all the fencers eager to tackle new challenges and take advantage of new facilities. With preseason ending and the regular season starting, the girls are excited to test out their brand new electric fencing strips. Monica Chan (III) said, "I think it's great that we have new equipment and a new facility in the BAC. It's really exciting seeing the team change and transition into this space, and I must say warmups are much less crowded. This new space allows for a larger team and more people practicing at once."
Previously, the fencing team had practiced in the storage room in the arts wing. The introduction of the Bugliari Athletics Center was a big step up for fencing. The team has been utilizing these new facilities as much as possible. Coach Ted Li says his goals for this fencing season "are to form a cohesive, competitive, social unit that enjoys training, competing, and hanging out together." With hard work, the girls fencing team hopes to have a successful season. The fencing team had their first meet at the District's tournament on December 16th.
Boys' Ice Hockey
By Noah Bergam (III)
The boys' ice hockey team, led by captains George Enman (VI) and Austin Parsons (VI), has had an outstanding season this year, boasting a 15-6-1 record. Pingry is seeded second in the tournament only to Ridge High, a team to which they have lost by close margins twice this season.
"We've grown a lot," said head coach Mr. Scott Garrow. "Our goaltending has gotten better over the year. Our team play has improved as we have gone on."
This year, nine freshmen—more players than any other grade—have joined the team; these younger additions secure a steady future for the team. "We will only lose four seniors," said Mr. Garrow. "We will return almost the entire team."
After Counties, the team headed to the Skyland Cup Tournament, where they made it to the semifinals to play against Hunterdon Central. The team had an overall great showing to end the season.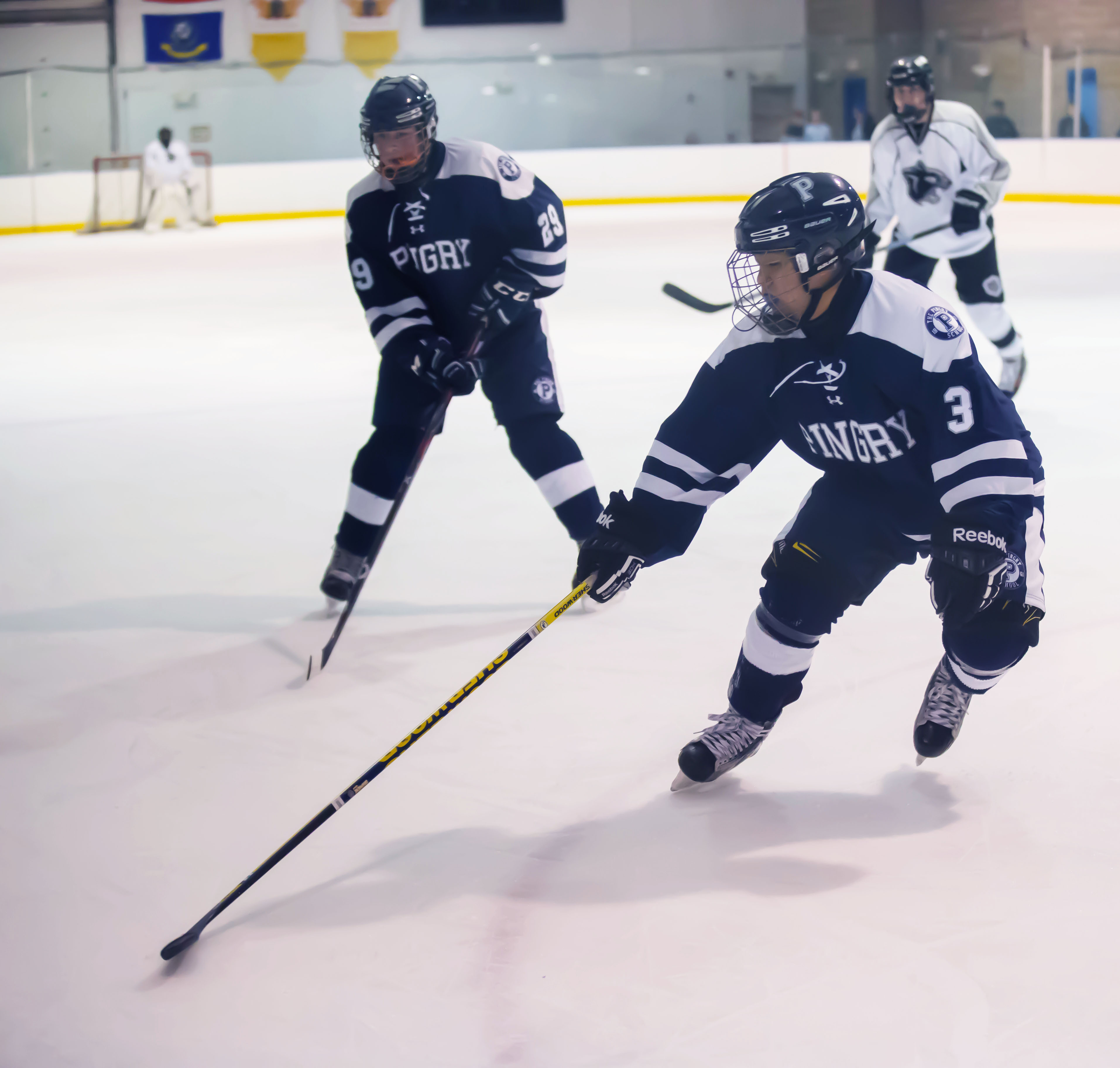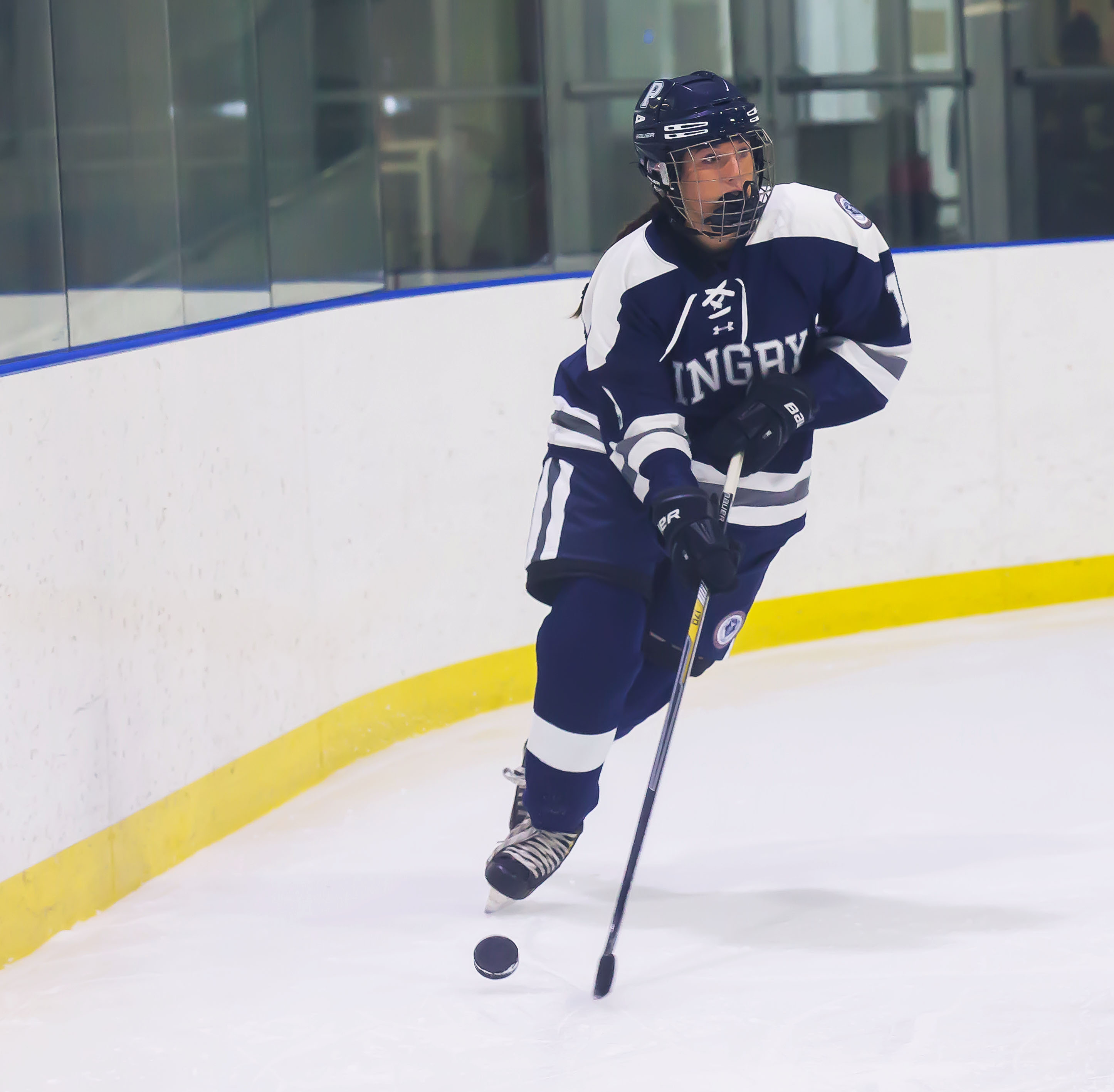 Girls' Ice Hockey
By Victoria Gu (IV)
The girls' ice hockey team, led by captains Caroline Petrow-Cohen (VI) and Emma Lombardo (VI), has upheld an even 8-8 record this season as they head into the League Tournament.
"The season has been a lot of fun," says Head Coach Ms. Kate Whitman-Annis. "We have a really strong team and they make each practice fun and enjoyable."
The team has had many impressive individual showings as well. Emma Barrison (IV), who had never played ice hockey before the season began, became one of the top four goalies in the state.
Many players were new to the ice this season and improved in skill tremendously. However, more importantly, each teammate has "learned how to trust each other," according to Mrs. Whitman-Annis. This has proven to be a great asset for them; Mrs. Whitman-Annis said, "When their passing is on, they are unstoppable."
This year is the team's last year in WIHLMA, or Womens' Ice Hockey League of the Mid-Atlantic. Next year, they will join a more local league consisting of teams including those from Oak Knoll, Westfield, and Cranford.
Ski Team
By Josie Jahng (V)
The co-ed ski team has enjoyed a fantastic season this year. Led by Head Coach Julianne Coxe and Captains Lindsey Hogan (VI), Nick Ladino (VI), Annie Leithead (V), and Conor Mahoney (VI), the team has been working hard both in the weight room and on the slopes to prepare for their races.
Although the team graduated some valuable seniors, the addition of several newcomers has created great depth to a strong veteran squad. Leithead believes "the team has a really good dynamic this year, which has definitely contributed to [their] success on the slopes."
Leithead, one of the team's top performers, has qualified for the NJSIAA Race of Champions for the second time and will be accompanied by talented underclassmen Rosemary Collins (III) and Matt Dispenza (IV). When asked about training plans for the next few weeks, Leithead said, "The three of us are all working hard and focusing on our technical skills to get the best possible results at ROCs."
The team ended up qualifying for States, where they secured 5th place in New Jersey.