Volume CXLIV Number 2 // December 21, 2017 // The Pingry School, Basking Ridge
Students Star in Greek Tragedy Antigone
By Allison Verdesca
On November 9, 10, and 11, the Drama Department performed its annual fall play Antigone by Sophocles. The Greek tragedy describes life in the city of Thebes under the domineering rule of King Creon. A part of Pingry's freshman English curriculum, the play examines issues of divine law versus societal law and the use and abuse of political power. The entire freshman class, along with special needs students from Montgomery Academy in Basking Ridge, watched the play's dress rehearsal.  
The play follows a young girl named Antigone (Meghan Salamon, VI), whose two brothers turn on each other and cause a civil war. After they kill each other in battle, the newly crowned King Creon (Lucas Vazquez, V) advocates for the burial of only one of the brothers. Fearing the retribution of the gods, Antigone sets out to bury her other brother, despite the threats of Creon and warnings from her sister Ismene (Alison Verdesca, VI). Incensed by Antigone's disobedience, Creon demands that Antigone be buried alive. Creon's son Haemon (Giancarlo Castillo, VI), who is engaged to Antigone, tries to change his father's mind but fails. After the blind seer Tiresias (Megan Pan, VI) predicts that Creon's stubbornness will lead to disaster, Creon reconsiders. When he reaches the tomb, Antigone has hanged herself and Haemon, after attempting to kill Creon and failing, kills himself as well. When Eurydice (Sara Donovan, VI), Creon's wife, hears the news, she also commits suicide, leaving Creon a lonely and broken man. In the play, the Army Chorus and the Citizen's Chorus narrate the story and comment on the plot.
Directed by Mrs. Meaghan Singer, Pingry's production put a new spin on this classic Greek tale by setting it in a dystopian future. Mrs. Singer said of the show's setting, "I heard Antigone's words ringing in my ears — 'these citizens here would all agree…if their lips weren't locked in fear' — and I knew immediately that my version of Antigone would be set in a totalitarian state, a military regime, and my chorus would be an army, not unlike that of Kim Jong Un's, or Stalin's, or Hitler's."
This was Mrs. Singer's first year directing the fall play, though she assisted Mr. Romano in the past. Of the Drama Department, she said, "I love working in such a supportive and giving environment. It is a true pleasure."
In addition to having Ms. Singer as a new director, Antigone had a new master carpenter, Mr. Christopher Abbott. Mr. Abbott worked with Mrs. Jane Asch to create a futuristic set inspired by the play's dystopian world.   Another new faculty member, Mr. Alan Van Antwerp, served as technical director as well as lighting designer. Lindsay Cheng (IV), Jackson Lubke (V), and Ouarida Benatia (VI) served as the play's stage managers.  
Meghan Salamon, who played the titular role, said her favorite memory was "spending time with all the seniors during the morning of our last show." Involved with drama since her freshman year, Meghan was eager to step into the role of Antigone for her final fall production. "Antigone is smart and dedicated, and she throws herself into what she thinks is right. I really admire that about her," Salamon said. "She definitely expresses how she feels and she lets people know what she stands for."
Pincus and Al Samaqi Explore Ethics at the Hanly Lecture
By Aneesh Karuppur (III)
On November 16th, students from the Upper School and Middle School attended the annual John Hanly Lecture in Hauser Auditorium. The speakers this year were Mohammed Al Samawi and Daniel Pincus '96.
The John Hanly Lecture Series on Ethics and Morality has been holding annual lectures since 1999, when former headmaster John Hanly retired. In recognition of his love of teaching and interest in ethical questions, the John Hanly Fund allows Pingry to bring in speakers to talk about issues regarding ethics and morality every year. The theme of this year's assembly was the question of how far one would go to take up someone else's problem as his or her own.
Speaker Al Samawi is a fellow of the International Center for Religion and Diplomacy for the Middle Eastern and North African region. He is set to release his memoir, The Fox Hunt: Escape From Yemen, in April 2018. His book is also currently being made into a movie by Marc Platt, producer of La La Land.
Fellow Speaker Pincus is a consultant for The Quantic Group, a pharmaceutical consulting company. He is also a member of the Muslim-Jewish Advisory Council (MJAC) and the American Jewish Committee (AJC). MJAC brings together Muslims and Jews from all walks of life to collectively address issues shared by the Muslim and Jewish communities. AJC, co-convener of MJAC, is an advocacy group for Jews and the Jewish faith.
To begin the lecture, Pincus spoke about his experience at Pingry and directly addressed his former teachers from the stage. Al Samawi spoke about his upbringing in a Muslim household in Sanaa, Yemen, where his disability forced him to stay home and learn English rather than socialize with his peers. This knowledge of English allowed him to connect with others outside of Yemen on Facebook, which led him to eventually attend the Muslim Jewish Conference in Sarajevo, Bosnia in 2013
When he returned to his hometown in Yemen and tried to convince others that Jews and Americans were not the enemies of Muslims, he was accused of being a spy, so he left the town for South Yemen. Unfortunately, the area where he was living came under the control of extremist group AlQaeda during an ongoing period of civil war and unrest in the country. Alternating turns, Pincus and Al Samawi spoke about how Pincus and his friends were able to rescue Al Samawi through many online connections and phone calls over a span of thirteen days in the Spring of 2015.
The student body was very moved by the lecture. At the end of the hour-long assembly, the speakers were given two standing ovations. Alex Strasser (V) said afterwards, "I thought that the Hanly Lecture was able to demonstrate to all of us the way that meeting someone and going through some incredibly difficult experiences can come with moral conflicts and enlightened us on how they…were overcome. It also gave me hope that I might be able to someday help someone in the same outstanding way that we heard."
Winter Festival Rings in the Holiday Season
By Udochi Emanghara (V)
On December 13, 2017, Pingry hosted the annual Winter Festival, the only time that the Upper School and Lower School come together for one event. This festival has been a tradition for over 100 years. It celebrates the accomplishments of the orchestra, men's and women's glee club, Middle School band, strings ensemble, hand bells, and the music direc tors by showcasing their work to the entire school. These efforts, coupled with the festivities and the environment, make the concert an important part of the school year in which over half the school participates.
The event opened with "Deck the Halls" conducted by Mr. Tom Berdos, the Lower School music instructor. Headmaster Mr. Nathaniel Conard then delivered an introductory speech, which focused on the importance of community and the coming together of the two campuses. Next came the presenting of gifts to Ms. Lisa Floyd, the leader of Lift for Learning, an organization that gives food and clothes to impoverished people. Afterwards, the festival commenced with the tradition of Candela Accreditor (the lighting of the candle) by kindergartener Jake Fey and Student Body President Michael Weber (VI).
Highlights of the concert included "A Festive Noel" performed by the fifth grade chorus. As the fifth graders are the only group from the Lower School that performs at the festival, their contribution was highly anticipated and they delivered. In addition, it evoked nostalgia in people who were once a part of that group.
Alyssa Chen (VI) said, "Watching the fifth graders filled me with warmth." Another highlight was "Al Hanissim," a Jewish prayer performed by the orchestra, middle school chorus, and upper school glee club with solos from Alyssa Chen (VI) and Hugh Zhang (III). This piece is a chorus favorite due to its lively beat. Lastly, the middle school percussion ensemble performed "Kishmar," a take on Led Zeppelin's hit performed by the middle school percussion ensemble. This was the debut of the group and they instantly became a crowd favorite. The concert concluded with a rousing rendition of "Twelve Days of Christmas."
While all of the selections were amazing, the words of Mr. Conard ring true: the event was truly about bringing the community together. Maya Huffman (VI) and Melissa Tungare (VI) recall their first times seeing the concert. Huffman, who came to Pingry as a kindergartner, said that she was "always excited for the concert as a lower school member." Similarly, Tungare has been going to the concert for over ten years with her big brother and has witnessed multiple performances. As a current Balladeer, she said that "it is nice to now be a part of the concert." Over the years, Pingry has changed drastically; the change in campus (moving from Hillside), the admittance of females into the school, the construction of the Middle School, and much more showcase the development of Pingry as a school. Similarly, this concert has gone through its changes as well; the one thing that remains the same is the spirit of the concert. In the words of Mr. Miller Bugliari, "the whole sentiment from a long time ago is still present."
Community Unites at Friday Night Lights
By Noah Bergam (III)
On November 3, the Big Blue football team enjoyed a 42-16 win against the George School of Newtown, PA, at the PSPA's annual Friday Night Lights. Students and faculty from both the Lower and Upper School campuses came to support and cheer the team on to victory.
Middle and Upper School singers kicked off the evening with the National Anthem, and thanks to Middle School Athletics Director Gerry Vanasse, younger fans enjoyed a variety of games, activities, and prize giveaways before and during the game. Middle School students ran Pingry flags across the field and participated in a Mega-V-Ball game during halftime.
Captain Obi Nnaeto (VI), who broke the mark of 1,000 yards run two weeks earlier, led the team, rushing 214 yards on 13 carries and scoring three touchdowns, which effectively locked in the victory by halftime. Ryan Feeley (VI) led the defense with seven tackles. Brian Benson (V), Channing Russell (VI), and Nate Hefner (V) also scored.
"It was a great showing for Pingry football," said freshman defensive lineman Ore Shote.
Meanwhile, under a huge tent, students, parents, faculty, staff, and alumni enjoyed a delicious tailgate selection, which included pizza, meatballs, mozzarella sticks, pigs in a blanket, wings, hot apple cider, and a wide range of desserts, all provided by the PSPA.
Overall, Friday Night Lights was a fun night for the whole Pingry community. Congratulations to Big Blue football, and thanks to all the Pingry fans for their support!
Editorial: Ode to the Empty Nest
I've been crying a lot lately, but here's the latest reason why: on November 26, I decorated the family Christmas tree for last time.
It was the latest of many lasts that weekend: my last Thanksgiving I'd welcome my sister home, my last squash tournament road trip with my parents, my last Thanksgiving dinner I'd sit at the "kids'" table instead of the "adults'." I suppose they all compounded, unacknowledged, until they hit me like a double decker bus at 12:09 AM as I stared into the glowing ornaments and shimmering tinsel I had hung. Who's going to decorate the tree next year? Who's going to make Mom and Dad excited for Christmas?
I could see it in my head so clearly—Christmas, always powered by my sister's and my incessant Mariah Carey singalongs and burnt sugar cookies, fading from our household, evaporating like breath on a windowpane. My parents had only ever loved the holidays as much as Marcia and I did. Would my parents still give each other gifts when the two of us were gone? Would they even put up a tree?
My tear ducts, overworked as they are in the season of giving and college applications, started to ow. Marcia knew wordlessly why I was upset. "Did you know," she started, pulling me in for a hug, "that 90% of the time you will ever spend with your parents is over by the time you leave for college?"
Now, I've searched for this statistic and can't find it anywhere. But con rmed or not, it still packs a punch to the heart. Realistically, how many hours will I spend with my parents after I leave for college? A summer here, a holiday there. Blink twice and I only call once a week between my work commute and dropping my kid off at school. That not-so-distant future is a far cry from the Sunday morning pancakes and long car rides and Costco runs we share now.
And that explains why they've been so lenient lately. Classic symptoms of early onset empty nest syndrome—I just didn't recognize them until I put the star on the top of the tree. In the past few weeks, my parents have bought my sister and I orchestra tickets to Anastasia on Broadway (amazing show, 12/10 would recommend!); gifted us a slew of lululemon clothing; even surprised us with entirely unnecessary, expensive Fastpasses for our winter break visit to Universal's Harry Potter theme park. They've displayed an uncharacteristic indulgence with their eat this, do that attitude. Nothing is a waste of money anymore—not if it offers happiness to enjoy, an experience to share, another memory to cherish.
Their indulgence makes me ashamed of my behavior during the past few weeks. I've used stress, exhaustion, and anxiety as excuses to be snappy, self- centered, and rude. And worse, my parents have simply tolerated it with closed-lipped grimaces because they love me, wholly and unconditionally—the way they have for the past seventeen years, they way they will continue to forever.
Okay, maybe I'm being overdramatic. I'm sure there will be other holidays in the future for which I'll return home early enough to untangle the lights and hang up stockings. But staring at the Christmas tree at 12:09AM, I took a breath during my race to move on—from high school, from Pingry, from family—and felt, for the first time, that I wanted everything to stay the same.
So here's what Marcia told me, that I'm now telling you: it is your duty to make every minute of these last few years count. Be kind. Be patient. Be present, because here is something wonderful and exciting and terrifyingly sad, all at once: everything is going to change. Everything is changing already. Treasure these moments before 90% of your time with your parents is gone.
I've been counting down the days till I leave for college for years now. I just never realized that Mom and Dad have been, too.
                    – Rachel Chen (VI)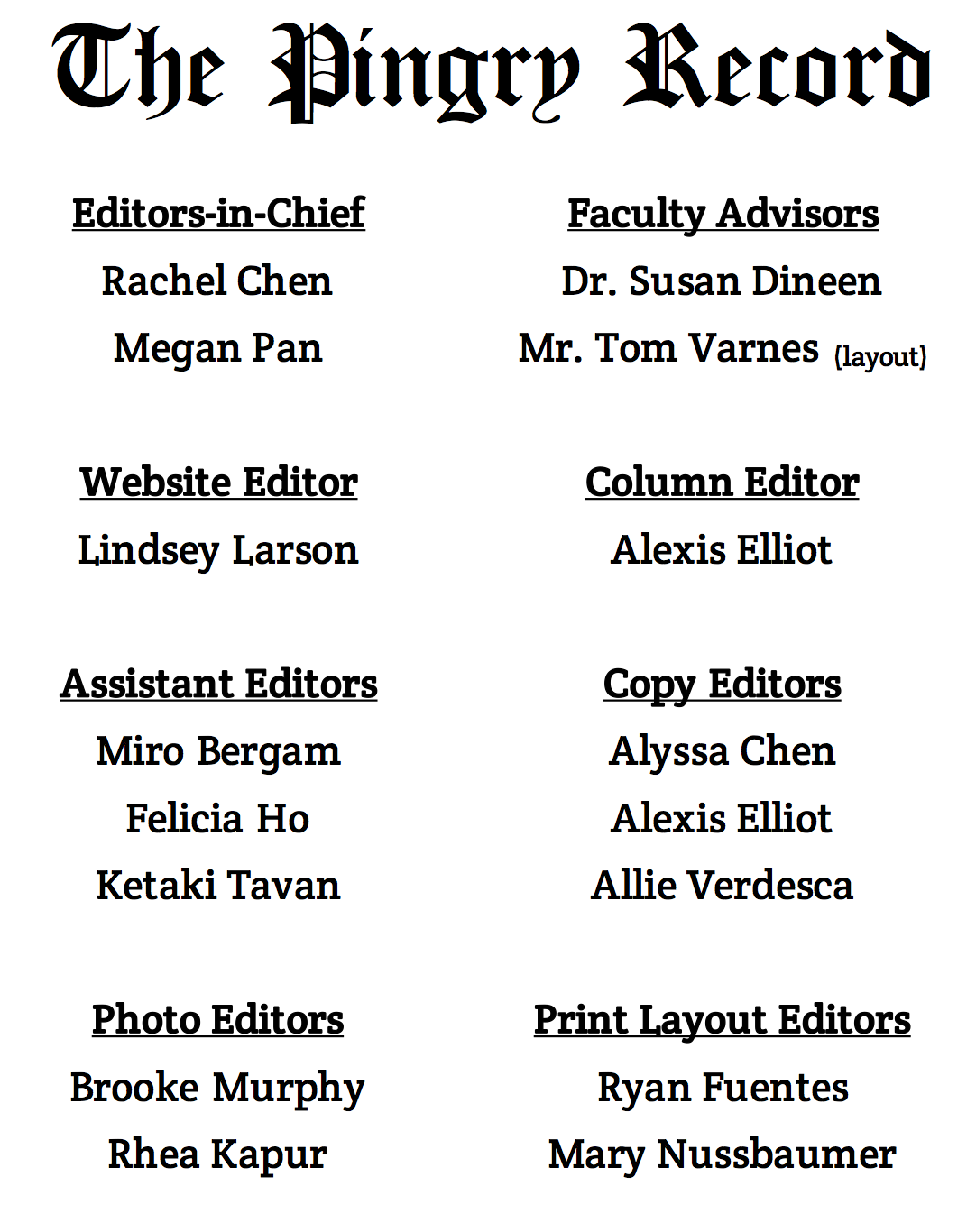 Elliot Analyzes the Nature of the College Application Process
by Alexis Elliot (VI)
"Ok, now can you describe yourself in 30 seconds or less?" During my college interview, I shifted in my seat as I tried to come up with an answer. Not wanting to seem unprepared but also worried to speak without gathering my thoughts, I asked my interviewer to give me a minute to think. As I left the interview, I couldn't stop thinking about how in all of my life, I've never been asked to shrink myself down to 30 seconds. Even as a teenage entrepreneur who pitched to Warren Buffet, I at least had 60 seconds to present a business idea. How much more should a person with an entire life story get? 
The experience I had during my college interview mademe wonder if the college application process gives people enough room to explain who they really are. As I work on mycollege supplements, I find that, happy to get many of them out of the way, I worry that I didn't mention some of my activities or certain life experiences that I really valued. Focusing on events that occurred only during high school — as the process requires — isn't enough to capture the full range of my life. Furthermore, my fellow classmates seem to agree with me. In a voluntary survey conducted in the Class of 2018, 68% responded that they feel the college application process does not give applicants enough room to express who they are.
 As a result, it's easy for students to get stuck trying to balance detail and simplicity. Yes, colleges value students who show a wide variety of achievements and interests, but they also value students who thrive in a few select areas. This paradox creates the challenge of trying to display all of one's achievements while trying not to seem all over the place. 
Further, I' ve found myself having to pick and choose which aspects of my life I want to demonstrate as ones that I value the most. Of course, words on an application can't encompass an entire person's life experiences or values. But, I often find it hard to choose which values I want to incorporate. Do I talk about my experience playing soccer with an all-boys team in Ghana? Or should I talk about something more academic like participating in a coding camp for seven weeks? 
Interestingly, in Peer Leadership, we were faced with this same task. We were instructed to write words or phrases that make up our identity. We then had to put them on a wheel with the things we value most taking up more space. Many of us found it dif cult to prioritize some things over others. Shrinking ourselves down into categories felt impossible. For argument's sake, the college application process has reasons for the way it functions. Even though we don't have much space to focus on many aspects of our lives, the essays are required to be short because so many millions appply. Another point to consider is that recommendation letters and interviews help account for the more personal side of the process. 
Even so, the process still allows much of what makes up an applicant to get lost. While the college process won't drastically change anytime soon, that shouldn't discourage us. Sometimes saying less is more. American photographer and environmentalist Ansel Adams wrote, "When words become unclear, I shall focus on photographs. When images become inadequate, I shall be content with silence."
Even though it's easy for us to go crazy trying to explain ourselves in our applications, we should sometimes opt to just leave things out when it becomes too much. Don't be afraid to keep an essay or explanation simple. Get your point across, but don't feel burdened to hit every detail or every experience. Yes, there is the pressure to prove yourself to a college by explaining everything. But there is also beauty in the mysteriousness of having un nished chapters in the story of your life.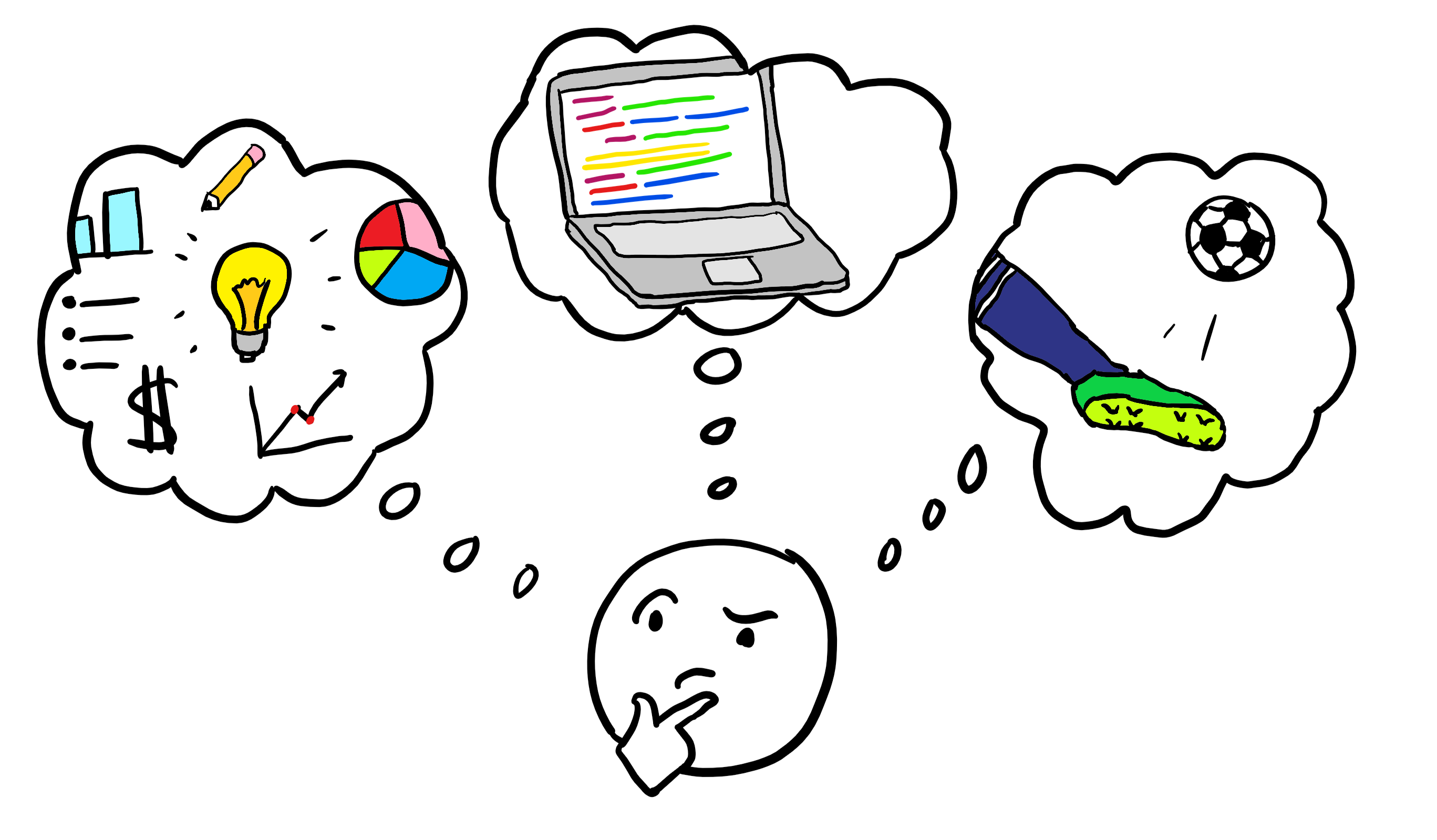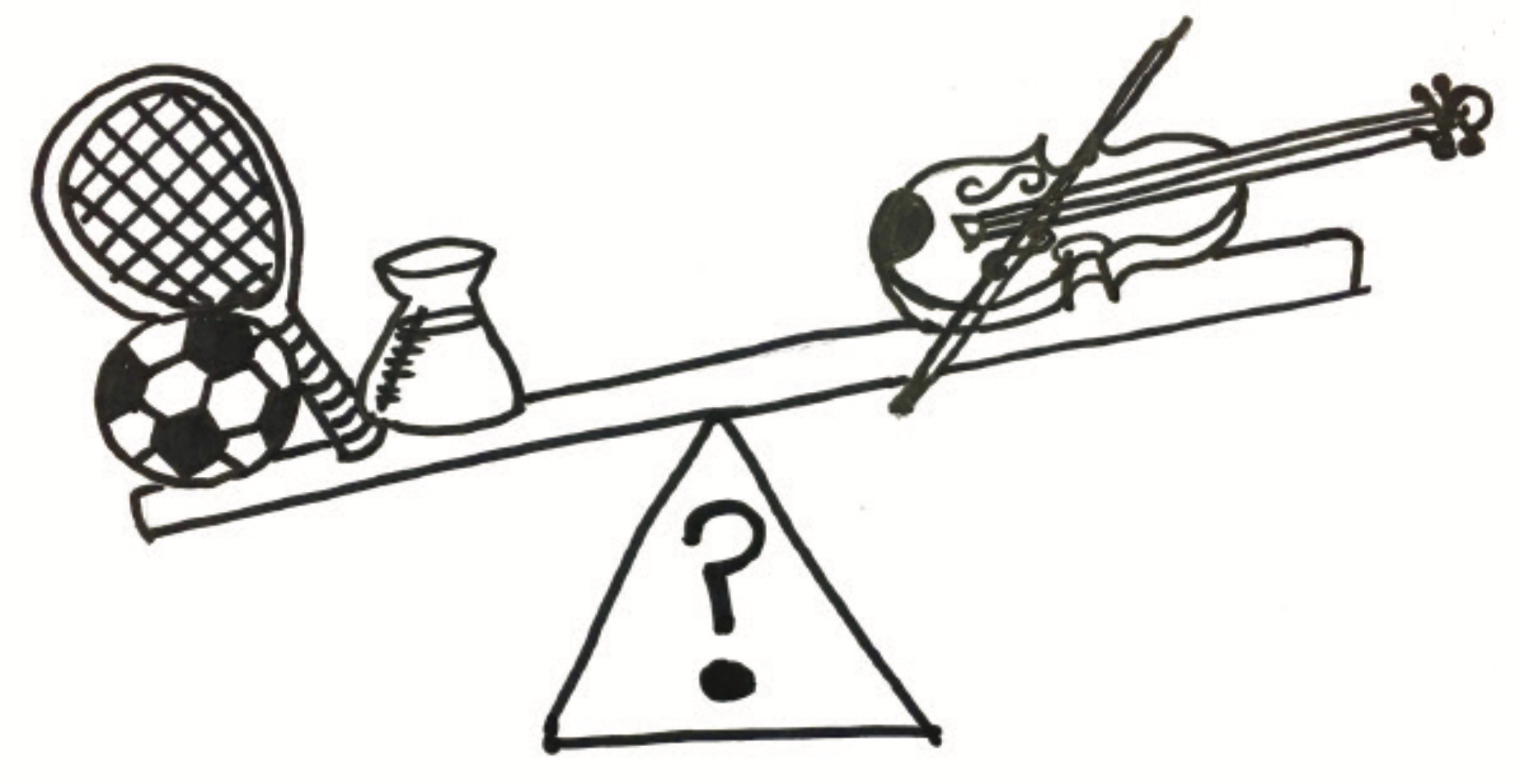 Learn to Face the Music
by Felicia Ho (V)
Shrill, piercing, and unbelievably scratchy. The first time I heard a violin, I couldn't believe my ears. Yet, there I was at my local music shop, picking out my first violin as a fourth grader. Hundreds of violins lined the walls, waiting to be brought to life with a single bow stroke. A select few were lined against the back wall; they were the chosen ones that had been treasured for centuries on end by the old and the young. As I grasped the neck of a dark brown, German-made violin and picked up a bow, I was determined to let its voice ring to the world for the first time.
When I was in the Lower School, coming to the Winter Festival at the Upper School was always the highlight of my year. I couldn't wait to sink into those big, comfy red and blue chairs in Hauser Auditorium as Mr. Berdos waved his baton to begin the concert. My gaze always fell on the concertmaster, who was a quiet yet important leader of the entire orchestra and always seemed perfectly in sync with the conductor.
Years later, I'm no longer ensconced in the comfort of the redchair. Instead, I am sitting in a hard, black metal chair as a part of the Upper School string orchestra. As the conductor's baton waves overhead, I look at the same piece I have played for four years and try to make sense of the black lines that ood the page. Around me on the stands, heads are bobbing up and down, and there are wide gaps in the bleachers that had once been filled with eager faces and cheery smiles. As I look out to the audience, rows and rows of seats are empty. Those performing glance down at ashing phone screens, impatiently tapping their feet, their minds on school and work.
What has happened to the power of music? Why is it no longer bringing people together the way it used to?
The answer may lie in the recent budget cuts on national arts programs, a result of the increased emphasis being placed on STEM and athletics programs. In March, President Trump announced that "… the National Endowment for the Arts and the National Endowment for the Humanities would be eliminated entirely…" (NPR). Historically viewed as an integral part of education, the arts have begun to fade, largely due to their perceived "uselessness" in an era of progressive technology.
But why was music so important in the first place? Was it not to connect the world, breaking all barriers, be they linguistic or geographical? Music is the universal language, and directing funds and support away from this important subject is damaging to current and future generations. Now more than ever, we need music to connect us in these divisive and stressful times. Without suf cient emphasis on music programs, we cannot compose this bridge.
Fortunately, Pingry is heading in the right direction. Although it has spent most of its budget and time on STEM and athletic programs in the past, the school is beginning to improve its arts programs. Just this year, the newly formed percussion ensemble blew me away at the Winter Festival, and the newly appointed Arts Ambassadors have paved the way for Pingry arts programs to gain more recognition from fellow classmates. In addition, Hostetter on the Five performances are great venues for student musicians to share their talent and music with the community. 
Making a violin sing is not an easy job, as I've learned in the past seven years. Every day, I'm faced with a new challenge, whether it be the dif cult rhythm, technique, or structure of a piece. But I've learned to push forward, and the results can be rewarding. If everyone in the community can join together in harmony by attending and supporting their peers at school concerts, we can truly make our hearts sing together
Murphy Discusses New Extracurricular Participation Policy
by Brooke Murphy (VI)
As many people have seen by now, a new Participation Policy has been put in place. The policy, which was emailed to parents around November 26, states that students must participate in activities that they excel in throughout their time as a student in the Upper School.
Soon after parents received this email, there was backlash in student group chats and on social media. Students questioned why and how the school would be able to require such a thing. Specifically, how could the school require a student to take his or her time after school to participate in one of the school's athletic teams?
Fundamentally, I agree that any student who does have a talent in a certain area should want to contribute that talent to his or her school community. But is it fair of the school to threaten dismissal of a student if he or she doesn't do so? As a player on one of school's tennis teams, I have seen the type of situation where players who would have been members of the varsity team do not play for Pingry.
The fear of loss and of not being the top player has driven members away from the bigger picture of team success. Of course, I do not know students' reasons for not joining or continuing their time on the tennis team, but this policy has called me to question whether it was fair of these players to quit the school team. Is it fair that quali ed athletes don't contribute their skills to the community?
Not only as a member of the Pingry tennis team but also as a member of a much larger tennis community, I have seen this type of behavior before. I have seen many girls across the state of New Jersey who don't play for their high school teams because they believe that playing on a team far below their skill level will hinder their careers, that playing on a high school tennis team is not worth their time, or, in many cases, that playing on the team will lead to more losses, a result they are afraid of. An important question is raised by the situation: On what grounds can these girls' schools require players to play for their teams? 
Pingry has grounded their policy in the Honor Code. The Honor Code states that students should work for the "common good rather than solely for personal advantage." After quoting this section of the text, the policy continues: "Accordingly, it is Pingry's expectation that students will participate in ways that advantage the community."
However, as one reads further, it can be noted that this "expectation" is actually a requirement- one that, if not fulfilled, might result in denial of enrollment for the following school year. Is it more selfish for the school to require such players to dedicate such a large portion of their time to its programs or for the students to choose not to share their talents though the school's programs?
As a highly ranked and highly dedicated tennis player, I have always felt compelled to play for my school's tennis team and help the team advance to every championship possible. For a tennis team, the loss of even one player can make a huge impact. However, it is within my own morals that I feel as though I should play to help a larger focus than myself, and it is my choice to express this sense of obligation through Pingry's teams and not elsewhere. Others may interpret their own morals through different actions, maybe by participating in a community outside of the school.
I believe that every student should be an active member of whatever he or she can in the school community, but it should be within his or her own moral standards. It shouldn't have to be forced upon these students by regulations or threats of expulsion. With this, I would urge not only for students to dive into the rich programs Pingry has to offer, but also for the school's administration to appreciate the students who already want to benefit the community and not just those students who are deemed more talented and valuable to the school.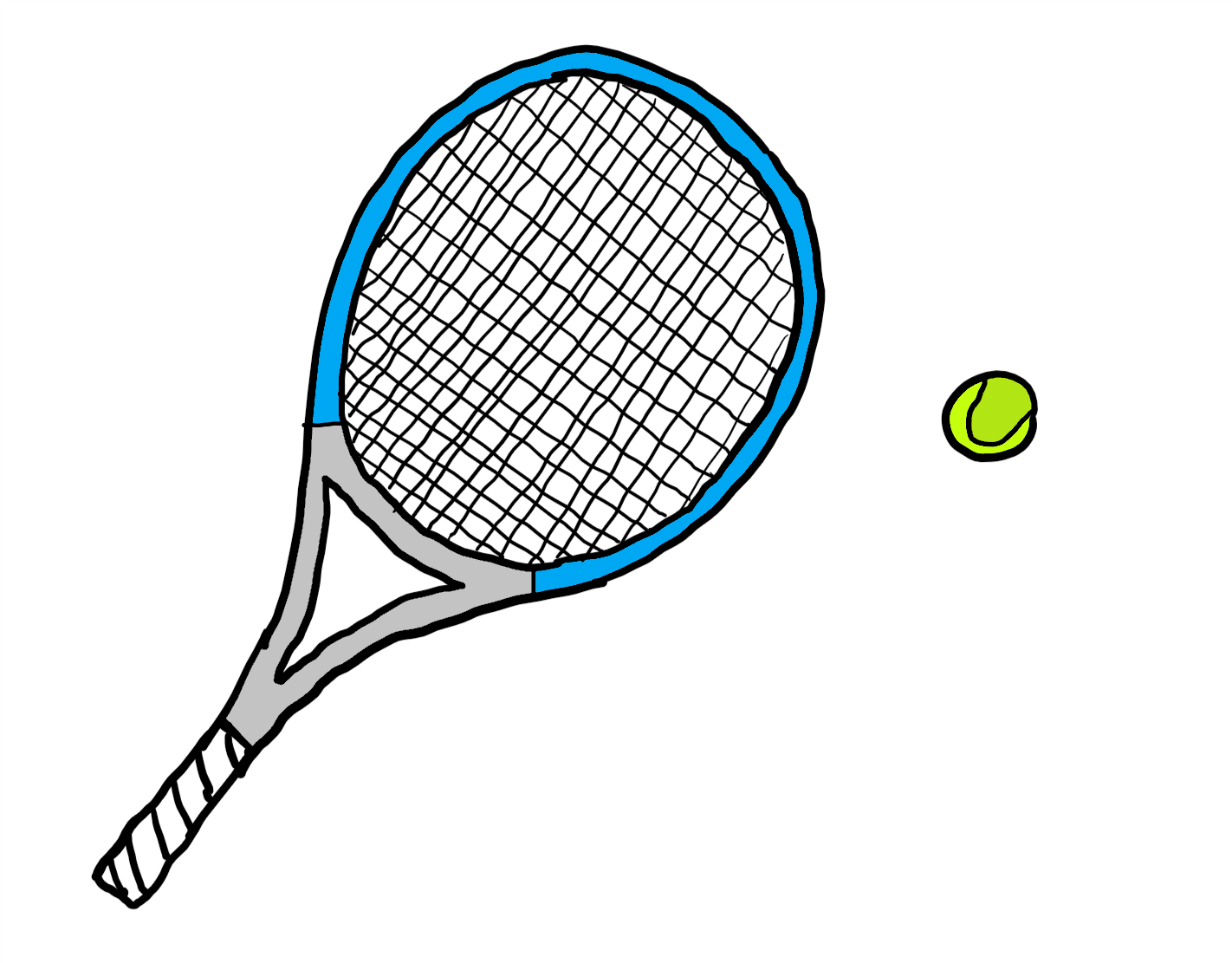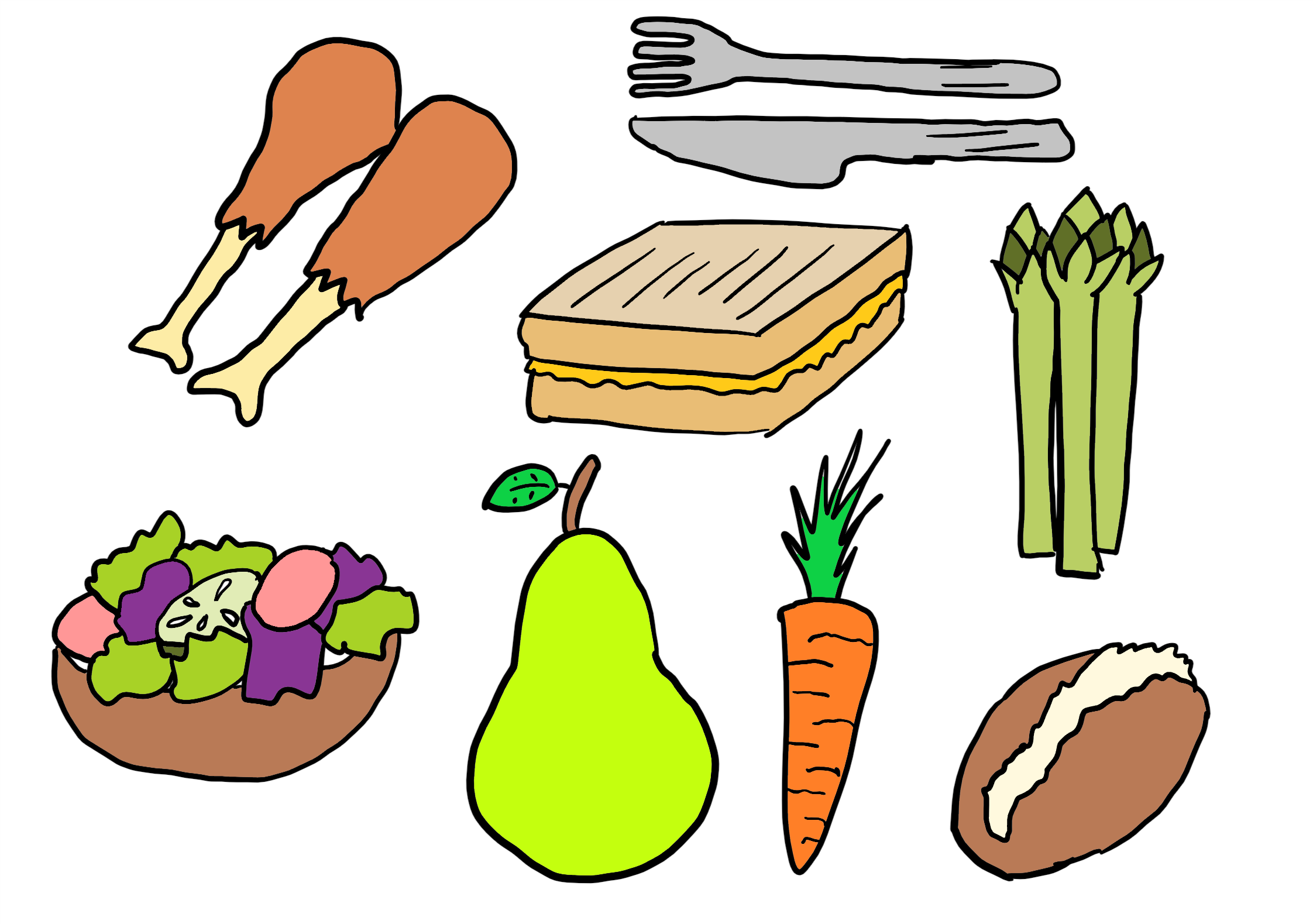 Sugar, Spice, and Everything Nice: Sage Dining
by Darlene Fung (V)
I am a swimmer, and with being a swimmer comes having a notoriously large appetite. We high school swimmers might not be inhaling Michael Phelps's famous 12,000-calorie diet, but we certainly do consume more than the 2,000 calories an average American eats in a day. That being said, over one third of my daily food intake comes from Pingry's cafeteria, and if I'm being totally honest, I love it.
While some may not share this sentiment, I look forward to lunch at school every day. I came to Pingry as a freshman, and I vividly remember my visiting day as a buddy. I sat through a health class, a chemistry class, and a geometry class. The classes were all great, but I have to say, lunch was my favorite part of that day. I was floored by the swarm of students walking around with a wide variety of well-portioned meals that were vibrant in color, served on real plates, and eaten with real silverware. There was chicken, and rice, and pasta, and grilled cheese, and salad, and a panini station, and peanut butter and jelly— the options seemed endless!
I've been to other schools' cafeterias where students are served a few chicken nuggets, one scoop of mashed potatoes that are made from powder, and some canned fruit that consists ofa couple of beige cubes floating in syrup. On other days, students get a boiled hot dog set on a slice of white bread, a scoop of brown bean paste, and some soggy, gray collard greens that nobody but the bravest kid would eat. Food is served on styrofoam trays that are smaller than the average Pingry student's laptop, and that's that.
The difference between these schools' lunches and Pingry's lunch is night and day, and come freshman year, I was exceedingly satisfied with my dining experience at Pingry. I was so grateful to have a variety of healthy options to choose from as well as the chance to grab a piece of fruit to snack on throughout the day.
As my freshman year went on, I also became increasingly appreciative of the care taken to make our dining experience the best it can be. The kitchen staff put an incredible amount of effort into serving hundreds of hungry, growing students a variety of over six different meal options daily. Even when we are not at school for lunch, whether for a game or a field trip, we are still served food thanks to the extra time put in to make brown bag lunches on top of regular in-school lunches.
In addition to the effort the kitchen staff puts into all the nutritious meals they prepare for us, they go above and beyond to tend to the small details regarding how we are served as well. Every day, just like my first day of freshman year, I am greeted with a warm smile and a "Hi, how may I help you?" before I am served a neatly portioned plate of food complete with an extra ladle of sauce, a sprinkling of green onions, or even an edible flower.
It is the special care the kitchen staff put into the deliciously prepared lunches we enjoy five days a week that makes our dining experience all the more meaningful. So the next time you are in line waiting for lunch, don't forget to express your gratitude towards the kitchen staff. And if you find something that doesn't particularly suit your taste, think about how lucky we are compared to the students in some other schools. Just like we already appreciate the amazing choices we have in classes, sports, art, and beyond, we should show our appreciation for the great choices we have in our lunches as well.
Editorial: Gatsby and Goodbyes
"So we beat on, boats against the current, borne back ceaselessly into the past." The Great Gatsby, F. Scott Fitzgerald
Ever since I was young, I've had a strong sense of attachment. My mother told me that when I lost my first tooth, I cried over the loss of a part of me that had been with me for seven years. As I grew older, this sense of attachment developed into a fear of losing hold of the past. While the eponymous hero of F. Scott Fitzgerald's The Great Gatsby attempted to recreate the past in the present, I preferred instead to hold on to what remained.
Tangible objects served as portals to the intangible; I kept notebooks from elementary school, saved old voicemails on my phone, and held on to even the most trivial of mementos, like gum wrappers, in order to have an extant link to the people, places, and experiences of my memories. In my mind, preserving my memories of the past in the present validated their having happened, and to lose a piece of my past in the present was to lose the past itself.
In March of 2015, my grandmother passed away. She was the cornerstone of my childhood, practically raising me as my parents worked in the city. My grandmother played a part in all of my happiest memories: teaching me how to ride a bike, driving me back and forth from school, telling me stories before I went to sleep. Upon her death, I lost a beloved family member who was as precious to me as my own life, and the world with her in it that I had known for all my life crumbled away.
I was living in a postmortem world that I never imagined could have existed, and I was unable to find any way of fully bridging the gap back into the world of the past. I had photographs, of course, and clothes she had worn, journals she had written, gifts she had given me—but none of it was enough. Like Harry Potter's resurrection stone, they managed to conjure the image of my grandmother, but they could not bring her back, nor could they represent the entirety of the love and warmth that I missed.
It was my grandmother's death that led me to reconsider my obsession with the past. Up until that point, I had lived my life with a retrospective focus, with a preference for the preservation of old. However, during my period of mourning, I realized that my grandmother would not have wanted me to dwell on her death and to forget to live. Everything she had done for me while she was alive was in service of my future, and to disregard that was to dishonor her memory. My grandmother taught me that I must embrace living in the present, trusting that what really mattered from the past would stay with me.
In about two weeks, I'll be turning eighteen. What a strange thing—the inevitable passage of time! Though my heart feels entirely like that of a child, its vessel has managed to outgrow itself. To be perfectly honest, I never imagined that I would live to see the day I turned eighteen. I don't mean this in a morbid sense—it's just that, throughout all these years, the idea of adulthood always seemed so far away, a fantastic mirage somewhere in the distance, beyond the boundary of where I could ever reach. But come January first, I'll have crossed a threshold, and the door on my childhood years will be gently shut.
However, this isn't to say that my connection with the past will be completely lost. Though her physical form is now a relic of the past, my grandmother's spirit has remained with me in the person I am today whom she has helped to shape, and I trust that she will remain with me still in the person I am becoming. Each moment I have lived of life up to this point will play a similar role, molding the clay of my character—hopefully into someone who is kinder, stronger, braver, wiser—as I look forward into the future.
There will always be a part of us that will never completely relinquish its fondness for the past. Nostalgia is a powerful force, so much so that it was once considered an illness af icting certain groups of people. James Gatz was forever tethered by the remembrance of the past, unable to ever move forward toward the future. However, the plight of Gatsby does not have to be the fate to which we are all condemned.
Instead, the past can serve as the wind in our sails, pushing us past the current as we venture out onto the open sea.
Fu's Winter Picks
by Kristine Fu (V)
The start of the winter shopping holidays begins with Black Friday– a day when retailers hope to turn a profit and our animal instinct of consumerism is unleashed. This past Black Friday, out of all the clothing retailers in New York City, I found myself spending four hours at ZARA (granted, one hour was spent in the horrendous line!). The sale of 30% off was not what attracted the ve hundred people in the store; it was the winter fashion line that defied standard winter wear. In past winters, I had relied on Madewell and Anthropologie for quality sweaters, but I had always found the $90- $130 price tag a bit steep. Moreover, the plain grey sweaters lined in my closet were beginning to look more like a uniform than an expression of personal style.
As for new winter trends, tweed is making a comeback! There is nothing more iconic than the Chanel tweed piece. Coco Chanel's use of the fabric was considered quite revolutionary, as it was inspired by menswear. Tweed is made by weaving the warp and weft, and it uses a variety of different kinds of threads. The unique combinations of colors and the overall irregular appearance makes it a personal fashion favorite. At ZARA, one can find tweed skirts ($39.90), their matching tweed tops ($35.90), tweed dresses of a variety of colors, and even tweed and denim combinations.
Culottes and trousers have become popular as well for their versatility, comfort, and effortlessness. Culottes are flowing pants that resemble a mid-length skirt and are usually paired with a statement belt. They come in a variety of styles ranging from pleated to ribbed. Rather than wearing restrictive black jeans everyday, opt for a pair of culottes or trousers.
Suede and fur coats are timeless winter staples, but be sure to always buy faux! Faux fur is cheaper, easier to clean, and just as fabulous. There is no better way to stand out from a crowd of black puffer jackets than to wear a faux fur coat. Faux suede feels the same as real suede, but is much easier clean and is more resistant to liquid than leather. Not only is suede soft and chic, but it also can be paired with anything. This winter, be sure to dress warm, but also stay fashionable!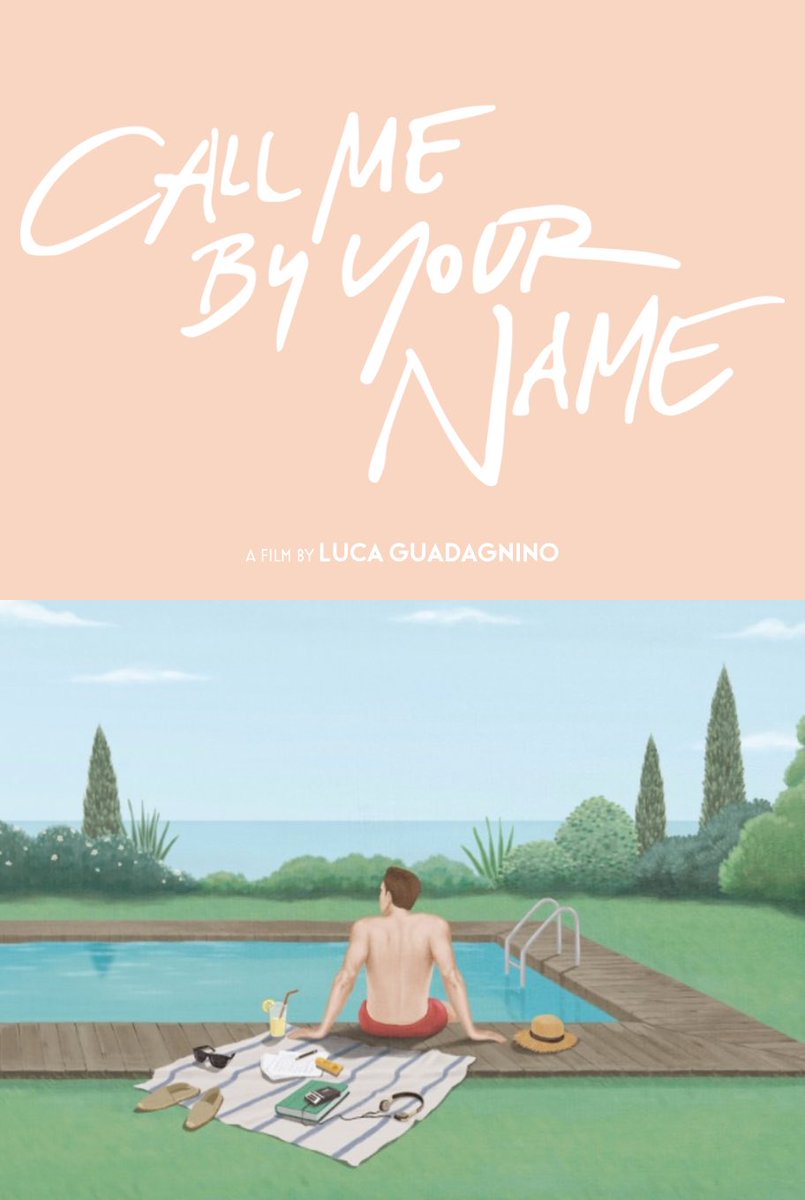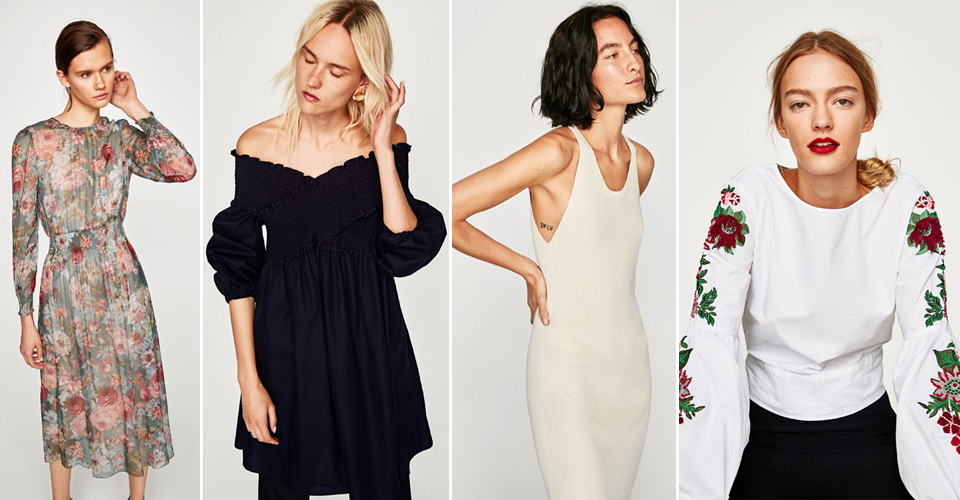 Chen Movie Review
by Vicky Chen (V)
Named the Best Picture of 2017 by L.A. Critics, Luca Guadagnino's controversial Call Me By Your Name explores the harrowing coming-of-age experiences of first love and identity. The movie stars Timothee Chalamet as 17-year-old Italian-American Elio and features his time spent one summer at his family's villa in northern Italy. Armie Hammer is introduced as the early-20s, charming, all-American Oliver, who has come to the villa to study with Elio's father, a professor of Greco-Roman culture.
The film explores the tumbling romance that develops slowly between Elio and Oliver, navigating the turns of life that summer throws at them. Elio spends his summer days playing and composing music for the piano and guitar, biking around the stunning scenery of Crema, Italy, and reading books in the sun. Oliver proves to be a social butterfly in this new community; he wins the affection of Elio's parents quickly, as well as the admiration of all the girls. Elio watches Oliver from the side, quietly keeping to himself. Their relationship begins to slowly develop from their furtive dinner-table interactions into something much more.
As the story is told from Elio's point of view, his crush on Oliver begins to escalate and reveal more about his character. Chalamet portrays his teenage character perfectly, allowing the audience insight into the vulnerability of discovering one's identity. The audience is there at every step as Elio explores his final summer before adulthood. He struggles with his sexual identity, maintaining a sexual but emotionless relationship with a girl around the neighborhood, all while constantly keeping his eye on Oliver. Even though the connection between Elio and Oliver is apparent from the start, both of them work hard to maintain a cold distance between themselves. The movie comes to a climax towards the end, when the tension between the two is finally acknowledged, and they begin an electrifying, mesmerizing, and short-lived hidden relationship.
The realistic portrayal and attention to detail in this film makes it extraordinarily special. Guadagnino maneuvers the sluggish summer days gracefully, depicting a lush and beautiful setting that envelops the viewer in its authenticity. As Elio and Oliver's relationship becomes deeper, their interactions become increasingly awkward. However, it is not bad acting that creates this tension between the characters—their interactions are written to be painfully realistic in their long pauses and flustered statements. Guadagnino perfectly portrays the teenage clumsiness of navigating a first love.
Additionally, Guadagnino manages to integrate every aspect of an idyllic summer into the background of the movie. Using an emphasis on nature and a nonchalant pace, Guadagnino is able to replicate an end-of-summer sense of drowsiness and fulfillment. His visual choices and cinematography enable the viewer to feel present in the scene.
The movie ends with an incredibly intimate scene as Elio sits in front of the fireplace, grief-stricken with emotion after learning over the phone about Oliver's engagement. Everything around him is dynamic, from the flames into which he is staring to the people hustling in the background. As the eerily powerful "Videos of Gideon" by Sufjan Stevens plays softly, tears slowly fall down Elio's face over the course of three minutes. This finale reiterates the rocky journey of adolescence and emphasizes the impact of not only a first great love, but a first great loss.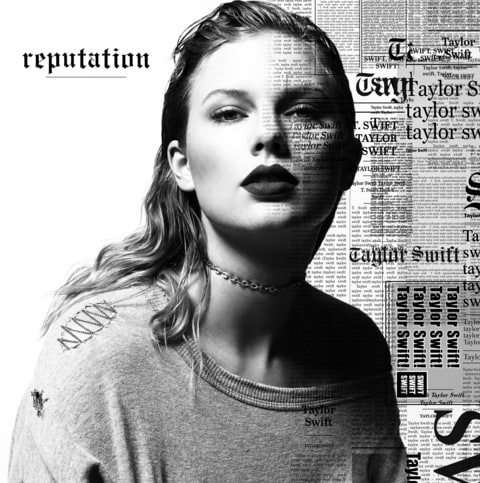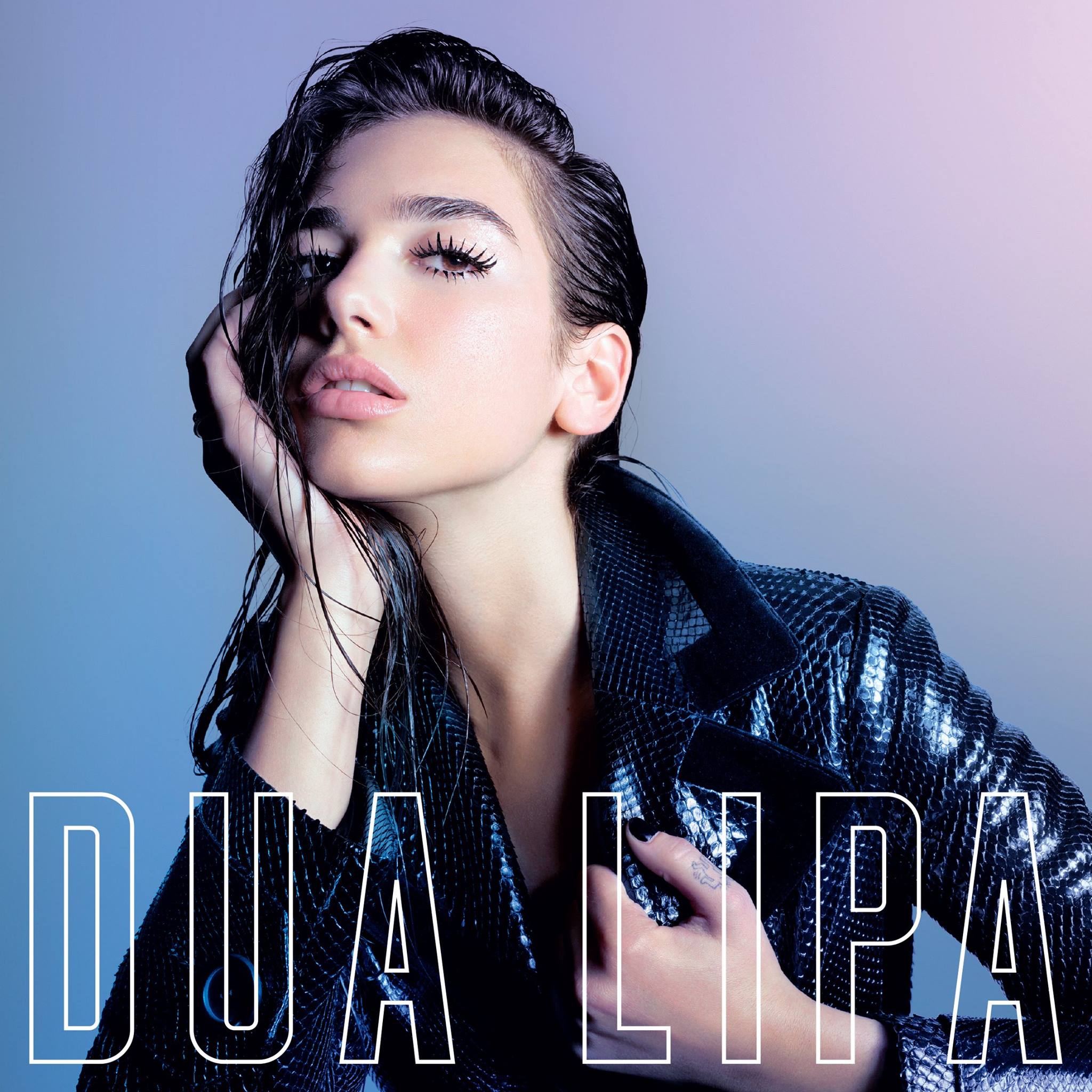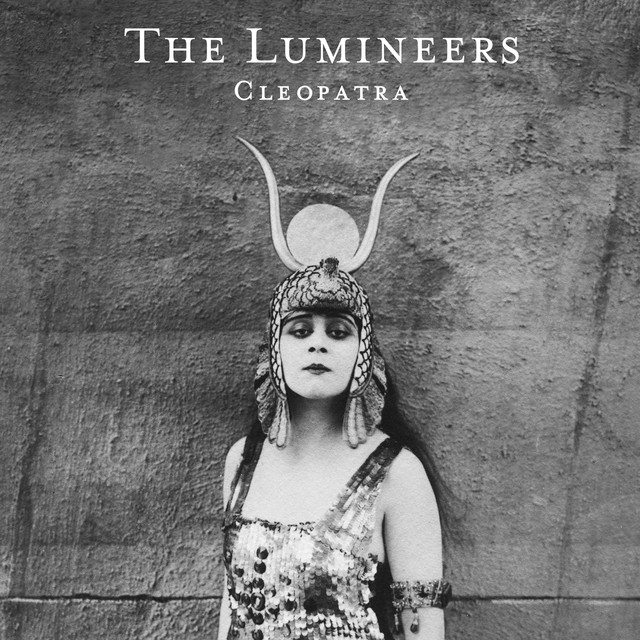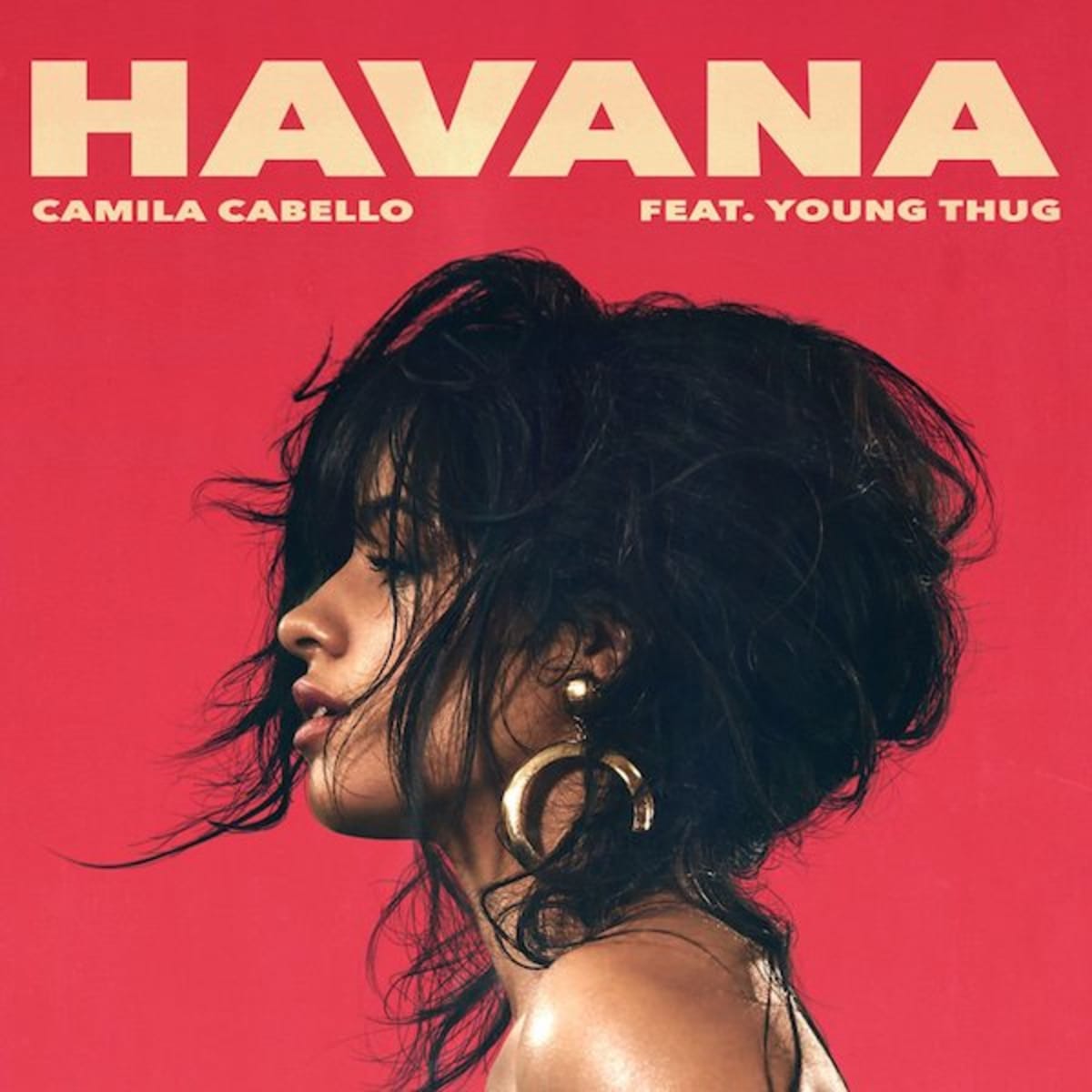 Verdesca's Holiday Hits
by Alison Verdesca (VI)
When the weather outside is frightful and the fire is so delightful, I know we've entered one of my favorite musical seasons of the year: the holidays. Once the calendar shifts to its last page, holiday music is everywhere, playing nonstop on the radio and in stores. In addition to the usual classics, many artists are releasing new songs that, while not typical holiday carols, are catchy tunes to warm me up this winter season.
One of my favorite pop tunes of December has been Camila Cabello's single, "Havana." "Havana" has the perfect combination of sultry, jazz vocals and Latin-inspired instrumentals to make the song a sure fire hit. "Havana" is one of Cabello's first solo songs to take off, after "Crying in the Club" somewhat failed to excite listeners. Previously a singer in the girl band Fifth Harmony, Cabello left the group in 2016. The song masterfully showcases her strong, lusty alto voice and promises some well- deserved solo success for Cabello.
Another newcomer to the pop music scene is Dua Lipa with her song, "New Rules." Although the song has been out since the summer, it recently garnered attention in the fall. "New Rules" is ruling the airwaves as a breakup anthem, matching empowering lyrics with a con dent beat. The song is only the beginning for Lipa, and I anticipate hearing many more hits from her in the future.
Besides these two singles, a lot of new mainstream pop music has not impressed me. Although half of the world is still recovering from the release of Taylor Swift's Reputation, rap remains in the spotlight, with artists like Post Malone and Cardi B releasing smash hits. However, rap isn't my style, so I've been going back through my playlists and listening to some older pop songs. Recently, I rediscovered The Lumineers, an old favorite. The group released its signature album, "Ho Hey," back in 2012. However, some of my favorite songs are more recent, circa 2016. The album Cleopatra has some cleansing, stripped-down instrumentals with poignant lyrics that provided a nice balance to the more auto-tuned selections on my music playlists. Some great songs from the album include "Ophelia," "Angela," "Sleep on the Floor," and "Cleopatra."
Of these, "Sleep on the Floor" has to be my favorite. The music video perfectly encapsulates the feel of the song: two lovers setting off on an adventure. As I dream of vacation season in the dark of winter, I know I'll be listening to The Lumineers on my next long road trip. "Sleep on the Floor" awakens the wanderlust in me. Its drums and guitar create a sinuous song as winding and twisting as a country road in the woods. "Ophelia," the catchiest of the four, showcases lead singer Wesley Schultz's raw vocals and catchy lyrics. "Angela" has a beautiful, lyrical sound to it, and "Cleopatra" brings a nostalgic note with lyrics that long for "the glory days." The combination of piano, guitar, and cello underscores the instrumental appeal of The Lumineers. While the band has a much more folksy sound than typical pop music, I think The Lumineers make for a nostalgic and down-to-earth listen for the holiday season.
Chung Dines on Chung Dam Dong
by Ethan Chung (VI)
There are few things in which I have expertise. Korean Barbeque is one of them. If you ever wish to experience some of the best Korean food, I, a Korean American well-versed in the world of Korean cuisine, highly recommend Chung Dam Dong. It is well worth the trip to New Jersey's Koreatown in Palisades Park to have a taste of authentic Korean food done right. There are plenty of other great Korean Barbecue places in the Fort Lee/Palisades Park Koreatown area, but the quality of meat and the banchan (the included side dishes) are what make Chung Dam Dong stand out.
Whenever eating out is an option, I always push for this restaurant. I get excited every time I see the waitress bring the circular tray of raw meats bathing in a sweet and savory marinade of sesame oil and soy sauce. The platter contains a surplus of short rib pieces, thinly sliced so they can soak up as much succulent marinade as they can and also cook faster on the grill that awaits. The waitress places the raw short rib pieces on the grill, built into the table, so you can enjoy the smell and the sounds of the choice cuts before you have the honor of tasting them. Once cooked, the waitress uses her metal tongs to hand-deliver the pieces of short rib, or "kalbi," to your plate.
Unlike some other Korean restaurants, Chung Dam Dong's kalbi is not served with the attached bones, making the process of quickly devouring the beef right as it leaves the grill very easy. Some like to eat the kalbi by wrapping it in lettuce. I, on the other hand, think that doing so is too time consuming; therefore, I choose to enjoy my kalbi with rice and the restaurant's homemade ssamjang, a mixture of miso paste and red chili paste.
When you bite into each piece of short rib, it almost falls apart in your mouth — it's that tender and delicate. Chung Dam Dong doesn't serve the sad version of Korean barbeque involving tough, chewy pieces of meat where you have to maneuver your way around the remaining bones and fat. No, this restaurant provides exquisite morsels of well-marbled short rib that pack a sweet, savory, and umami-filled punch, leaving you wanting more. 
But it's not just kalbi that Chung Dam Dong does right. I always look forward to the banchan, the free side dishes that provide you with a colorful array of small bites to keep you occupied when waiting for your entrée—think of banchan as a more plentiful amusebouche. The selection of included banchan dishes always changes. In the many times I've dined at Chung Dam Dong, some of the more memorable banchan plates include fried mackerel, steamed egg, fried chicken, fried tofu, porridge, kimchi, and shcake.
At Chung Dam Dong, I've never had to place a reservation or wait too long to be seated, as service is fast and space is ample. The wait staff are all very kind and are always willing to throw in a free bowl of rice or extra servings of a banchan dish you particularly enjoyed. Make the trip to this restaurant in Palisades Park and you will leave with a warm sense of comfort that only excellent homemade food can give you.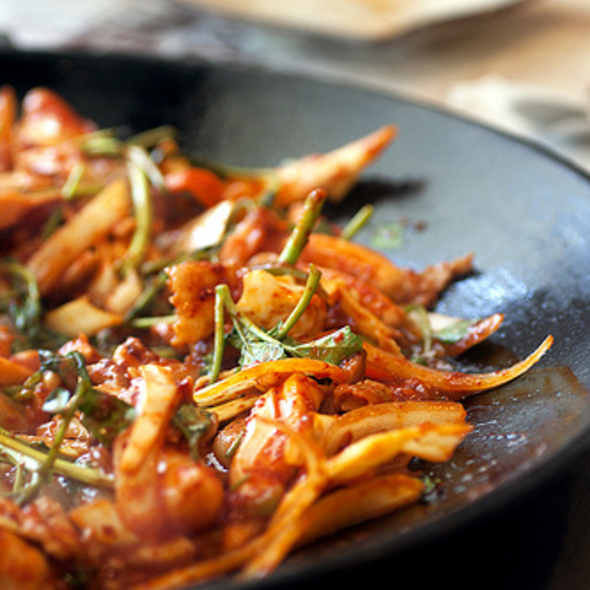 Buttondowns Serenade at Annual Assembly 
by Eva Schiller (III)
On November 21, students and faculty took a break from their busy school days to enjoy the Buttondowns Assembly, a highly anticipated annual event presented by the Buttondowns, Pingry's all-male acapella group led by president Jonathan Huang (VI).
The annual Buttondowns movie opened the show. It was filmed by Ian Dugan (V) and sparked the laughter of many students. The movie's theme was inspired by Agatha Christie's famous murder mystery And Then There Were None. In the movie, the Buttondowns are eliminated one by one, starting with the freshmen. In a twist ending, it was revealed that the freshmen were the murderers, with the moral being to "never mess with freshmen." The movie ended with the tradition of the Buttondowns entering Hauser Auditorium to the song, "We Will Rock You," dressed in the their iconic khakis, white button-down shirts, and white socks.
The first song they performed was "Sunday Candy" by Donnie Trumpet and the Social Experiment, a popular group which features Chance the Rapper. The Buttondowns' rendition featured soloists Nolan Baynes (III) and James Wang (IV).
"This solo was a perfect for me because 'Sunday Candy' is one of my favorite songs," said Baynes, "and to perform it with one of my friends since sixth grade, James Wang, is a dream come true." This song, along with others, was even more memorable as the soloists interacted with the audience, occasionally kneeling down and serenading audience members in aisle seats.
The next song was Ed Sheeran's "Give Me Love" performed by soloists Ore Shote (III) and Jared Tiggs (VI). "Looking back on the assembly, there are things I would have done differently, but I think that everything went better than was planned," said Shote of the performance.
"Give Me Love" was followed by "Just the Way You Are" by Billy Joel, with soloists Rajeev Doraswamy (V) and Ian Dugan (V). After the song, the Buttondowns underclassmen thanked president Jonathan Huang for his contributions to the group. Huang soloed in the nal song, "The Death of a Bachelor" by Panic! At the Disco, to end the assembly.
Reminiscing on his years as a Buttondown, Huang had much to say. After the assembly, he said, "As far as today's performance, I went through many different emotions. I felt a rush of excitement running onto stage, and it was bittersweet singing the last lines of 'Death of a Bachelor.' To the Pingry community: Thank you for being a part of my most special moments at Pingry. I love all of you."
Huang also thanked Dr. Moore "for being the backbone of the group. None of the music would have been made without his endless guidance and support."He also noted that "The time Ian Dugan spent on shooting and editing the movie is unbelievable, and I am very grateful for his amazing work."
The Buttondowns received fullhearted support and positive feedback from the Pingry community both during and after their performance. "The audience was incredible, and all of the Buttondowns felt wonderful hearing the applause and kind words after the performance," said Huang.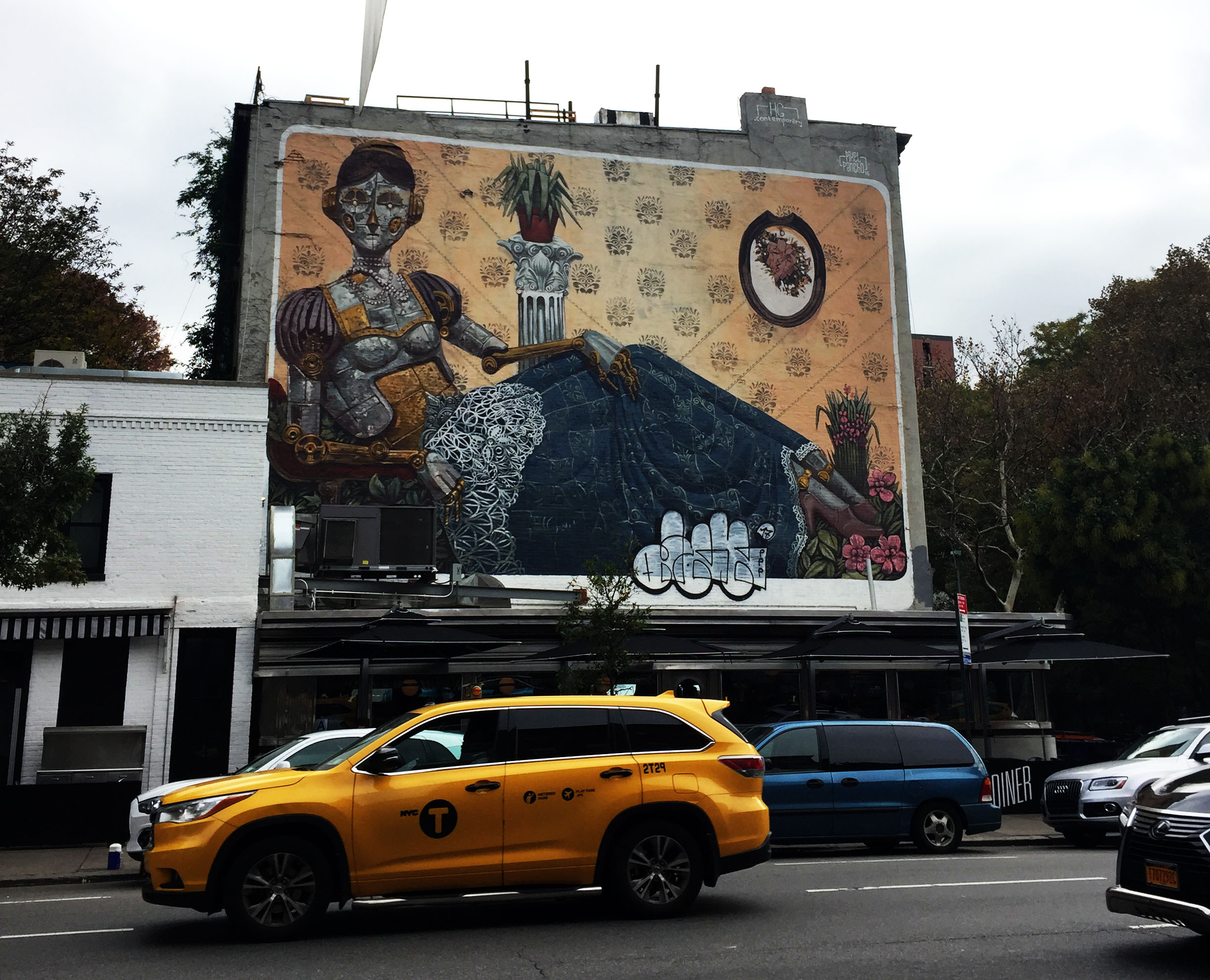 Arts Students Visit the Chelsea Galleries
by Mariam Trichas (VI)
On Tuesday, November 14th, the photography, portfolio, film, and drawing and painting classes visited the Chelsea Galleries in New York City for their annual gallery trip. They went to many different types of galleries, including ones that specialized in photography, painting, and abstract art, inspiring a variety of different reactions amongst the students.
One of the more abstract art galleries the students visited was the Paul Kasmin Gallery, which showcased Lee Krasner's Umber Paintings. Many students commented that these paintings, which looked like random brush strokes, reminded them of Jackson Pollock's paintings. They later learned that Lee Krasner was actually Jackson Pollock's wife.
Another gallery had wooden floors and a variety of suspended sculptures, along with green fuzz-looking material; it looked like a forest of abstract art. Other interesting galleries included one in which there was a gigantic beard suspended in the air, another with a variety of rotating furniture items, and one in which there were photographs of crumpled pieces of paper. 
"This was my second time going on the Chelsea trip, and even though we didn't see as many galleries as last year due to a traffic jam that caused the buses to be delayed, it was still nice to walk around the city and see the variety of artwork," said Jewell Strickland (VI) of the experience. "My favorite part was probably going to Eataly." She added that her favorite gallery was the one with suspended sculptures that looked like a forest.
During the gallery trip, students were given the assignment of taking three photos of art that they liked, three they were confused by, and one they would "gift" to a friend.
After visiting different galleries for around two hours, the students then boarded their buses to which is always one of the students' favorite parts of the trip. There, they lined up at the variety of cafes and counters for pizza, pasta, and other Italian foods and desserts. At school the next day, the classes continued discussions about the gallery artwork as well as artwork they may have been confused by during their art classes.
Overall, the gallery trip to Chelsea was a success much enjoyed by those who went.
Powderpuff Games Raises Awareness for Breast Cancer
by Brooke Murphy (VI)
On October 27, juniors and seniors gathered on the turf for the annual Powderpuff Games. The event was organized by S.M.A.C., the Student Movement Against Cancer club, and students competed in two different events. First, the junior boys played a game of field hockey against the senior boys. Girls from both grades volunteered to referee and coach the game. In the field hockey game, the seniors were victorious with a 6-1 win over the juniors with goals made by players Colin McKinnon (VI) and Austin Parsons (VI).
After the field hockey game concluded, the junior and senior girls took to the field for a game of two-hand touch football. The boys, many of whom are on Pingry's football team, offered to coach and referee the girls in their battle against the opposing grade. Like the boys, the senior girls were victorious over the juniors in their game. Powderpuff was a great way to let seniors destress as the early admissions deadline for college approached. However, this fun event meant so much more than just a way for students to blow off some steam and engage in friendly competition. Taking place during Breast Cancer Awareness Month, the event helped raise money for and awareness about breast cancer.
Mary Nussbaumer (VI), leader of S.M.A.C., said, "While collecting money was very stressful, it was worth it because over 1,000 dollars were raised." For fundraising, Nussbaumer sent out a Google Form for juniors and seniors to sign up for the games and order t-shirts. Each shirt was $20 and featured a special design for this year's games. Nussbaumer worked with Director of Community Service Ms. Shelley Hartz weeks ahead of the games to set a date and gure out logistics. Altogether, 76 seniors and 77 juniors ordered shirts and participated in the Powderpuff events. 
Jessie Carvelli (VI) said that her favorite part of Powderpuff was "the school spirit and infectious good energy." Nussbaumer said that her favorite parts of Powderpuff were, "hanging out with her friends, listening to music, and watching everyone try out a new sport." She added that, "it was really fun to see how into it everyone got, especially as a field hockey player myself." Jason Weiss (VI) said that the best part about Powderpuff was "knowing that we raised a lot of money for charity."
To further help organize the games, Nussbaumer teamed up with the Big Blue Pride Committee to order pizza and decorations for the event.This event would not have been possible without the help of Coach Hannah Decatur and Mary Drabich, who chaperoned the event; Bruce Morrison, who took pictures; Ms. Erin Rose and Mr. Stephen Spezio, who were there to help in case anyone got hurt; Ms. Hartz, who coordinated the event with Nussbaumer; and the Big Blue Pride Committee, who provided refreshments and decorations for the event.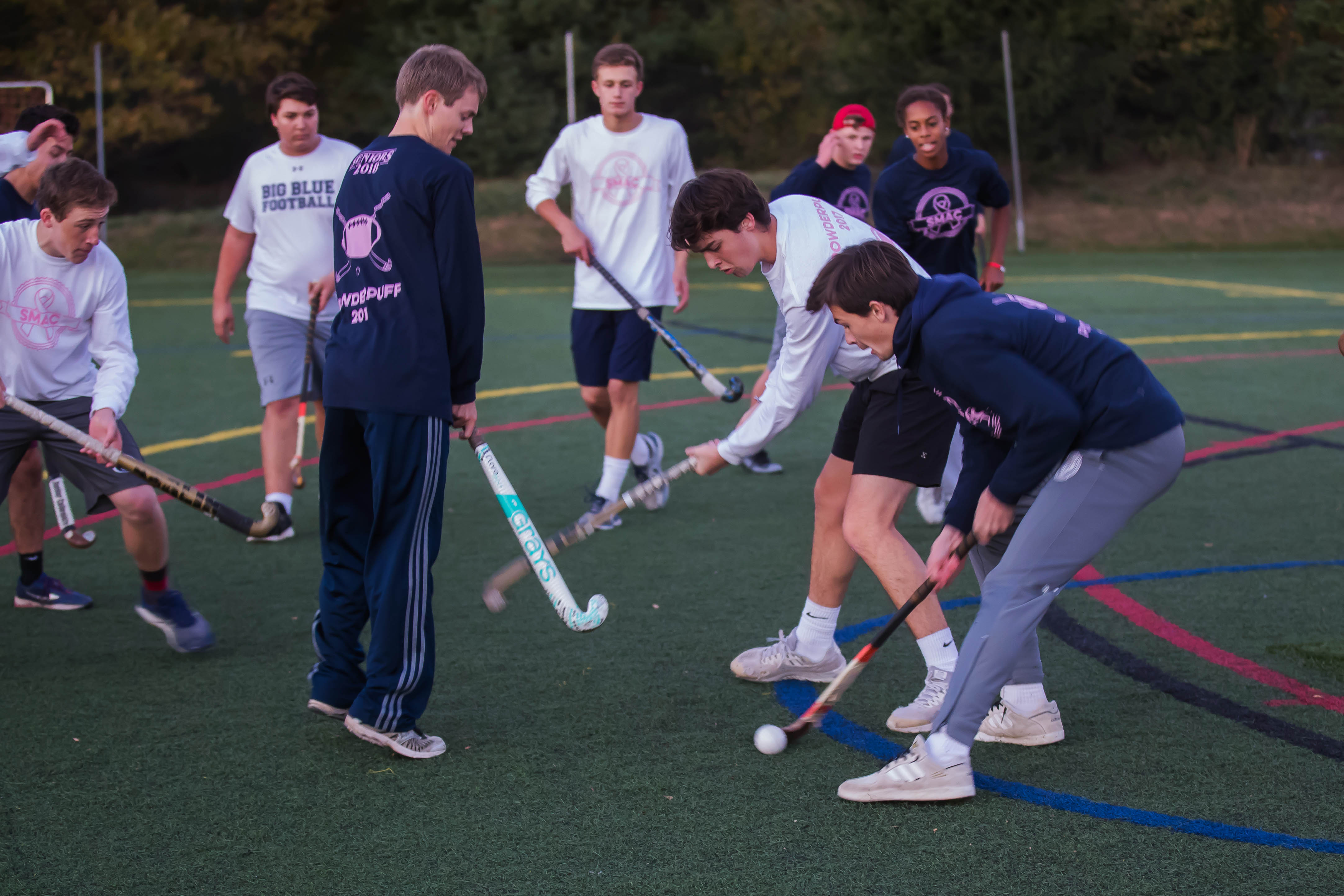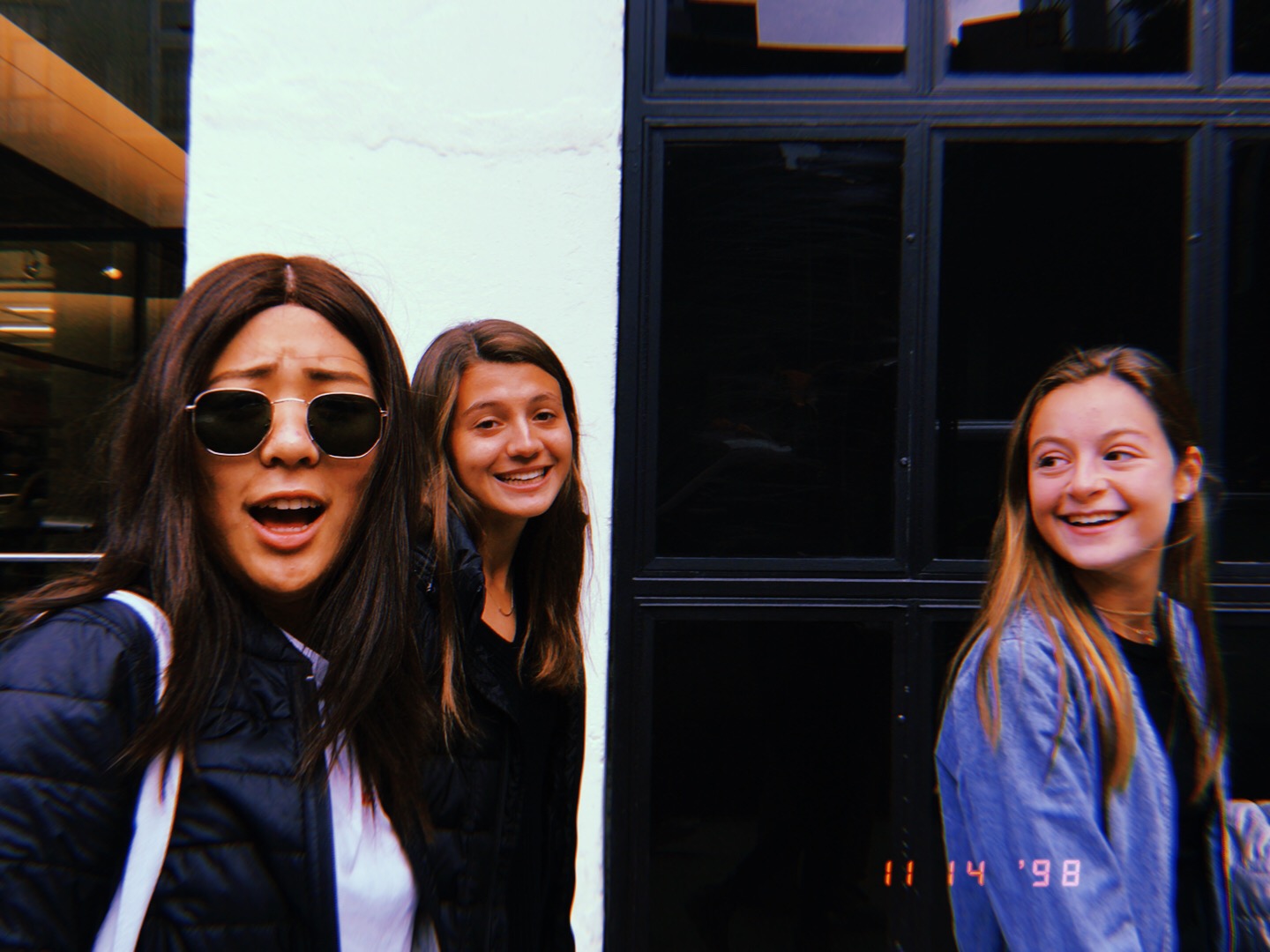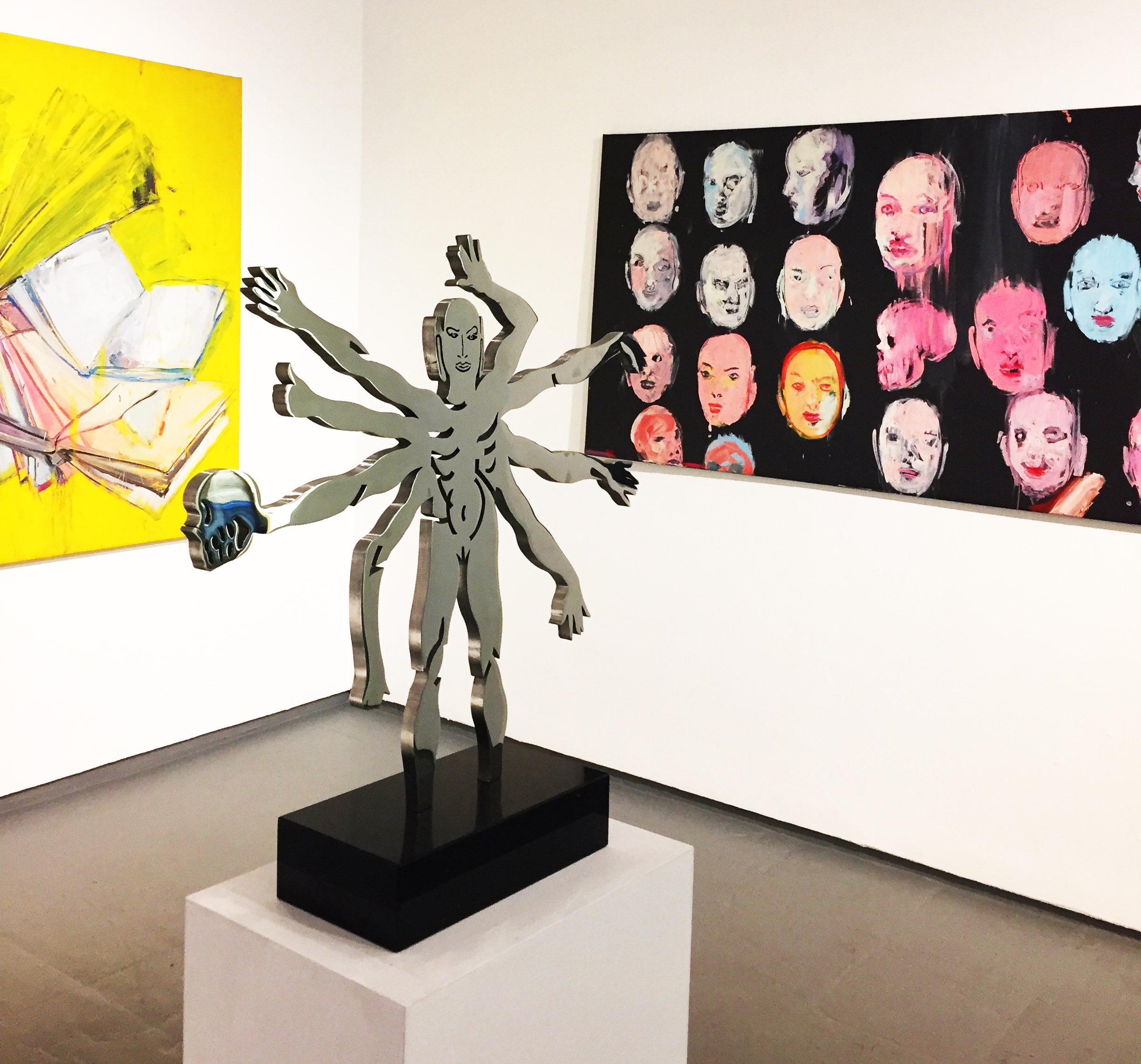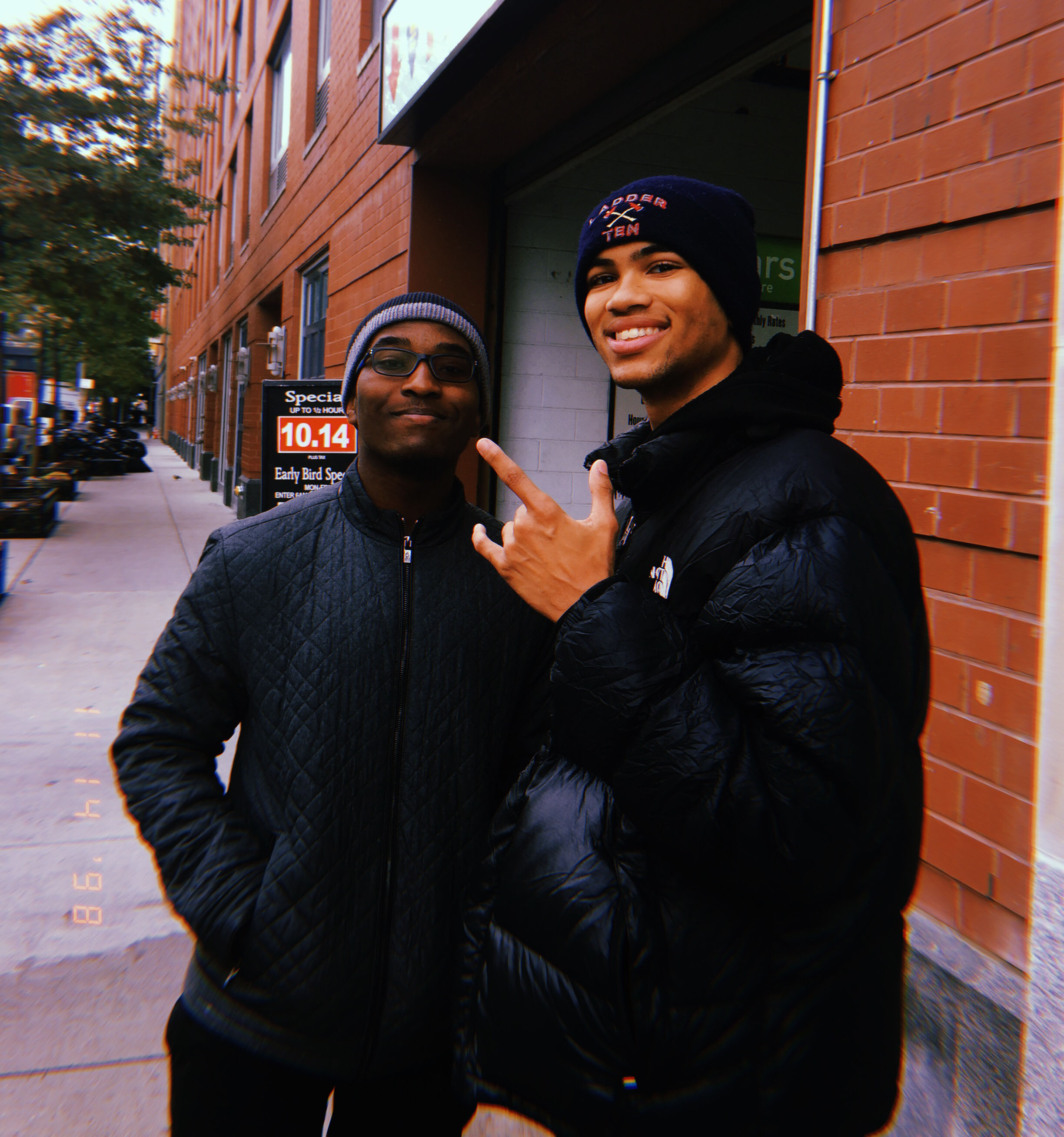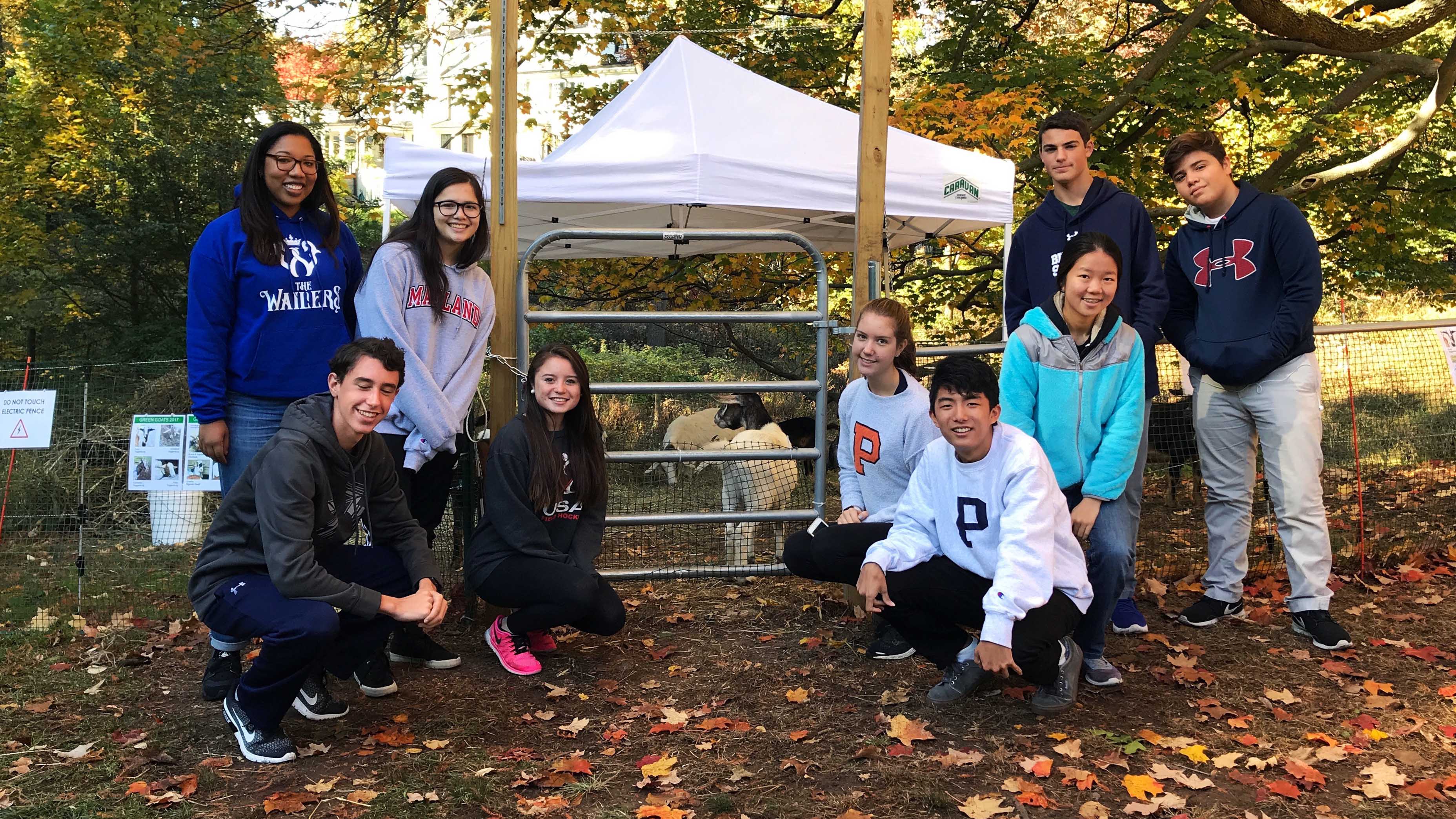 Students Give Back on Community Service "Rufus Gunther" Day
by Felicia Ho (V)
On October 27th, over 800 Upper and Middle School students, faculty, and staff volunteered at 34 organizations for Pingry's annual Rufus Gunther Day. Students worked on a variety of different projects, including making ceramics, helping the facilities team, building a chicken coop, performing music for senior citizens, and working with students at local charter schools. Rufus Gunther Day has been an integral part of the Pingry tradition since Pingry was at the Hillside campus. It is the one day in the school year during which the entire Pingry community devotes itself to community service.
Ms. Shelley Hartz, Director of Community Service, has successfully developed several partnerships with local and alumni-founded community service organizations, leading to a variety of service opportunities on Rufus Gunther Day. Ms. Hartz shared that she loves how "when the students are returning, they are all excited about the time they spent in the community… and how much the day meant to them."
Students, staff, and faculty volunteered at organizations like the Community Food Bank in Hillside, ECLC (Education, Careers & Lifelong Community), and the Great Swamp, all of which have long-standing partnerships with the Pingry community. Many also volunteered with non-profit organizations started by alumni, such as Birthday Wish, the Christopher and Dana Reeve Foundation, the John Taylor Babbitt Foundation, and the Keep the Children Safe Halloween Parade.
Several service opportunities were new to Rufus Gunther Day this year. 13 Upper School drama students played improvisational theater games at Montgomery Academy in Basking Ridge, a school for students facing social, emotional, and academic challenges. Twenty-seven Upper School students performed music for children and elderly at the Cornerstone Family Programs and Morristown Neighborhood House. Monica Chan (III), who performed at Cornerstone Day Center for Adults with the Horizon Music Volunteers group, said, "It was a rewarding experience for me. I find happiness in making people smile, no matter who, no matter where."
This year, the Middle School was split into several different groups, with 150 students (Grade 6 and most of Form I) volunteering at the Community Food Bank in Hillside and other students volunteering at the Great Swamp or remaining at Pingry to help with campus projects. The Middle School also collected and sorted 1,795 pounds of candy to donate to the Keep Children Safe Halloween Parade in Newark, led by Pat Birotte '87.
Reflecting on the successful day, Ms. Hartz said that she is thankful "that the best part of my job is working everyday with committed and engaged students who are constantly looking for ways to engage with the larger community."
Veterans Day Assembly Inspires Courage
by Allison Lee (IV)
On November 11, the Upper School had the honor of hosting Sergeant Jason Foster for this year's Veterans Day assembly. Ryan Willsey (VI), founder of Pingry's Wounded Warrior Project Club, introduced Foster as the speaker for the assembly. Foster is a former combat medic in the U.S. army. He enlisted in the army when he was twenty-one years old and proudly served for nine years.
Telling stories from his experience as a combat medic, Foster spoke of the struggles of war. He said, "We were shot at and blown up by improvised explosive devices. I was knocked unconscious on four separate occasions. Most 21- year olds are playing drinking games; I was cradling a warrior in my arms as he died." He added, "You grow up fast."
Foster, who had planned on dedicating his career to protecting our nation, encountered a complication when doctors discovered a brain bleed the size of a quarter in his right frontal lobe. This injury forced him to medically retire from the army in 2011.
Foster's purpose in the army had always been to help others, so when he returned home, he "felt absolutely worthless." His wife Theresa helped him out of the dark by contacting the Wounded Warrior Project, who helped Foster find a new purpose: guiding fellow warriors.
Based on the way he found new meaning in his life, he encouraged students and faculty to use their talents to give back to their community. "More often than not," Foster said, "your actions might go unnoticed. But they make a difference. Everything you do matters. You have unique talents that you can use to give back."
 He then brought Willsey back on stage to commend and thank him for his work with the Wounded Warrior Project.
Regarding his involvement with the Veterans Day assembly and the Wounded Warrior Project Club, Willsey said, "I have many members in my family who have served in the military and I suppose that is one of the reasons why the military and veterans are important to me." He continued, "From a young age I have been taught to respect their sacri ce for us. Not only are their stories incredibly moving, but their perseverance to overcome everything they have gone through is truly amazing."
As Foster closed his speech, he implored Pingry to embrace its sense of community. He mentioned that, in a few months, Pingry might not remember who he is or what he said. Instead, Pingry will remember how he made them feel. The assembly ended with a moment of silence for soldiers who served and lost their lives in the military.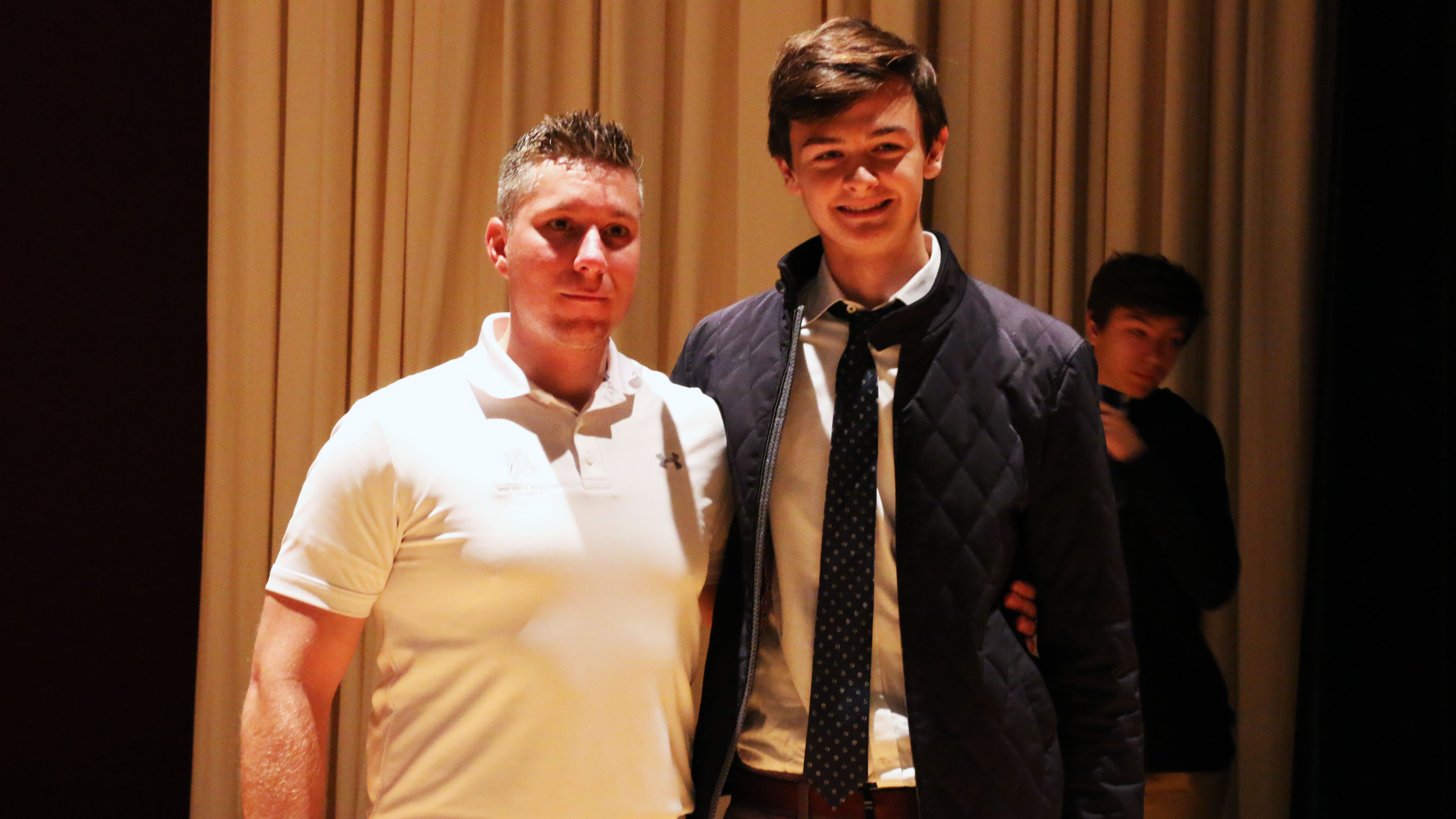 Club Spotlight: Podcast Club
by Kristine Fu (V)
Pingry's Podcast Club is a new club started by Annaya Baynes (V) and Udochi Emeghara (V) that gives students an opportunity to create an anthological podcast. A podcast is an auditory episodic series ranging from informational talks to audio drama. Audio dramas, which are the podcasts that the club is currently working on, are purely acoustic performances that have no visual components. Baynes described them as "a totally unique way to experience fiction." The five episode series that the club is currently making draws from the talent of its 15 members who are working together to write a script. In Baynes' words, the theme for this anthology is the "folly of humanity." The club is currently in its voice casting process, and the expected release of this intriguing podcast is early December. In an interview with the club leaders, Annaya Baynes and Udochi Emeghara, we learned about the creative process and their current project.
Where did this idea of podcast club come from?
Annaya: I listened to fifty different podcasts this summer and I realized that I can do this! I bought a mic and I researched questions like: How do you write a podcast? How do you write a script? What type of equipment do you need? We have a lot of creative people in our school and we can do it.
What is the story-making process like?
Annaya: It's ideal to have a smaller club, but it's also good to see that there are so many of us interested in podcasts. There are roughly 15 of us in a classroom and it gets pretty hectic. You want to make sure that everyone's voice is heard, but you also don't want the result to be a jumbled up mess. There's a lot of yelling and talking over one another, but it's a very creative process.
What makes recording stories different from writing stories or acting them out?
Annaya: When you are writing for an audio drama, there is an inherent disadvantage because a play is something that an audience can see onstage. There is so much more that can be done with body language. An audio drama has to have the same clarity that you would have with a visual play but still not be telling and not showing.
Udochi: All that audio dramas have is the intonation of the voice, and how you can make people feel a certain way by just the sound of your voice is really really difficult to do.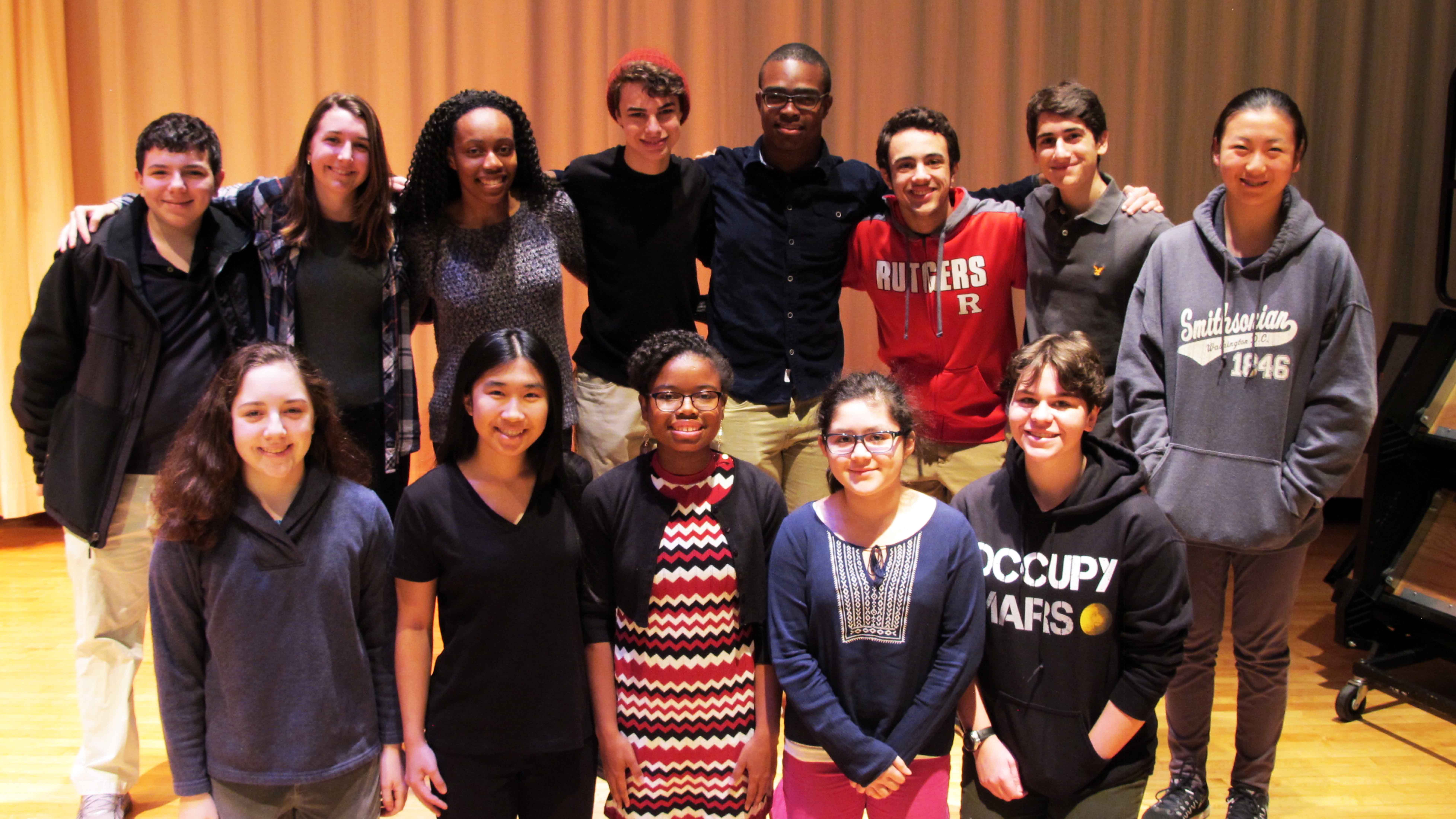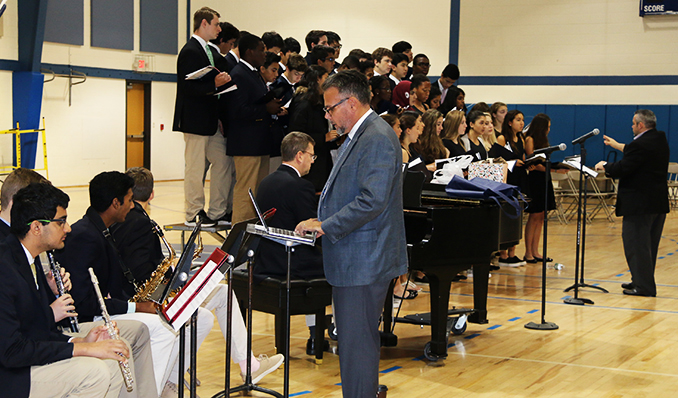 Pingry Music Joins Together at Ensembles Concert
by Grace Wang (III)
During the week before Thanksgiving break, four of the school's musical groups performed in this year's Ensembles Concert. The concert consisted of the strings ensemble, the Buttondowns, the Balladeers, and the jazz band.
The concert took place in a transformed senior area, where the senior couches were replaced with chairs and benches for the audience. Faculty, friends, and family stood and sat from the library balconies all the way down to the senior area.
The strings ensemble set the tone for the concert, beginning with "Ashokan Farewell" by Jay Ungar with strings teacher Ms. Vera Izano playing alongside her middle and high school students. A few select students performed Beethoven's String Quartet No. 4, namely Rebecca Lin (VI) and Felicia Ho (V) on the violin, Ethan Chung (VI) on the cello, and Ms. Izano and Jessica Li (VI) on the viola. The strings ensemble then finished off their performance with an arrangement of Hungarian Dance No. 5 by Johannes Brahms, with Head of the Music Department Dr. Andrew Moore accompanying on the piano.
The strings ensemble was followed by a combined performance by the Balladeers and the Buttondowns. The two groups joined to sing a moving rendition of "Over the Rainbow" arranged by Mark Hayes and "Bridge Over Troubled Water" arranged by Kirby Shaw.
The Balladeers continued the performance, wearing their signature black dresses and purple sashes around their waists. The Balladeers' performance was coordinated by music teacher Mr. Jay Winston. The a cappella group arranged themselves in a semi-circle and sang "The Sound of Silence" arranged by Balladeers president Maya Huffman (VI). Ashana Makhija (IV) sang the opening solo, and Nicole Gilbert (IV), Isabel Devito (V), and Anna Wood (VI) joined in with their own solos throughout the song. The Balladeers then sang "The Seal Lullaby" by Eric Whitacre and ended with "Fireflies," also arranged by Maya Huffman, with soloist Nina Srikanth (IV).
Following the Balladeers, the Buttondowns continued the concert with the traditional Korean folk song "Arirang," arranged by Brad Printz, with guest soloist Alyssa Chen (VI) on the flute. The group then took on the pop song "Just the Way You Are," arranged by former Buttondown James Robertson '17 and the current Buttondowns president Jonathan Huang (VI), with strong solo performances by Rajeev Doraswamy (V) and Ian Dugan (V). They then concluded their part of the concert with "Death of a Bachelor" by Panic! At the Disco, arranged by Jonathan Huang, who also was the featured soloist. Alex Kaplan (III), Nolan Baynes (III), Ian Dugan (V) and others took on supporting parts in the song.
The performance concluded with the jazz band directed by music teacher Mr. Sean McAnally. The ensemble performed the songs "Red Clay" by Freddie Hubbard, "Stop" arranged by Sean McAnally, and "Better Get It In Your Soul" by Charles Mingus, all of which frequently featured improvisations by different members of the group.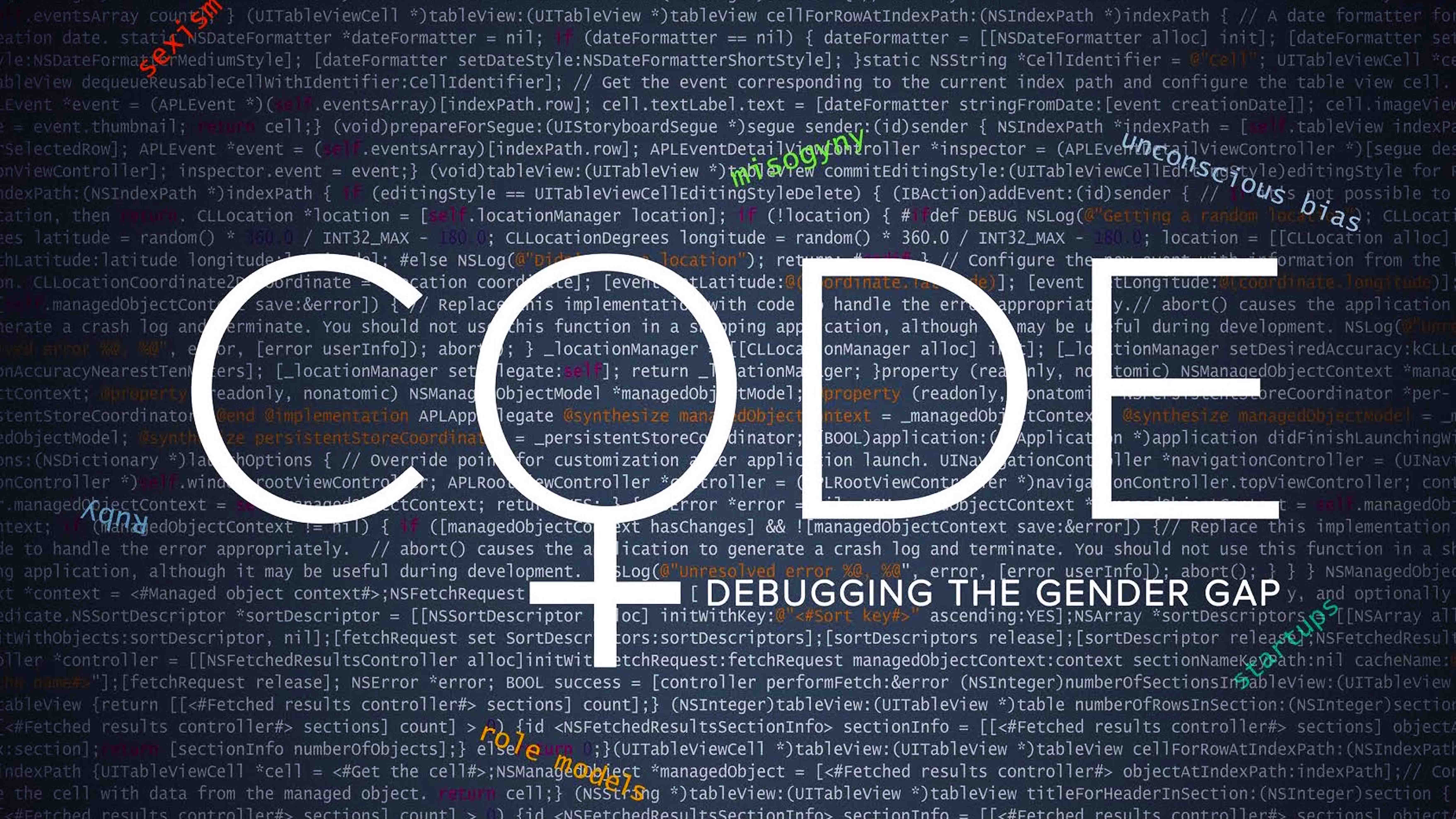 Davey Hosts Viewing of CODE
by Ketaki Tavan (V)
On Wednesday, November 8, Namita Davey (VI) hosted a showing of the film CODE: Debugging the Gender Gap in Hauser Auditorium after school. The event was open to Upper School students and garnered over 15 attendees. The documentary, as explained on its website, "exposes the dearth of American female and minority software engineers and explores the reasons for this gender gap. CODE raises the question: what would society gain from having more women and minorities code?"
Davey first viewed CODE at the Girls Who Code Summer Program, where she noted that the film was "not only on an important topic, but also really well done in that it highlighted the most important aspects of the issue of the gender gap in techfields." At the summer program, Davey also had the opportunity to attend a question-and-answer session with the film's director, Robin Hauser Reynolds. During this session, Davey was most impacted by Reynolds' sharing that what inspired her to make CODE was the fact that her daughter did not have the option to learn computer science in school. 
"Many schools don't have a computer science curriculum because there is a serious lack of computer science teachers," Davey said. Inspired by CODE's message and execution, Davey sought to bring it to Pingry. When asked what effect she hoped CODE would have on the Pingry community, Davey said, "For students, especially females, I hoped that it would make the subject and field of computer science less intimidating. It's often seen as a 'man's field,' and I think the movie does a really good job of disproving that." She added, "I hope that showing the movie at school was a step in the direction of dispelling the myth that men are better than women at computer science, and that as a result, more girls will become interested in computer science at Pingry."
Jackie Chang (VI), who attended Davey's showing of CODE, commented, "The movie really opened my eyes about the gender gap in the technology industry." She added that the movie prompted her to consider the gender gap that exists in the broader world as well. "It was inspiring to see both women and men talk about this issue," Chang said.

When discussing computer science at Pingry, Davey noted, "I am so fortunate to have a female computer science teacher and a class that is split rather evenly in terms of gender distribution." She then drew the connection that "there are a lot of people in other schools who don't have this same privilege." She added, "The movie does a good job of reminding people that the gender gap in tech fields is still a very real problem, popping the Pingry bubble that we sometimes live in."
Farm Team Brings Chickens to Campus
by Ryan Fuentes (VI)
After the introduction of eight chickens to campus this summer, the Farm Team has been working hard to take care of them and make coop improvements over the past several months. While they adapt to their new home and prepare for winter, the chickens are becoming an important group within the community, both as lovable animals and as tools to teach students about sustainability.
The overall project has been implemented thanks to former art teacher Mr. Peter Delman, who now holds the title of Pingry's first Sustainability Coordinator. He worked with alumnus and architect Scott Loikits '90 to design several projects for a green campus last year, including a farm. The first students to work with the chickens were part of a one- week summer course, "Excursions in a Green World," in which the students learned about current campus sustainability initiatives.
Led by faculty advisor Ms. Olivia Tandon, Farm Team was formed at the beginning of the school year to manage the continued care of the chickens by students. Most recently, it has focused on building a winter coop for the chickens. The previous coop functioned as a place to lay eggs, but the new one also provides a place to perch and rest at night, which is especially important during the winter months.
Regarding student-chicken interactions, Ms. Tandon described how the chickens are friendly and accustomed to working with humans. Among themselves, it may be another story, as they have established a clear pecking order. "Grenda is at the bottom," noted Ms. Tandon, but she explained that the coop was big enough that each chicken had enough space to prevent real conflict. 
Ms. Tandon brought the chickens with her when she moved from Brooklyn, where she first got involved in sustainable farming through volunteering at a local community garden. Now, she is "really interested in teaching students about where food comes from." The chickens' eggs have been a feature at the Garden Lunch, which is run by students and faculty.
With the winter coop completed, Farm Team is presently focusing on feeding and managing the chickens. Ms. Tandon sees a lot of potential for the large amount of unused land within the school. In the long term, she hopes not only to expand the coop itself but also to dedicate more fields to growing crops. As Nick Ladino (VI) said, "Farm Team is great. I love going back to nature and taking care of my chickens!"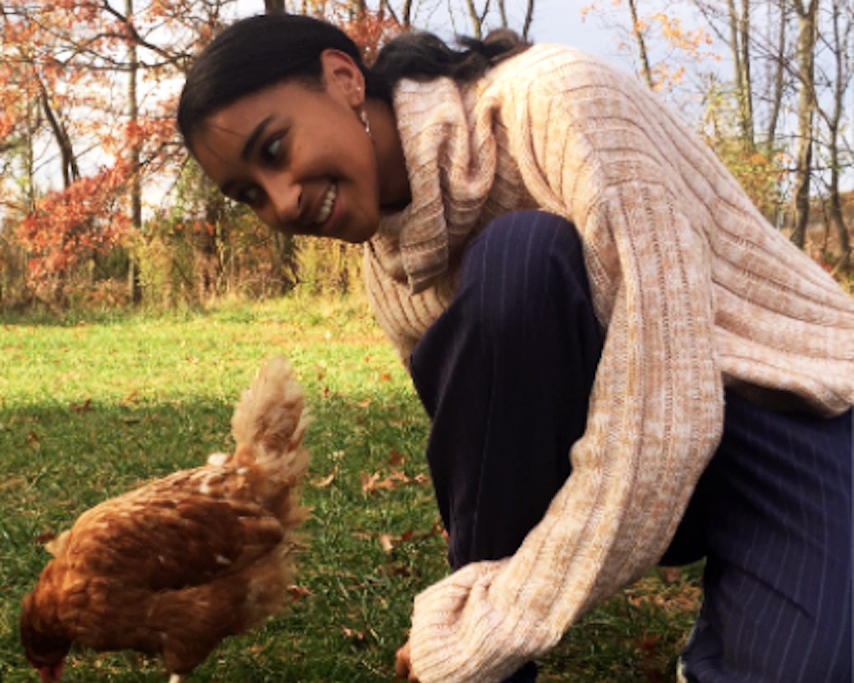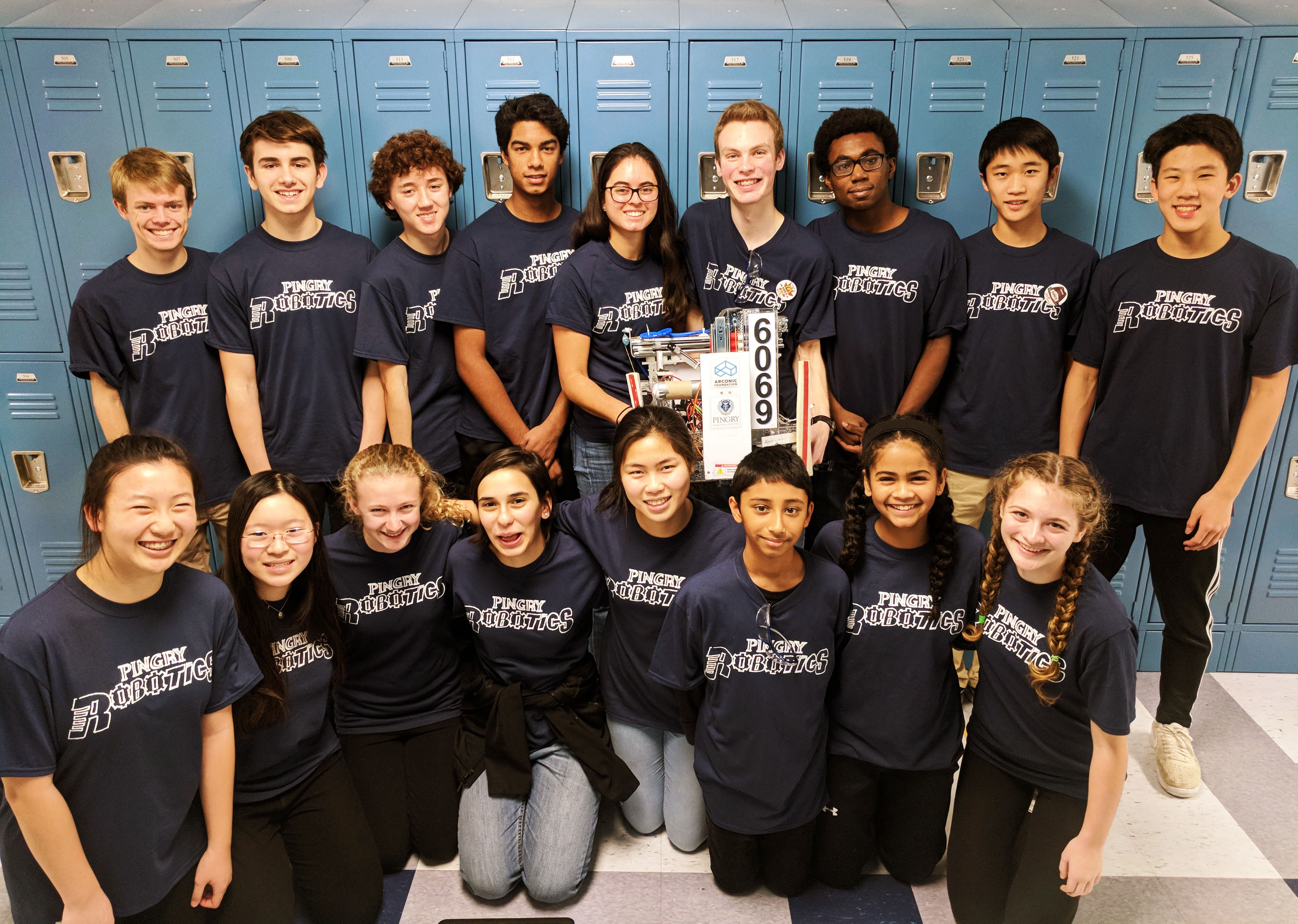 Robotics Team Tackles First Tech Challenge
by Noah Bergam (III)
Tucked at the very east end of the school, beyond the cafeteria, below the crossroads of the foreign language wing and arts wing, lies one of Pingry's best kept secrets— the mysterious, metallic robotics room.
In this legendary room full of power tools, wires, machines, nuts, bolts, computers, and old robots, Pingry's robotics  team has been preparing for its winter season of competition, the First Tech Challenge. Meeting during CPs, athletics, and sometimes after athletics, the team of over 30 students has been creating a notably effective robot in the hopes of qualifying for the New Jersey State Championships, and perhaps even the World Championships later on.
First, some background on how FTC competitions work.
There is a different game played each year. Each game is played by two alliances of two robots. In a game, there is both an autonomous portion, in which robots run on pre-written codes, and a tele-op period, in which drivers control their team's robot.
There are essentially two rounds at each competition: the qualification round and the alliance tournament round. The quali cation round is a series of randomly generated games that, once finished, creates a ranking for all the teams at the competition. The alliance tournament begins once these rankings is determined. The top ranking teams pick two other teams to create their own alliances. The alliances then play in a single-elimination bracket, and the winning alliance wins the competition as a whole and may qualify for the next round of competition (e.g. winning certain regional competitions qualifies a team for States).
The challenge this year is called Relic Recovery, which mainly involves stacking rows and columns of "glyphs" (foam cube game pieces) in order to get points. Other ways to get points include parking the robot, placing the plastic "relic" in certain "zones," and balancing the robot on a surface.
Pingry's team has had a fantastic showing at its tournaments so far. In its rst tournament at Bayonne High School, Pingry placed fourth in qualifications and made it to the semi nals of the alliance tournament. Team captain Alex Strasser (V) said it "was a great success" as an initial showing and that, afterwards, the "biggest things to x [were] the autonomous, the glyph arm, the relic arm, and a lot more driving practice."
While the team did not add a working relic arm for the next competition at Central Jersey College Prep, it did have a much more consistent autonomous code and overall driver control that launched the team into fourth place in qualications once again and ultimately the nals of the alliance bracket. It narrowly lost two out of three games in the series, but the effort by and results from drivers Derek Huffman (IV) and Julian Lee (III) were still very impressive.
Pingry's most recent competition was on December 10 at Livingston High School, and it was the first state qualifying tournament of the season. They were the second place alliance and came very close to qualifying. Their next tournament is on January 6th. Wish them luck!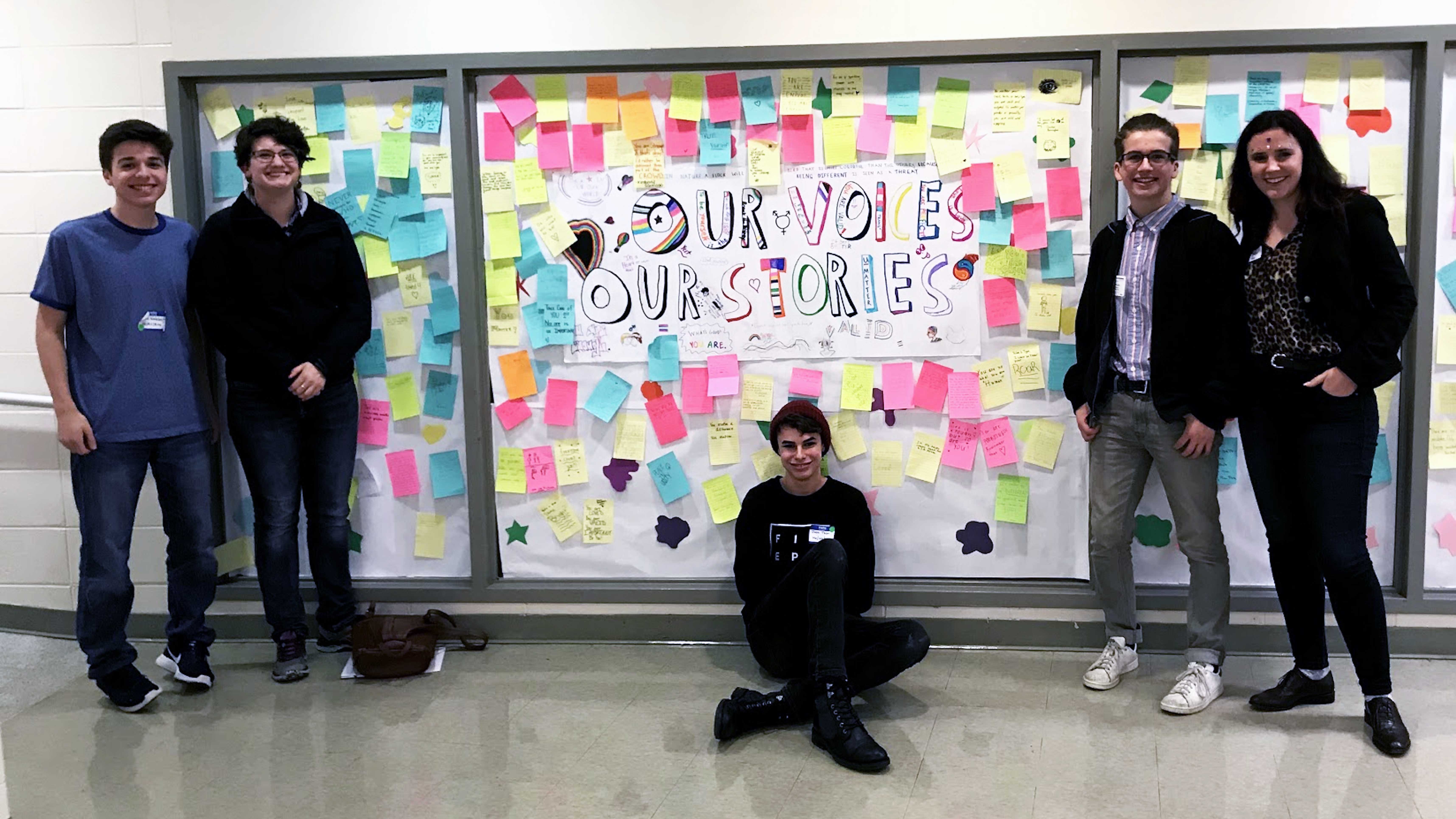 Gay Straight Alliances Convene at GS
A Foru

m
by Miro Bergam (V)
On November 18, Gay- Straight Alliances (GSAs) from high schools across New Jersey met at Montgomery High School for the fourteenth annual New Jersey GSA Forum. The event aimed to connect NewJersey GSAs with local charities and resources, such as GLSEN, Hi- TOPs, and the ACLU, as well as connect New Jersey GSAs with each other. The theme of the forum this year was "Our Voices, Our Stories."
Along with Ms. Kathryn Smith, Assistant to the Chair of the Diversity and Inclusion Department and Upper School Latin teacher, and Ms. Stephanie Mygas, Upper School science teacher, the student leaders of Pingry's GSA attended keynotes and workshops throughout the day to learn about a variety of different topics ranging from privilege to self-care to building a better GSA.
The day began at 9 AM. An impressive showing of over six hundred attendees seated themselves in the central auditorium to mingle and listen to opening remarks. A keynote panel was held, featuring four prominent LGBTQ+ youth leaders in New Jersey. The panelists introduced themselves and answered questions regarding their identities, touching on the event's overall theme of sharing LGBTQ+ voices and stories.
After the panel, there were three rounds of workshops with a short break for lunch in between. The workshops ranged from the hands-on  "Salon," in which partici-pants learned about and engaged in the queer tradition of drag style and makeup, to the informative "Know Your Rights," where participants took a deep, analytical look at New Jersey's protections for LGBTQ+ students.
Other workshops included "HIV: Break the Silence," which educated attendees on how to protect themselves from HIV, and "The Power of Storytelling," which gave participants the opportunity to explore the many ways they can share their unique story.
"This was my second year attending the GSA Forum and I can see how it has impacted our students," said Ms. Smith regarding her experience at the event. She continued, "It allows students to grow as activists and people, and affirms to them that they are part of a community that stretches way beyond their friends and school community."
Ethan Malzberg (V) said, "The forum was an eye-opening opportunity to learn about the current state of the LGBTQ+ community. It was really insightful to meet so many peers and adults who I can relate to." Those who attended the event look to bring the information and skills they have gained back to the Pingry community through working with Pin- gry's GSA and Diversity and Inclusion Department.
Boys' Swimming
By Jonathan Chen (V)
This year, Pingry boys' swimming will look to improve on last year's suc- cessful season. After nishing last sea- son with wins at Conferences, Counties, States, and Preps, new swimmers have joined the team, making Pingry's team a swimming powerhouse in the state.
The team has considerably im- proved its depth from last year. Captain Billy Fallon (VI) said, "Our team is incredibly deep this year due to not only the return of many contributors from last year but also the addition of multiple standout freshmen."
Additionally, according to Meet of Champions swimmer Jonathan Chen (V), "The coaches and the swimmers treat each other with respect and dignity, which creates a positive environment for success and ultimately encourages other swimmers to work hard and strive for excellence."
As the team gears up for a strong season, it looks to have a signi cant matchup with Bridgewater- Raritan High School. Referring to one of Shakespeare's bloody tragedies, Coach Graig Peterson said, "Titus Andronicus is our duel in the pool with Bridgewater."
Big Blue boys' swimming had its rst home meet on December 5th against Watchung Hills, winning with an impressive 135.5 – 31.5. Seven swimmers had won at least one event, and Pingry took rst and second in all its relay heats. The team's most recent meet was on December 12th against Hunterdon Central, which is ranked seventeenth in the state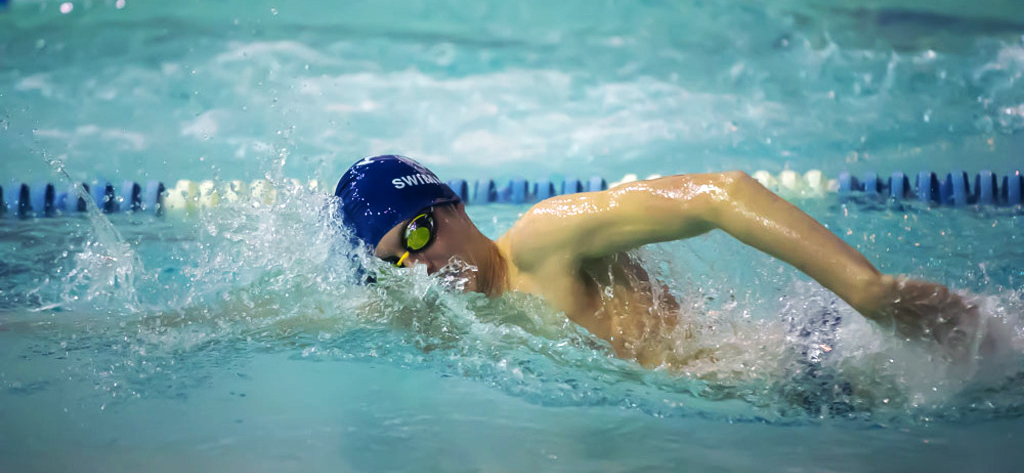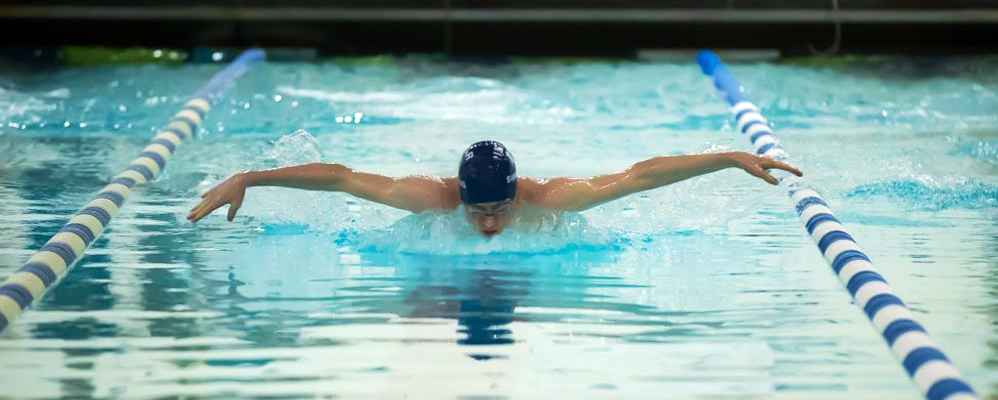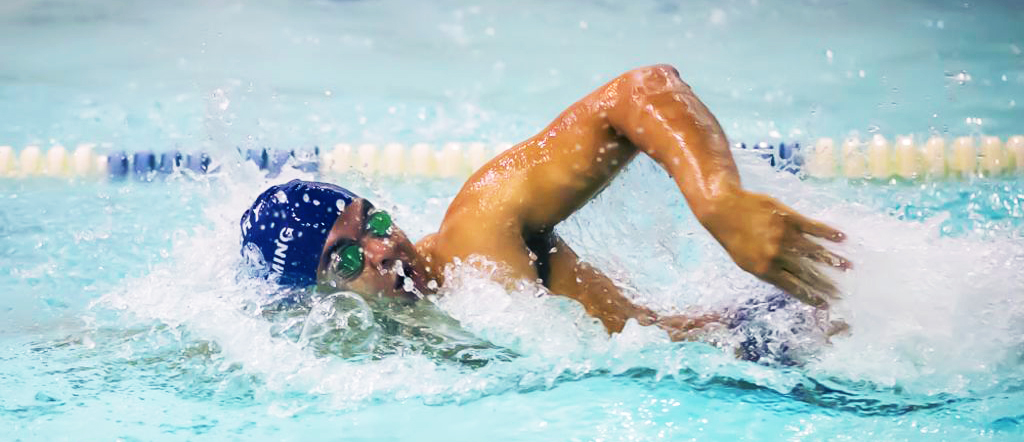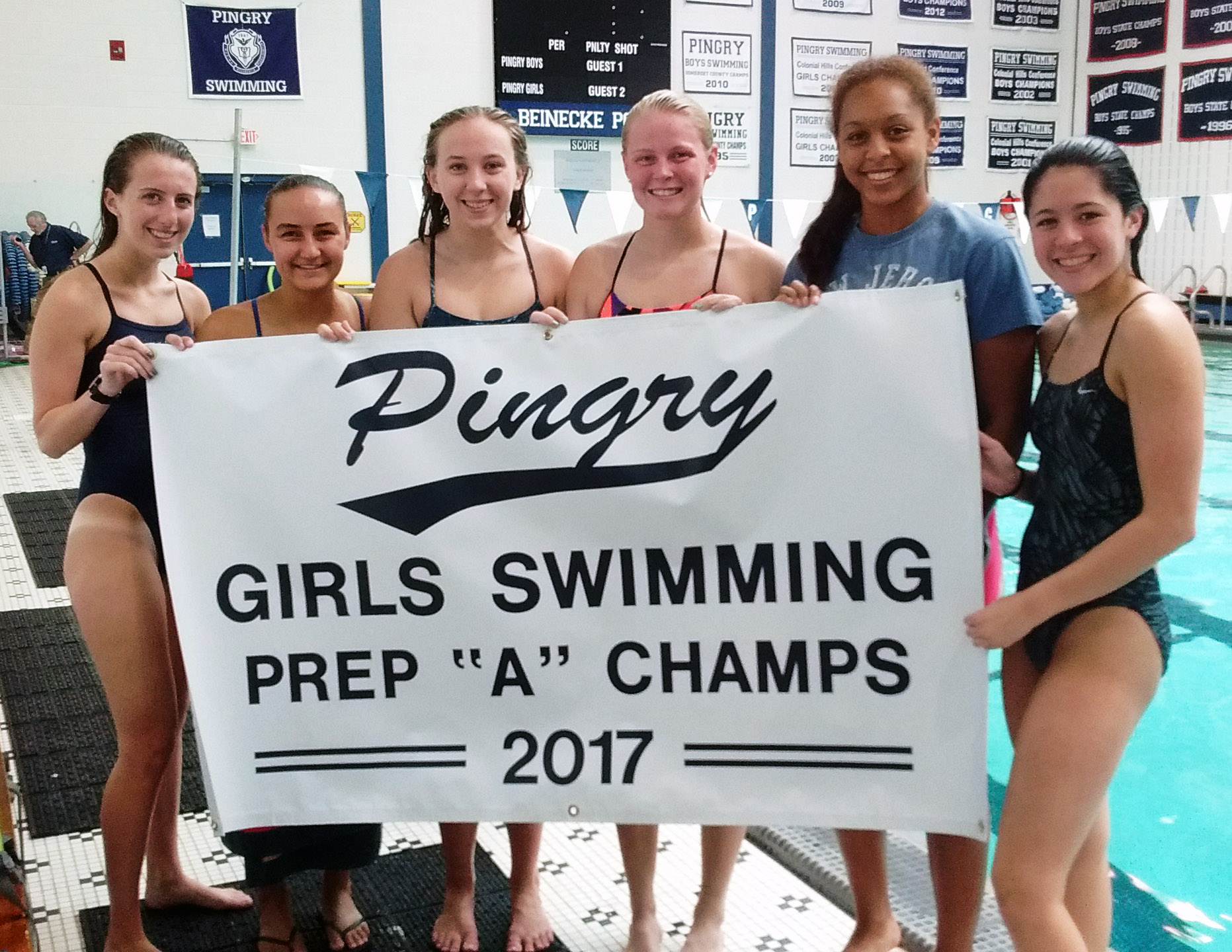 Girls' Swimming
By Martha Lewand (IV)
The girls' swim team, led by Head Coach Deidre O'Mara and captains Kassidy Peterson (VI) and Naiyah Atulomah (VI), is headed in a promising direction this year.
When asked about this season's goals, Mrs. O'Mara said, "I would love for us to win the Prep Champion- ship again this year and have all of our swimmers in the top 12 for every event." She also added that they would like to have a final record of 7-5 within the conference.
After an amazing season last year guided by rst-year coach Mrs. O'Mara and ve senior captains, the future of the team looks to carry that success. "We are excited to have a lot of returning talent this year and skilled incoming freshmen," Atulomah noted. "Our team has a lot of depth that will de nitely lead to improvements later on in the season."
The team had amazing success at their rst home meet against Watchung Hills, winning 112-58. They had their next meet on December 12th against Hunterdon Central, a highly ranked team in the state. "Our swimmers are excited and ready to take on this new season and thrive," Autlomah added. "We are look- ing forward to bonding and pushing our limits as a team. With the depth we now have, Kassidy and I can't wait to see what championship season holds for us."
Boys' Fencing
By Ameera Ebrahim (III)
The boys' fencing team has started off well. During preseason, the team alternated between footwork and conditioning every day. As the regular season began, the team practiced the aforementioned footwork and conditioning as well as fencing under the supervision of Head Coach Ted Li.
Captain Michael Sun (V) says his goal for this fencing season "is to make sure that everyone improves as a fencer and feels invested into the team." It is clear that the team is driven by teamwork and a desire for everyone to improve as a fencer. This is especially important as brand new fencers on the team can learn from those who are more experienced."
With the new Bugliari Athletics Center, the team will be able to practice on electric fencing strips to aid them in achieving this goal. The boys participated in their first tournament on December 16th at Bernards High School.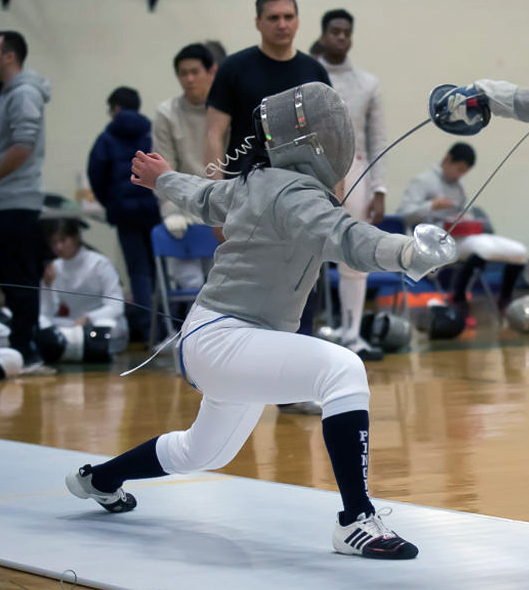 Girls' Fencing
By Ameera Ebrahim (III)
The girls' fencing team has started the off-season very well, with all the fencers eager to tackle new challenges and take advantage of new facilities. With preseason ending and the regular season starting, the girls are excited to test out their brand new electric fencing strips. Monica Chan (III) said, "I think it's great that we have new equipment and a new facility in the BAC. It's really exciting seeing the team change and transition into this space, and I must say warmups are much less crowded. This new space allows for a larger team and more people practicing at once."
Previously, the fencing team had practiced in the storage room in the arts wing. The introduction of the Bugliari Athletics Center was a big step up for fencing. The team has been utilizing these new facilities as much as possible. Coach Ted Li says his goals for this fencing season "are to form a cohesive, competitive, social unit that enjoys training, competing, and hanging out together." With hard work, the girls fencing team hopes to have a successful season. The fencing team had their first meet at the District's tournament on December 16th.
Boys' Ice Hockey
By Victoria Gu (IV)
The boys' ice hockey team started their season with a win and a loss over Thanksgiving break.
The first game was a 4-0 loss against Randolph High School, a formidable opponent. "Randolph is always a chal- lenge," Head Coach Scott Garrow said. However, the team made a comeback in the second game against Summit High School, winning 4-2. Players who scored against Summit include Nick Spinelli (V), Colin McKinnon (VI), Ryan Bush (IV), and Austin Parsons (VI).
This year, nine freshmen have joined the team, more than the number of members in any other grade. While the large number of new players means a large change in the team's overall composition and dynamic, the team seems to be adjusting well.
As always, the team aims to win the Skyland Conference and advance to the state tournament.
According to Coach Garrow, the team's enthusiasm matches these goals: "They have a lot of energy, and they're very competitive."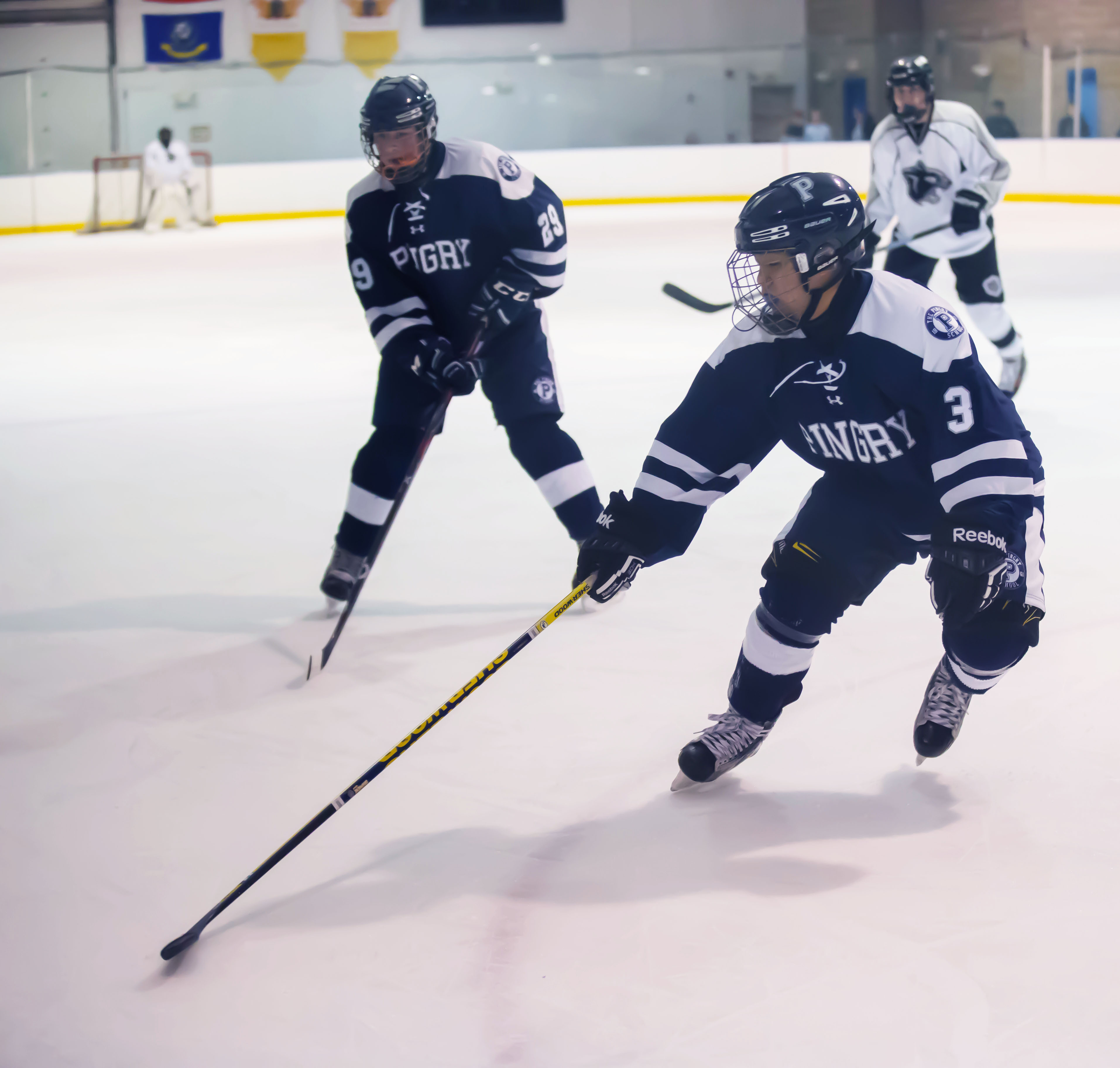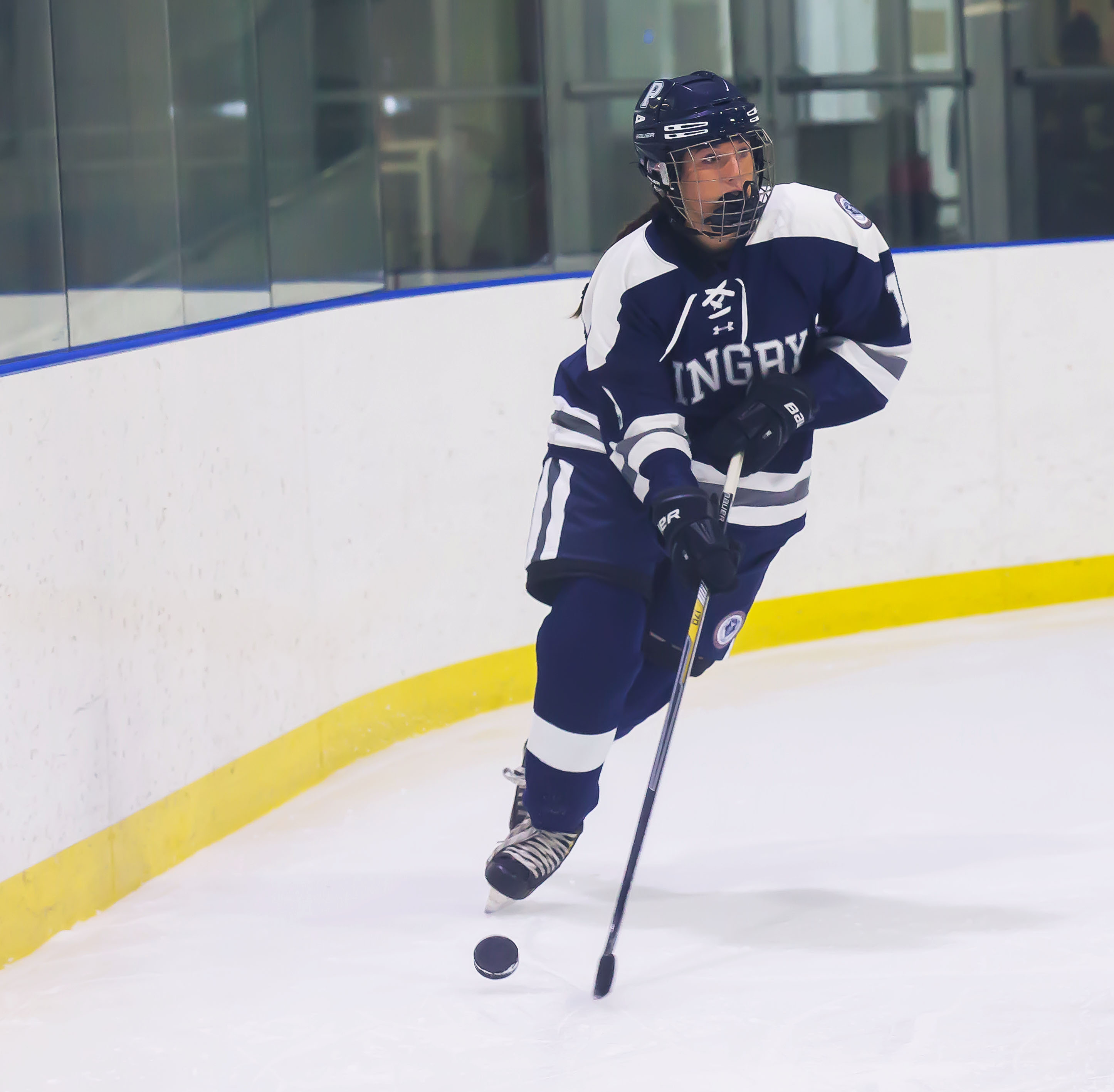 Girls' Ice Hockey
By Victoria Gu (IV)
The girls' ice hockey team began their season with a scrimmage against Summit High School. The game ended in a 6-6 tie, but the team outshot Sum- mit 20-19. With an aggressive start, the team is looking forward to a favorable season.
Head Coach Kate Whitman-Annis described how players both new to the team and returning are mingling well together. "They're working hard and are always excited to get on the ice," she said. "They really care about eachother as a team."
In addition to performing drills that refine their technique, the team has been competing with each other in casual games during practice. Coach Whitman-Annis is proud of the players' growing teamwork.
The team's goals, as always, in- clude winning games. However, both the coach and the players of the team want to make sure "to have fun" and to "foster a team environment both on and off the ice," as said by Coach Whitman-Annis. The team aims to continue to practice with these goals in mind in order to further achieve both individual and team success.
Girls' Winter Track
By Zara Jacob (III)
Snow will not stop this year's girls winter track and field team! With captains Avery Schiffman (VI) and Anna Wood (VI), the team is getting ready to go, having had their first practice the Monday after Thanksgiving Break.
Head Coach Christopher Shilts spoke about the team's goals for this year, putting emphasis on "the daily track and field commitment" and ex- pecting every player to put their best foot forward. With workouts, daily practice, and hard work, this year's team is on the path to a successful season. On the topic of their goals for the season, Coach Shilts states that "they are not particularly worried about results, just the process." This is an important sentiment to keep in mind as the winter track and field team focuses on the importance of personal goals and achievements as well as building camaraderie in their team.
With a great season ahead of them, the winter track and field team participated in their first competition at the Bishop Loughlin Games on December 16.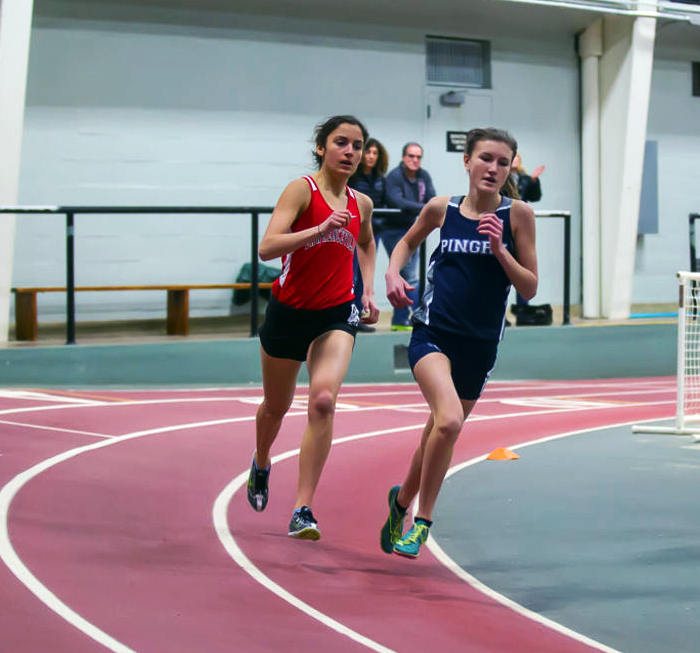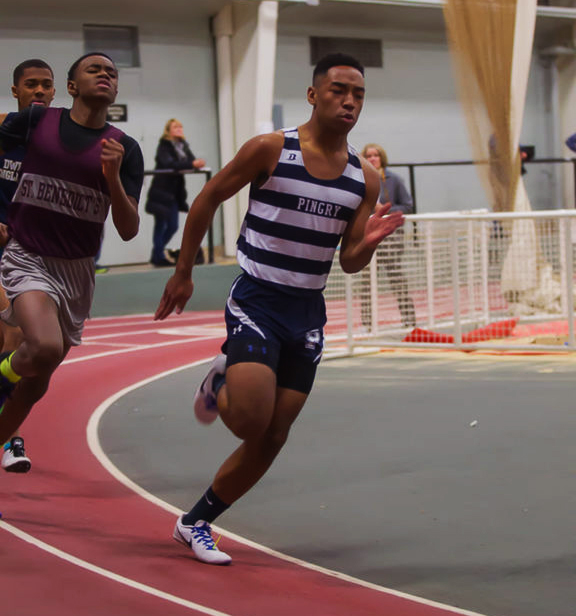 Boys' Winter Track
By Nick Robinson (V)
The boys' winter track and field team is looking forward to a strong season. Captain Ben Vazquez (VI) said that last year, the team "lost two great leaders, who were also our captains," but that the team is still capable of scoring points.
Head Coach Christopher Shilts, who is new to the team this year, said he hopes to "create a track and field culture with kids that are committed to track."
Coach Shilts said that his goals for the team this season are for "the kids who run spring track to have a strong and good base" and for the team to have 100% practice participation.
Vazquez said that he hopes for the team "to stay strong. We're not too concerned on the outcome of meets. We're more focused on staying strong for the spring." The winter track team will start competing right before winter break starts.
Boys' Cross Country
By Nick Robinson (V)
This past month, the boys' cross country team ended their fall season on a high note. The team placed fourth in the county and kept their Prep 'A' Championship title. Coach Matthew Horesta added that the team " nished fth in Non-Public 'A', beating Don Bosco, Delbarton, and Bishop Eustace. I think one would be hard-pressed to find a school as small as ours competing at the level that the Pingry boys' team did this past year."
The runners enjoyed success on an individual level as well. Captain Jeffrey Xiao (V) said that "Henry Wood (III) ran a 16:51, breaking a school record by over half a minute."
Xiao added that, as of next season, the team would be losing "Ben Vazquez (VI) and Colin Edwards (VI), two high scoring runners who are valuable parts of our varsity lineup."
Looking forward to next year, Coach Horesta said, "Our goals are team goals: nish higher in the county meet, win Prep 'A' for the third year in a row, and finish higher in Non-Public 'A.'"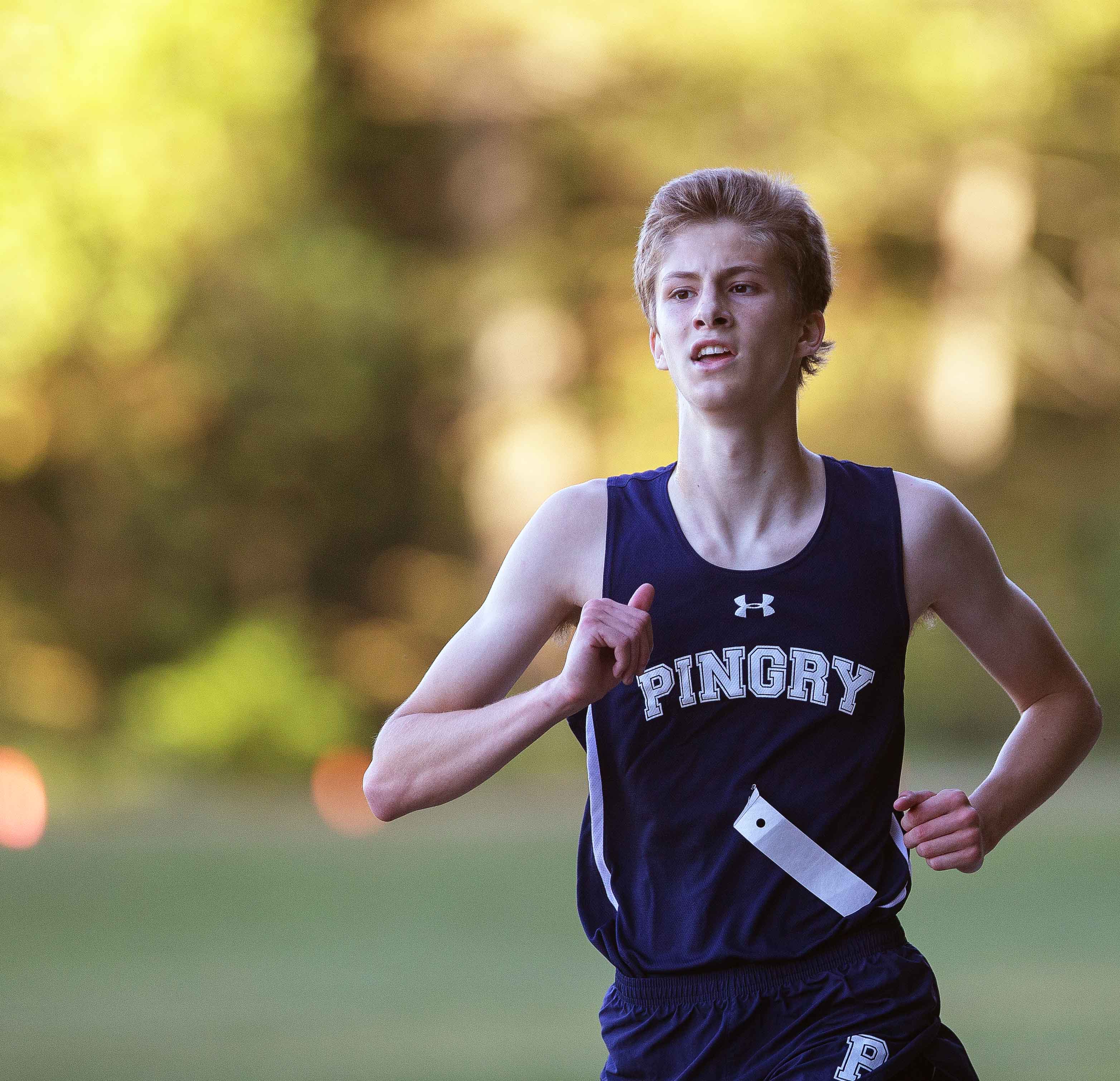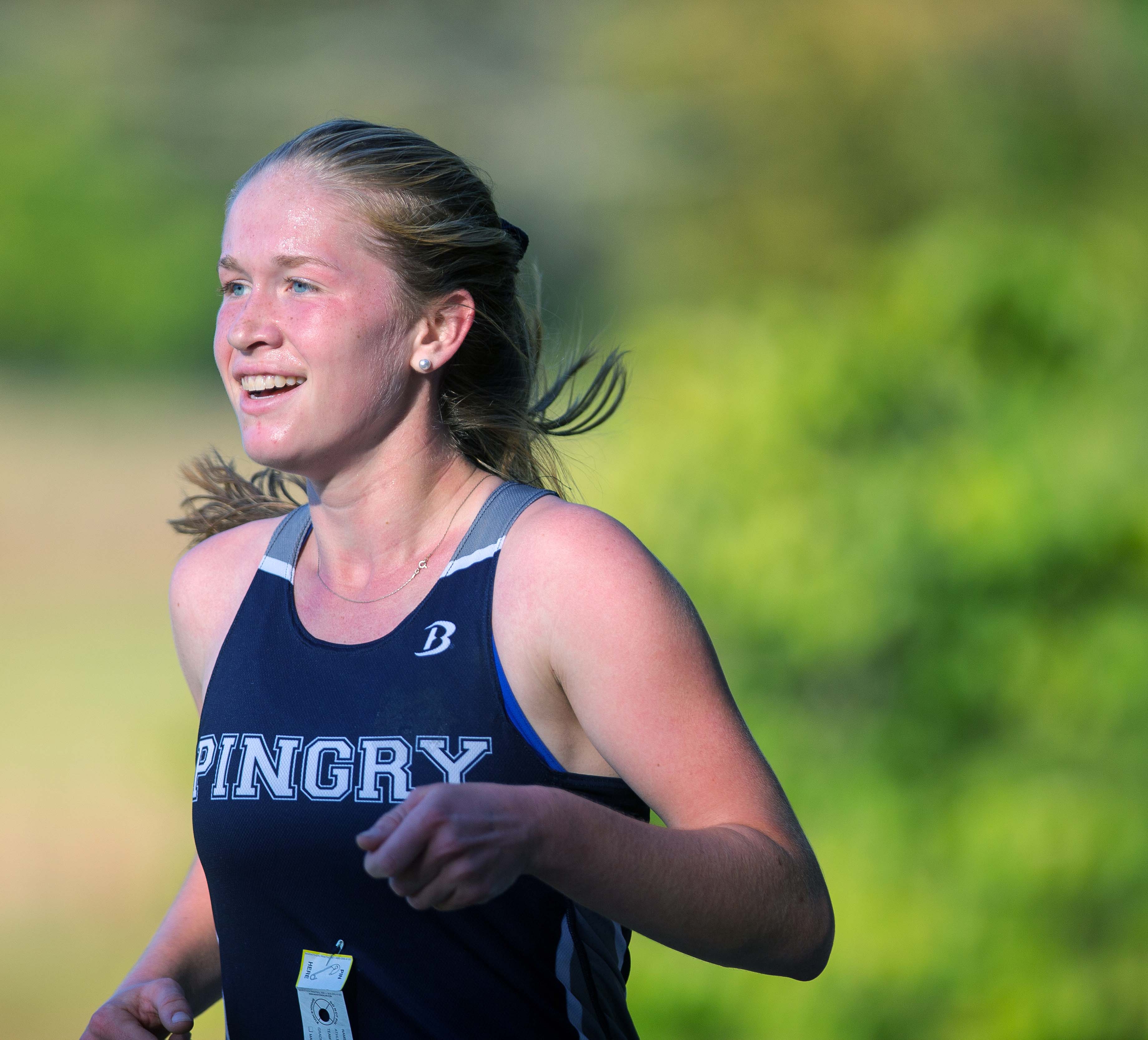 Girls' Cross Country
By Jemma Kushen (III)
Girls' cross country had an outstanding season this year. They placed third in the NJSIAA Group Championships (November 11th) and sixteenth out of twenty-one teams in the NJSIAA Meet of Champions (November 18th), ending the season in seventeenth place in the state.
Nikki Vanasse (IV) won the Group Championships race with a time of 18:45. The team then qualified for the Meet of Championships where Vanasse finished third, setting a new school record on the course with a time of 18:23.
Vanasse was one of few runners in sound health for the race, as many others were not able to finish; Anna Wood (VI) could not finish the race after falling, Ryan Davi (III) had an iron deficiency and could not compete, and Alina Irvine (III) finished the race with a stress fracture. Despite these setbacks, the team pulled through to achieve remarkable results.
According to Head Coach Tim Grant and Irvine, those meets marked the end of a "great" and "very fun and exciting" season during which the team won the Newark Academy Invitational, the Shore Coach Invitational, the Valley Division of the Skylands Conference, and the Prep "A" Championships.
Ski Team
By Brooke Pan (III)
The ski team is looking forward to a strong season under the leadership of Head Coach
Julianne Coxe and Captains Lindsey Hogan (VI), Nick Ladino (VI), Conor Mahoney (VI), and Annie Leithead (V). Having recruited many new members this year, the captains are excited for a "better chance of making it to States," a team-based competition, with the hopes of sending more racers to the Race of Champions, an individual competition.
In addition to the performance of the team, Hogan and the other captains are putting a big emphasis on the safety of each member. "Taking care of our bodies and our equipment, while always being aware of our surroundings is not only vital to skiing, but also in life," Hogan said. By incorporating skiing into the other aspects of their lives, Hogan believes that "it will lead to better health and happiness."
With the winter season drawing closer, Leithead, along with the rest of the team, is "confident in [their] abilities" and is excited to embrace the "magical time" of winter. The team's first race is the Giant Slalom Race #1 at Mountain Creek.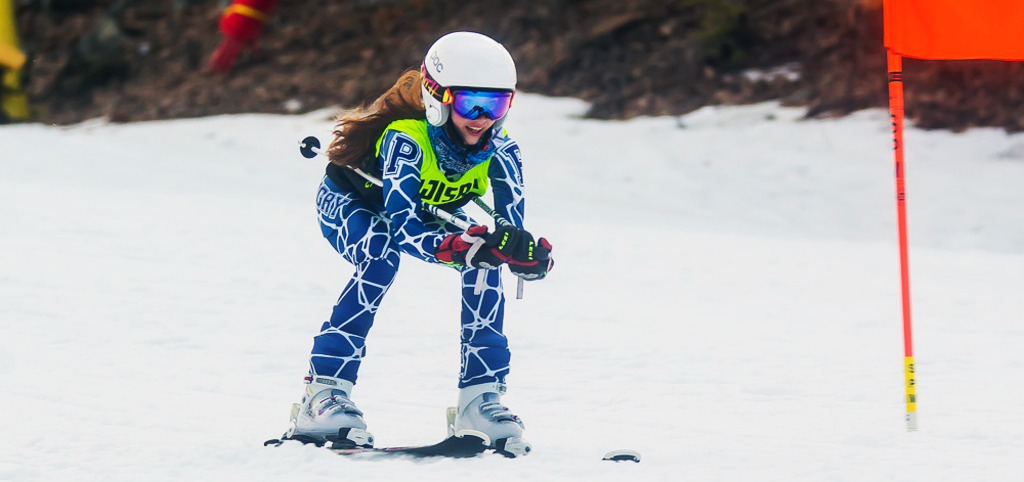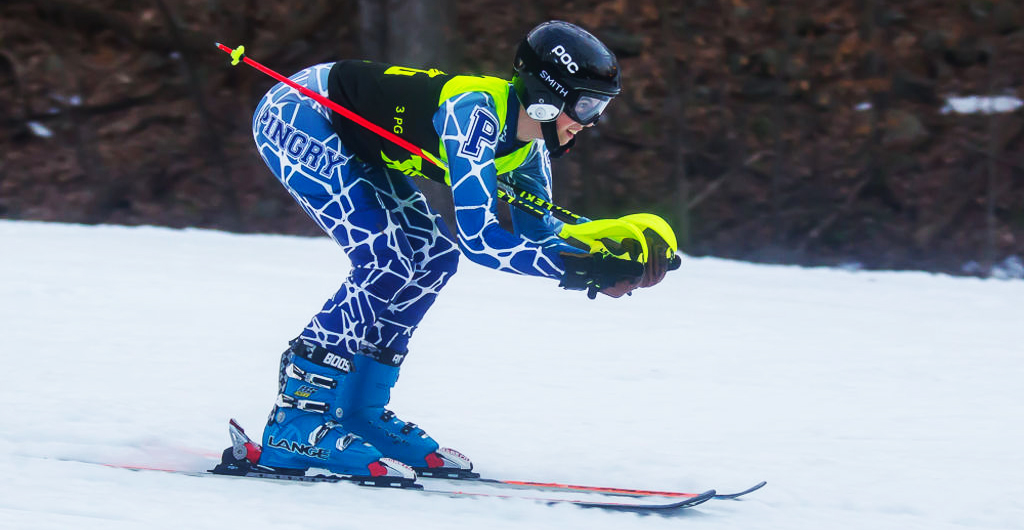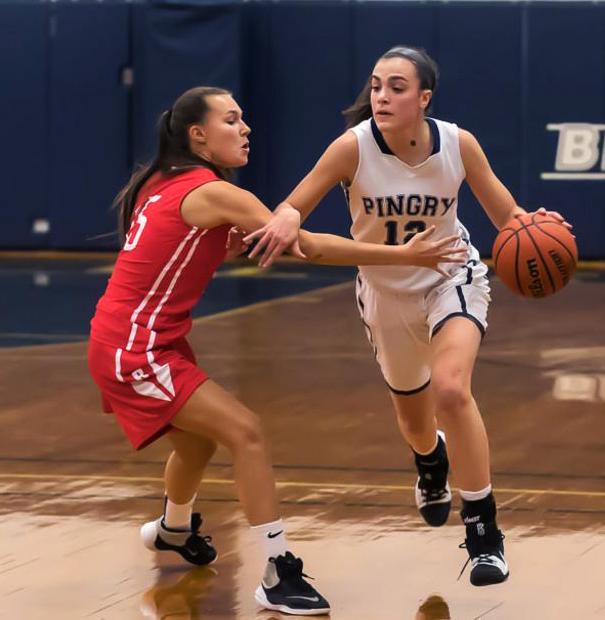 Girls' Basketball
By Caroline Santoro (V)
After a tied record of 13-13 last year, the girls' basketball team is ready for another successful season. Having graduated three key seniors last year, the team has been working hard to adjust since preseason began on November 20th.
Captain Megan Horn (VI) thinks that "it will be great to see how some of the new players step up." She is excited to see how the team will work as a unit, and she is confident that they will be able to improve greatly and perform even better this year with continued hard work.
In her opinion, the best part of the team is "how close [the girls] are and how much [they] are able to push each other and support each other in practice."
The team had its first scrimmage on December 7th against Governor of Livingston High School, and they won their first home game 62-29 on December 15 against Belvidere High School.
Boys' Basketball
By Caroline Santoro (V)
The boys' basketball team is off to a great start this season. Having graduated five seniors last year, this year's team is quite young. Captain Michael Weber (VI) feels "excited to get started this season because of a lot of fresh faces in the program. With the majority of players being either freshmen or sophomores, it is exciting to see what the younger guys can bring to the table."
The team ended with a record of 11-12 last year and plans to keep working hard for continued improvement and success. Head Coach Jason Murdock says that his main goal for this season is to create an environment in which the players feel valued, have fun with the competitive nature of the game, and, of course, enjoy a few victories.
Coach Murdock has been coaching the team since 2007. When asked what his favorite part of coaching basketball is, he said, "As a former player, the competition. But as a coach, it's seeing the relationships formed by the team and players reaching their potential by creating an environment that is both challenging and rewarding."
The varsity team had its first scrimmage on December 5th against Morris Catholic High School, and their first away game on December 15th against Koinonia Academy.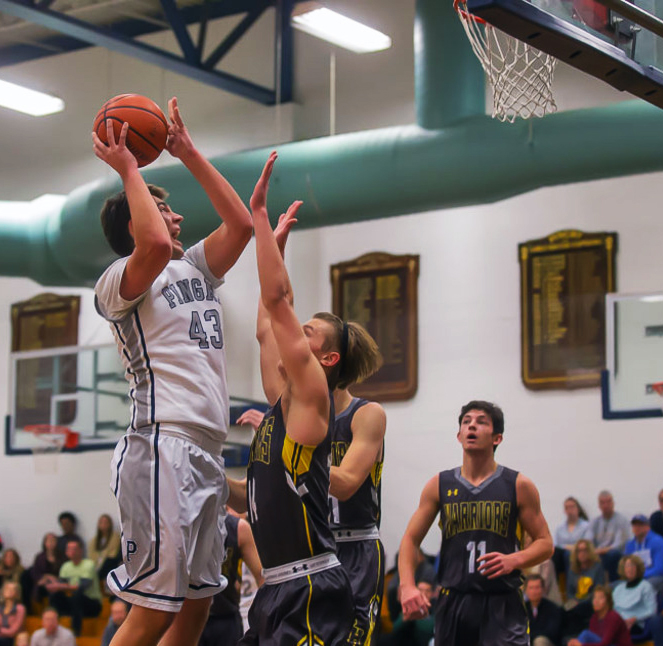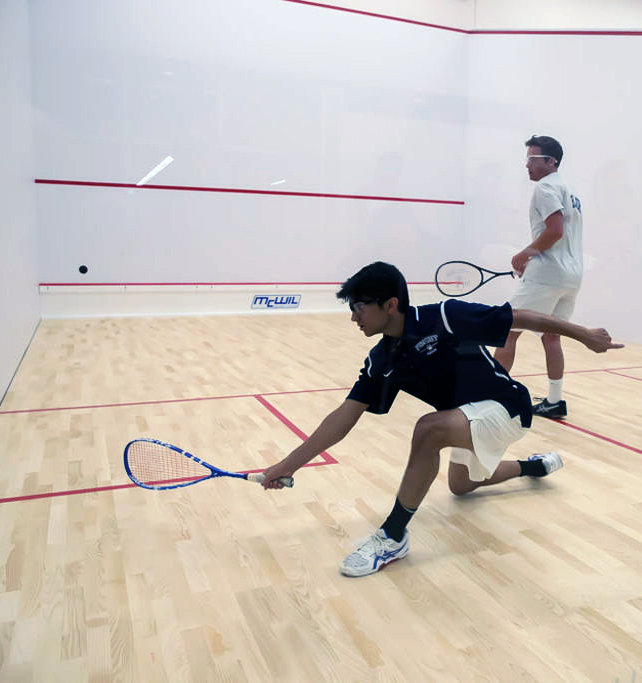 Boys' Squash
By Caroline Wargo (IV)
The boys' squash team had a strong season last year, boasting a 15-3 record and ranking 10th at Nationals. Led by Sam Scherl '17 and Daniel Hutt '17, the team had four members that competed in U.S. Squash's Junior National Championships (Scherl and Hutt included).
With Mrs. Tina Rix-Stout now coaching the girls' varsity team (Mr. Ramsay Vehslage had previously coached both the boys' and girls' teams since 2003), Coach Vehslage is excited to collaborate with Mrs. Rix-Stout as well as to tailor his own coaching specifically to the boys' team.
The squash team has grown tremendously and added many enthusiastic new players this year. With the new Bugliari Athletic Center, which accommodates eight squash courts, more spots for players will be available and post-tryout "cuts" should be more limited. There will be a full varsity and JV team, allowing many players to get opportunities to practice and play.
The team has had a great start to the season, winning 7-0 on both of their first matches against Blair and Princeton Day Academy. Their next game is home against Millburn on December 19th.
Coach Vehslage is "excited to be in [the team's] new home in the BAC" and hopes for "a great season with captain Krish Bhavnani" (VI).
Girls' Squash
By Meghan Durkin (III)
As the winter sports season approaches, the girls' squash team is thrilled to get back on the courts. This year's team, led by new head coach Mrs. Tina Rix-Stout and captains Rachel Chen (VI) and Namita Davey (VI), will strive to continue the success of last year's season, during which the team finished second in Division II at Nationals. The team is looking forward to improving their ranks by "making it into Division I" and are "hoping to win State Championships," Chen says.
As the squash courts in the Bugliari Athletic Center are up and running for their first full season, the girls will now practice on campus instead of using the courts at Drew University as they did in previous years. This advantage holds promise for the captains and the rest of the team to "improve match performance" as well as to "build team bonding."
In addition, the increase in the size of the team is an exciting opportunity for growth in the squash program and for a strong season
Davey and the other girls, who won their first home match 6-1 against Poly Prep on December 13th, are hoping "more people will come out to watch our matches and support."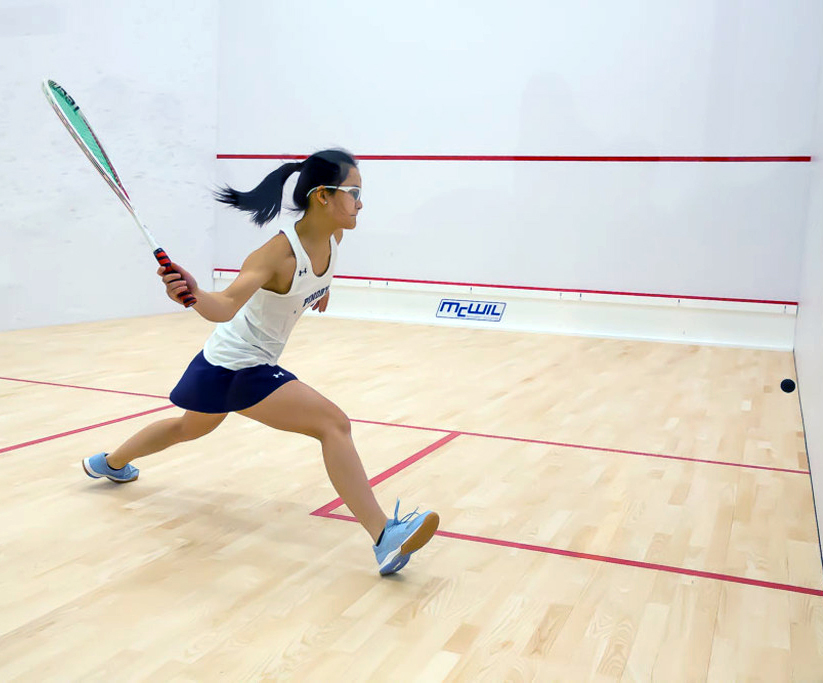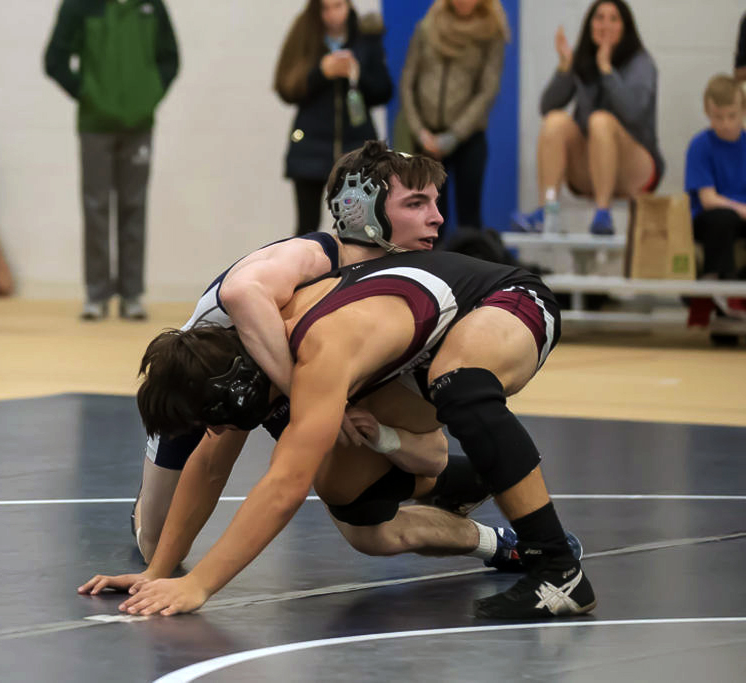 Wrestling
By Jessica Yatvitskiy (III)
The Pingry wrestling season began on November 20th. The team consists of 28 members and has "more kids on the team than ever," said captain Aidan Dillon (VI). "We'll have almost all the weight-classes filled, which helps immensely with our dual-meet schedule," said Head Coach George Sullivan, who has coached Pingry wrestling since 2014. He is aided by Coaches Joseph Forte, Reid Prichett, and William Lagarde. Mr. Sullivan said he chose to coach Pingry wrestling because "[he has] a unique opportunity to build a great program."
The wrestling team's rst meet was scheduled on December 6 against the Peddie School. "The team's goal for this season is to win 15 matches and send at least one wrestler to states, Mr. George Sullivan said.
This year's captain is Aidan Dillon, who has had 13 years of wrestling experience. Aidan said, "I'm super optimistic about this season. We should have the best team that Pingry has had in my time here. We'll have the best chance we've ever had to win a conference championship."
The wrestling team had a great season last winter. "The team sent our first wrestler in a decade to the New Jersey state wrestling tournament, Frankie Dillon ['17]. We had four regional qualifiers: Aidan Dillon, Frankie Dillon, Tommy Tarantino ['17], and Brandon Spellman (V)," Coach Sullivan said.
Mr. Sullivan expresses high hopes for this season: "With new freshmen joining the strong team, the future is bright. We have a talented and hardworking team that has been improving for several years, and I can't wait to see them perform."